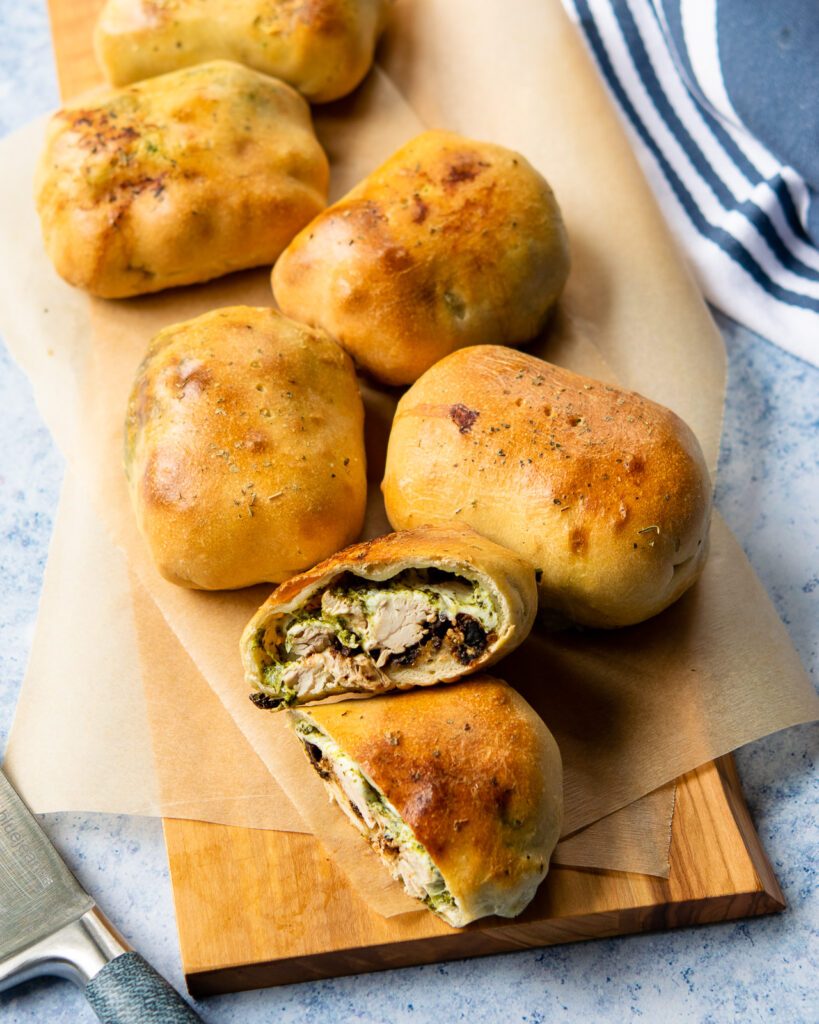 What is a Hot Pocket®?
Hot Pockets® are a microwavable calzone-style turnover that you can buy to re-heat in your microwave. They were popular in the 80s and 90s and grew to include over 50 different varieties. This recipe for Chicken Pesto Hot Pockets is a homemade version of the popular convenience food.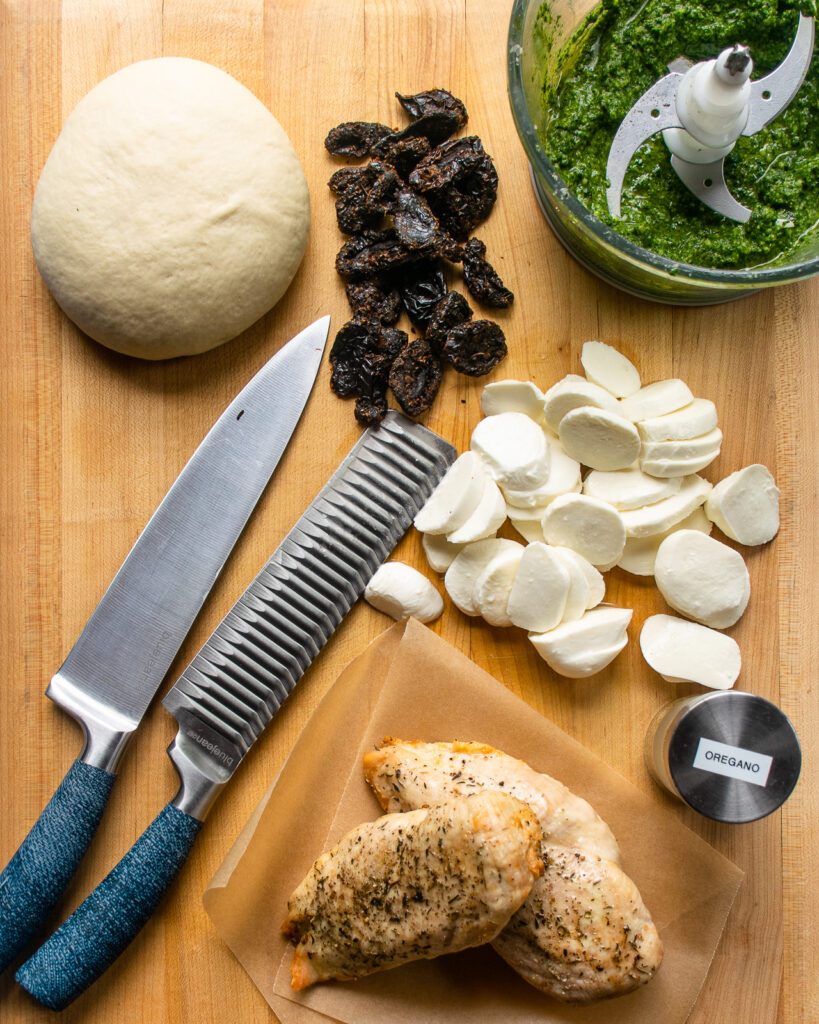 Filling Ingredients
There are three components to the filling for these chicken pesto hot pockets. First is the chicken and sun-dried tomato mixture. You can use leftover cooked chicken, or you could quickly cook a couple of chicken breasts in your air fryer, in a skillet or by poaching them in chicken broth. Simply dice and mix the chicken with some chopped sun-dried tomatoes. My preference is for the oil-packed tomatoes, but you could use soft dried sun-dried tomatoes too. The second component is the fresh mozzarella cheese. Finally, you will need some basil pesto. Making it yourself is very easy, but store-bought is fine too.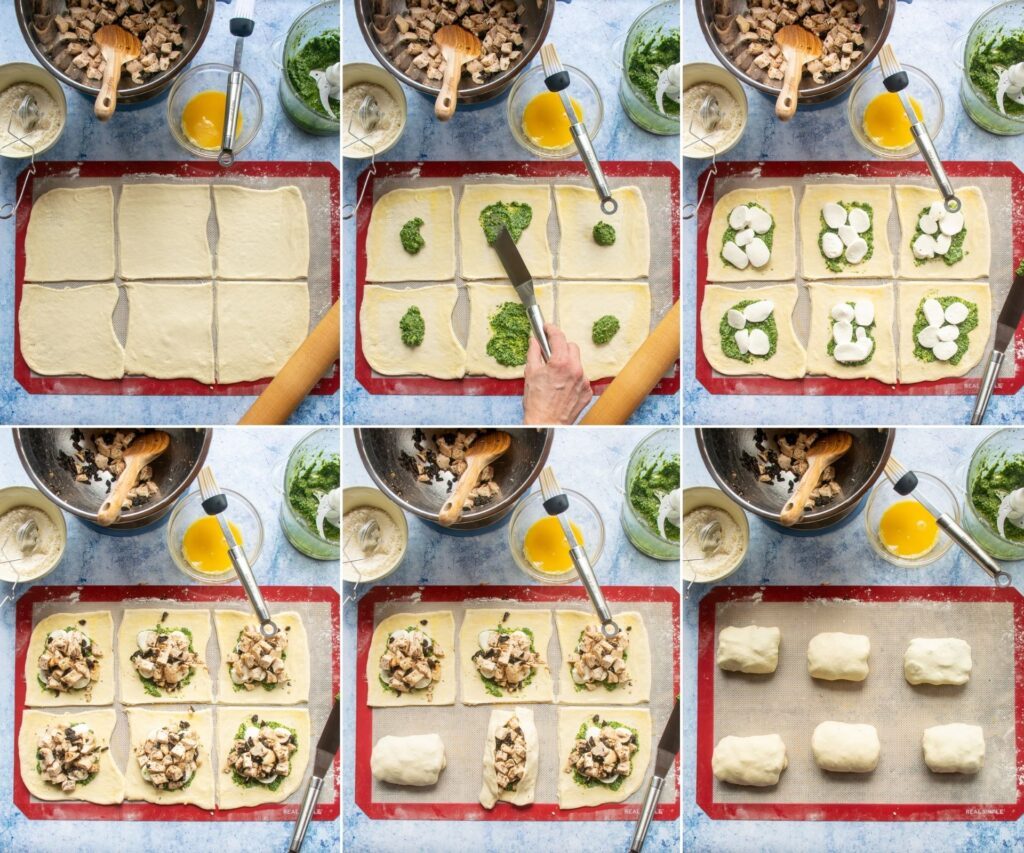 How to Make Homemade Hot Pockets
Make your hot pockets by rolling your pizza dough out to a rectangle of 18×10-inches. To make this as easy as possible, make sure your pizza dough has come to room temperature. Cold pizza dough will continue to shrink back on you as you roll it. Brush the perimeter of each portion of dough with egg wash and then layer the filling ingredients in the center of each dough – pesto, then cheese, then chicken mixture. The pizza dough is flexible, so pull and stretch the dough over the filling, pinch the dough together and then turn the pockets over, seam-side down and shape them into nice rectangles by just patting the edges with your hands.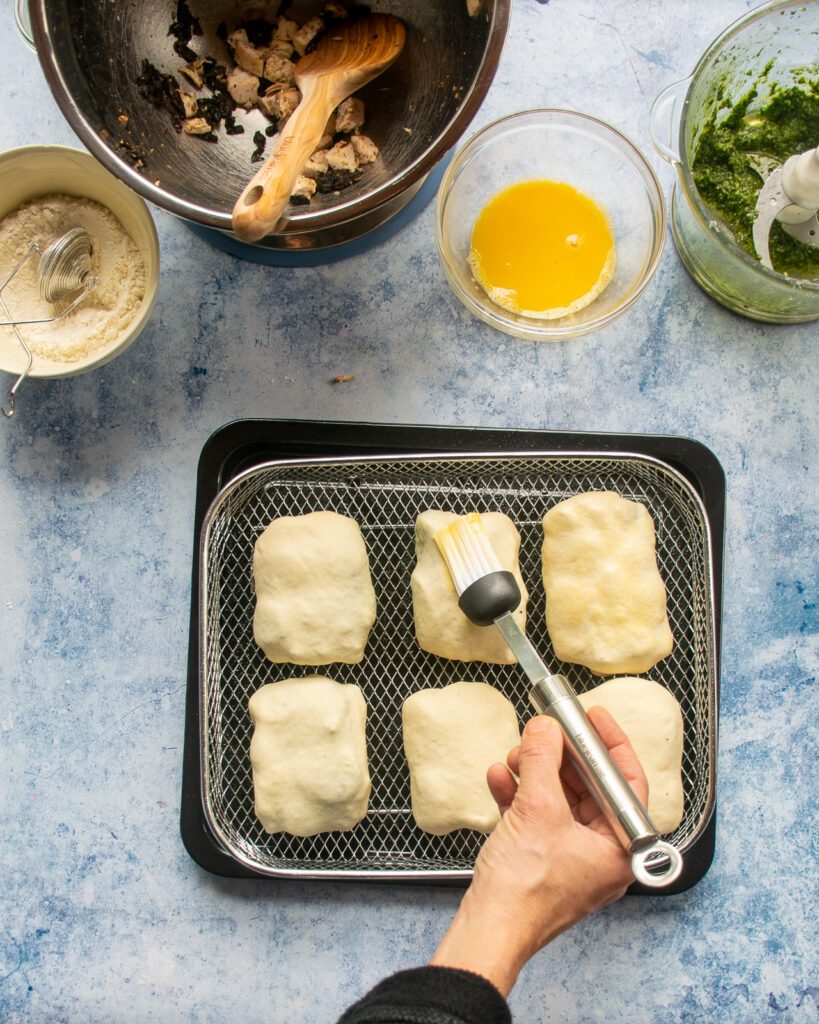 Before Air-Frying or Baking
Before you pop these hot pockets into the air fryer or oven, brush the outsides with egg wash, sprinkle a little Italian seasoning on top and pierce each one with a fork to create vent holes.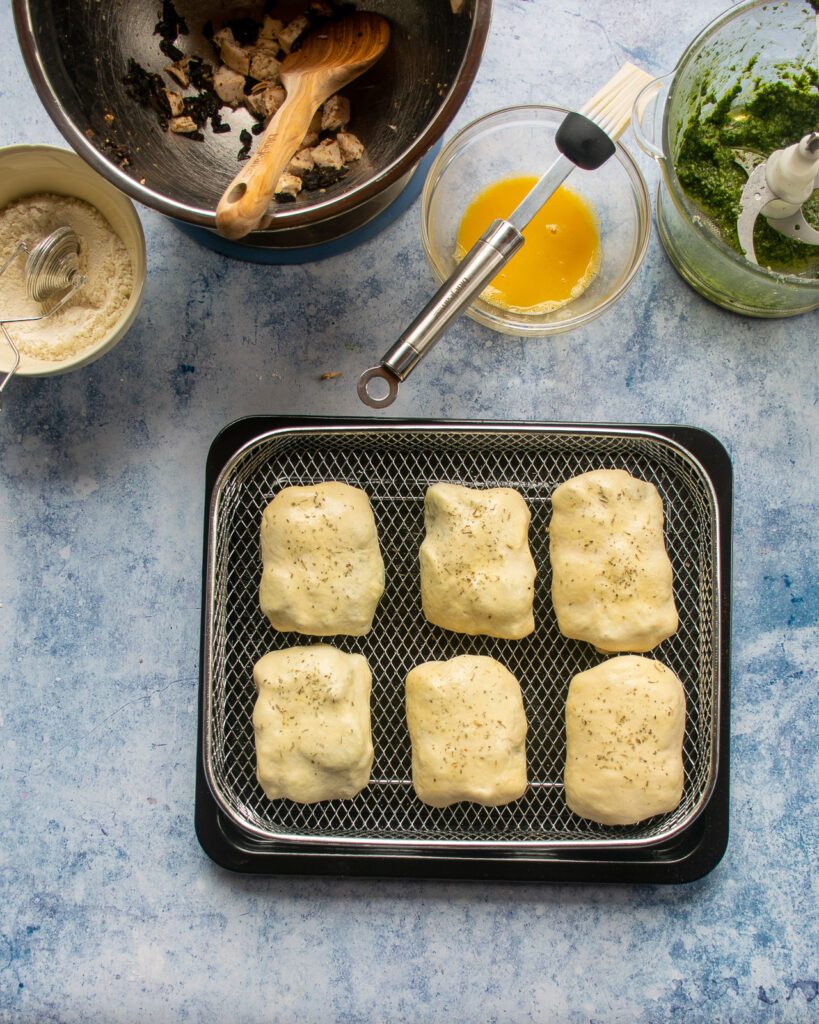 Bake OR Air-fry
You can air-fry the pockets at 350˚F for 10 minutes on one side, flip them over and air-fry for 5 minutes on the second side. You can also bake them in the oven at 400˚F on a baking tray for 20 to 25 minutes, or until nicely browned on top.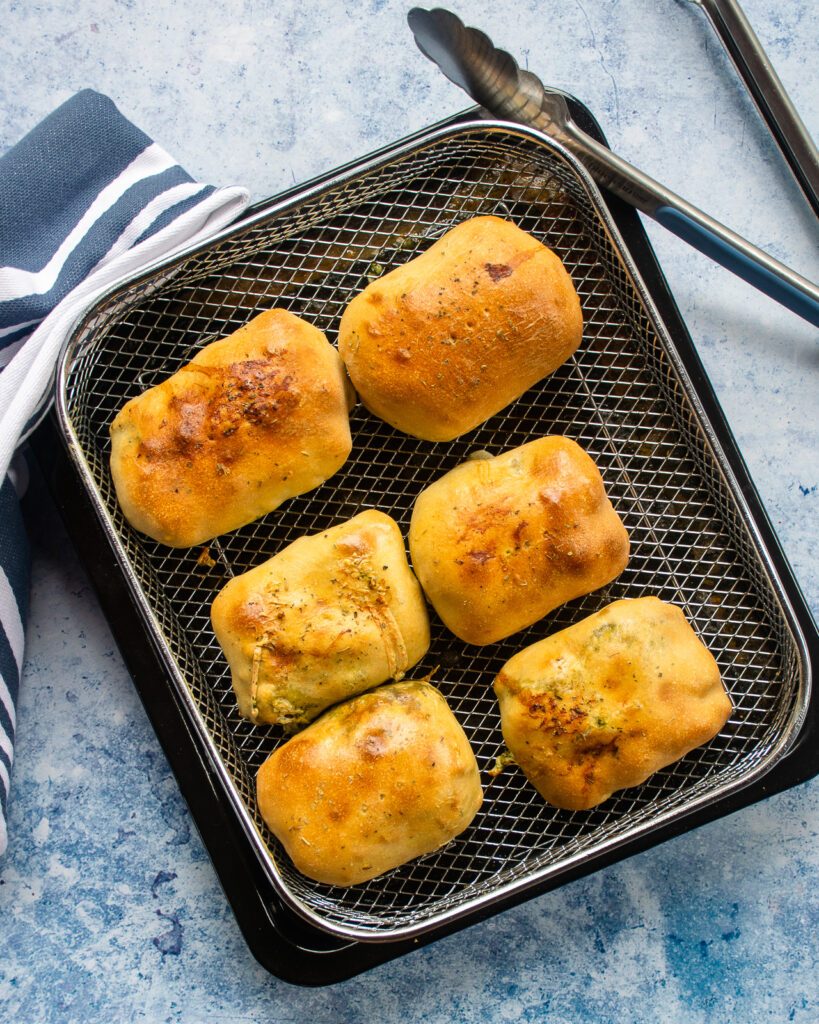 Let them Cool
If you do remember eating these in the 80s or 90s, you might remember because of the trauma of biting into a Hot Pocket® too soon. Ouch! The insides of these pockets will be very hot when they come out of the air fryer or oven, so do try to be patient and let them cool for just a few minutes before wrapping your hands around one and enjoying at home or on the go.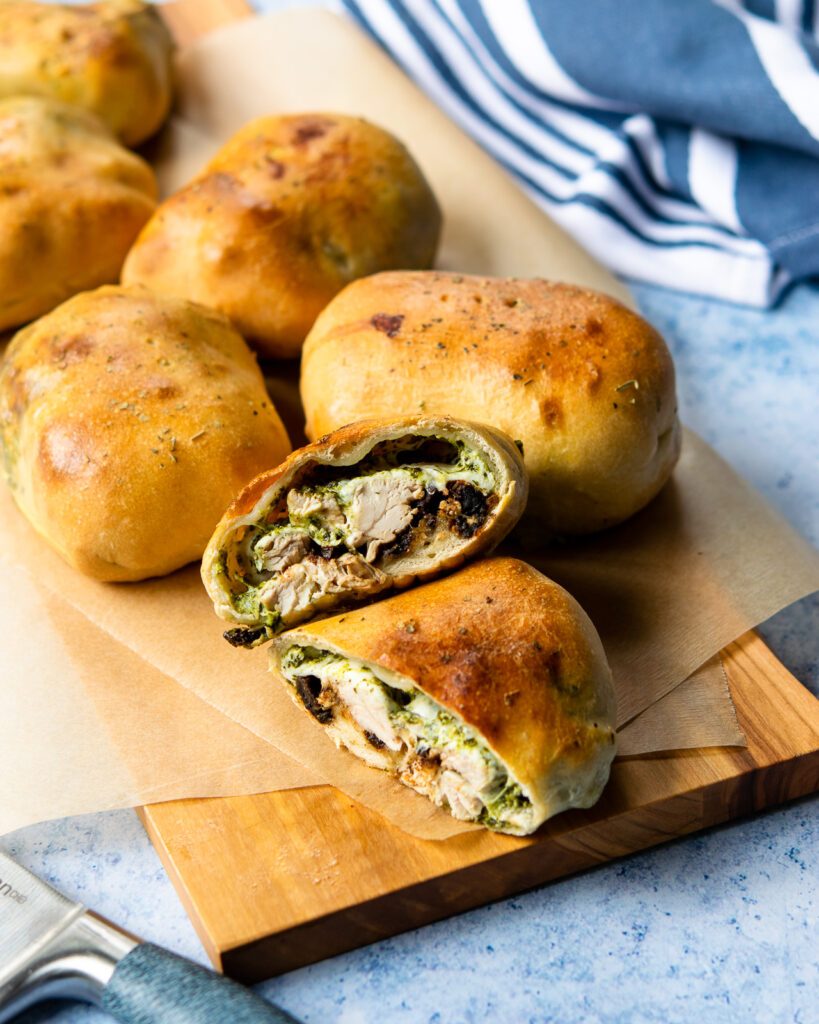 Make Ahead
If you're making these chicken pesto hot pockets, it's a good idea to make a batch or maybe two and freeze them before baking. You can freeze them after the egg wash and Italian seasoning and then store them in freezer bag with as little air as possible. When you are in the mood, pop them into your air fryer or oven and add an additional 5 minutes of air-frying time or 10 minutes of baking time.