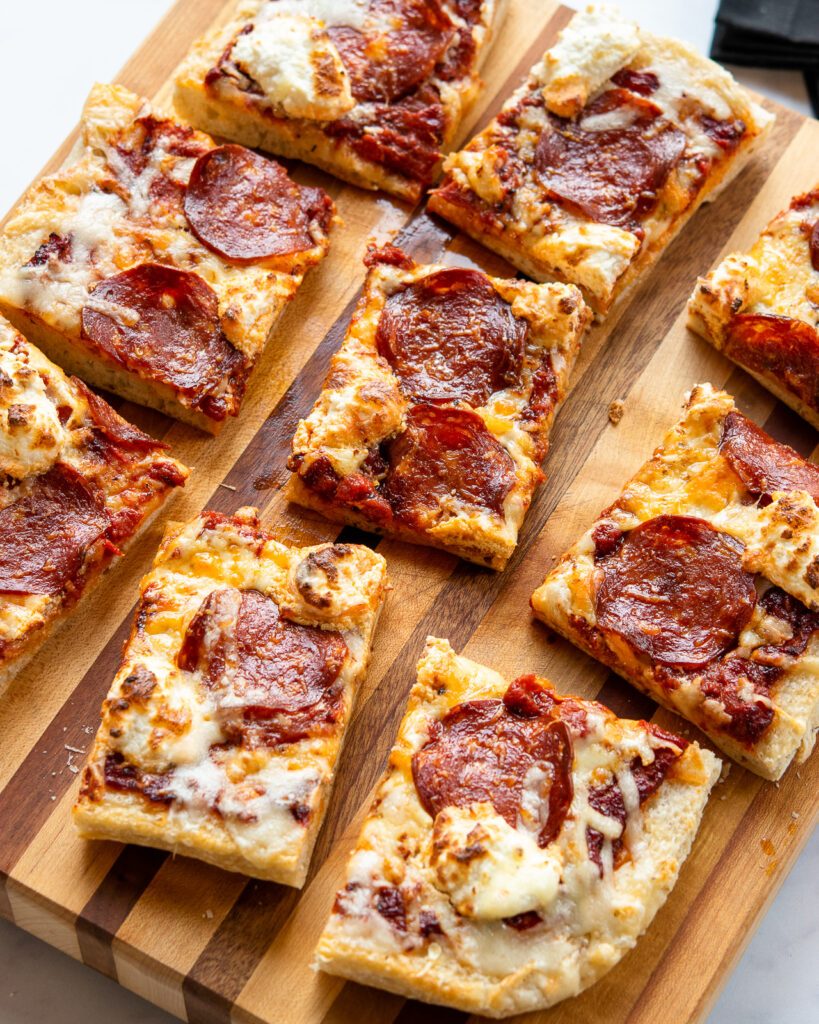 Why Make Pizza in an Air Fryer?
I'll be honest with you. My favorite way to make pizza is in a super hot oven on a pizza steel. The crust rises perfectly and a thin crust pizza cooks in about ten minutes. But… you do need to pre-heat your oven and pizza steel to 500˚F for at least 30 minutes before you put your pizza in the oven. That's a long time, especially if it's the summertime and having your oven at 500˚F is the last thing you need. So, for those occasions when you want a pizza quickly and easily, make an air fryer pan pizza. You can make a pizza in a basket-style air fryer or an air fryer oven, but obviously it's a little easier with the oven style air fryers and you can make a larger pizza too.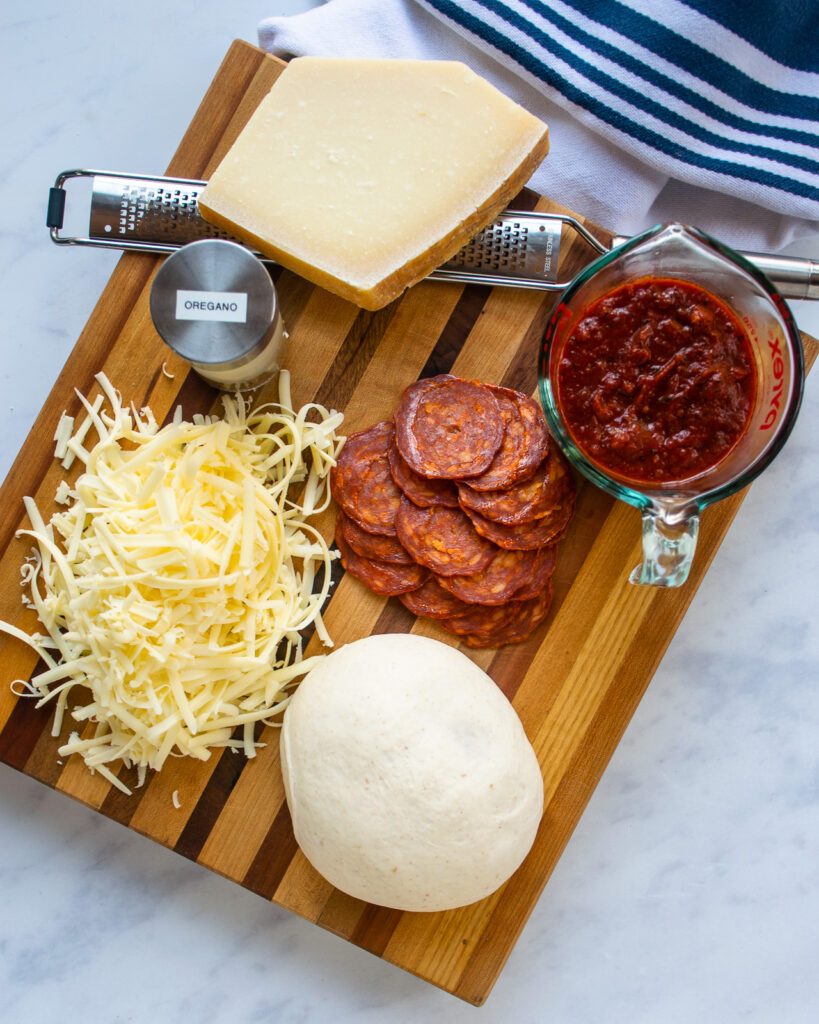 Ingredients for Air Fryer Pan Pizza
Pizza is one of my favorite meals. Period. I love it because you can put anything on a pizza and have a different meal every time. There are a few basic ingredients you will need, however. The first and most important ingredient is the dough. Pizza dough is easy to make and my recipe for pizza dough lasts for up to 5 days in your refrigerator so it's perfect to make ahead of time. If you want a really tasty pizza dough, try my sourdough pizza dough. The next important ingredient is tomato pizza sauce (assuming you are looking for a traditional red pizza pie). Sure, you can buy a jar, but making it is also super easy, can be made ahead of time and is very tasty. Cheese is another basic ingredient for any pizza. You can use mozzarella or another mild, good melting cheese like Monterey Jack. A little grated Parmesan cheese adds a nice nutty, salty flavor to the pizza and a pinch of oregano gives it that Italian flavor. Those are the basics. After that, the world is your oyster… but don't put oysters on the pizza. That's weird.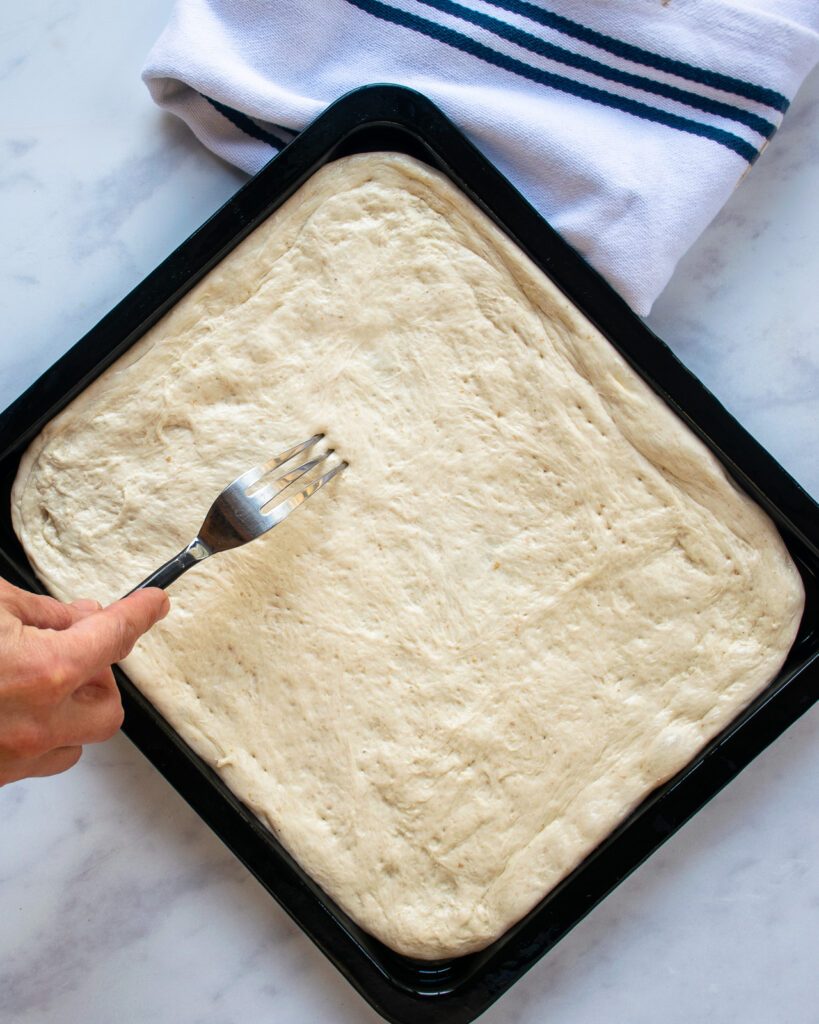 Shaping Dough for the Air Fryer
When you shape the dough for your air fryer pan pizza, you are going to stretch it into the shape of whatever pan you are using. Most air fryer ovens come with a baking pan that you will use. If you have a basket-style air fryer, find a pan that fits inside easily and create an aluminum foil sling to help you put the pan into and take it out of the air fryer. (That means, fold a long piece of aluminum foil into a strip about 16 inches long and about 3 inches wide. Rest the pan on top of the sling and pick up the edges of the foil to lift the pan up.) If, when you're stretching the dough, it constantly wants to shrink back up on you, leave it alone for a little while. The dough needs to rest and be at room temperature in order to stretch easily. If it is too cold or has just been kneaded, it will be tight and elastic. Relax, let the dough relax and then try again.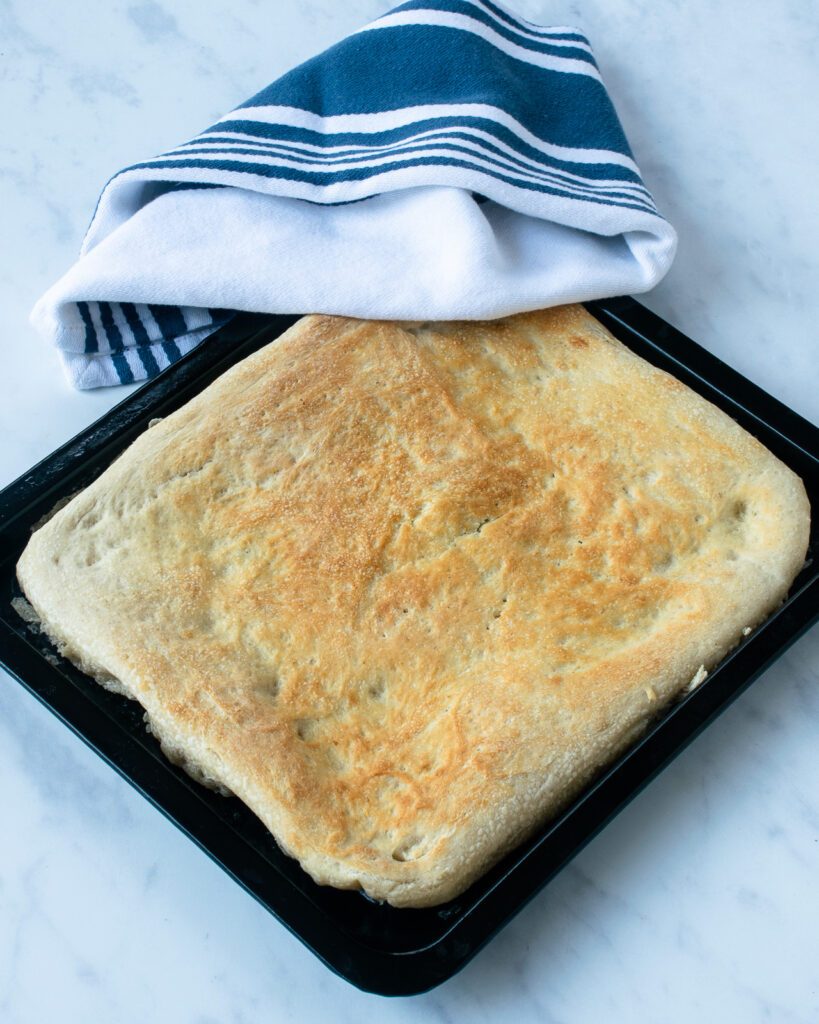 Par-Baking the Pizza Crust
Because the heat from an air fryer comes from one direction (usually straight down from above), you'll want to par-bake your pizza crust and then flip it over before topping it. This is how we get the bottom crust of the pan pizza to be cooked and crisp, despite the fact that there's no direct heat from below in an air fryer. Remember to dock your dough before baking so that it doesn't bubble up, brush it with oil and bake it for ten minutes. If it bubbles up while it is baking, just poke it with a knife or fork and push the dough down.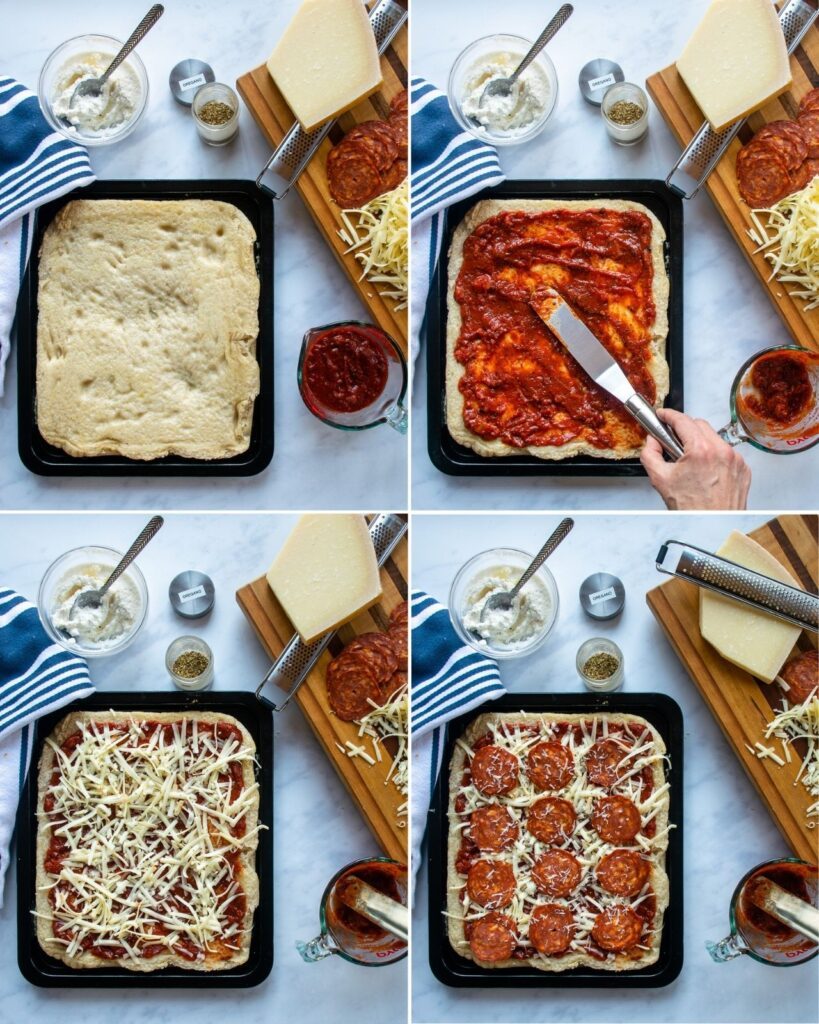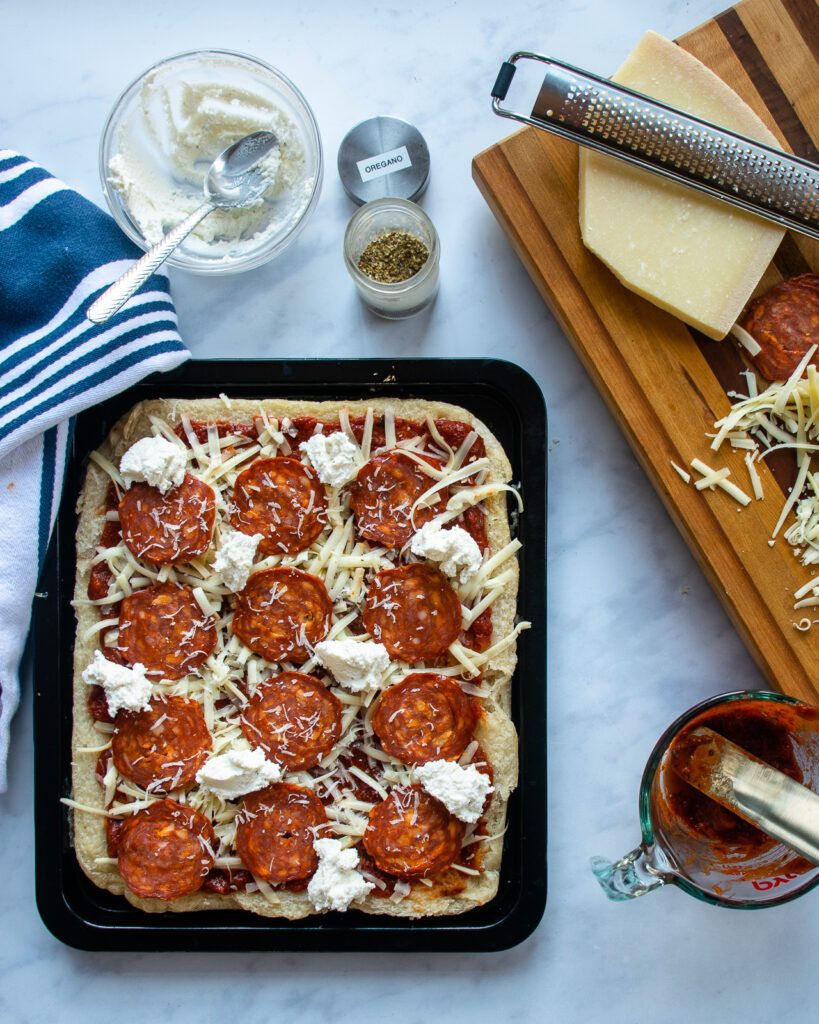 Toppings for Air Fryer Pan Pizza
You really can put almost anything on a pizza. Popular toppings include pepperoni, roasted peppers, cooked mushrooms, tomatoes, cooked broccoli, chicken, sausage, ham, bacon, fresh mozzarella, ricotta cheese… but I don't need to tell you what to use. I'm sure you have your favorite toppings, but I do have one word of advice. Don't go too crazy. Keeping it simple is sometimes the key to the best pizzas. Too many toppings can be like, well… too many cooks.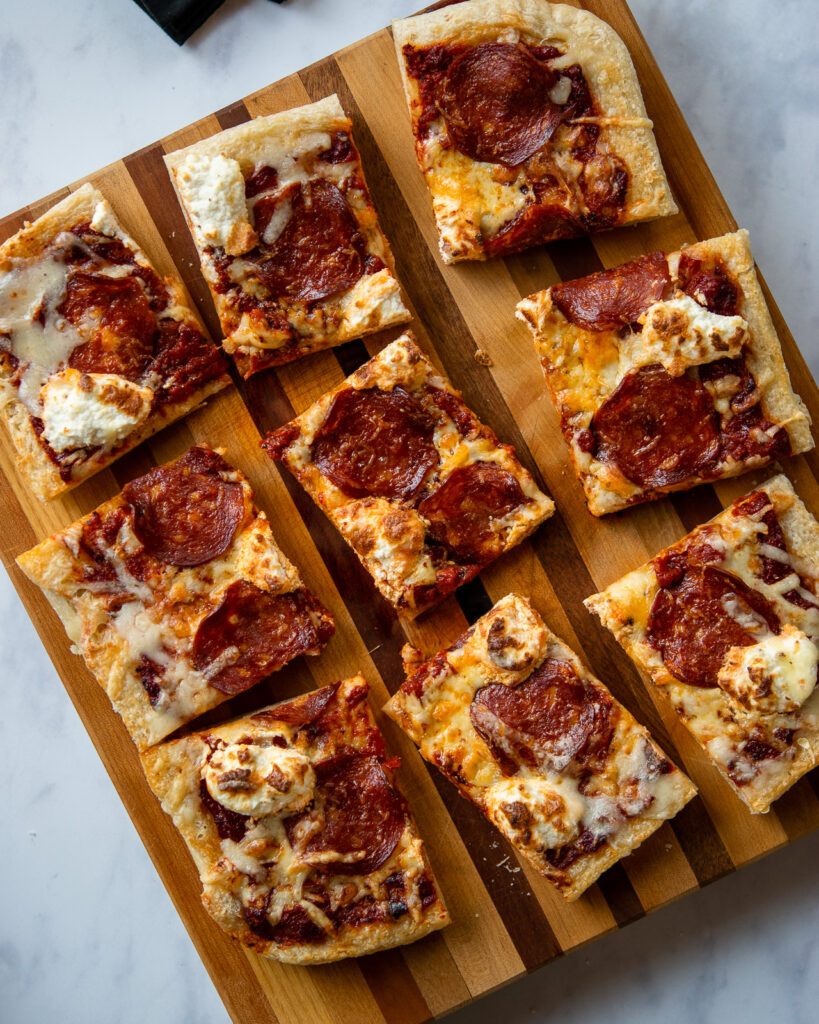 How Long to Air Fry Pizza
Once you have the crust par-baked and have flipped it over and topped the raw side, bake it in the air fryer for 12 minutes, or until the toppings are cooked, cheese melted and nicely browned. How long it takes will depend on how thick or thin you stretched your dough and how you topped the pizza. Once the pizza is cooked, let it sit for 5 minutes before slicing and enjoying. It will be extremely hot straight out of the air fryer. Letting it sit makes it easier to slice and much more pleasant to eat – one likes to burn the roof of their mouth, after all.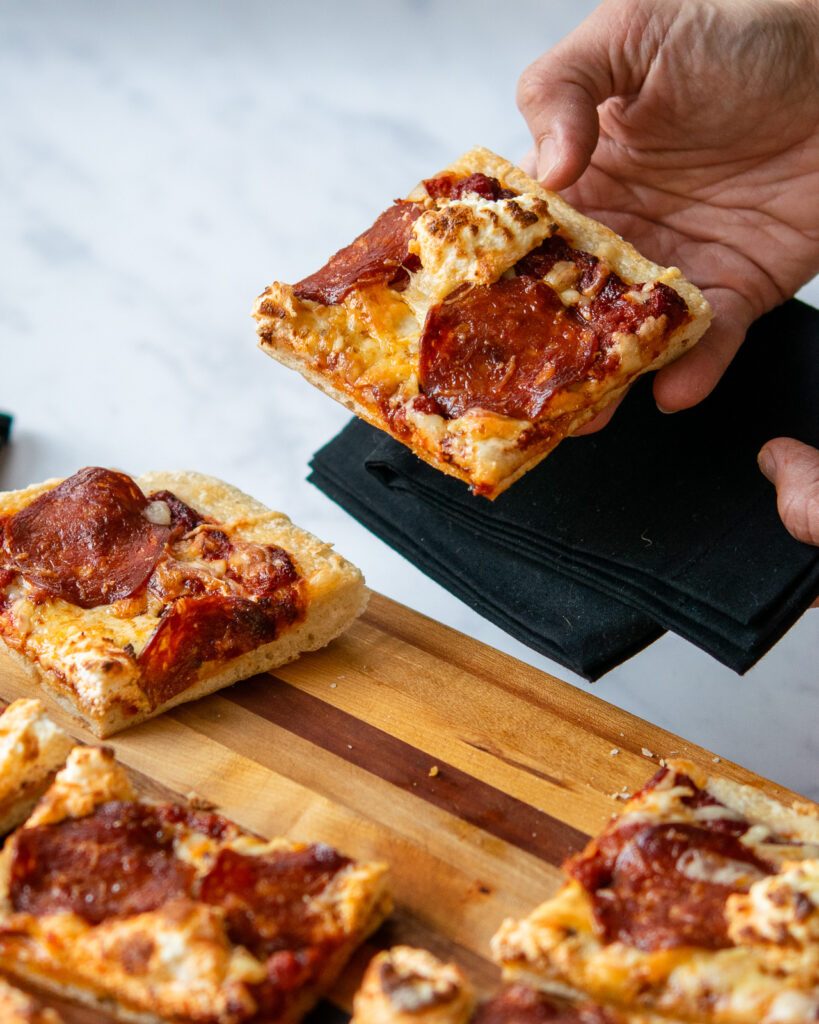 How to Re-heat Pizza in Air Fryer
The air fryer is a fantastic way to re-heat pizza, whether you made the pizza yourself or not. Pop the pizza into the air fryer basket so that air can circulate all around it and re-heat at 400˚F for 5 to 6 minutes, depending on how loaded the pizza is. Then, enjoy it again!