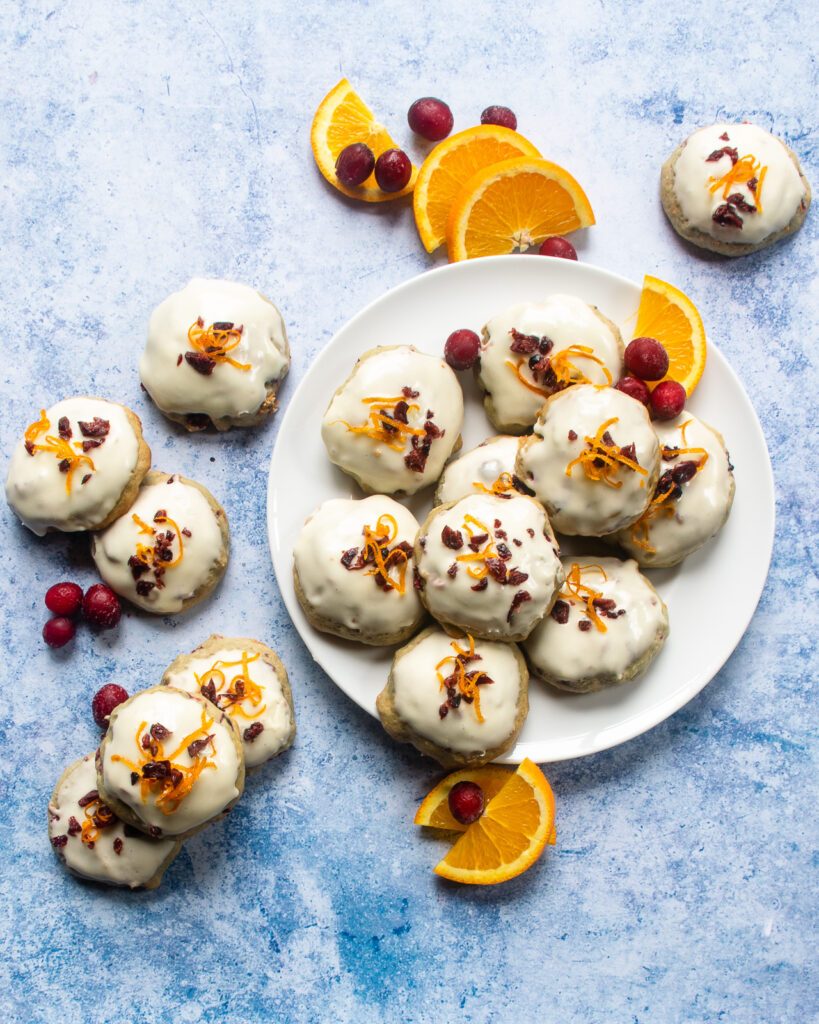 Pretty and Seasonal Orange Cranberry Cookies
I'll warn you ahead of time… these orange cranberry frosted cookies aren't much to look at UNTIL you have them fully iced and decorated. Then they sparkle like the little gems that they are. Orange and cranberry together is a favorite flavor pairing for me, especially in the winter and around the holidays. They not only pair well together in flavor, but in color and appearance too. You can use fresh or frozen cranberries in the cookie dough and then sweeter dried cranberries to decorate on top.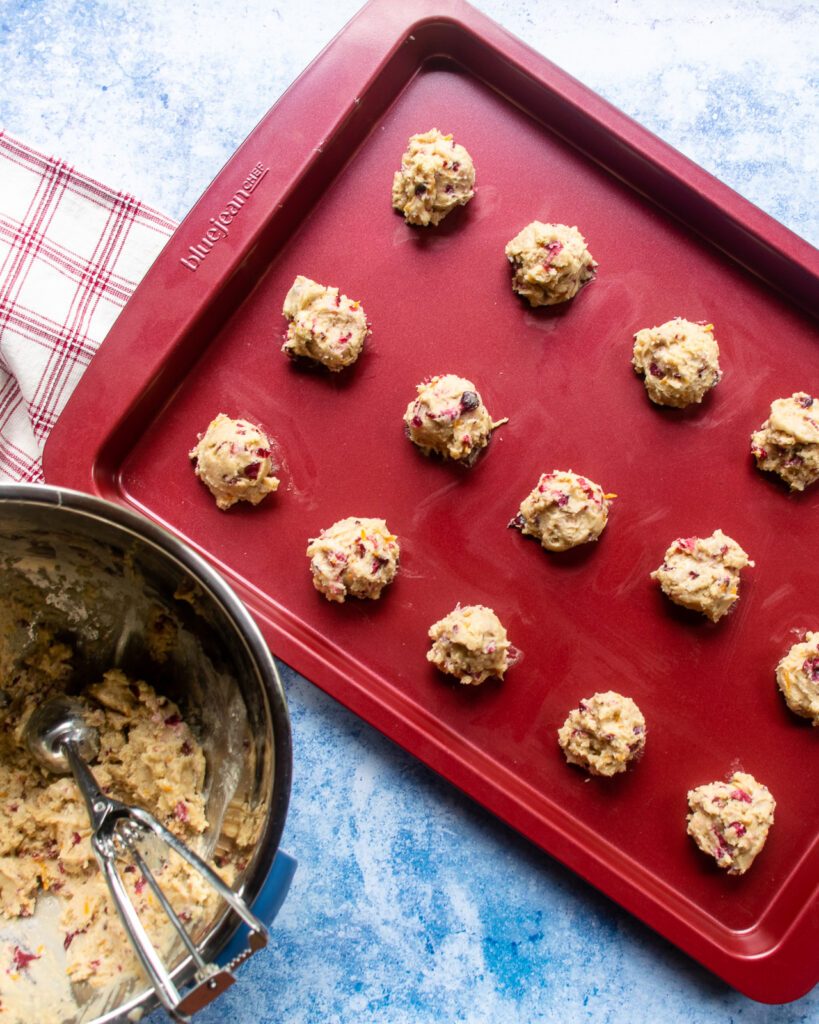 Chilling Cookie Dough
Making this cookie dough is not complicated or unusual. It simply requires creaming the butter and sugar, mixing in the wet ingredients and then adding the dry ingredients. Then, refrigerate the dough for an hour, or better yet, overnight. This helps the dough set up a little, making it easier to scoop out, and it helps to develop a little more flavor.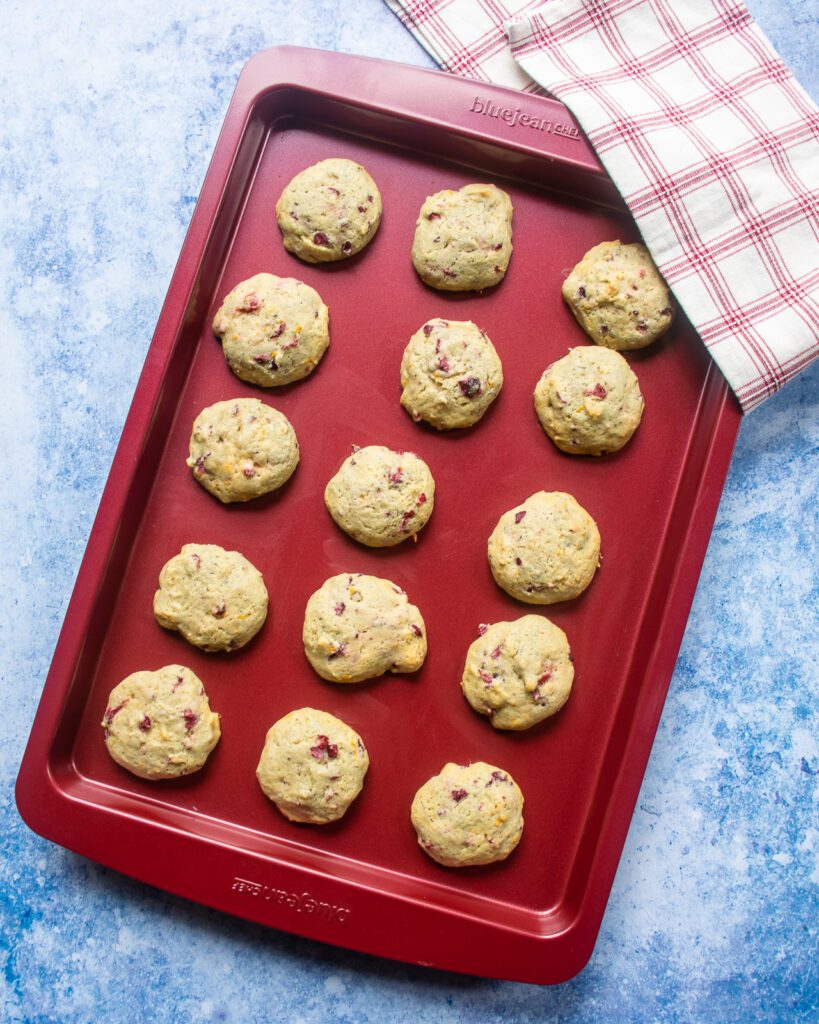 Making Ahead
You can make the dough ahead of time (which is great for more flavor development) or you can go ahead and bake off the cookies ahead of time. This is also a great idea because you'll need to wait for the cookies to cool completely before frosting them anyway. Baking ahead ensures that they'll be cool when frosted. Store them in an airtight container if you do bake ahead.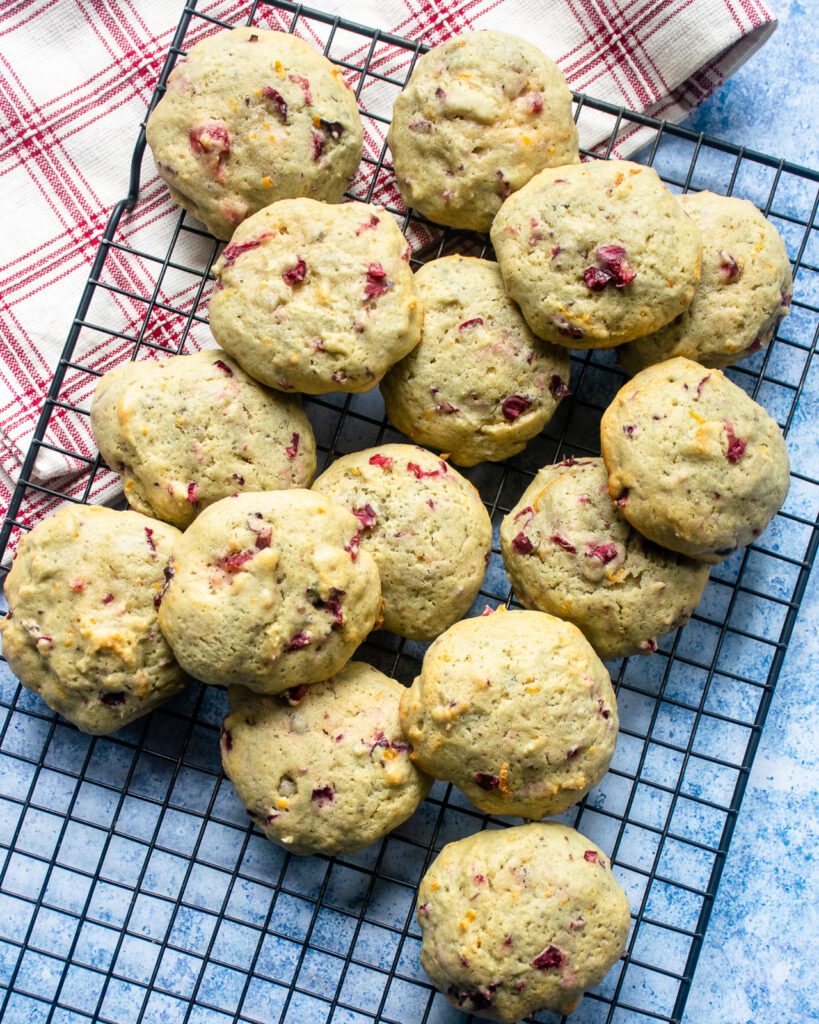 A Blue-ish Tinge?
Sometimes when baked the cookies can take on a blue or green-ish tinge. This can happen if you are using a baking powder that contains aluminum, which reacts with acidic ingredients (like cranberries). This is not harmful and the cookies will be frosted anyway, but if you want to avoid this, look for a powder that is aluminum free, like Clabber Girl, Rumford or Bob's Red Mill.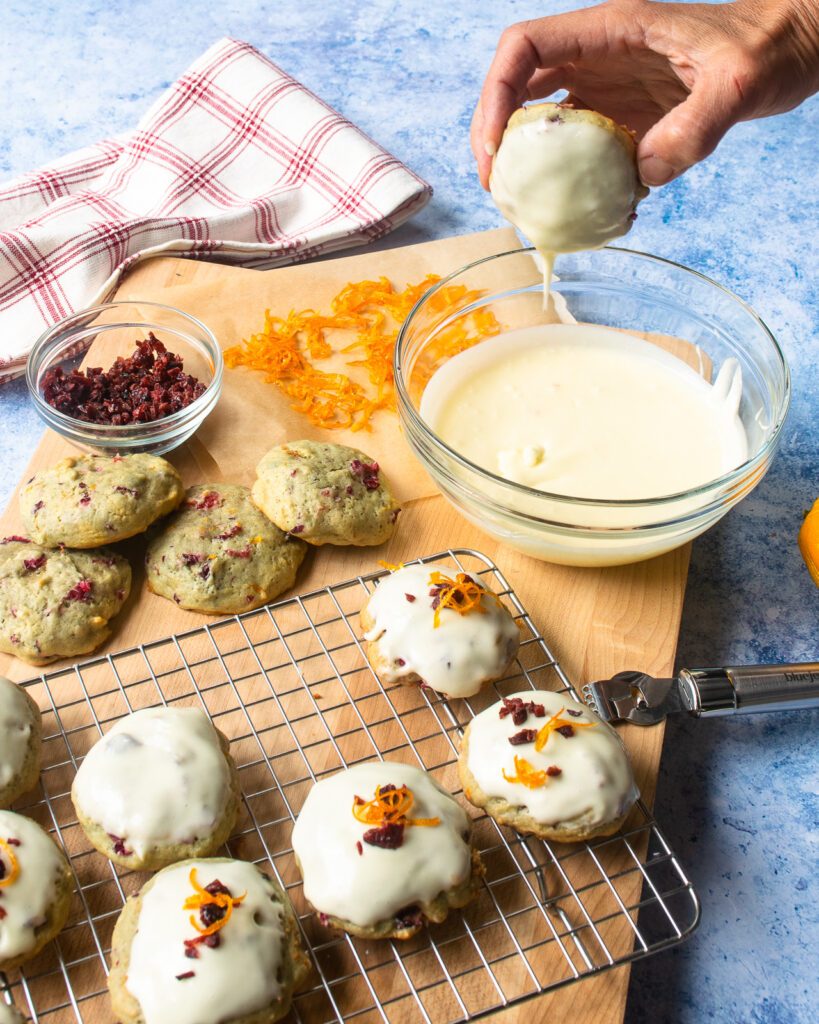 Cream Cheese Citrus Glaze
The frosting for these orange cranberry frosted cookies is simple, but rich and delicious. That's because it starts with cream cheese. If you love the icing on carrot cake, you'll love the icing on these cookies too. Make sure the cookies are cool before frosting so that the frosting doesn't melt and run off. Then let the frosting set up on the cookies and decorate the tops.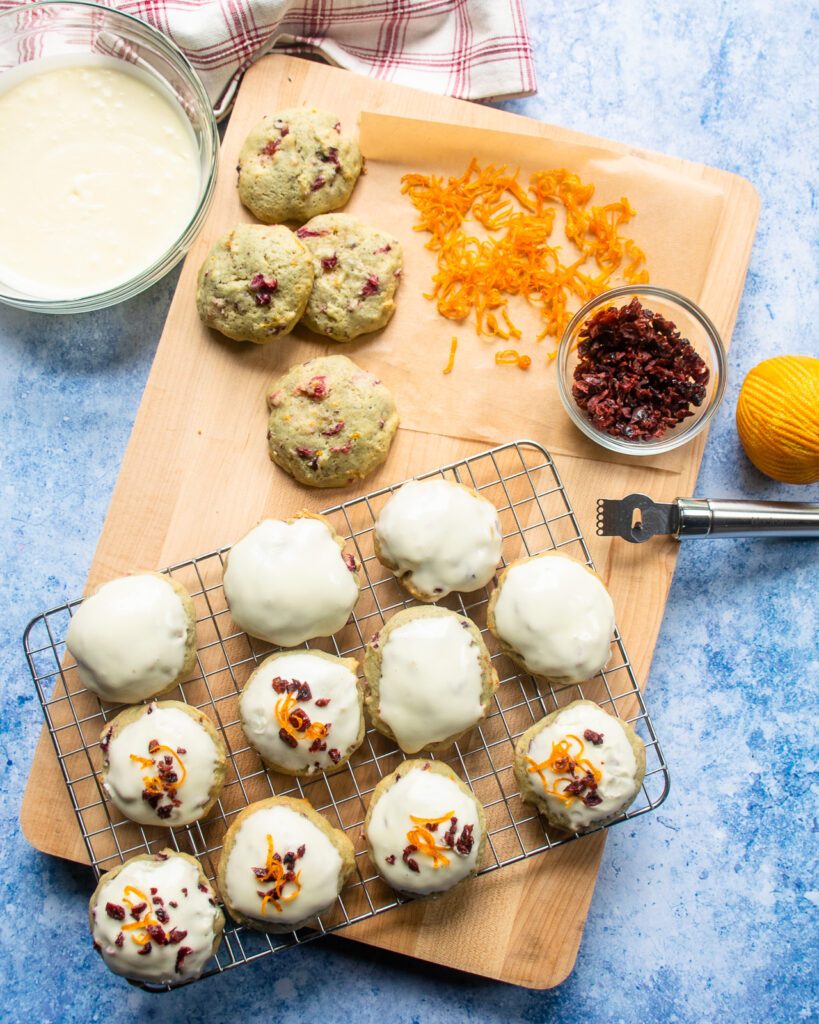 Storing Cookies
These cookies are best stored in one layer so that you don't mess up the decorating on top, but if you need to stack them, put a little parchment paper in between the layers once the cookies have cooled and dried for a while. Store in an airtight container (or zipper sealable plastic bag) for a week or two (but they won't last that long).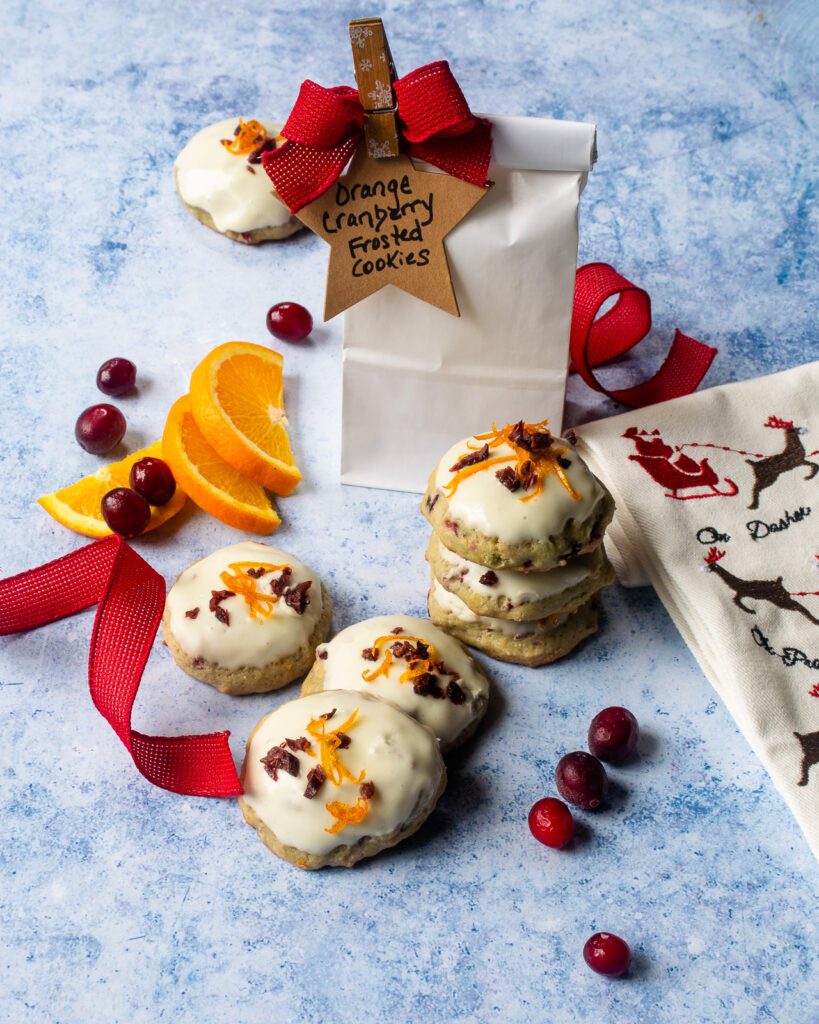 Holiday Cookie Exchange
I think these orange cranberry cookies make a perfect addition to a holiday cookie platter and ideal for a cookie exchange because they are different from most of the other traditional cookies you see around the holidays with a soft, almost cake- or scone-like texture. On top of that, their pretty colors make them stand out in a crowd. Just like you.
Other Cookies You Might Like
If you are making these as part of a holiday cookie platter, you might like to check out other great cookies suggestions like shortbread, Dark Chocolate Scottish Oat Cookies, Chocolate Crinkle Cookies, Raspberry Cream Cheese Thumbprint Cookies or the Iced Oatmeal Raisin Cookies. Throw in a few squares of Buckeye Fudge and you'll have a platter beyond compare!