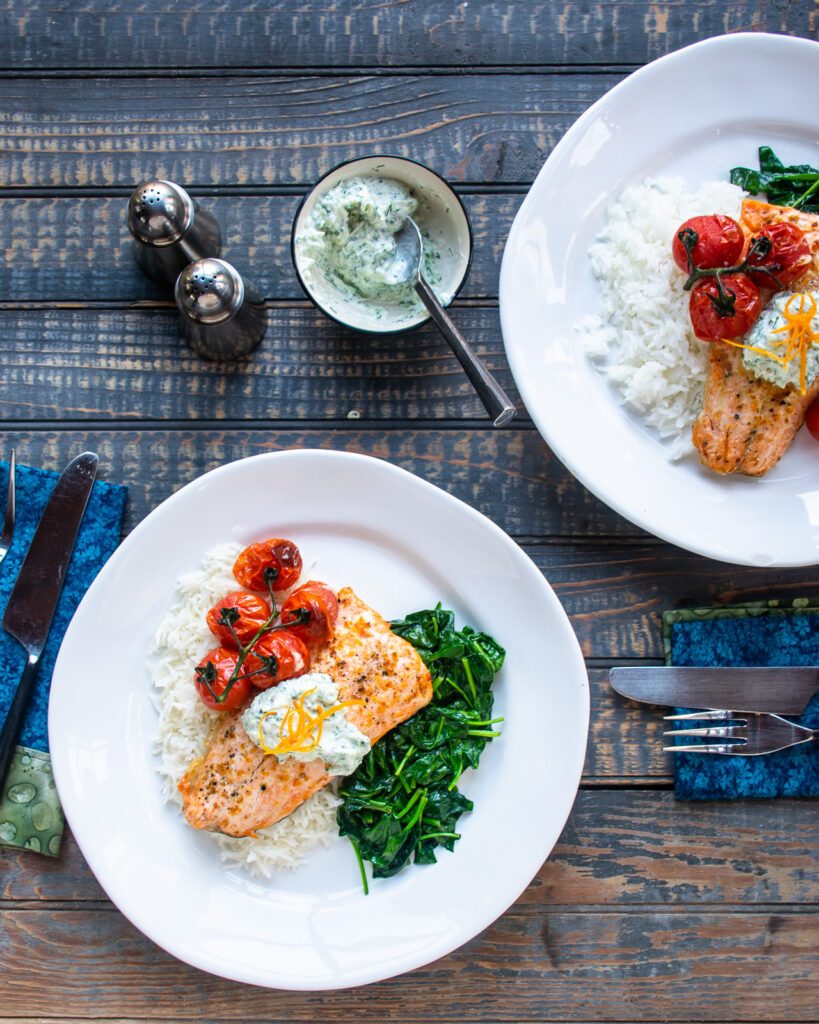 Quick and Tasty Fish Dinner
I like to have fish for dinner at least once a week, and it's not just because I like the taste of fish. I also love cooking fish because it's quick and easy and versatile. This recipe for orange Arctic Char with burst cherry tomatoes only takes about 15 minutes to make and you end up with a dinner that is delicious and nutritious too.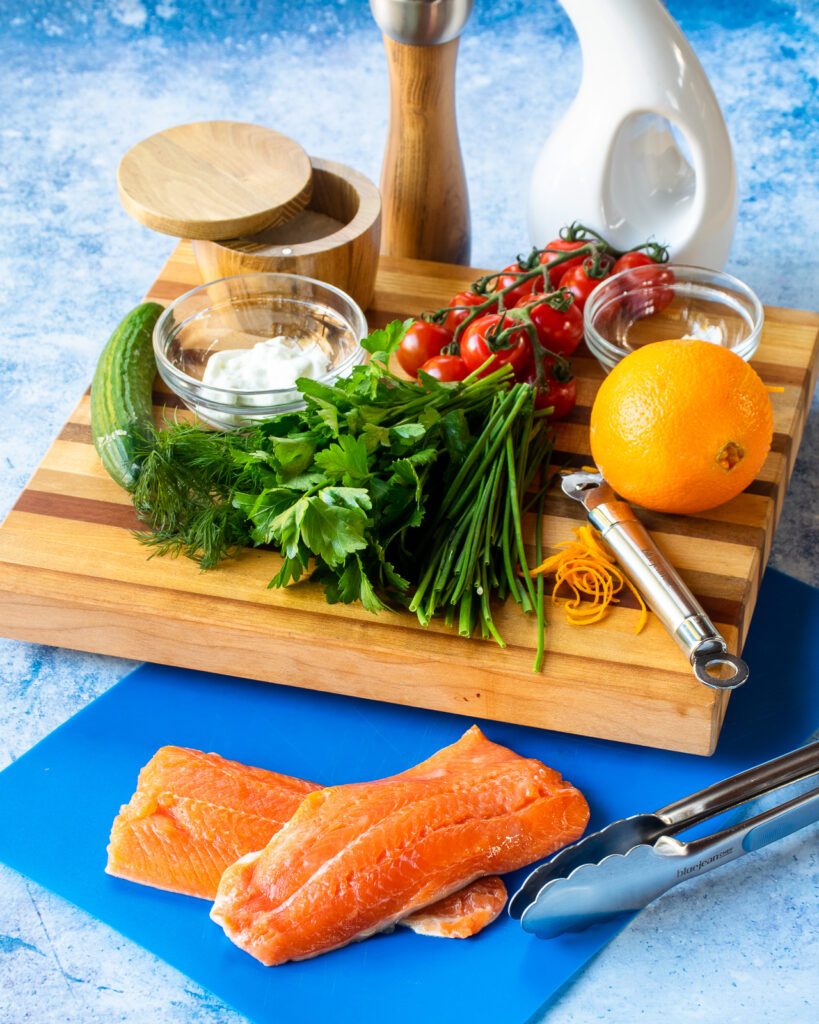 Arctic Char
There are so many different fish to enjoy that it's hard to put "fish" in a single category. When you are thinking of fish for dinner, there's a whole sea (literally) to choose from. Arctic Char is one of my favorite types of fish. It's a member of the same family as salmon, but it is a different species of fish to what we call salmon (which in fact are many different fish themselves!). It's mild in flavor, lying somewhere between salmon and trout, with a relatively high fat content which makes it very easy to cook without drying it out, and… it tends to be less expensive than salmon varieties. Win, win, win!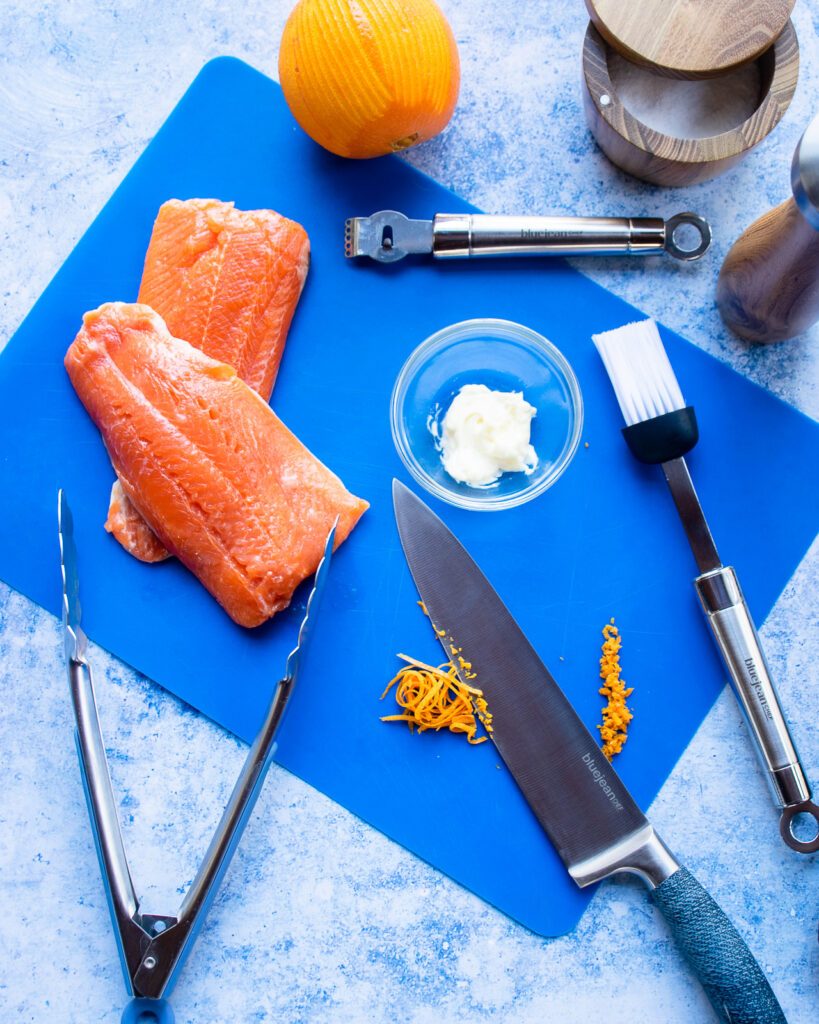 Mayonnaise on Fish
When making any fish dinner, my rule of thumb is to buy the best quality, freshest fish you can and then do as little to it as possible. This orange Arctic Char recipe coats the fish in a very simple mayonnaise and orange zest mixture before roasting or air-frying. Mayonnaise is magic on fish fillets. It adheres to the fish well, allowing you to get other seasonings (or breadcrumb coatings) to stick nicely and insulates the fish so it doesn't dry out.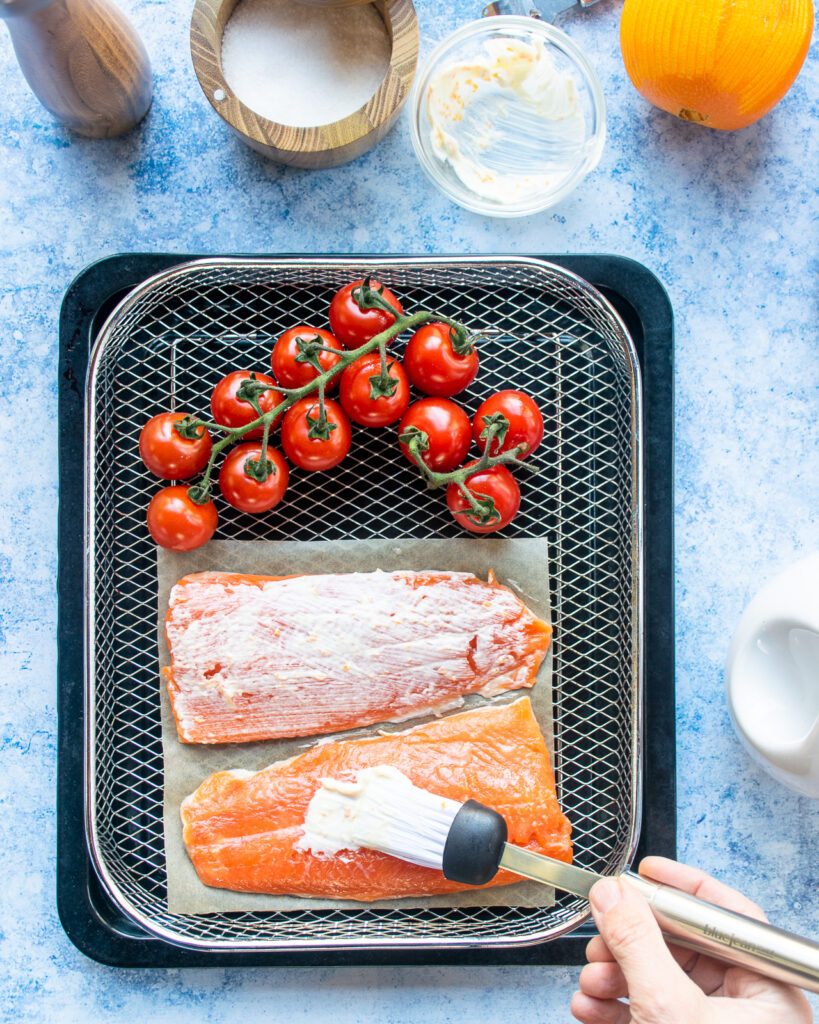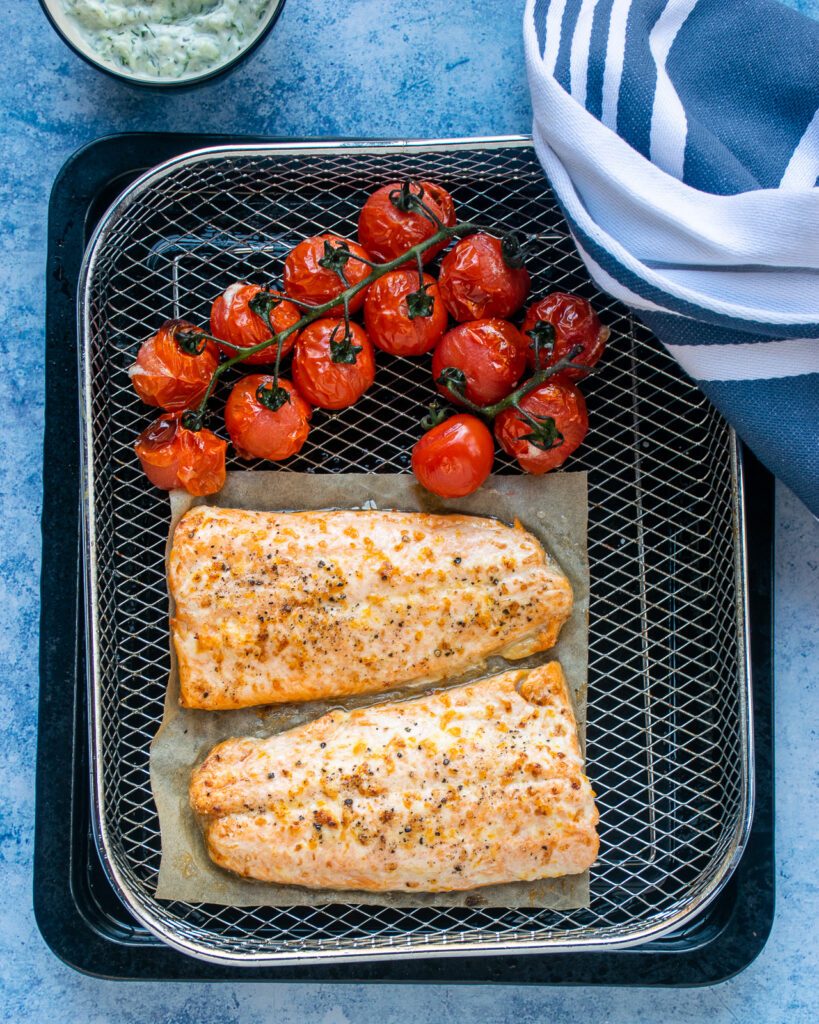 Air-Fried or Oven Baked
You can make this orange Arctic Char in either your oven or your air fryer. The air fryer will be a little faster because there is no pre-heat time and the air fryer cooks faster with its super heated forced air, but both will give you perfect results, with fish fillets that are tender and moist inside with a nice orange flavor on the outside. If you're using a mesh basket like the one in the photo above, do line the basket with some parchment paper (just enough for the fish) so that you don't have the skin of the fish sticking to the basket.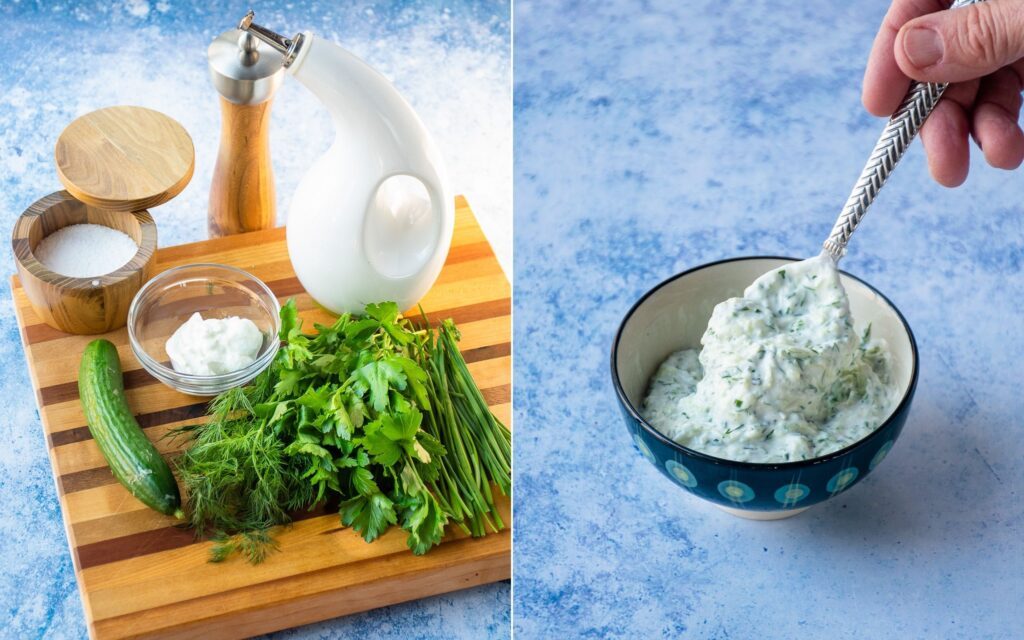 Cucumber Yogurt Sauce
It might sound like a strange combination, but a quickly stirred together yogurt sauce is delicious on fish, especially Arctic Char. The cool cucumber and tangy yogurt are a nice compliment to the fatty fish fillet and the herbs you can chop and stir in add a nice burst of flavor. I like to use a combination of dill, parsley and chives, but any favorite fresh herb would be delicious.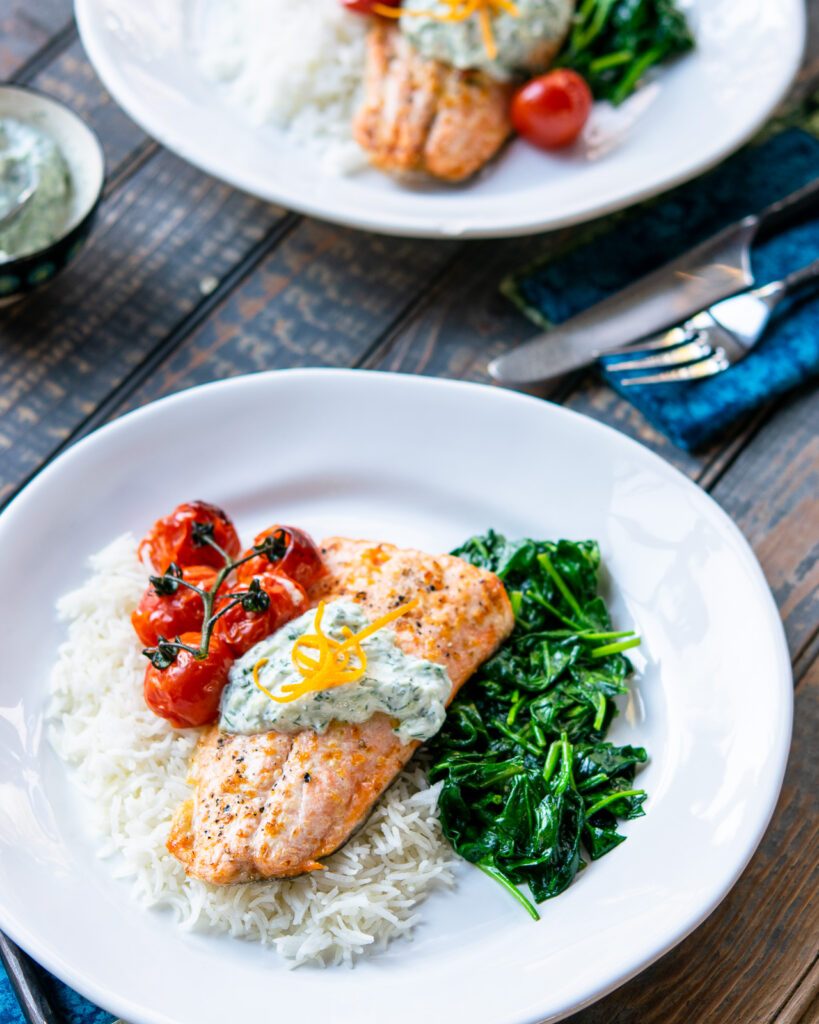 What to Serve with Arctic Char
You can really prepare any sides that you like to go with your fish, but I think rice or mashed potatoes are a nice choice, along with a green vegetable. If you're using your air fryer anyway, the air-fried broccoli with soy drizzle is a nice accompaniment. Then, just dollop a little sauce on top and garnish with some orange zest and dinner is done in less than 30 minutes!