No-one ever looks for a "difficult" recipe, but for many home cooks, everything about making fish for dinner feels more difficult. Even buying fish feels more challenging than buying chicken or steak or pork chops. There are so many different considerations when buying fish – what type of fish, fillet or steak, frozen or fresh, how to tell if it is really fresh… That's all before you even get the fish home to cook it! Well, the good news is that once you do have it home, cooking fish can really be very easy, especially when you use your air fryer. This easy air-fried salmon recipe proves it!
Keep it simple!
These words are the best advice in so many circumstances, but especially when cooking fish. The most sage advice I could give you is to buy the best quality fish you can and do as little to it as possible. This recipe for air-fried salmon does just that – a tiny amount of oil, some salt and pepper and that's it!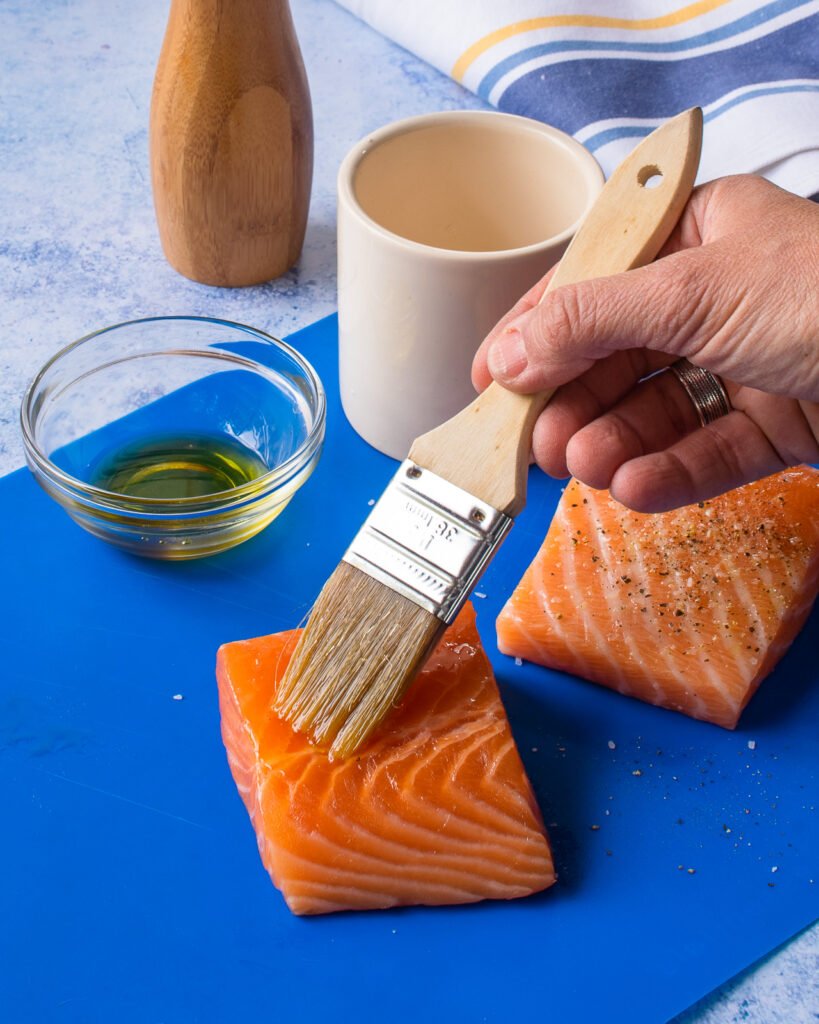 Brush with Oil
Salmon is a fatty fish (remember, those fats are good-for-you-fats!) and therefore doesn't need a lot of oil, but I do brush the salmon fillets lightly, and mostly on the skin side so that it doesn't stick to the surface of the air fryer basket. Pre-heating the air fryer empty for 2 to 3 minutes will also help prevent the fish from sticking.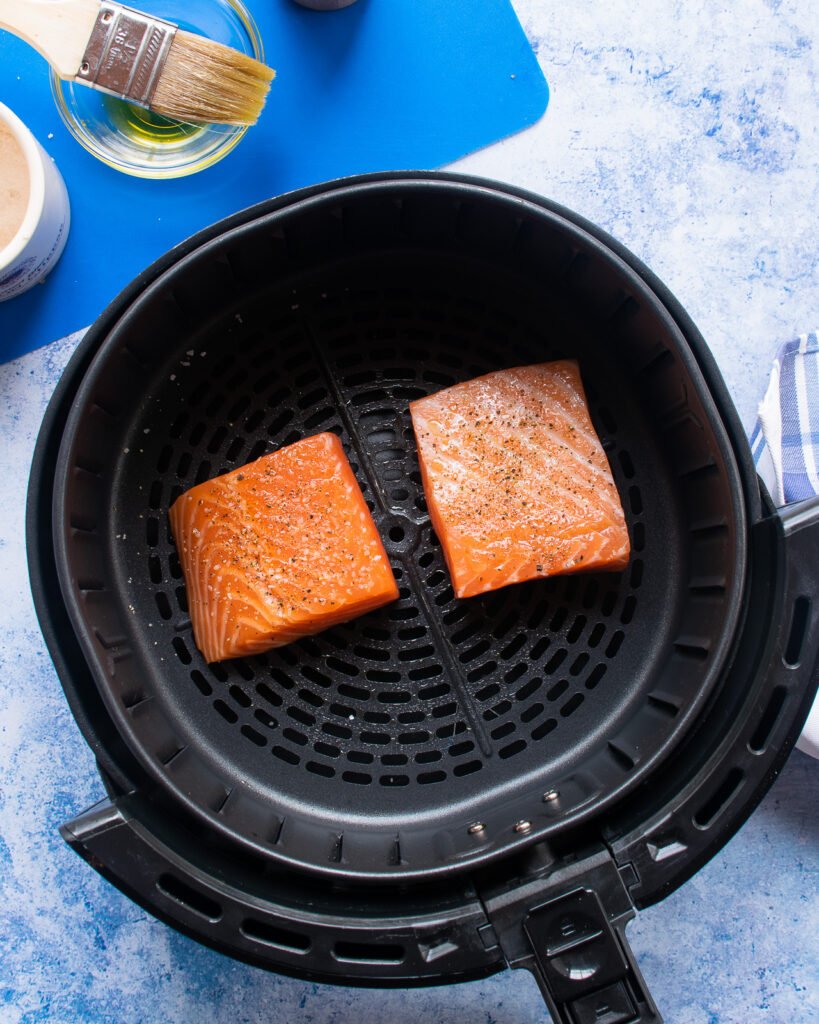 No flipping necessary
More good news! When you cook fish in the air fryer, unlike most foods, there is no need to flip it over halfway through the cooking time. Fish cooks quickly and as long as you don't overcrowd the basket, the hot air will circulate and cook the fish evenly throughout, while giving the top of the fillet a little more direct heat for a little browning.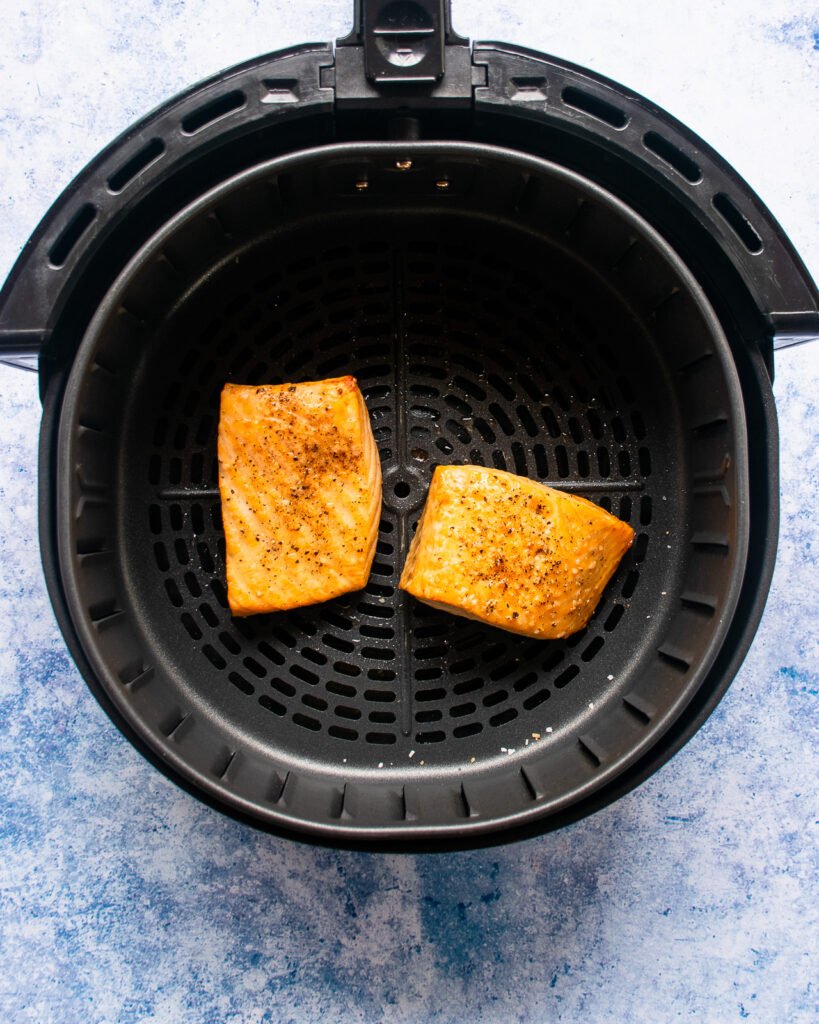 How Long to Air Fry Fish
There is a very simple rule I follow for cooking fish: fish fillets that are 1-inch thick will take 10 minutes at 400ºF. So, with that in mind, just look at the fish fillet you have. If it is 1-inch thick, 10 minutes at 400ºF or 12 minutes at 380ºF will work nicely. If it is thicker than 1-inch, increase the time by a few minutes. If it is thinner than 1-inch, reduce the cooking time. Simple! And we love simple!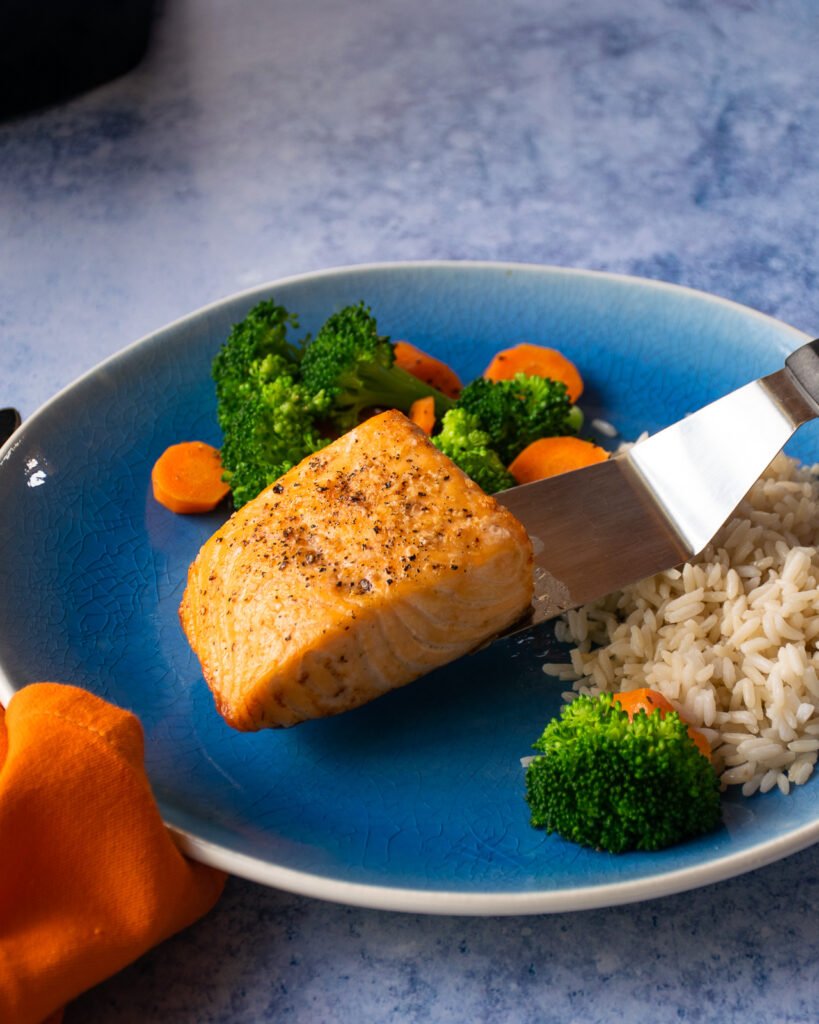 Does Shape Matter?
You'll see the salmon fillets in these photos are more square than rectangular. That is because I like to cut fish into the shapes that I like and which make sense to me. I aim for a portion size of around 5 to 6 ounces of fish per person. Sometimes, if the salmon is really wide, 5 or 6 ounces ends up being a very skinny piece indeed that is difficult to manage without breaking it as it cooks. So, I prefer to cut the salmon into squares that are more evenly thick (or thin). Not surprisingly these pieces cook more evenly and are easy to manage as you cook them. If you'd like to learn about how to cut down a side of salmon to suit your needs, you can read about it here in the cooking school.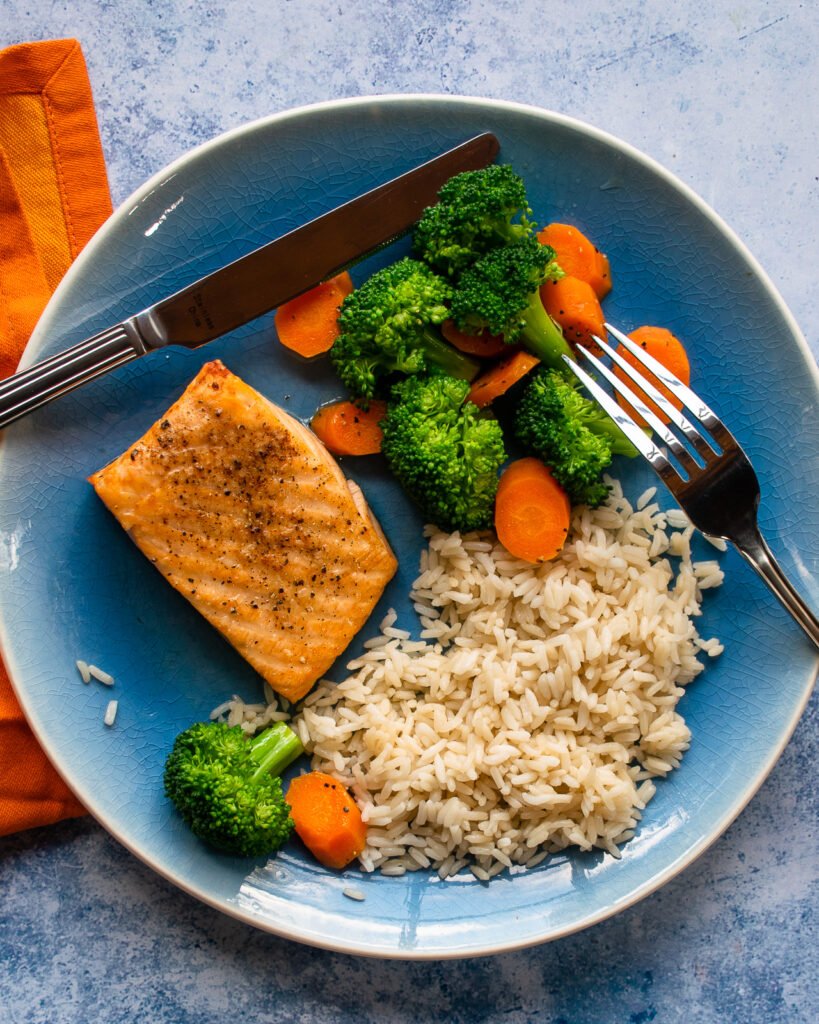 Variations on Air-Fried Salmon
Once you've mastered this easy air-fried salmon technique, you can start to vary it by adding glazes. You might like to try this Balsamic BBQ Salmon recipe, or prefer the Asian glaze in the recipe for Honey-Soy Glazed Salmon. Simply mix the easy glaze ingredients together and spread it on the salmon halfway through the cooking time. Just watch… by learning how to make easy air-fried salmon, you'll have opened a whole new world of fish recipes for yourself!