Homemade Buttermilk Biscuits
The key to making tender buttermilk biscuits from scratch is to mix the dough as little as possible. There's no kneading required and you don't need an electric stand mixer or hand mixer. It's honestly quite simple and requires only a few ingredients – buttermilk, self-rising flour, butter and sugar. Add a couple more ingredients and you can make easy variations like these delicious lemon rosemary buttermilk biscuits. 
Substitution for Self-Rising Flour
While most of us keep flour on hand in our pantries, self-rising flour is not as common a staple in most kitchens. Self-rising flour is a mix of wheat flour, baking powder and salt. Since you probably have all those ingredients in your pantry right now, there's no need to run out to the store to get self-rising flour especially for this recipe. To make a cup of your own self-rising flour, you can combine 1 cup of all-purpose flour, 1½ teaspoons of baking powder and ¼ teaspoon of salt. Because this recipe calls for 2⅓ cups of self rising flour, you will need to use:
2⅓ cups of all-purpose flour + 3 ½ teaspoons of baking powder + ½ teaspoon of salt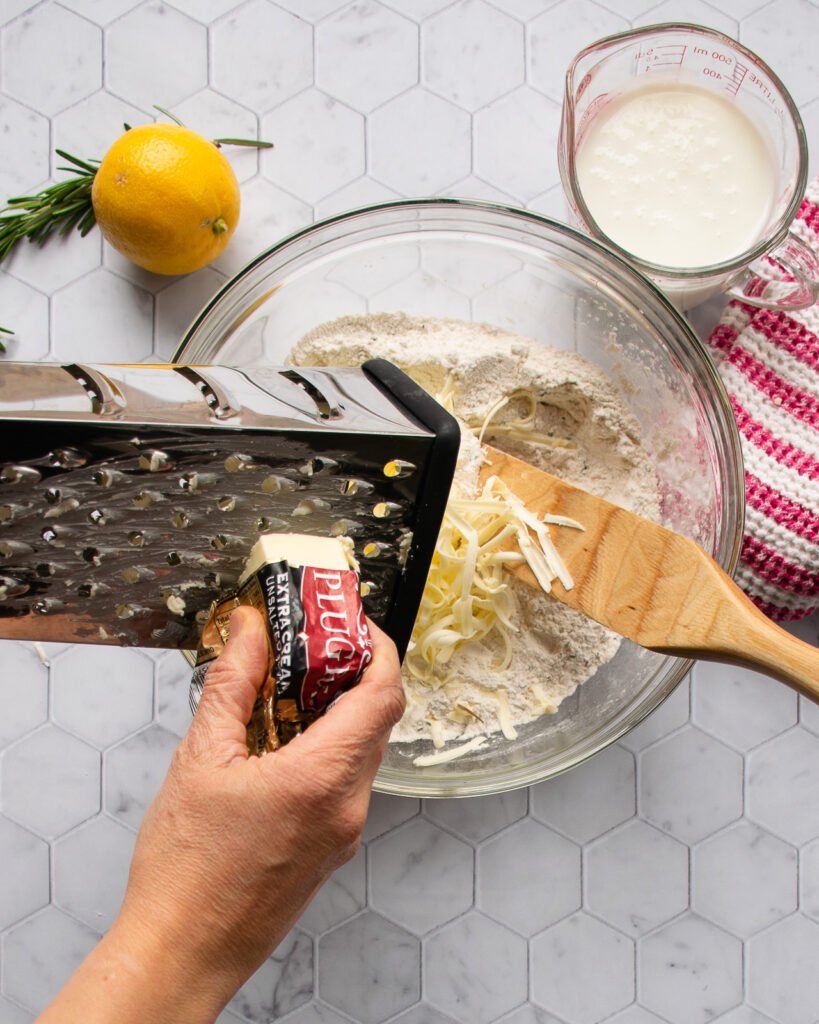 Buttermilk Biscuits without Buttermilk
Buttermilk is another ingredient that we don't always have on hand. Don't fret. In a pinch, you can create your own buttermilk substitute using milk and lemon juice or vinegar. For every cup of buttermilk substitute start by putting 1 tablespoon of white vinegar or lemon juice in a measuring cup. Add enough milk to measure 1 cup. Let it stand for 5 minutes. It will become a little lumpy, but that is a good thing. Because this recipe calls for 1⅓ cups of buttermilk, you will need: 
1 ⅓ cups milk + 4 teaspoons of vinegar or lemon juice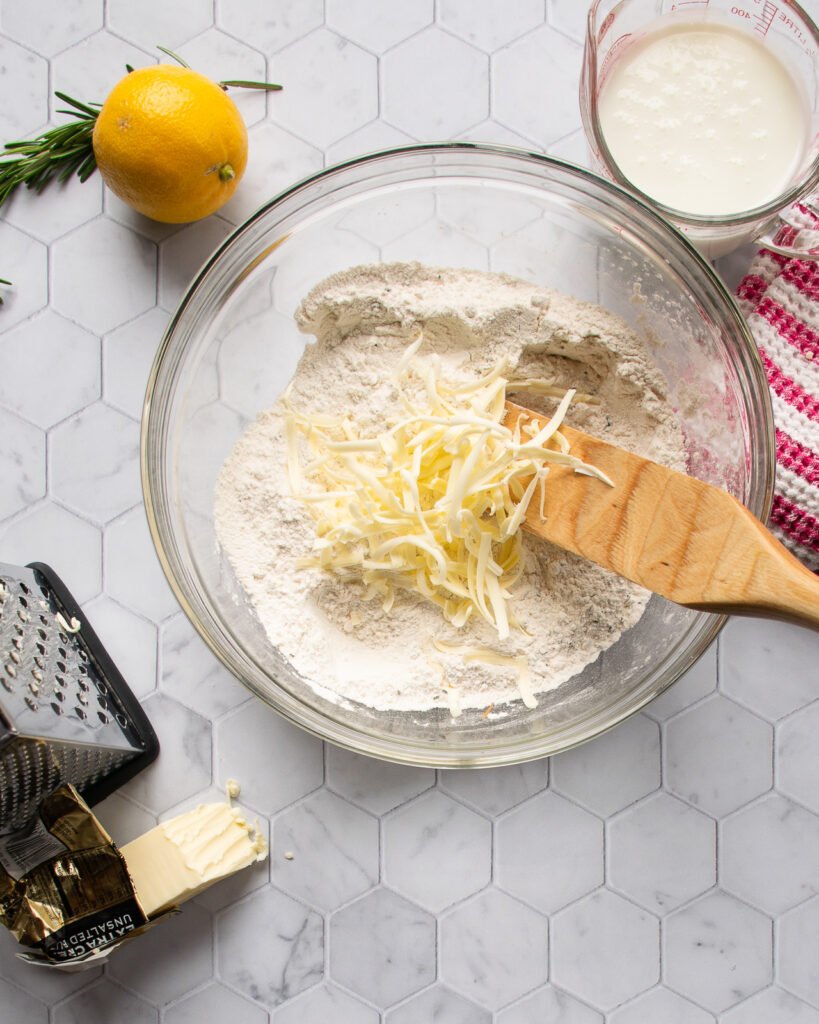 Grating in Butter
The first task in this recipe is to cut the butter into the flour. You could do this with two knives or your fingers, pinching the butter into smaller and smaller pieces, but I have a handy trick for you. Partially freeze the butter and use a box grater to grate it into your flour. This creates beautifully small pieces of butter that you can toss with the flour to coat evenly. Then, just add the buttermilk to the mix and stir everything just until no streaks of flour remain. Easy.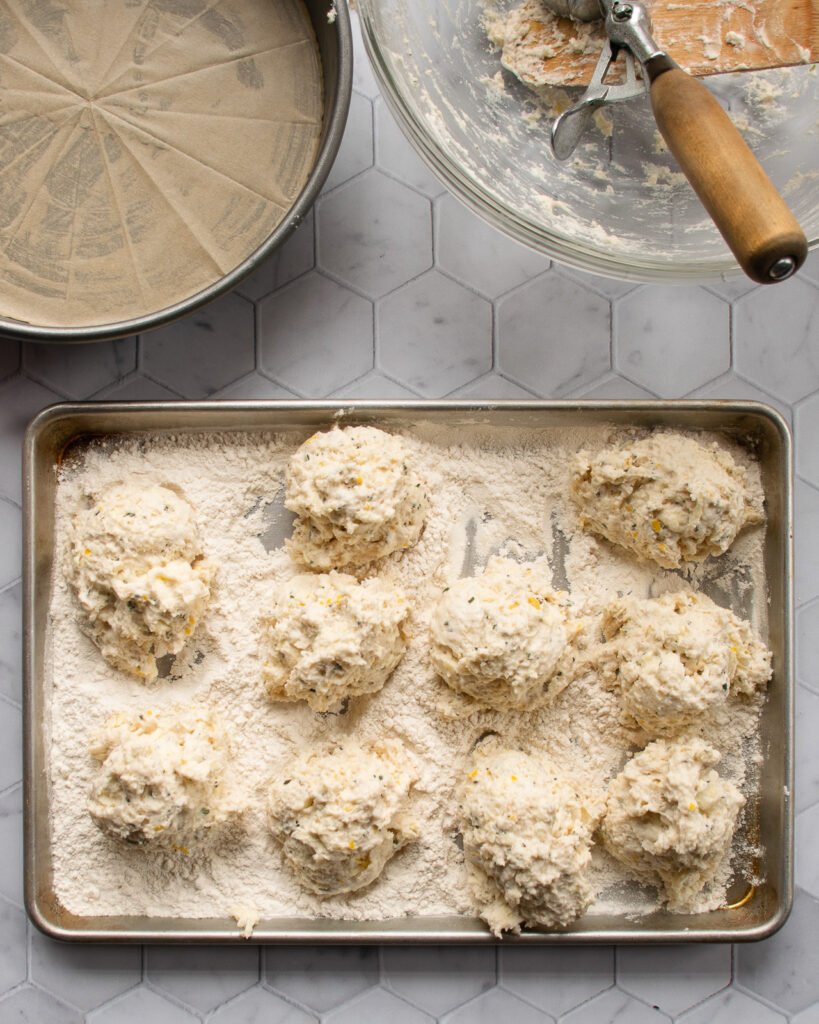 Portion the Biscuits
I like to use an ice cream scoop to spoon evenly sized portions of biscuit batter onto a sheet pan with all-purpose flour on it. Decide how many biscuits you make based on what pan you plan on using to bake them. If you are using an 8-inch round cake pan, you'll probably get 8 biscuits into the pan. If you are using an 8-inch square pan, you will be able to make 9 biscuits. Coat the portions of batter in the flour, tossing them back and forth between your hands. However many you make, do put them into the pan pressed up against each other so that they rise up instead of out flat.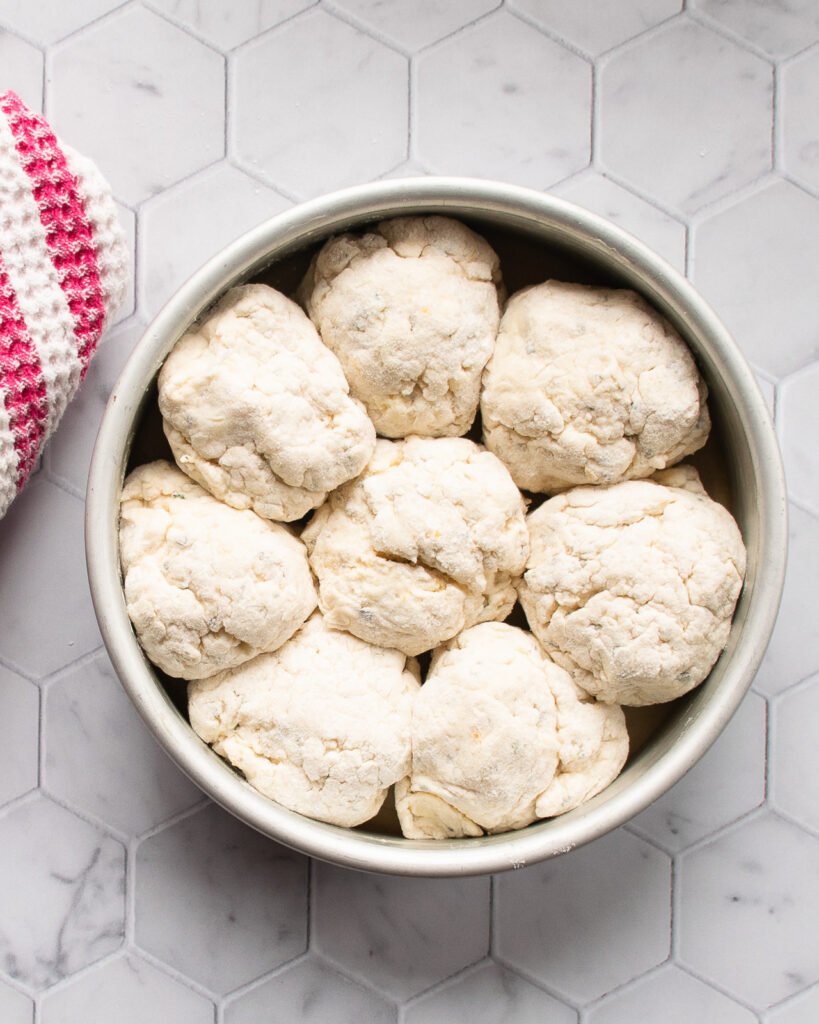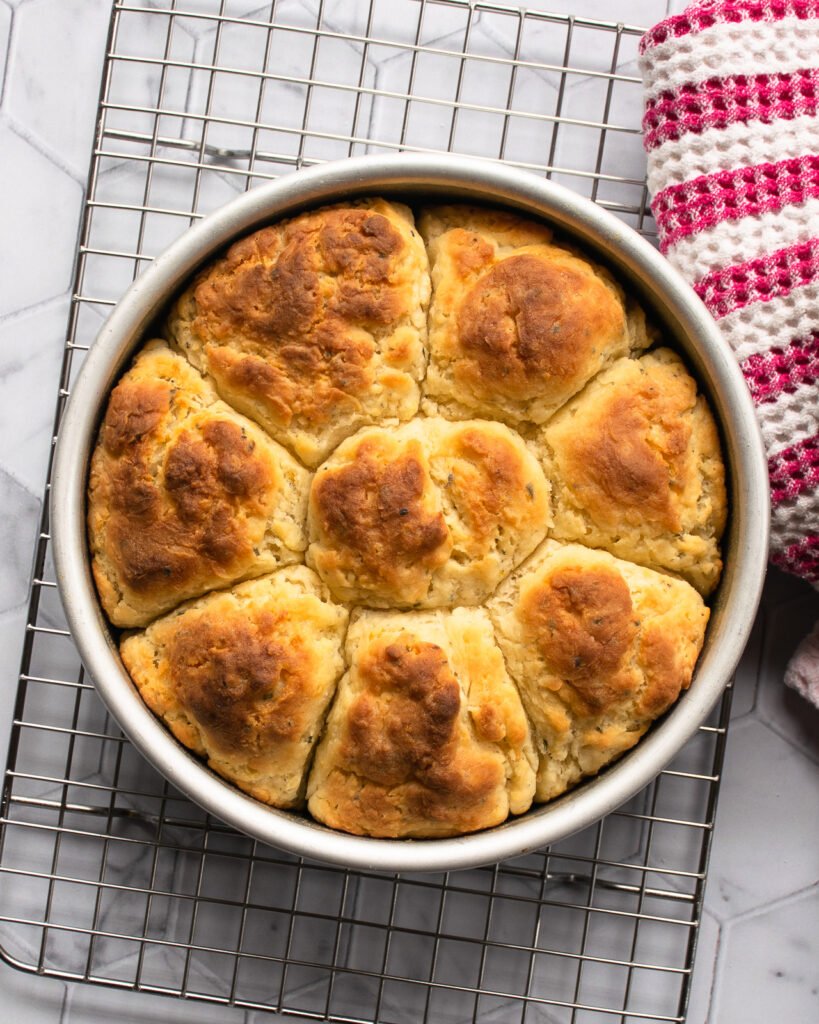 How to Store Biscuits
If you plan on storing your biscuits, wrapping them tightly right in the cake pan is the best idea. That way, you can simply remove the plastic and re-heat the biscuits in a 350ºF oven for about 15 minutes when the time comes. However, I am going to be quite honest with you here – these biscuits are best served the day you make them.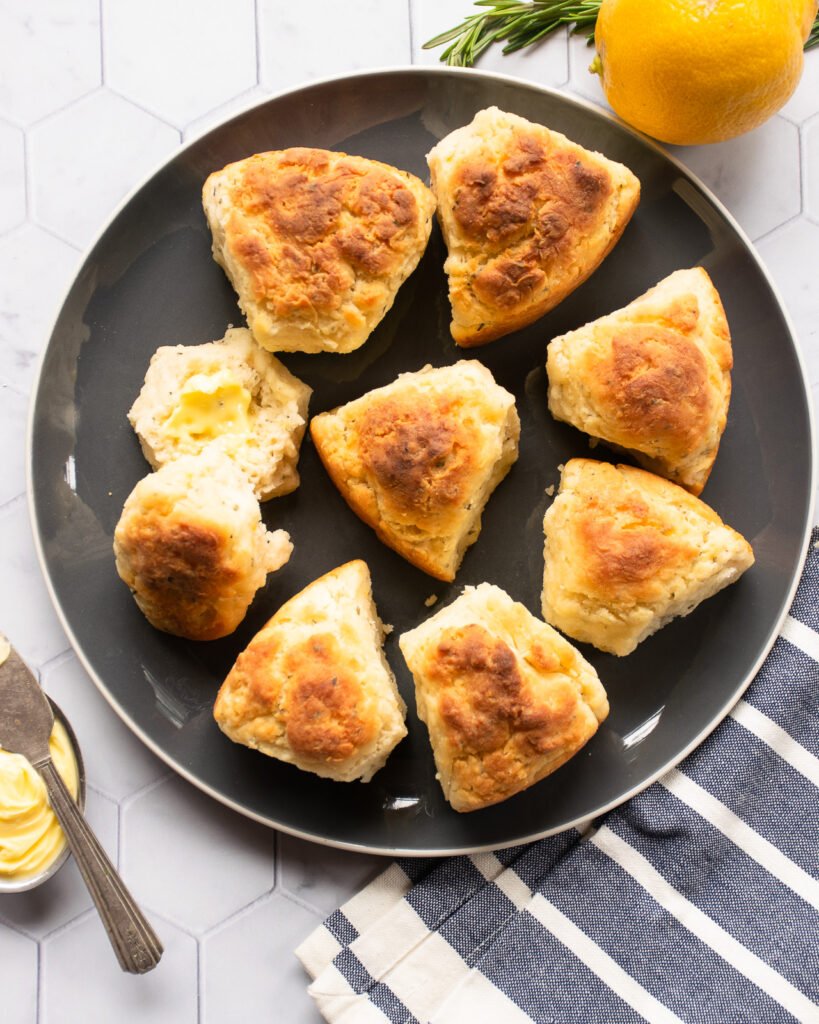 Can I make these biscuits ahead?
Well, for best results, biscuits are best baked just before serving. The good news is lemon rosemary buttermilk biscuits are super easy so you can make them quickly, even on a busy day or holiday and you can prepare all the ingredients in advance. To prep the day before, measure out all the ingredients and cut the butter into the flour. Add the buttermilk right before you are ready to bake them. Do not let the batter sit too long before baking because the baking powder will start to activate as soon as it gets wet. Of course if you really have to bake your biscuits the day before, you can reheat them by wrapping the biscuits in foil and baking them at 350°F for about 15 minutes, as I mentioned above.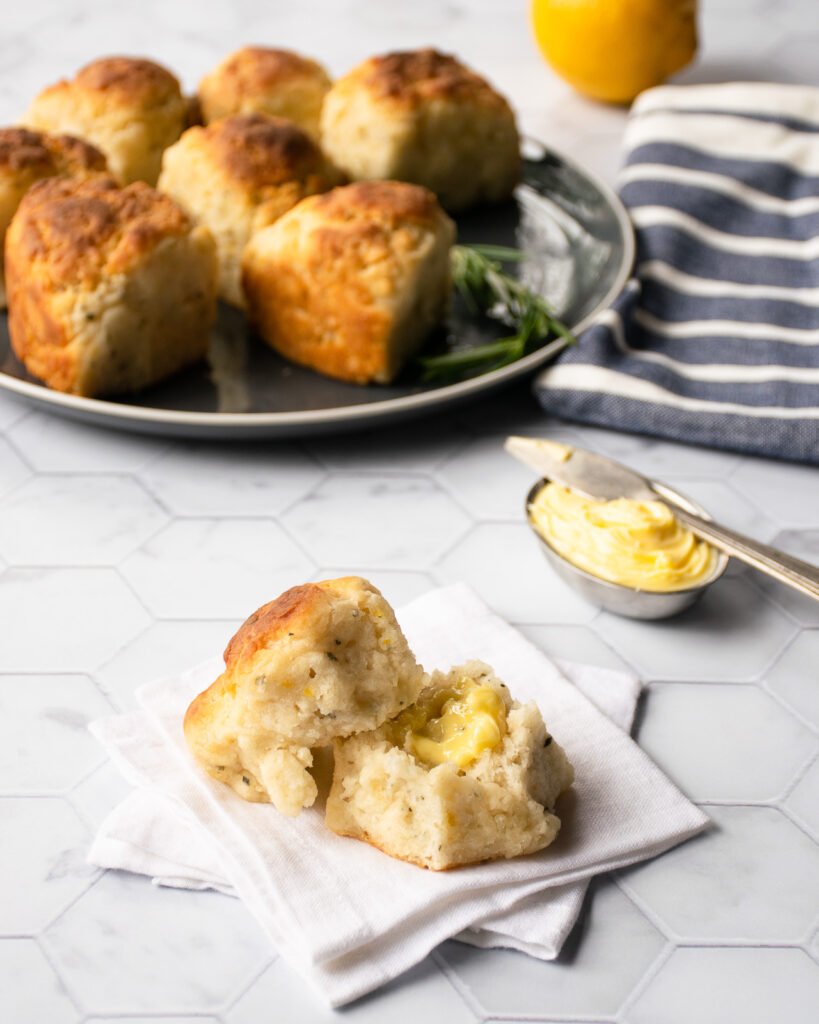 What to Serve with Buttermilk Biscuits?
Well for me, you can serve these biscuits with just about anything! I especially love them with foods I consider comfort food like my Beef Stew, Classic Pot Roast, a Baked Ham and Fried Chicken. Buttermilk biscuits are a real treat at the holidays and because they are so easy to flavor with extra ingredients, there's a buttermilk biscuit for every holiday! Other variations on plain buttermilk biscuits include Cranberry Orange Biscuits or Bacon Cheddar Biscuit Bread.