A pot roast is a classic braise – a large piece of meat, partially covered in liquid, covered in a pot and cooked at a low temperature for a long period of time. Luckily, the best cuts of beef for braising just so happen to be the less expensive cuts as well – chuck roast, round roast, etc… These cuts are super flavorful, but they tend to be very tough and need time and moisture in order to break down the muscle fibers and render the beef tender. So, while you won't pay in dollars for this meal, you will pay in time. A pot roast on the stovetop takes at least three hours. Enter the pressure cooker… When you pressure cook a pot roast, you can cut this time by one third and get it done beautifully in an hour.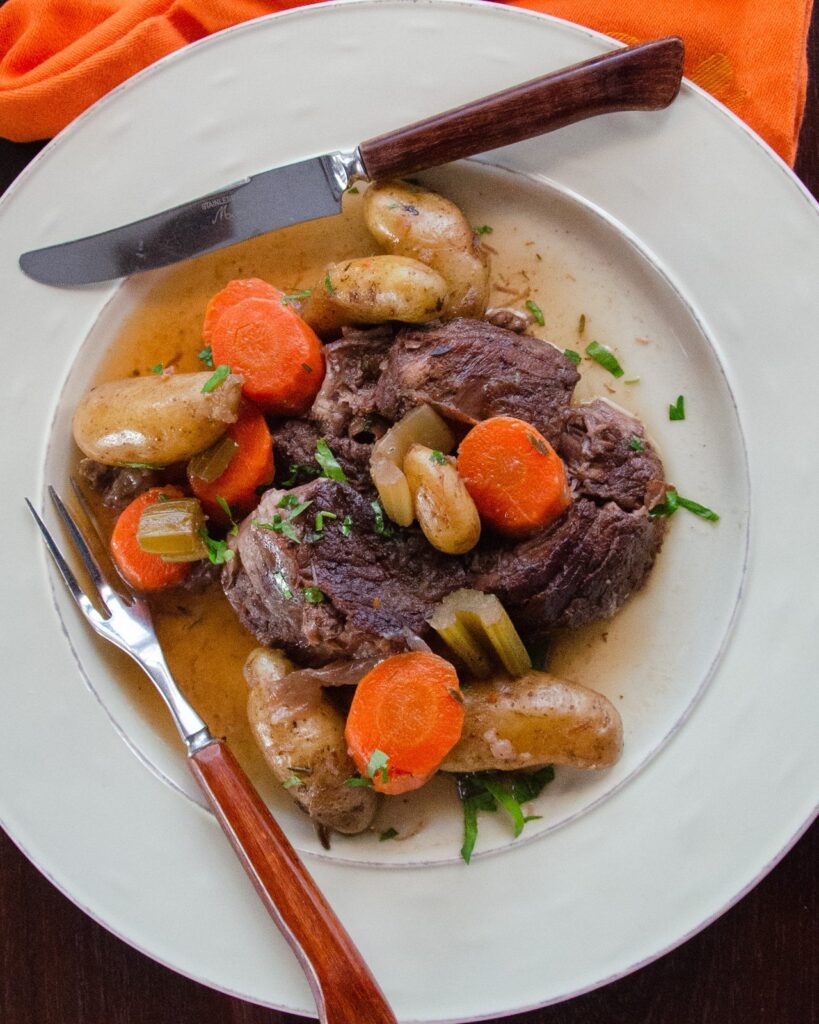 You'll start by searing the roast to get some color on it and to add flavor to the exterior. If your pressure cooker has a brown setting, you can do this right in the pot. Otherwise, sear it on the stovetop in a large pan. (You might find that searing the roast on the stovetop is faster than using the pressure cooker, depending on the size of cooker you have and how powerful the browning function is.) Once browned, the beef goes into the pressure cooker along with some aromatic vegetables, herbs and liquid. Adding red wine and beef stock as the liquid helps build depth of flavor, but if you're someone who doesn't like to cook with alcohol, you can leave it out and substitute more stock in its place.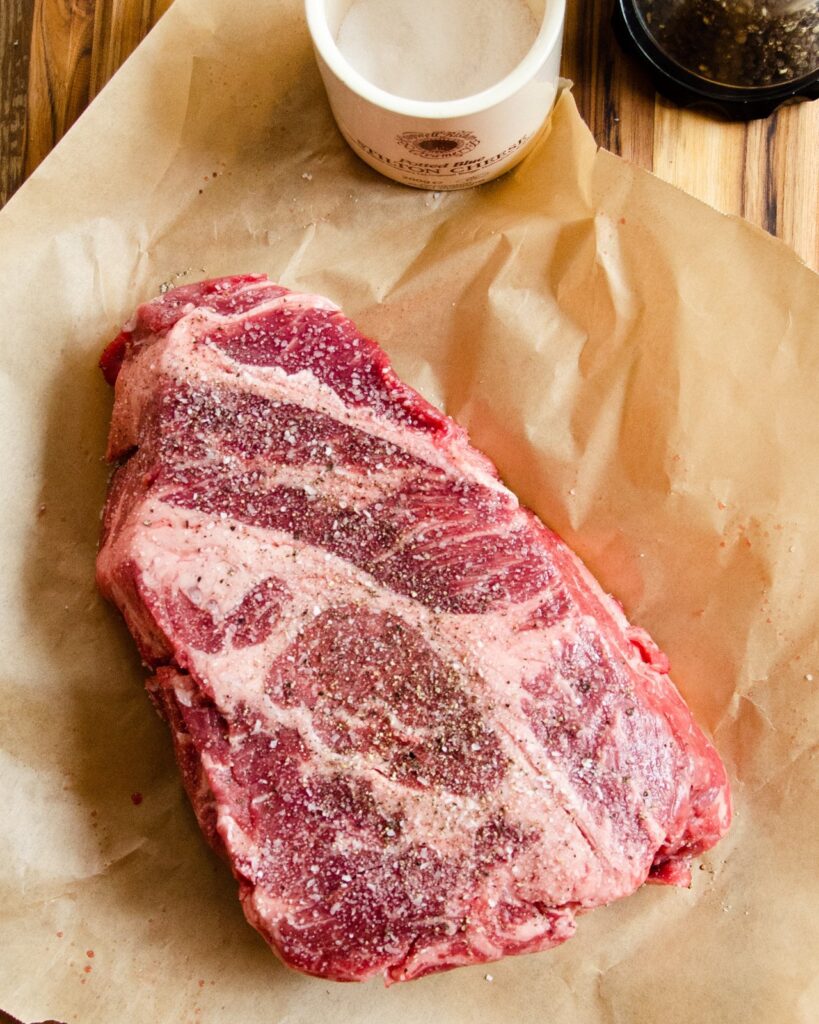 A word about the vegetables. These vegetables should be in relatively large chunks because they are going to be cooking for a relatively long period of time. At the end of cooking, these vegetables will be very soft and slightly crushable. If you don't want your vegetables so soft, leave the potatoes and carrots out until the end. Once you have finished cooking the beef and the pressure has dropped naturally (a natural pressure release is critical for tender beef), remove the beef from the cooker and let it rest, loosely tented with foil. Add the potatoes and carrots to the pressure cooker and pressure-cook on HIGH for 8 minutes. Release the pressure using the quick-release method and remove the vegetables from the pot.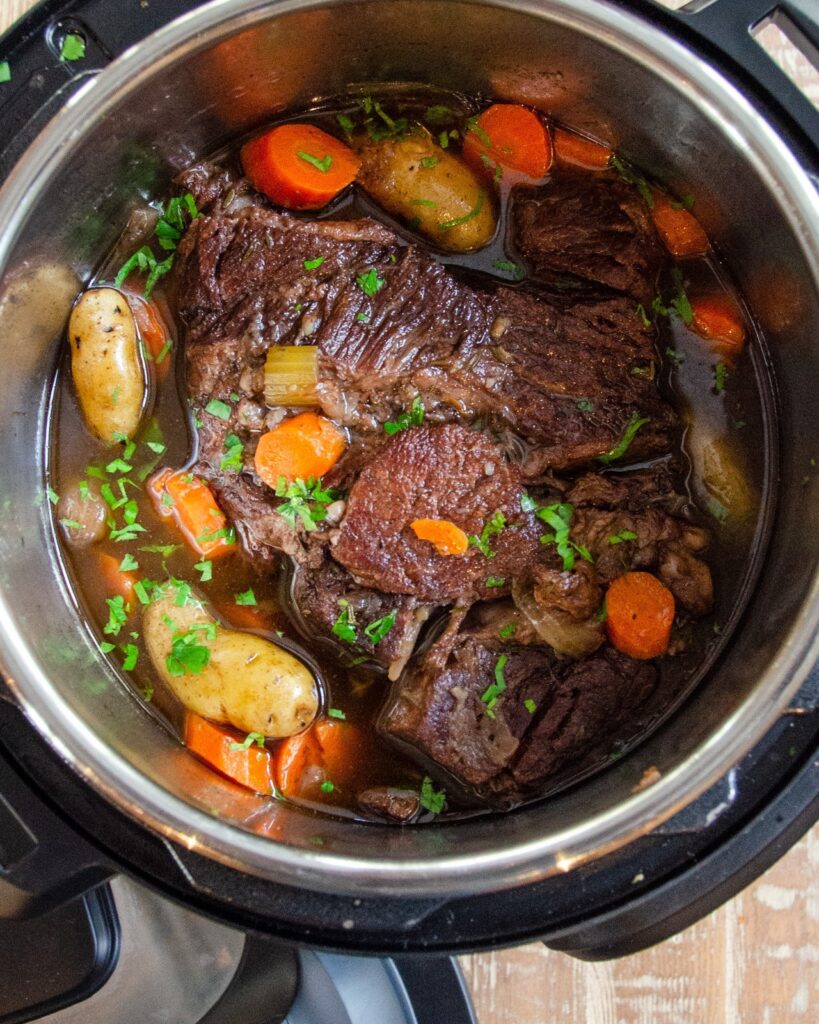 I prefer a thin liquid with my pot roast, but if you prefer a thicker sauce, you have two options at the end of cooking.
You can let the liquid simmer in the pot (use the brown setting again) until it thickens, OR
You can add a mixture of 1 tablespoon butter mashed with 1 tablespoon of flour (a beurre manié). Whisk this into the liquid while it simmers and it will thicken.
Either way, you'll end up with a large platter full of vegetables, the most tender beef imaginable and a delicious jus to pour over everything.