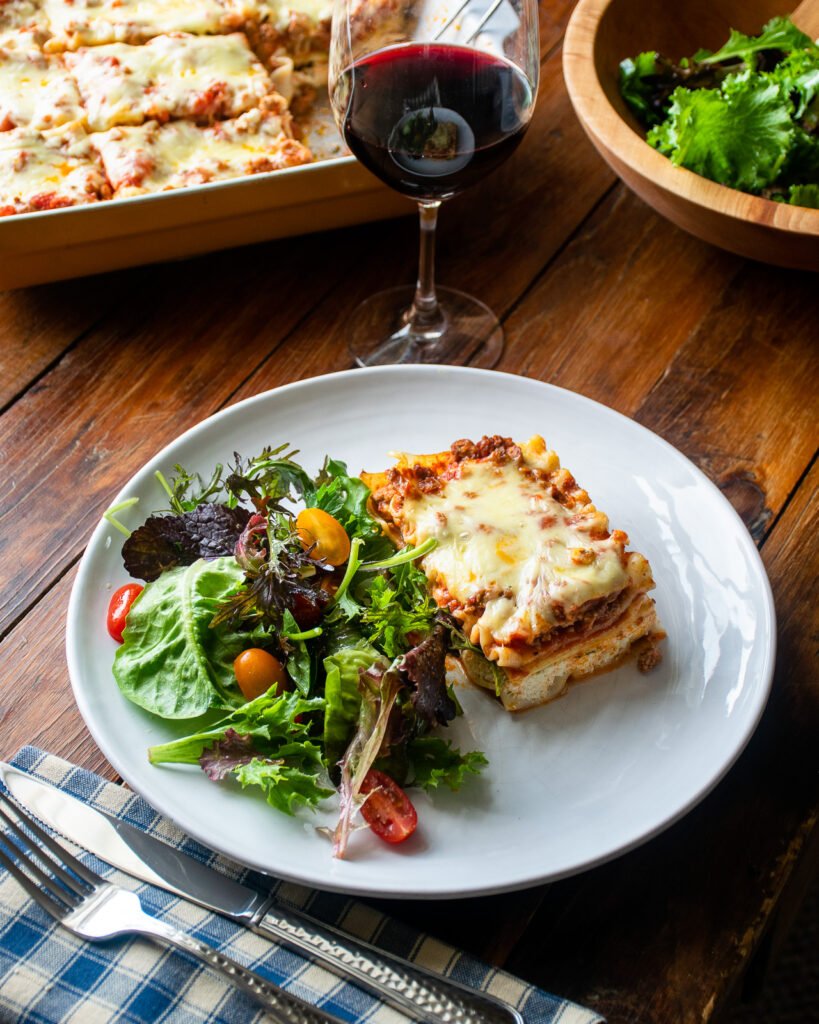 Lasagna – the Ultimate Comfort Food
There's something about a baked pasta dish that warms the house and heart, satisfies and fills you up, and feeds a crowd all at the same time. Lasagna, of course, is the mother of all baked pastas and clearly falls square into the comfort food world. This recipe for lasagna with zucchini sneaks a layer of vegetable into our favorite baked pasta, but if you don't tell the kids, I won't either.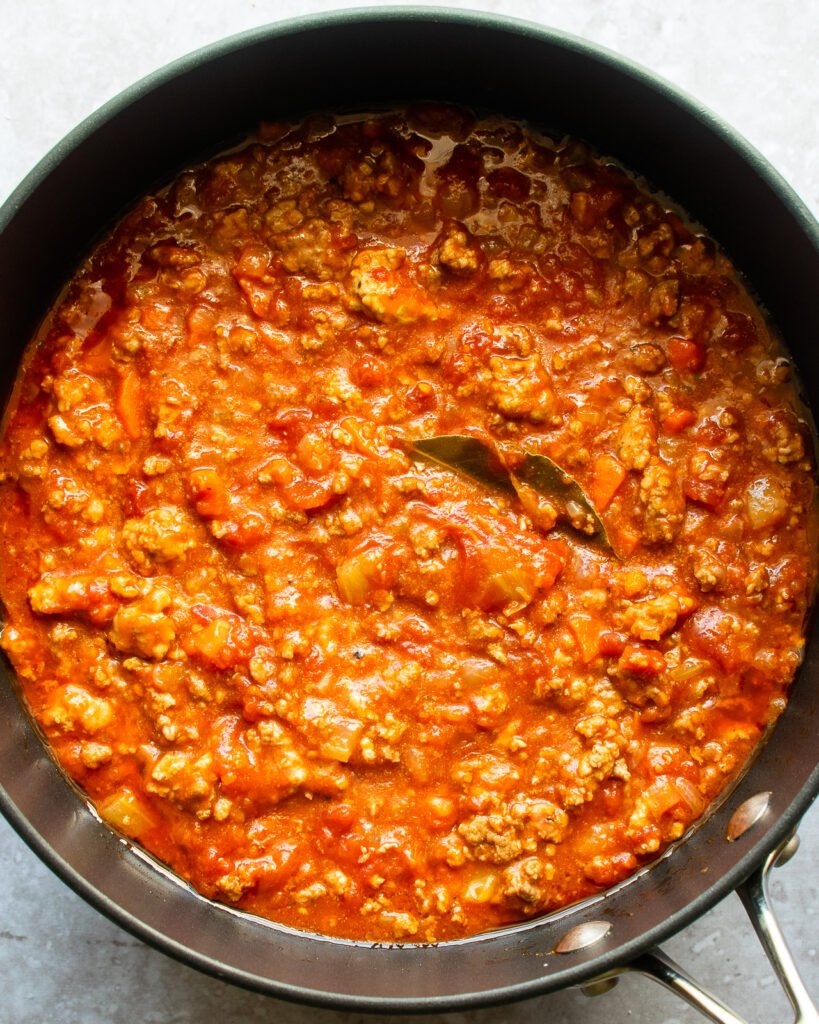 Sauce for Lasagna
There are a variety of sauces you could use for a lasagna. Some recipes call for a béchamel or a marinara, but a meaty ragu (or bolognese) sauce is the most common. That's what is used in this recipe. It adds depth to the dish and gives it a heartiness that keeps you full. I've left it up to you to decide what bolognese sauce you want to use. You might have a favorite recipe of your own, or you could follow one of these recipes for a classic bolognese or a quick pressure cooker bolognese.  Whichever you choose, it's sort of nice to make it ahead of time. I like to make a big batch of bolognese sauce one night. Then, the next day, I'll use the 7 cups of bolognese required to make this lasagna and freeze any leftover sauce for a quick and easy pasta night another day.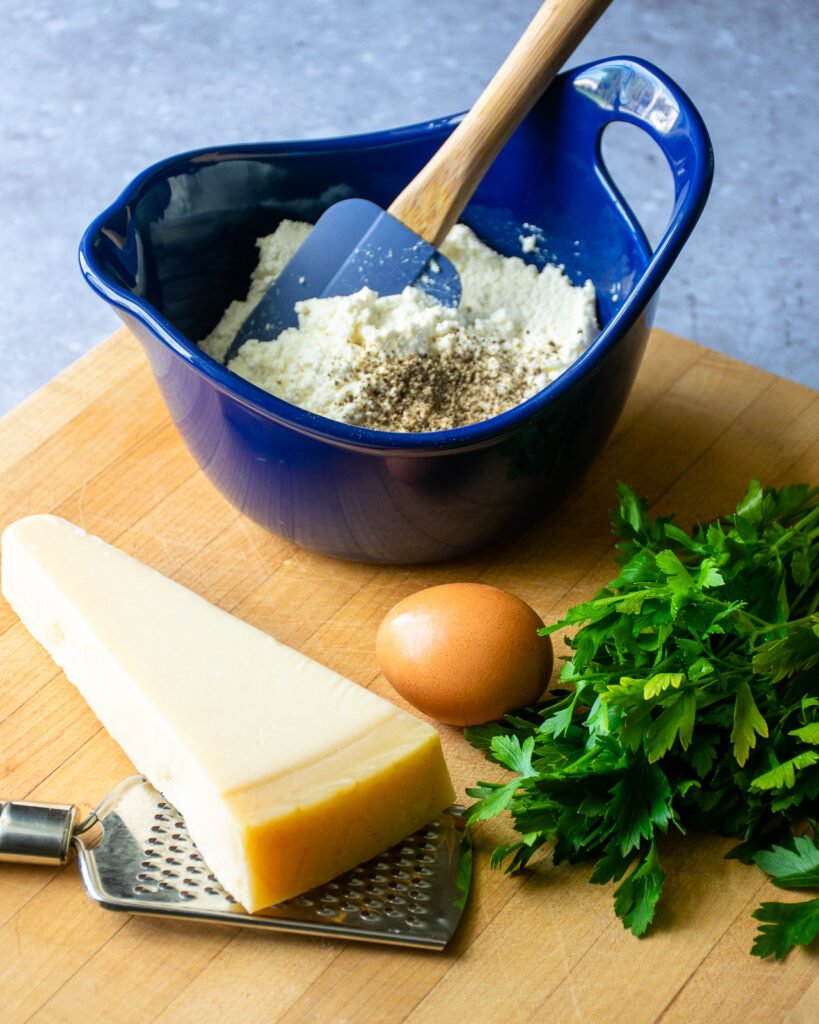 Cheeses for Lasagna
There's also no set cheese required for lasagna. I love a layer of ricotta in a lasagna and that's what you get here. The ricotta is seasoned with salty Parmesan cheese, parsley and pepper and an egg is added for structure and stability so the cheese doesn't ooze out everywhere when you cut into the dish. Of course, there's also mozzarella cheese on top because it's a good melter without being overpowering in flavor.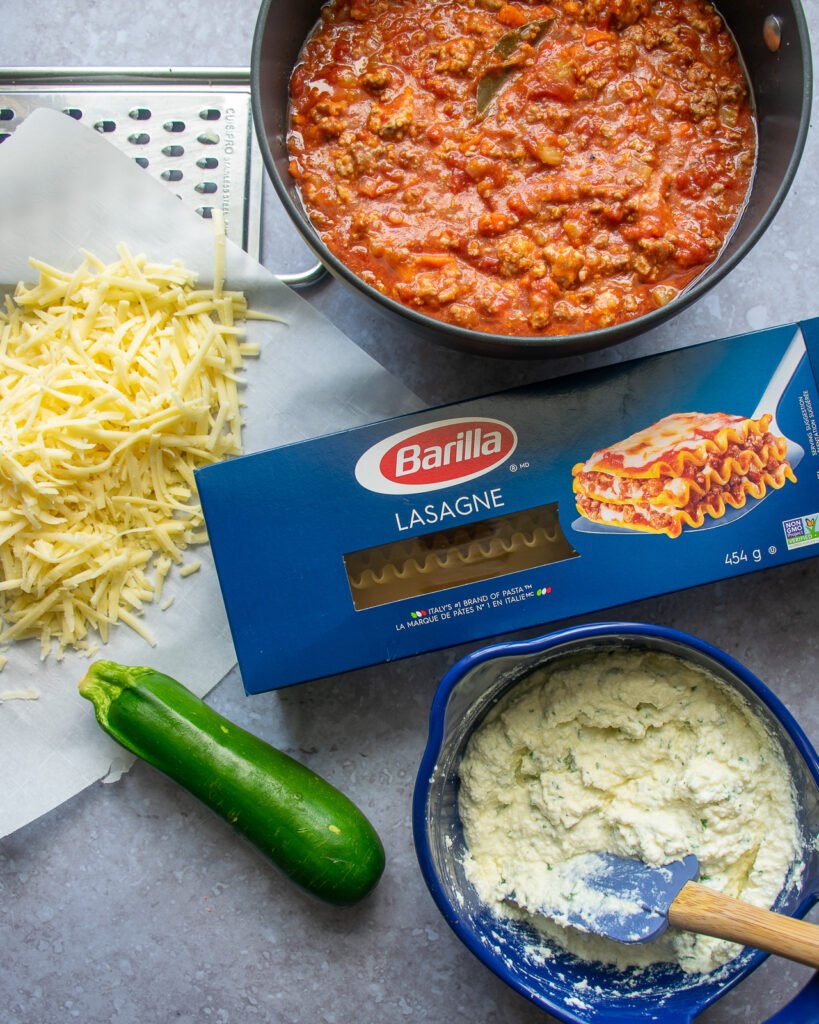 What Pasta to Use for Lasagna
Now, when it comes to pasta, I think most people fall into one of two groups – the boil and the no boil group. I myself prefer the boil noodles. No-boil (or oven-ready) noodles are par-cooked and then mechanically dehydrated into dried form. When you add them to your lasagna, they absorb moisture from the cheese and sauce layers to re-hydrate again. That's not a terrible thing when you have enough liquid in both those layers to accommodate the no-boil noodles. I know they are a great short cut in making a dish that does require a fair amount of time, but that's just it… lasagna requires a fair amount of time. You're not throwing this meal together on a busy weeknight, so take the time and enjoy the process. By boiling the noodles ahead of time, they keep their starch, which helps the sauce and cheese stick to them and gives better structure to the casserole overall. If you're a die-hard no-boil noodle cook, go with your no-boil noodles, but understand that your lasagna could be a little drier that way – maybe that's how you like it. You do you!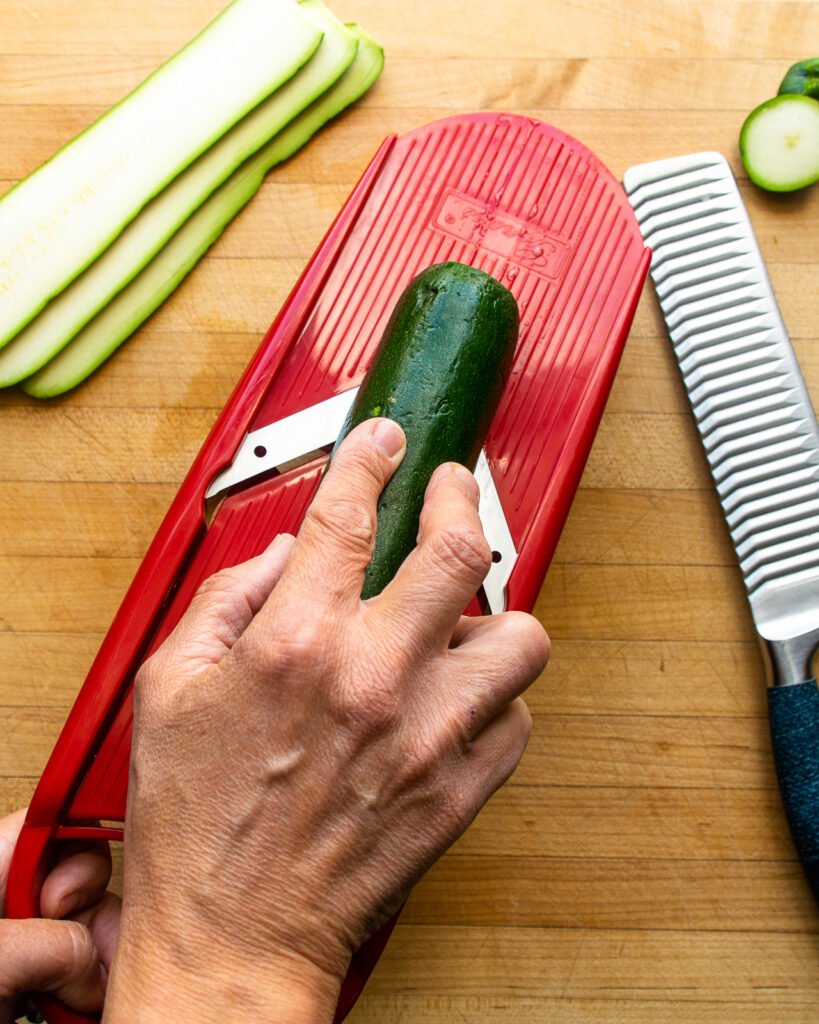 Zucchini: the Secret Component
One of my favorite parts of this lasagna is the zucchini layer. If you slice zucchini from stem to flower end, they sort of form a noodle themselves. By placing the zucchini perpendicular to the lasagna noodles, they help keep the lasagna together. They are sliced thin enough that they cook right in the dish – no need to cook them ahead of time – and they give you a little nutritional boost too.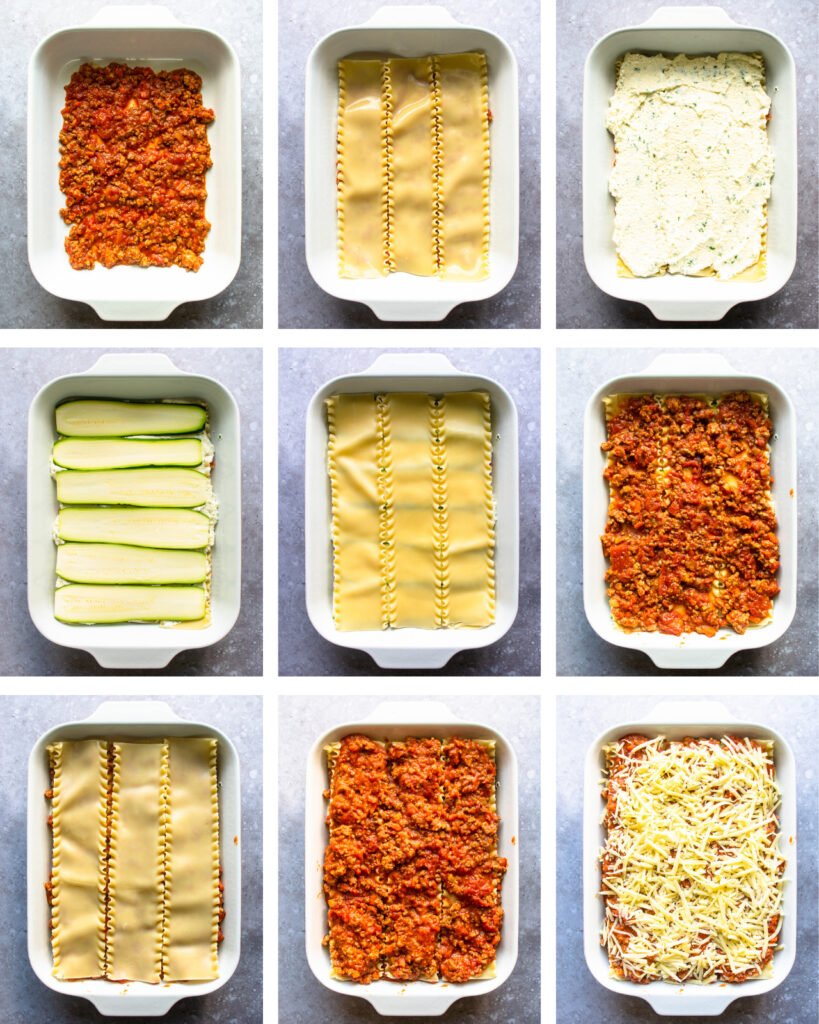 How to Build a Lasagna
Building this lasagna with zucchini is the fun part. Above you'll see all the layers, starting with sauce first. My only tip to you here is to make sure you divide the sauce into three evenly so you have enough left for the top layer. When you start to spread the sauce on the bottom, you'll wonder if it's enough, but trust me. Once you've built your lasagna, you can keep it in the refrigerator until you're ready to bake it.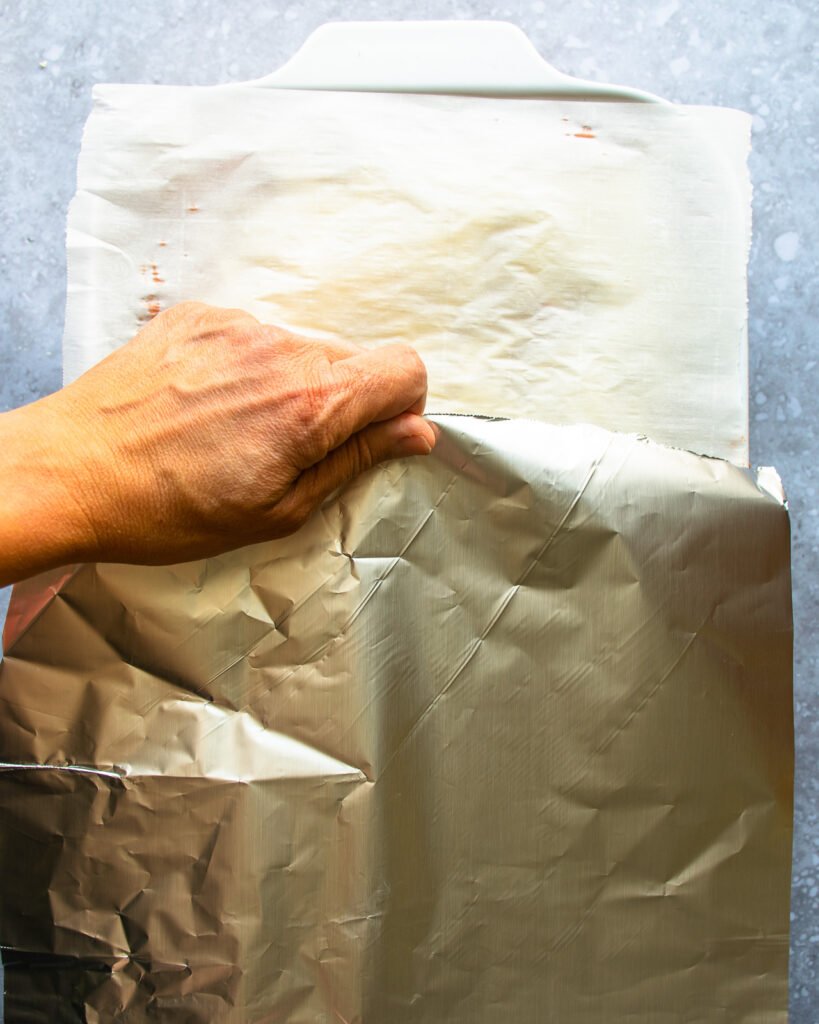 Baking Time and Temperature
Lasagna does need to be covered when you bake it so that the steam is trapped and the moisture is held inside the dish. Aluminum foil is the cover of choice, but aluminum has a couple of drawbacks – it adheres to the cheese, ruining the top of your dinner and aluminum is a reactive surface, which means that it reacts with the acid in your food which then absorbs some of the aluminum. So, quick trick – line the lasagna with parchment paper first and then aluminum foil. If you've made your lasagna with warm bolognese sauce, the baking time will only be about 60 minutes at 350ºF before you take off the cover. If, however, you've refrigerated your lasagna, or built it with bolognese sauce that you made yesterday, bake it for 75 minutes before removing the foil and parchment. You'll know it's time to uncover the lasagna because you'll be able to hear t bubbling when you put your ear near the dish (carefully!). Then, bake for another 15 minutes to melt and brown the top.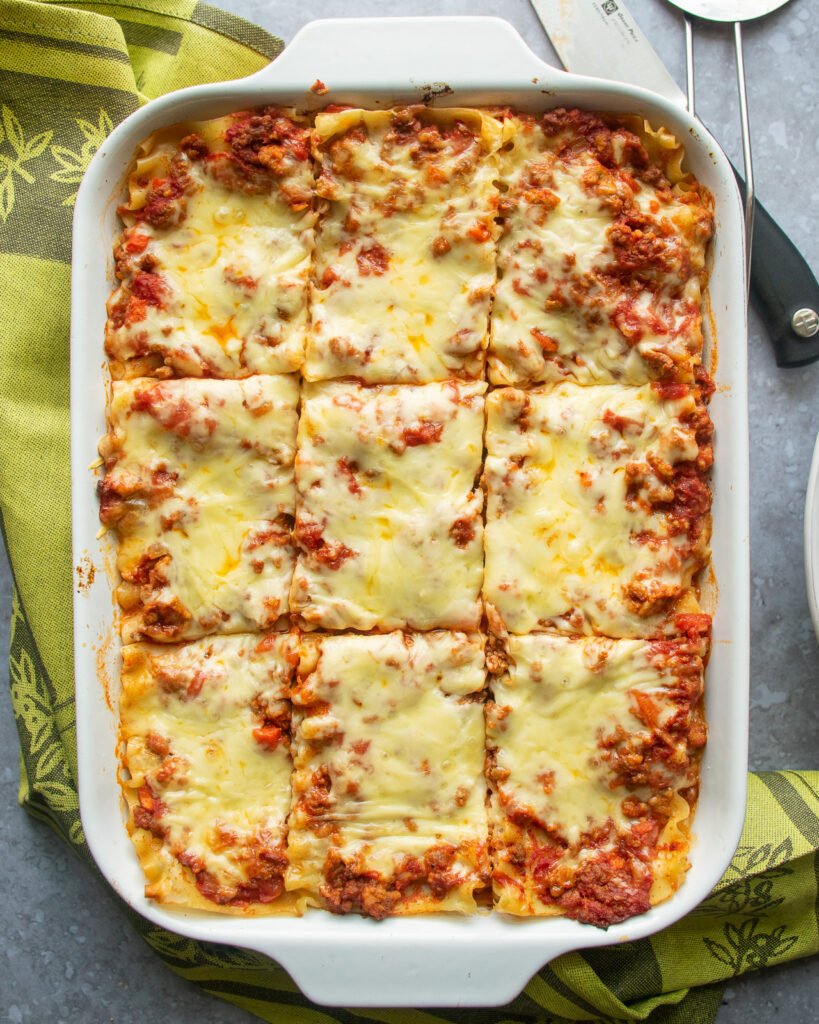 Rest Before Cutting
It's hard to wait. I know. But you do need to let a lasagna rest before you cut into it. It's too hot to eat straight out of the oven anyway, but resting does more than save your tongue from burning. It gives the lasagna a little time to set up. Cutting into a lasagna that has had 10 minutes to cool is much easier than creating a mess with a piping hot lasagna. Trust me (again).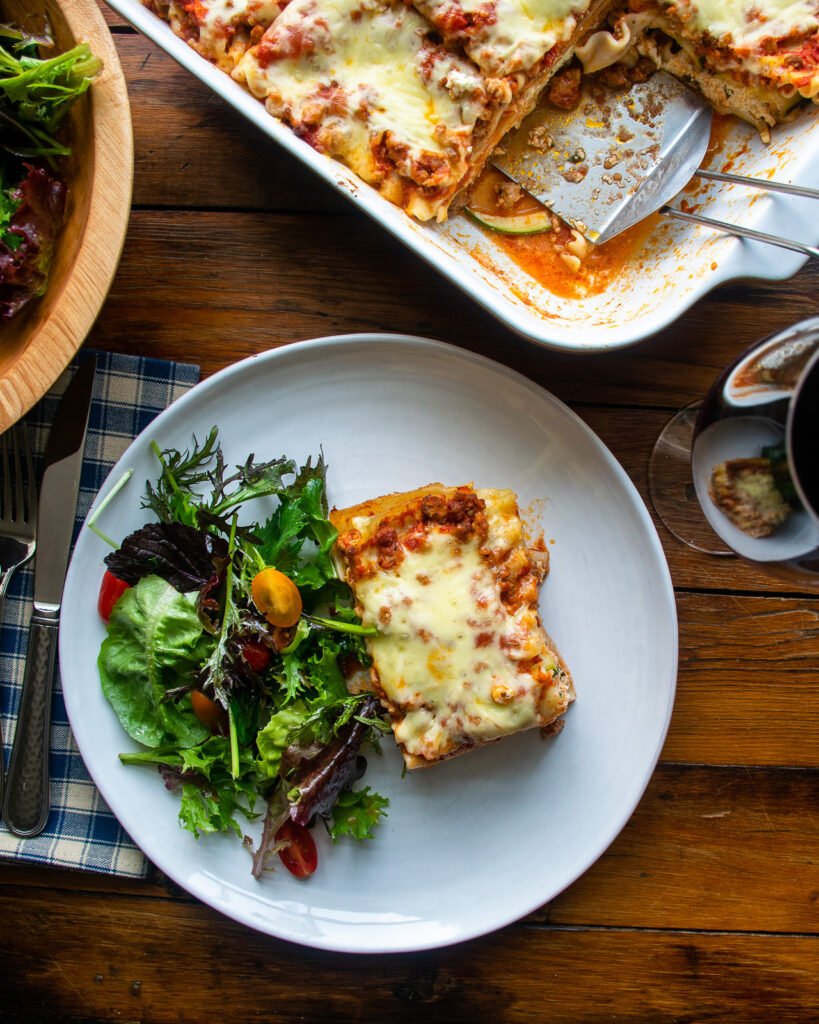 How to Serve, Store and Re-heat Lasagna
I keep it simple with lasagna. You can serve it with a simple salad and perhaps a nice soft diner roll and be completely happy and satisfied. You could add some roasted vegetables on the side if you want to up your vegetable game. They can cook on a sheet pan next to the lasagna. If you have leftover lasagna, it freezes really well. Put pieces of lasagna in airtight portion-sized containers and remember to let it defrost before re-heating in the oven at 350ºF for 30 minutes or so. If you forget to defrost, you can bake them again from frozen, but it will take about an hour or longer in the oven. Still, you'll end up with your perfect comfort meal.