Cabbage Rolls Meet Baked Shells
I love a good baked pasta just as much as (dare I say more than) the next person. I'm also a sucker for a good cabbage roll. So, why not put the two together and have a gluten-free cabbage roll dish that tastes like one of my favorite pasta dinners? Sounds like a win-win-win for me! These Ricotta Stuffed Cabbage Shells are exactly that – a mash-up between the classic American-Italian baked shells and Polish cabbage rolls.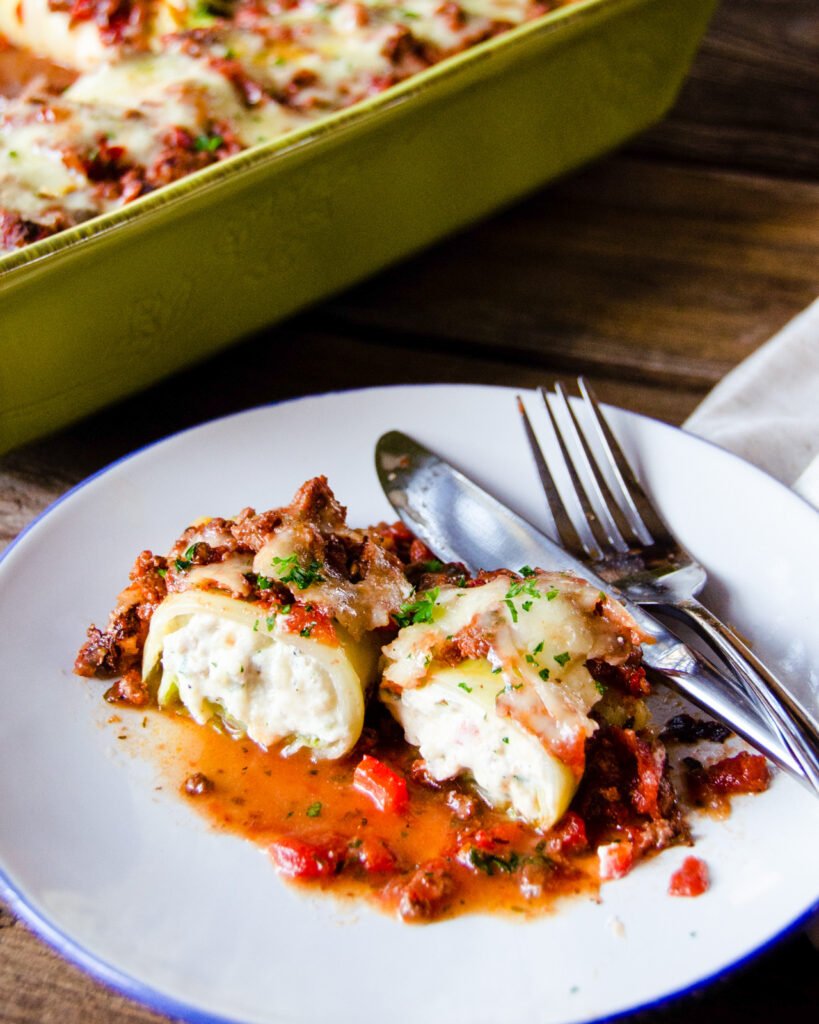 Gluten-Free Baked Shells
I like this recipe because it's delicious, but lots of others might enjoy it because it happens to be gluten-free too! If you try not to eat wheat and are missing your favorite pasta, these ricotta stuffed cabbage shells will hit the spot. The cabbage replaces the pasta shells that are traditionally used. The leaves are wrapped around a ricotta and ground turkey filling that is full of flavor. Then, the little rolls are packed into a casserole with a meat sauce and baked with cheese melted on top. Are you in?
Filling for Stuffed Cabbage
This recipe has three components – the cabbage, the sauce and the filling. First you make the sauce and while it simmers, you make the filling, which is quick and easy to put together. You'll start by browning the ground turkey (you can substitute beef if you prefer). You'll use most of it in the sauce, but set a little turkey aside. While the sauce simmers, you'll mix that ground turkey with ricotta, Parmesan, and mozzarella cheeses, an egg and some seasonings.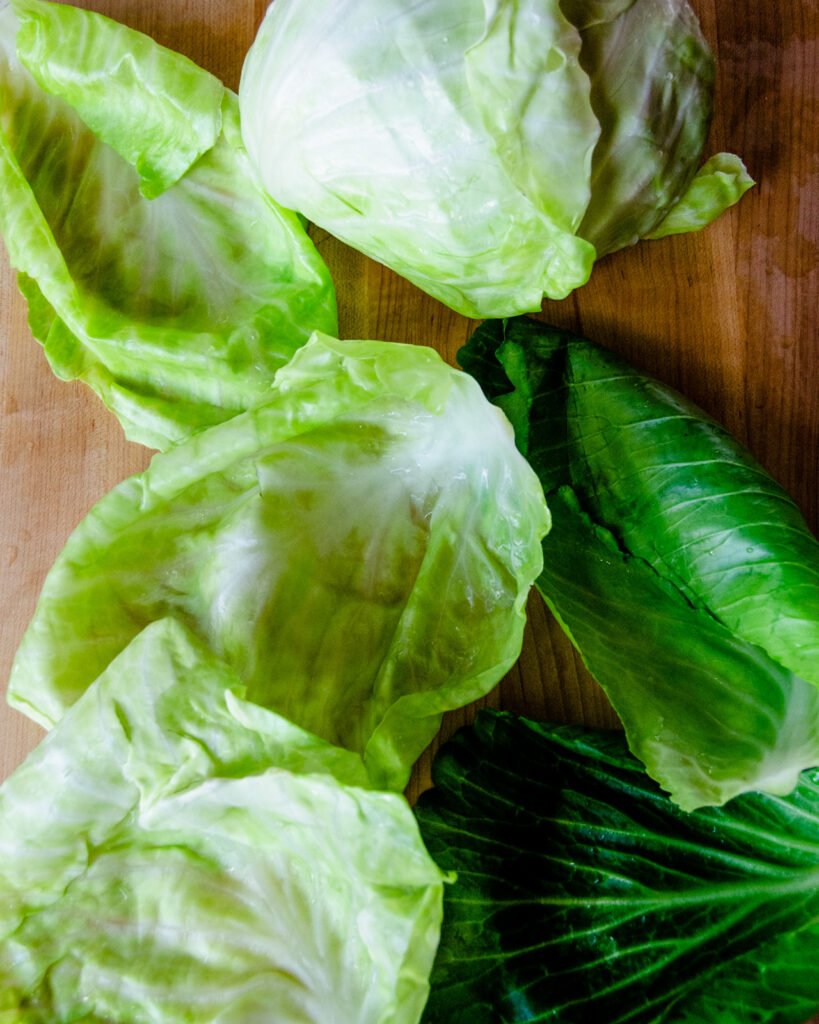 Tip for Removing Cabbage Leaves
The next step is to remove the cabbage leaves from the head of cabbage, and that might be the trickiest part of the recipe. The good news is that it's not hard to do once you get the hang of it and if you rip a leaf… who cares?! You'll be able to roll a ripped leaf around the filling and get it in the casserole. Once it is covered with sauce and cheese, no one will know the difference. To remove the leaves of cabbage from the head, simply remove the core of the cabbage head and boil it for a few seconds. The outer leaves should peel away easily. If you get down to a layer that becomes difficult to remove again, just pop the head back into the boiling water. No stress. No struggle. You will be left with cabbage after you've removed the workable leaves for this recipe, but rest assured it will not go to waste. You can shred the leftover cabbage for coleslaw, pop wedges of cabbage into a braised corned beef dinner, or chop it up and use it as an ingredient in delicious Colcannon. Learn how to slice, core, dice and shred cabbage here.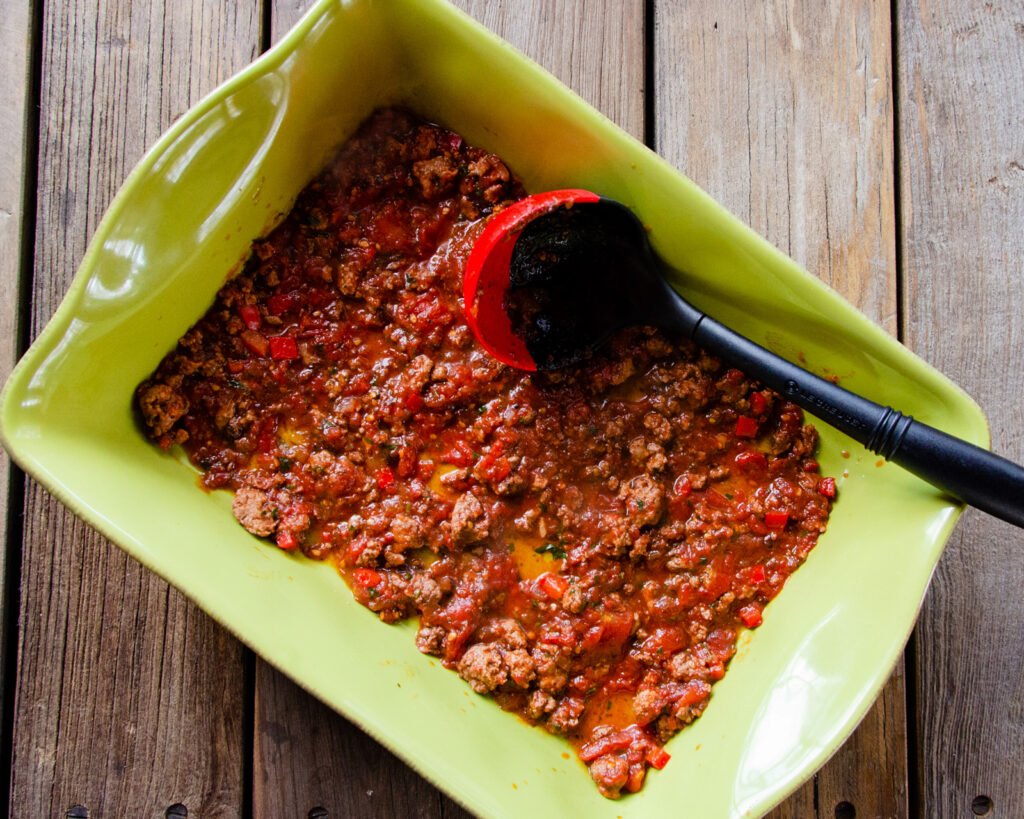 Stuffed Cabbage Shell Sauce
The sauce for these ricotta stuffed cabbage shells is a delicious meat sauce that is flavored with some red pepper, red wine and Italian seasoning with a little boost of oregano. You can substitute beef for the turkey if you prefer, but turkey is delicious and makes this meal a little lighter. You can also leave the red wine out if you prefer to not cook with wine. Just make sure you season the sauce to taste before you spoon your first layer into the casserole dish.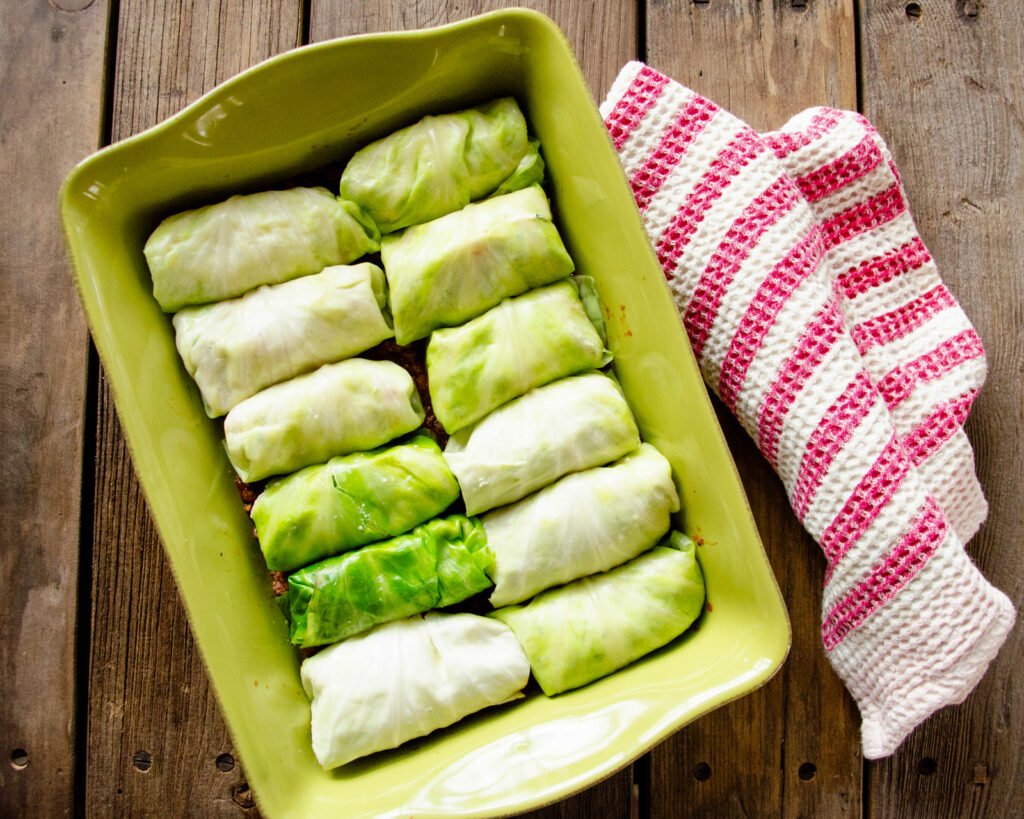 How to Make Stuffed Cabbage Shells
To make this casserole, you start with a layer of the meat sauce. Then place all the little rolled up cabbage leaves in the baking dish like you were putting them all to bed. Again, don't worry too much if any of the leaves are ripped. If you don't tell anyone, I won't tell anyone. Spread the rest of the meat sauce over the top of the cabbage shells and top with mozzarella cheese. Send the dish to the oven and do a little tidy up in your kitchen. By the time dinner is ready, it will look like you ordered in!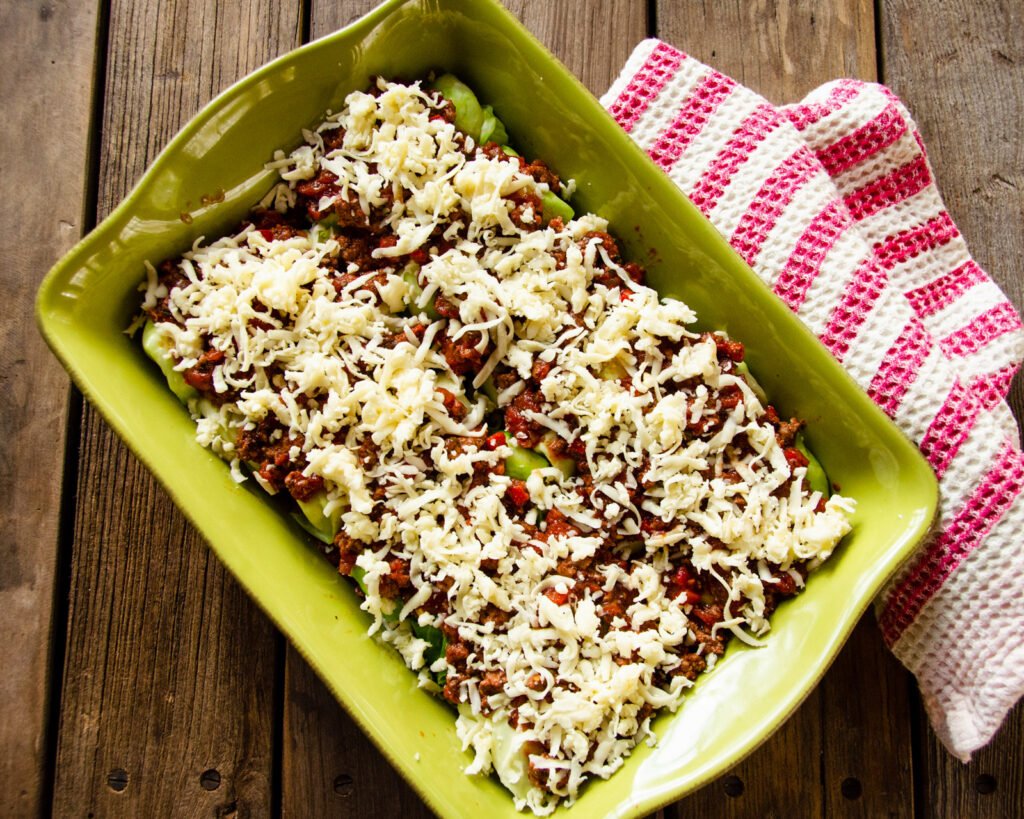 How Long to Bake Stuffed Cabbage Shells
These baked cabbage shells should bake at 350ºF for about an hour. The first 45 minutes are covered and the last 15 to 20 minutes are uncovered so that you get a nice browned bubbling top to the meal.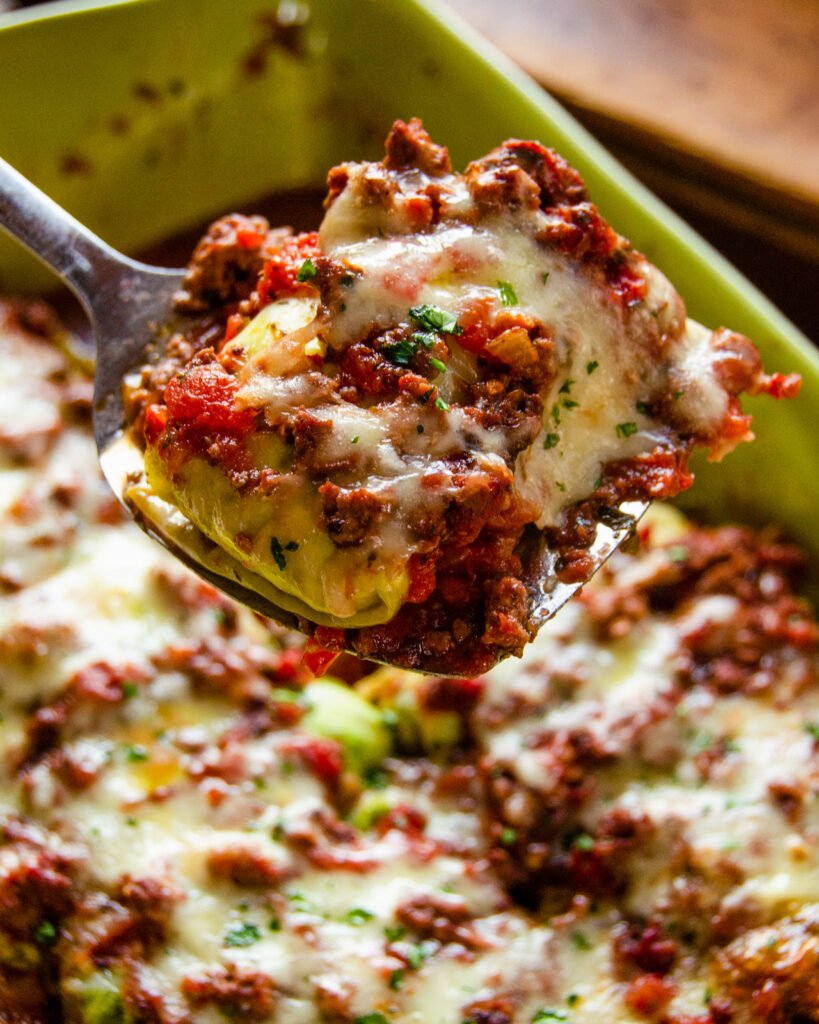 Freeze Stuffed Cabbage Shells
If you have any leftovers, you can freeze portions of this dinner for a rainy day. Cool the casserole completely first. Then, cut between the cabbage rolls and transfer your desired portion to a storage container. Place some plastic wrap right down on the surface of the casserole and freeze for up to 2 months. Of course, you don't have to freeze the leftovers – you can keep them in your refrigerator for 2 to 3 days and gobble them up this week instead.