Start with a Cold Pan
The first thing you'll notice about this basic marinara recipe is that it does not call for the pan to be pre-heated. Heating the oil and garlic with the pan (instead of pre-heating the pan) produces a milder garlic flavor because the flavor is extracted from the garlic into the oil slowly. Three tablespoons of olive oil may seem like a lot and you can cut down on the olive oil, but it adds a ton of flavor as well as a smooth texture to the finished sauce. If flavor is at the forefront of my mind, I always use the full 3 tablespoons. If I'm thinking of my waistline, however, I tend to cut back.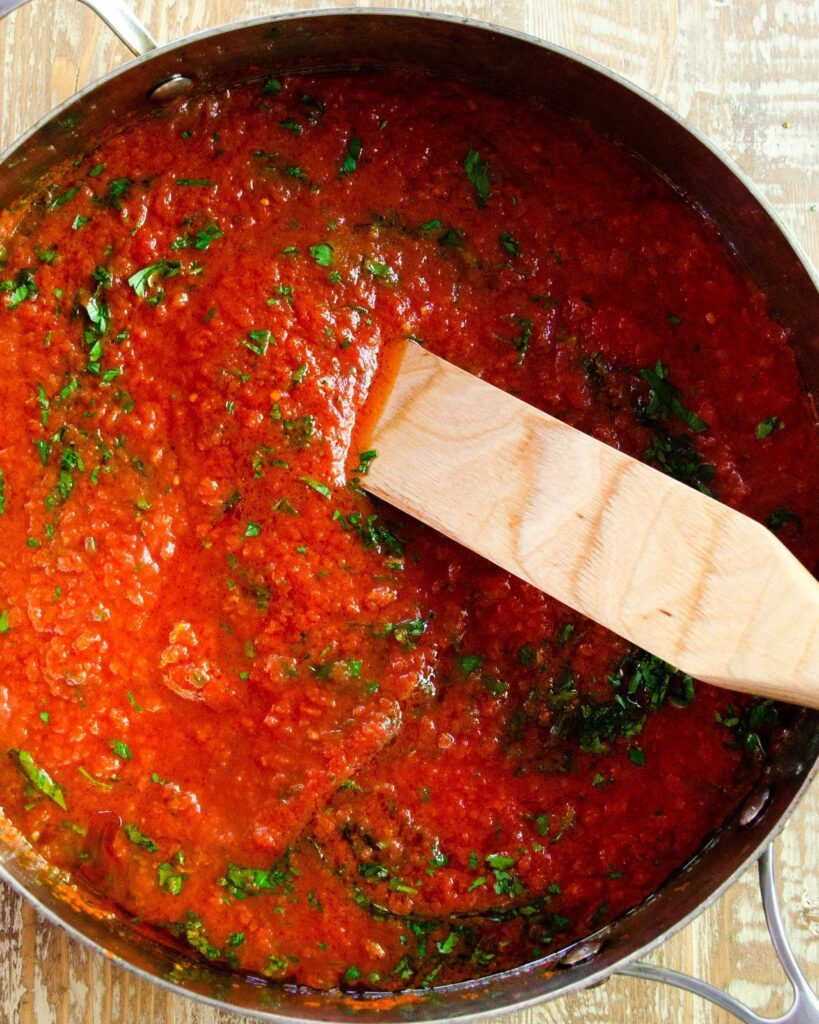 Crushed or Diced Tomatoes for Marinara
Whether to use crushed or diced tomatoes is often just a matter of personal preference. I personally use crushed tomatoes in a basic marinara. On those occasions when I want some chunks of tomato in my sauce, I will dice whole canned tomatoes by hand. Many brands of canned diced tomatoes are actually treated so that the chunks of tomatoes can stand up to simmering without breaking down too much. That's not a problem if you want those chunks of tomatoes, but using canned whole tomatoes and dicing them yourself is ideal if you want the tomatoes to break down as they cook.
Using fresh tomatoes is certainly an option, but be sure to use ripe tomatoes and peel them first. Making a marinara is a great way to use up tomatoes at the end of the season if you have a surplus on hand, and if you properly can or freeze the sauce, you will be able to enjoy them well into winter.