Oven Baked Pasta
Ziti al Forno literally translates to "ziti in the oven" and often refers to any variety of baked pasta dish with an Italian flare. This recipe for three cheese ziti al forno uses tubular ziti as the pasta, but you could easily substitute any other pasta shape that you like. Ziti is very much like penne, except the ends of the pasta tube are cut straight instead of at an angle. Ziti is a little smaller than rigatoni, but bigger than mezzani. Any of these pasta shapes – penne, rigatoni, mezzani – or even a different shape altogether would work well.
Whichever you choose, however, make sure you cook the pasta properly, leaving just a little bite to the pasta since it will continue to absorb liquid and cook once it's in the oven. You can read more about how to properly cook pasta here. Once the pasta is cooked, resist the urge to rinse it. By rinsing it, you'll wash away any of the starches on the pasta and the sauce won't stick as well to the noodles. 
Ziti Sauce
The next stage in the recipe is to make the delicious creamy tomato meat sauce. I like to use raw sweet Italian sausage, but if you want a little kick try using hot Italian sausage instead – or a combination of both. You can opt for slicing the raw sausage (a bit messy and difficult), but I prefer to remove chunks of sausage from the casing and brown those chunks. They are then basically mini sausage meatballs – yum!
When the sausage is no longer pink and the onion has softened, it's time to add the canned tomatoes. I'm a big believer in always buying whole canned tomatoes and stocking up on your favorite brand. I find that when it comes to tomatoes, whole tomatoes taste better than those that have been further processed and chopped or puréed in the factory. In addition, chopped canned tomatoes are treated so that they remain in chunks better when heated. There are some occasions when that is desirable, but for the most part, I like to use whole tomatoes and then purée or chop them myself. For this three cheese ziti al forno recipe, crush the tomatoes by hand, but make sure you're wearing an apron when you do!
Finally, a little cream and the first of three cheeses, the Parmesan, are added to the pan. This is what makes this ziti sauce so luxurious and decadent.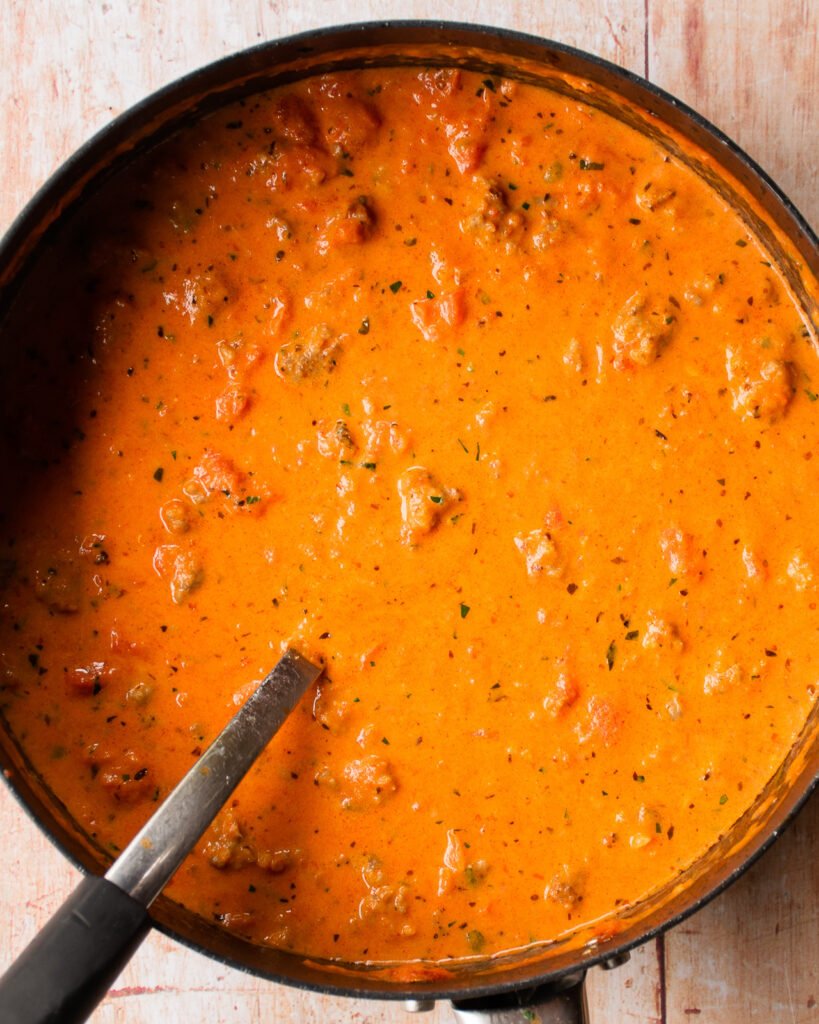 The Cheeses for Ziti al Forno
The only thing left to do is to put this dish together and send it to the oven. That's where the other two cheeses come into play. Fontina cheese is a nutty cheese that melts really well. Sprinkle grated Fontina all over the sauce-covered pasta. Fresh mozzarella also melts well, but since we're adding slices of it, the cheese will melt into pools giving a little variety to each spoon or forkful that you take. Nestle the mozzarella slices into the pasta, sprinkle with a little more Parmesan cheese and send the dish to the oven.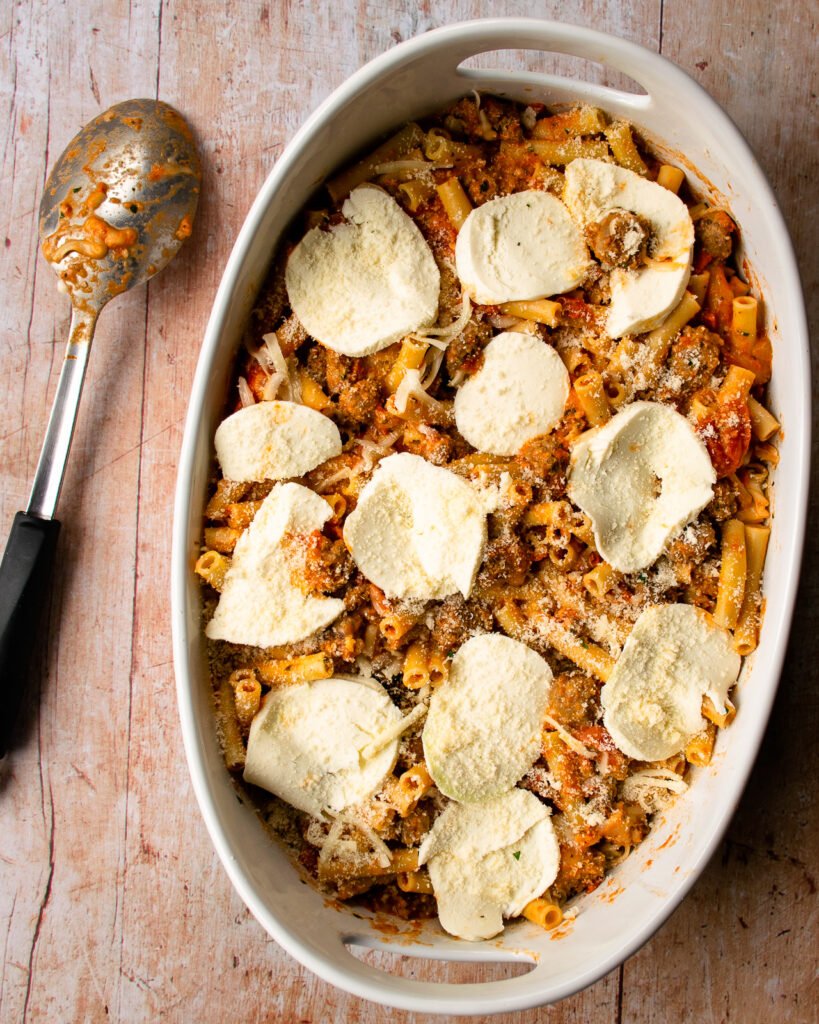 Make Ahead Ziti al Forno
This is a perfect dish to make ahead for a dinner party. You could prepare the entire dish up to this point – fully assembled in the casserole dish – keep it in the refrigerator if dinner is longer than a couple hours away, and then just bring it to room temperature and bake it about an hour before you want to serve it. Or, you can also prepare all the components of the dish ahead of time – make the ziti sauce, cook the pasta, slice and grate the cheeses – and then assemble the ingredients and bake the dish just before serving.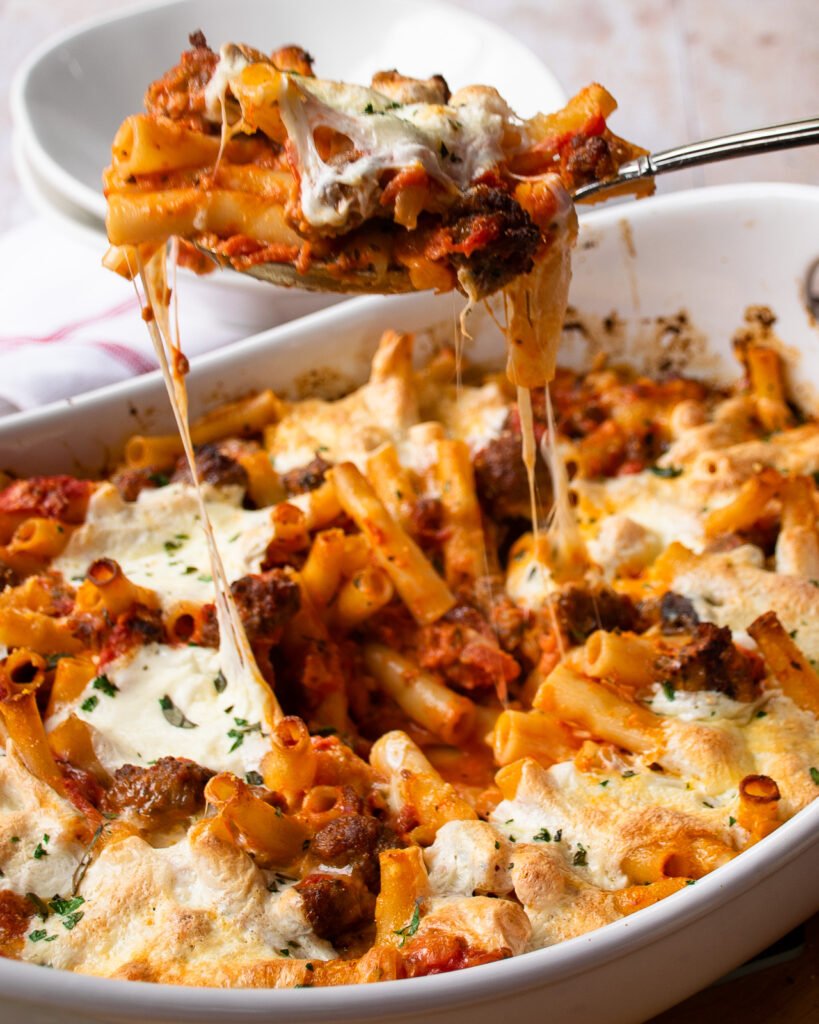 Individual Ziti al Forno
While this recipe calls for all the ingredients to go into one big dish to be served family style, you could also make individual ziti al forno casseroles using ramekins or mini gratin dishes and serve everyone their own entrée. That way, there'll be no fighting about who got more!