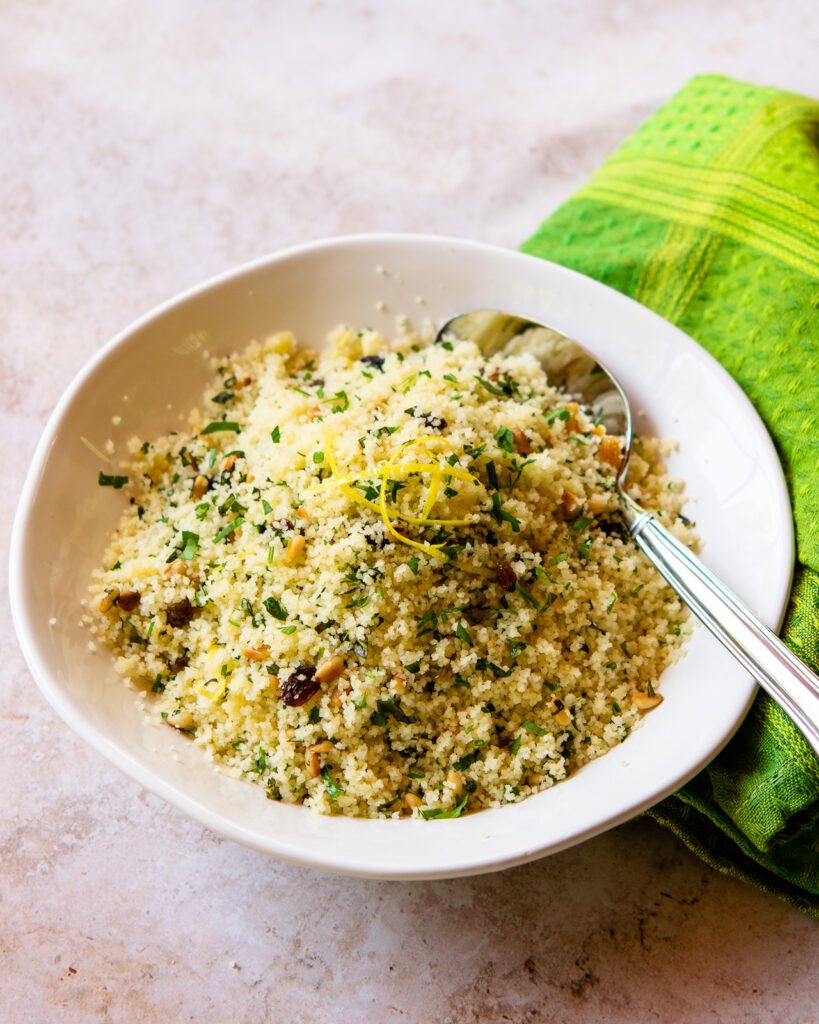 What is Couscous?
Many think of couscous as a grain, but it is in fact a very small pasta. There are generally two types of couscous – Moroccan couscous, which is very fine and what is called for here, and the larger Israeli couscous, which is more like little balls. Moroccan couscous is so easy to prepare – you just add it to seasoned boiling water and then turn off the heat. What comes next is important, however, because that's how you add flavor to your couscous, turning it into Couscous with Lemon and Herbs.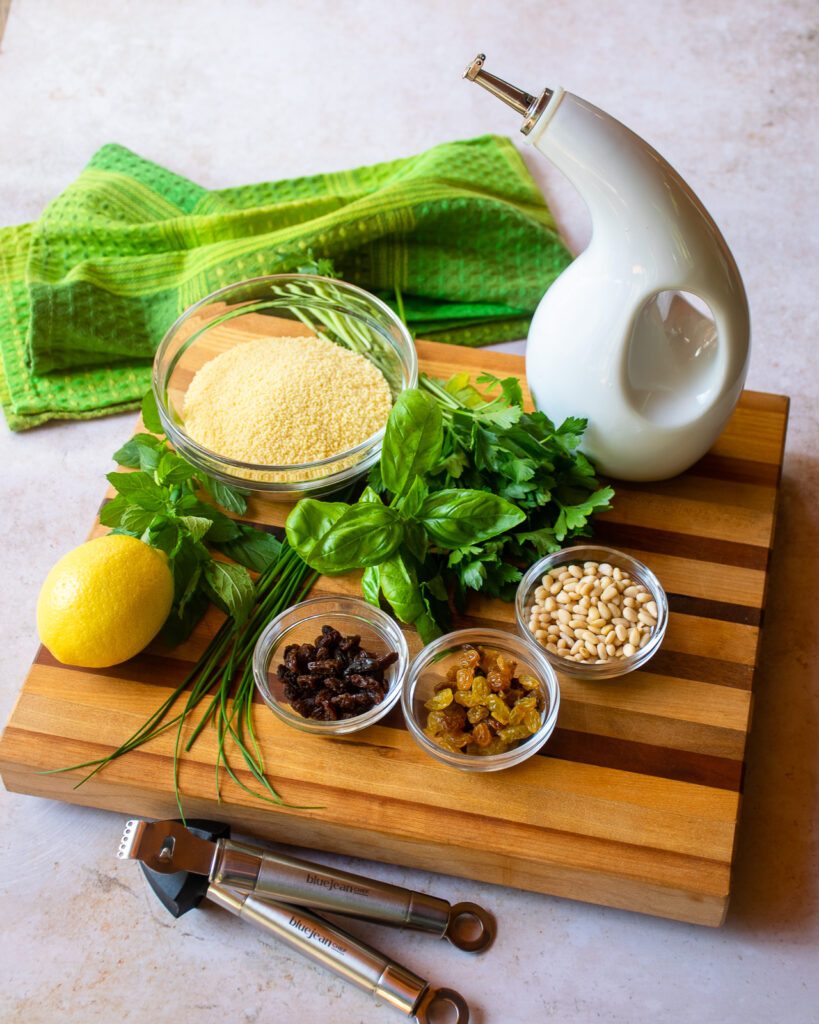 Flavorings for Couscous
For this recipe, I wanted to add something sweet, something nutty and salty, and then something bright and fresh. The raisins and golden raisins were my sweet ingredient. You could substitute dried cherries or dried cranberries. My nutty ingredient was pinenuts, but almonds would be nice too. Finally my bright, fresh flavors were lemon zest and juice and a mixture of fresh herbs – mint, basil, chives and parsley. Of course, olive oil helps to move all those flavors around.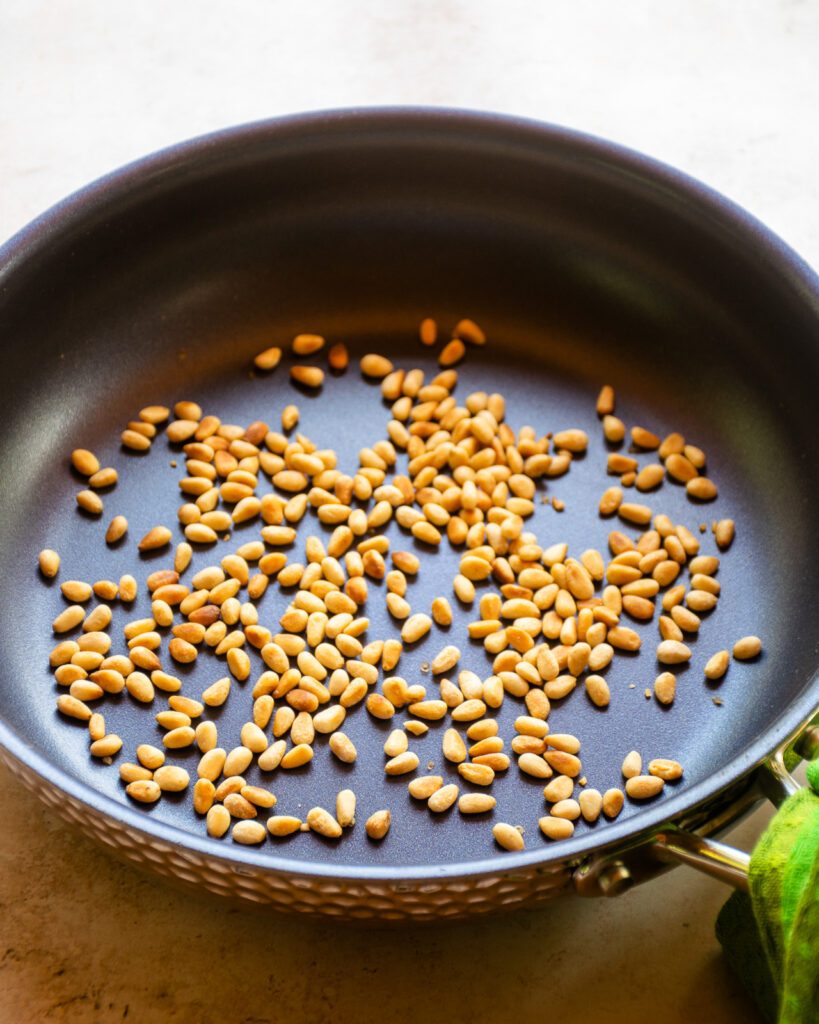 Toasting Nuts
It's important to toast the nuts for this recipe and you have a few different ways to do that. The quickest and easiest way is to pop them into a dry skillet and pay attention. I can't tell you how many times I've over-toasted (dare I say "burned") nuts by not paying attention. Toss the nuts regularly over medium to medium-high heat and remove them from the skillet as soon as they are toasted to your liking. You could also spread the nuts out on a baking sheet and pop them into a 350˚F oven for 10 minutes or into a 350˚F air fryer for 5 to 6 minutes (watching carefully and shaking halfway through).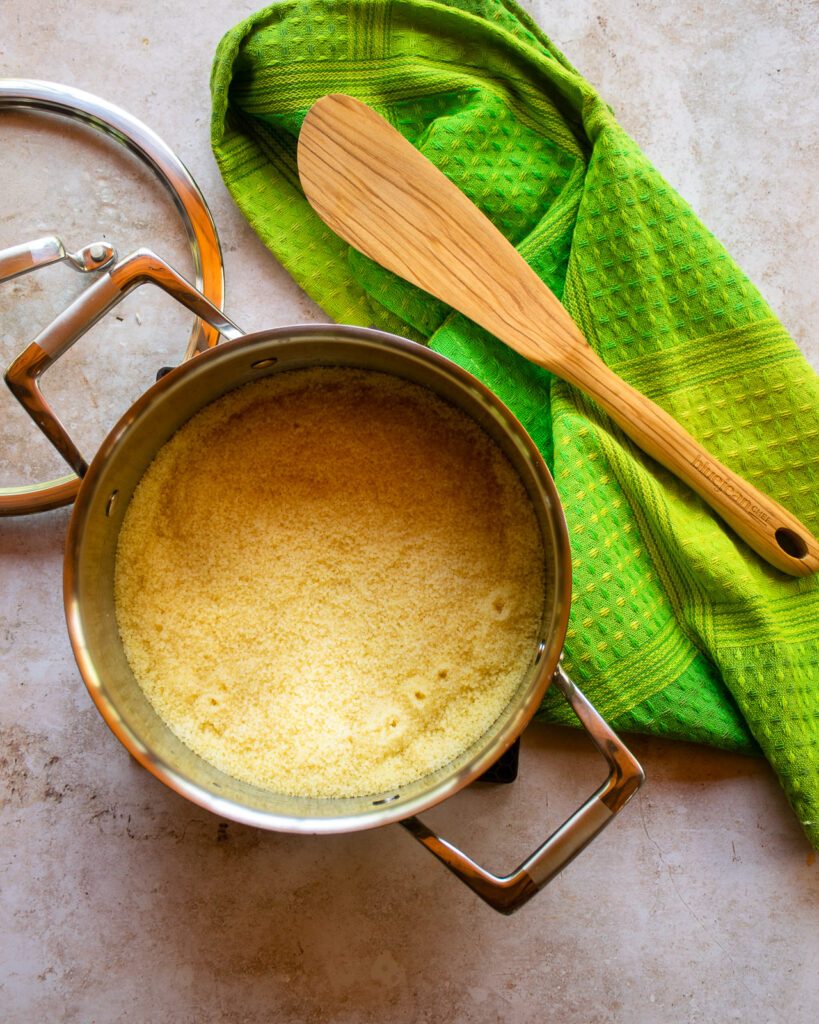 How to Cook Couscous
When it comes to cooking your couscous, you could either bring the water to a boil and pour it over your couscous in a bowl, covering with some plastic wrap and letting it sit for 5 minutes, or you could bring the water to a boil and then stir in the couscous and cover with a lid. I prefer to do it in the saucepan because it keeps the couscous warmer for longer. Whichever way you choose to do it, make sure you add the salt to the water so that the couscous is evenly seasoned. Let the couscous sit for 5 minutes and then fluff it to loosen all the little pasta.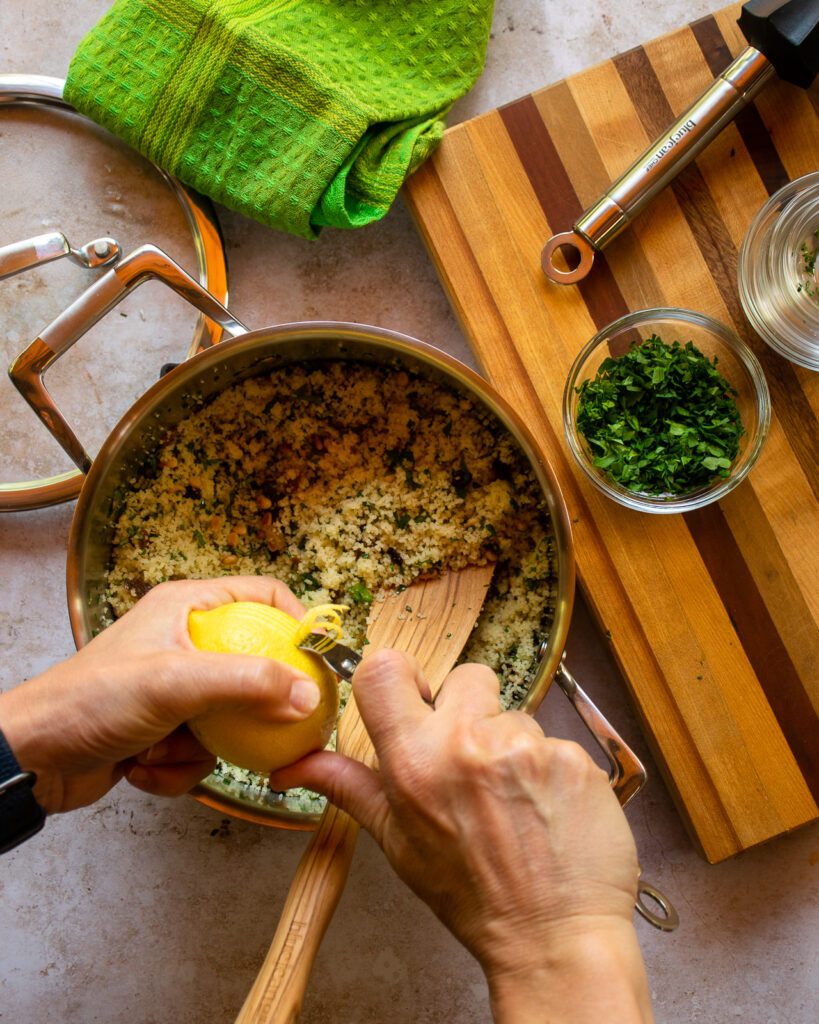 Fresh Flavors at the End
Immediately toss in the raisins and pinenuts and fluff with the couscous. The heat from the couscous should be enough to soften your raisins. Just before you're ready to serve, zest the lemon into the pot, toss in the herbs and then season with the lemon juice and olive oil. Taste and season again with salt and freshly ground pepper to your liking and then serve warm or at room temperature.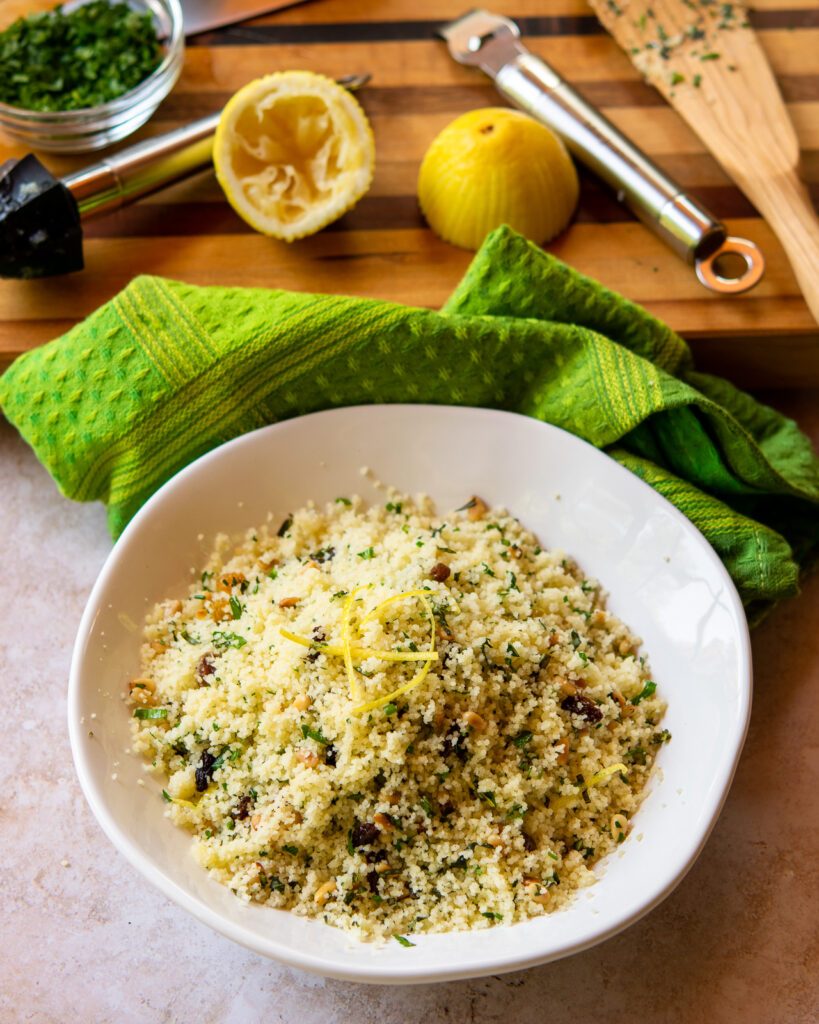 What to Serve with Couscous
Honestly, this dish is so tasty that it can make me very happy all on its own at lunchtime. It does, however, make a really nice and interesting side dish to any grilled chicken or fish, or even a beef kabob. It has enough flavor to stand up to other flavors, and yet doesn't compete. Try it with this Tandoori Spiced Mixed Grill (below), or Pecan Crusted Chicken Breast, Grilled Harissa Chicken, Arctic Char with Burst Cherry Tomatoes, or Pan-Seared Scallops with Orange and Tarragon. Remember, those leftovers are great the next day for lunch – warmed in the microwave or skillet or just eaten at room temperature.