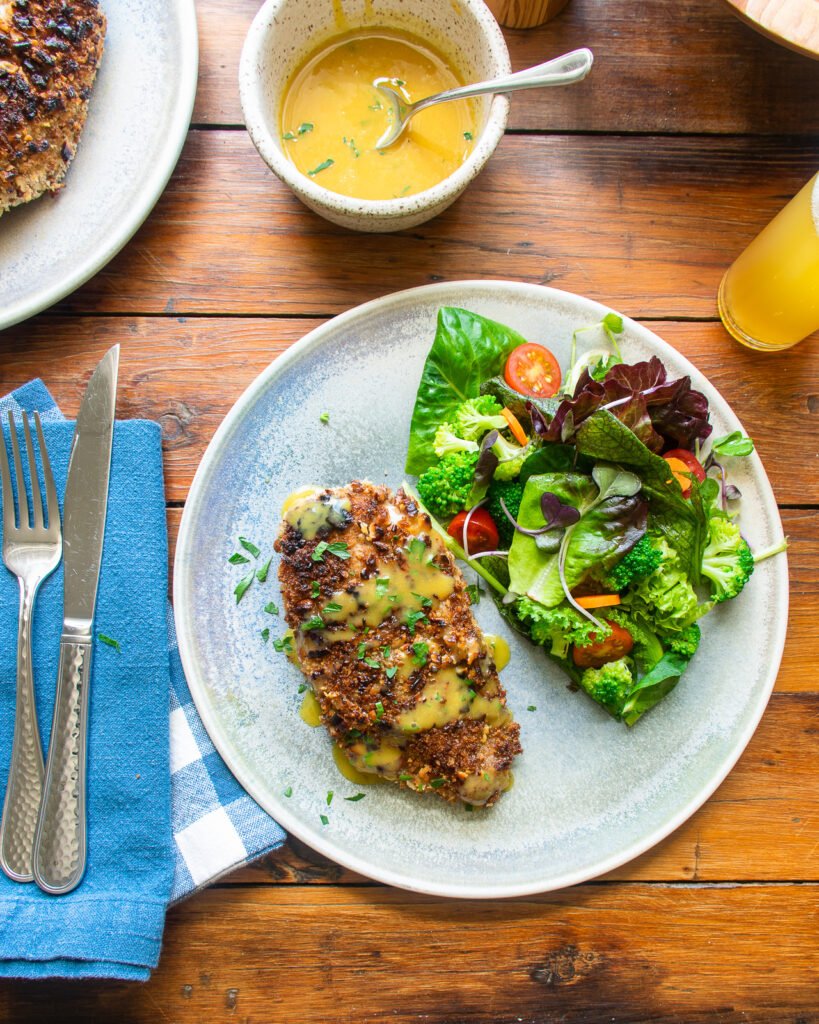 Easy Chicken Dinner
There are days when we all want an easy chicken dinner to put on the table. You can have just that with this pecan crusted chicken breast. It's crunchy, tasty and takes under 30 minutes, start to finish. The honey mustard sauce couldn't be easier to stir together (honestly!) and adds a little heat and sweet to the salty nut coating.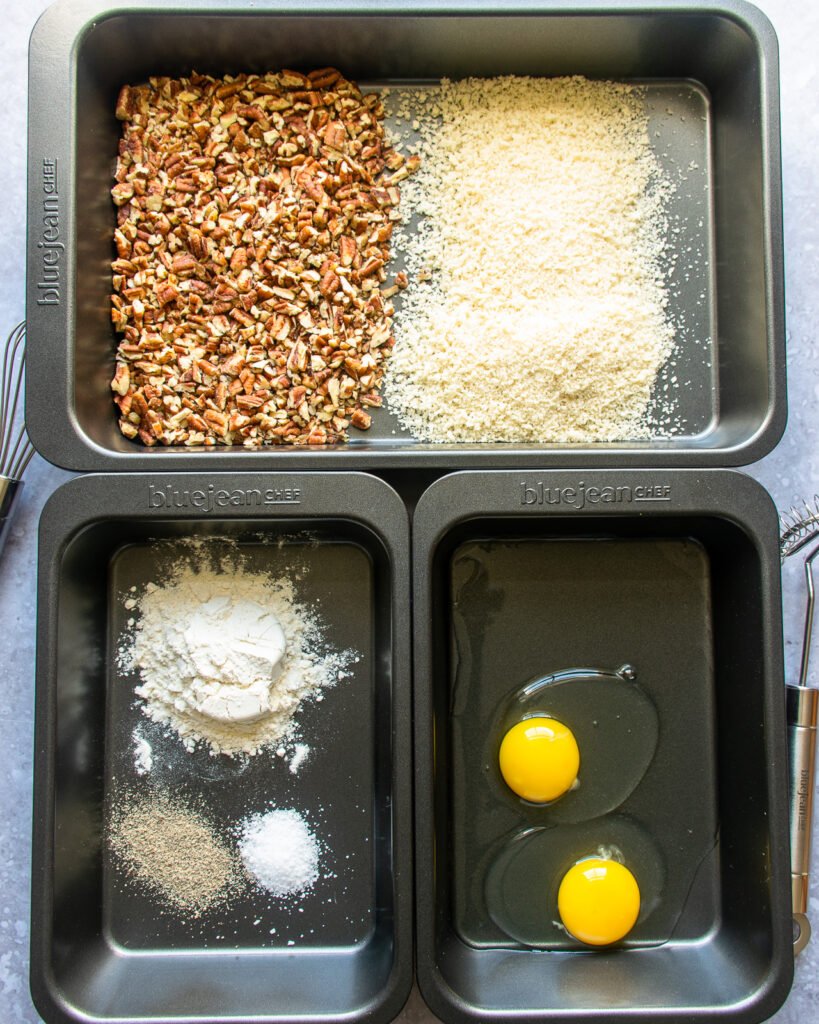 How to Bread Chicken Breasts
I can still remember what I didn't know about dredging and breading before I knew how to bread and dredge. (Say that three times quickly!) Many of us think we need to start by dipping the chicken in the eggs first, but that's not the first step. It is always the flour that comes first, then the eggs, then the breadcrumb topping. It's also important to season both the flour and the breadcrumb topping, but you can learn all the tricks to breading and dredging here.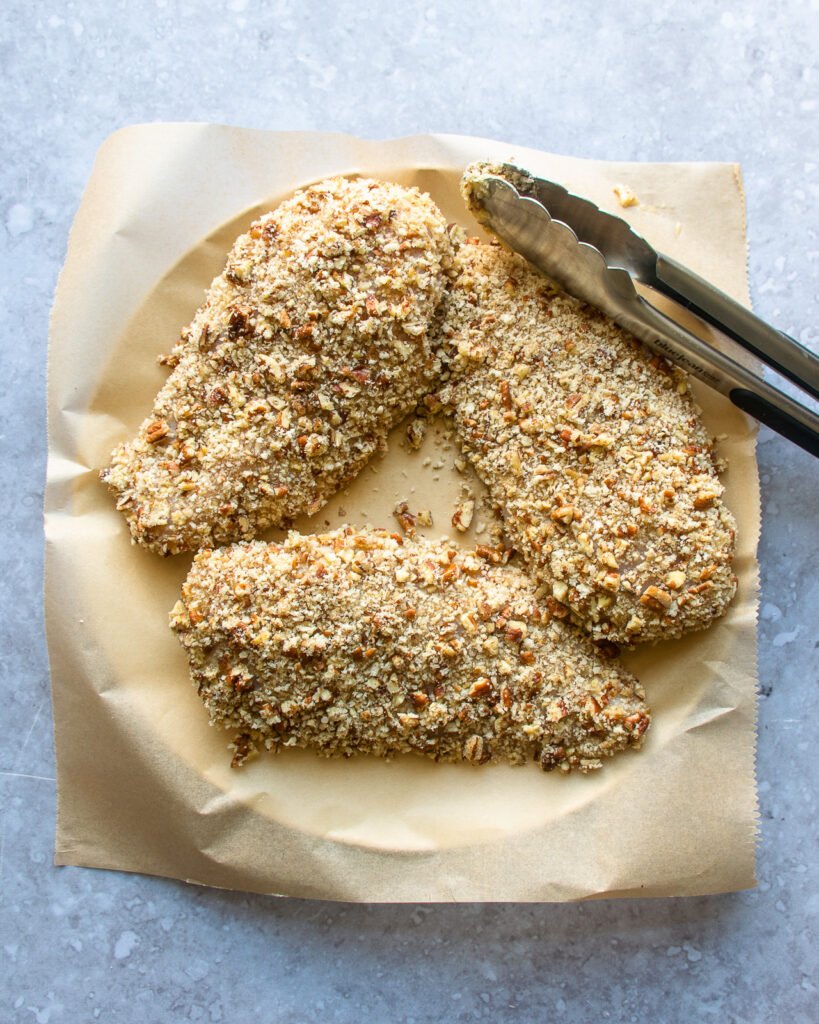 Make Ahead Options
If you want to make these pecan crusted chicken breasts ahead of time, you can stop right after you coat the chicken breasts and pop them into the refrigerator, covered. That will shorten your prep time and you can cook them to order when you're ready. You can also cook them all the way through and then re-heat them in the air fryer or in the oven, but they are more enjoyable straight out of the pan.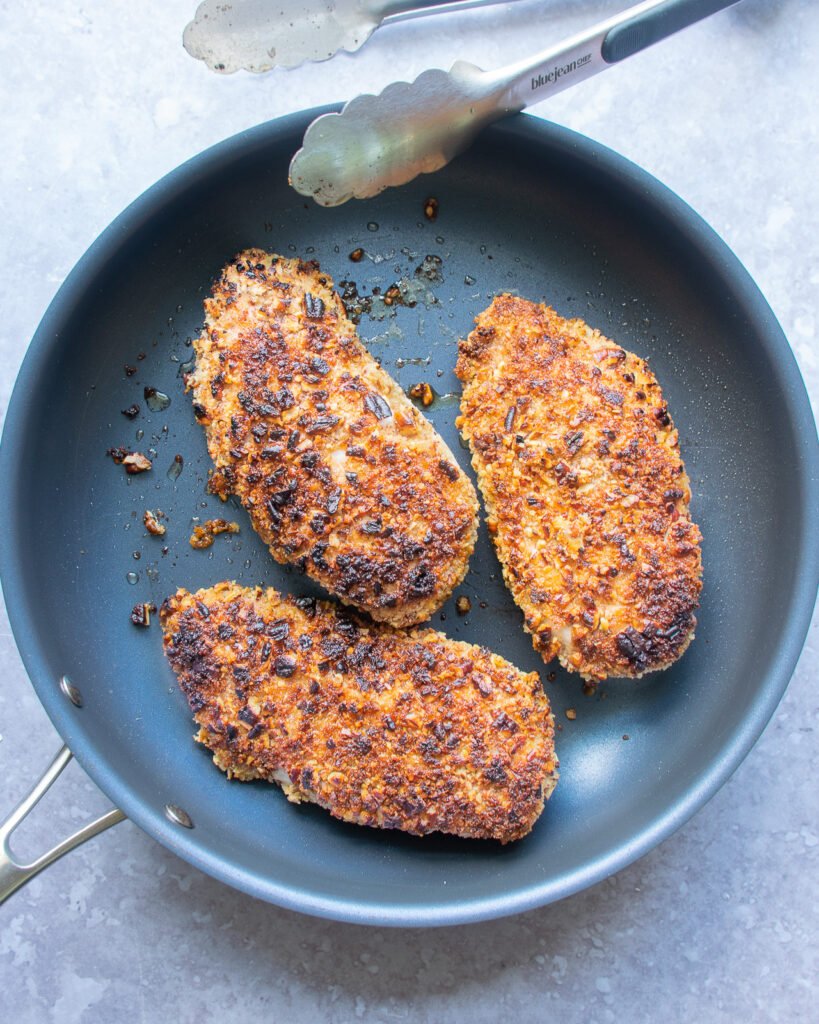 Cooking on the Stovetop
If you're cooking the crusted chicken on the stovetop, don't skimp on the amount of oil needed. All the crumbs and nuts need to come in contact with the oil in order to brown properly. They will absorb the oil, so you need to make sure you start with enough. Keep the temperature on medium and watch for over-browning, flipping when needed.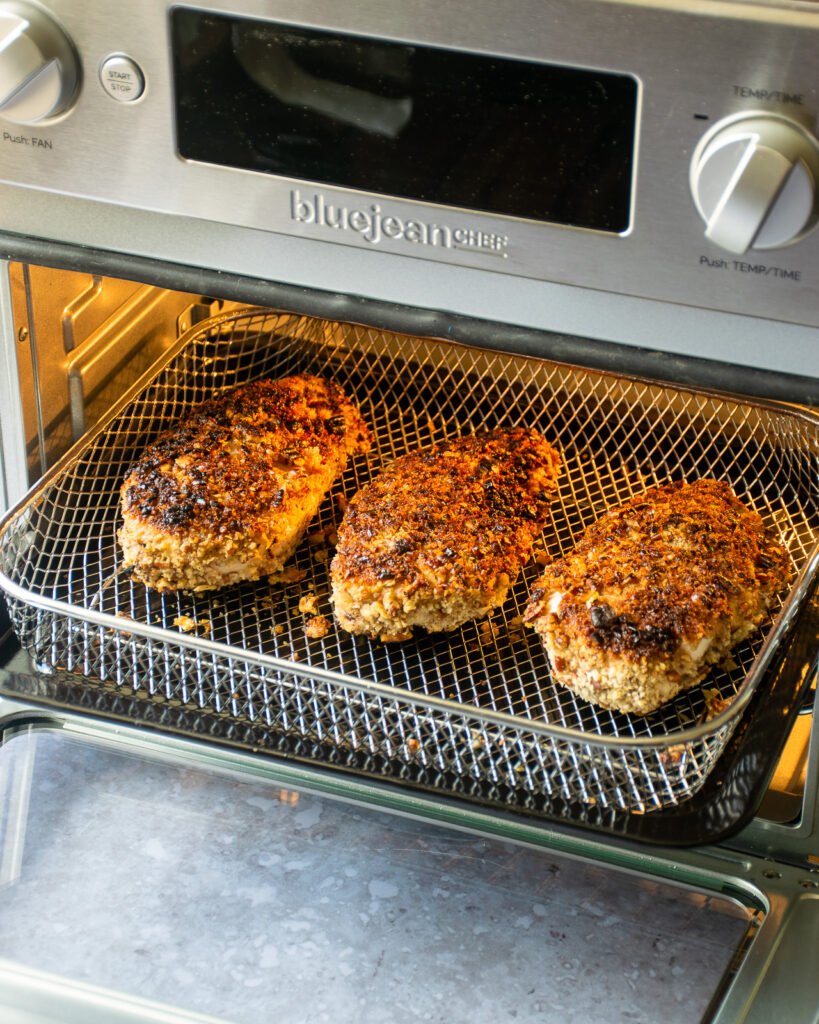 Air-Frying Chicken Breasts
If you're air-frying the chicken, you can save some calories by using less oil, but you will still need to spritz the coating with oil so that you get the crisping and browning that makes this chicken so delicious. Air-fry at 350˚F for 15 to 20 minutes (depending on the size of the chicken breast), flipping it halfway through.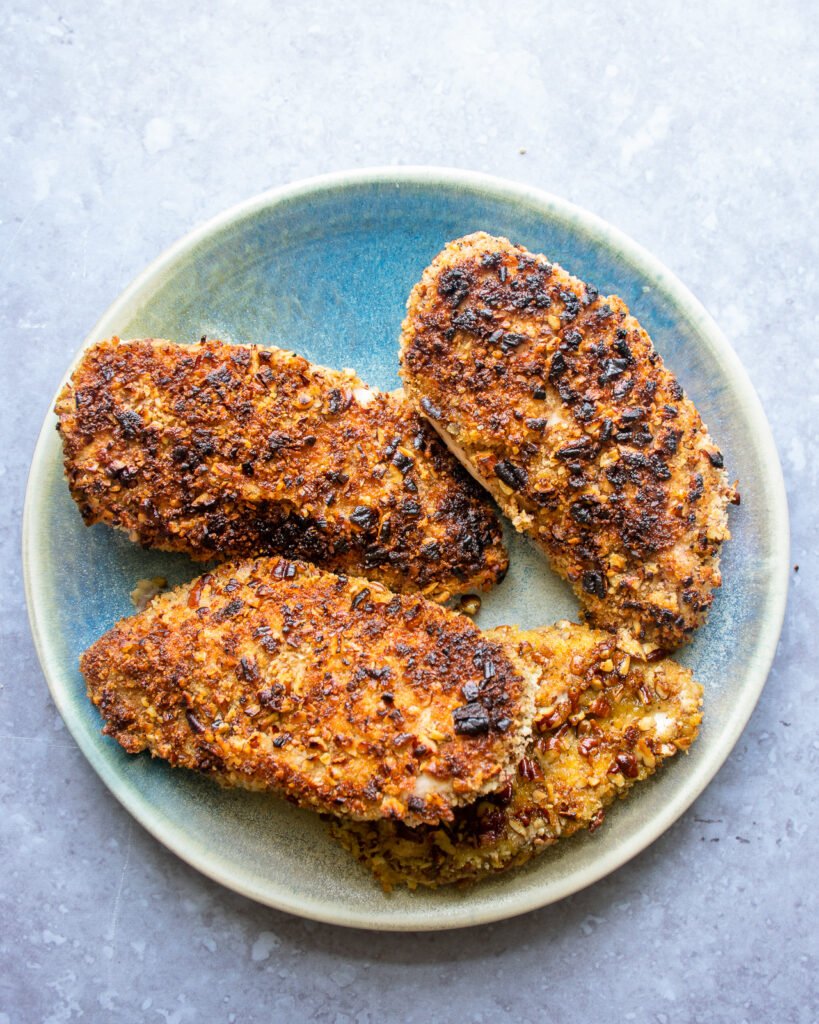 Sauce for Pecan Crusted Chicken Breasts
If you're looking for a sauce for this delicious chicken, you do have options. Included in the recipe is a simple honey mustard, but this would also be delicious with cranberry sauce, this cranberry orange relish, this pear cranberry chutney, or you could serve it with a Parmesan yogurt sauce (stir together ½ cup Greek yogurt, ½ tsp lemon zest, ½ tsp lemon juice, ½ cup grated Parmesan cheese and season with salt and freshly ground black pepper).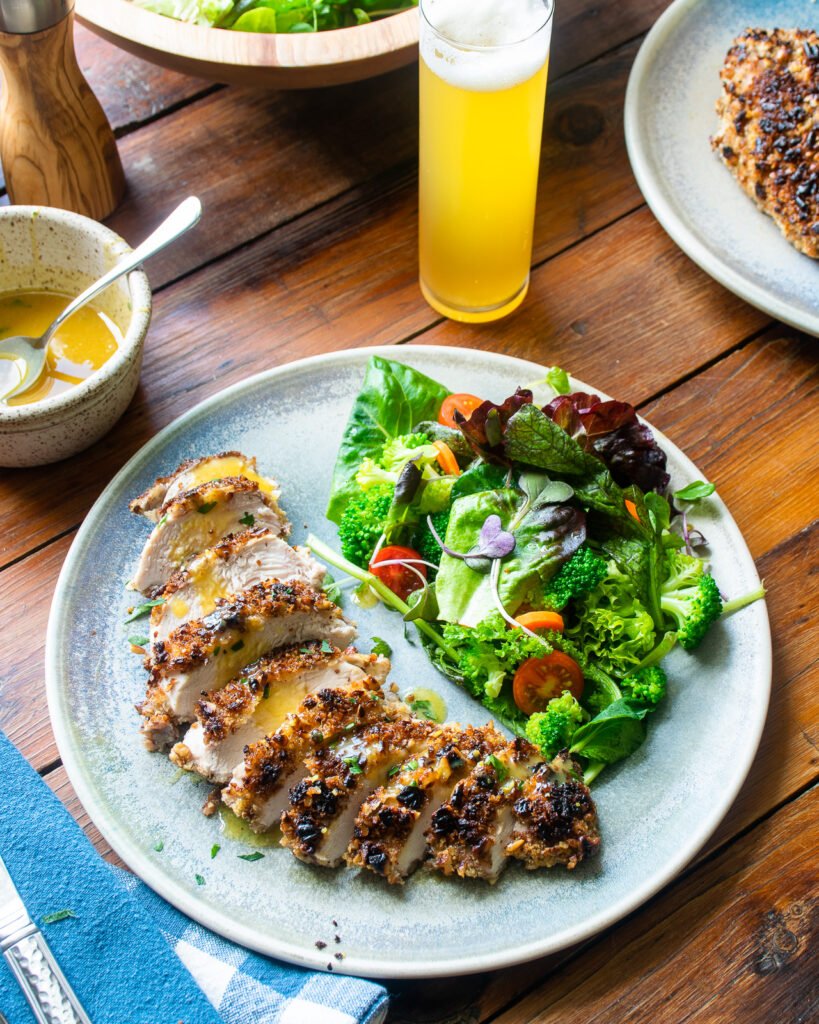 Don't Forget the Leftovers
In the unlikely event that you have leftovers, this chicken is delicious tossed into a salad the next day, along with whatever other vegetables you have in your refrigerator. Use the honey mustard as the base for a vinaigrette by adding some cider vinegar and then whisking in olive oil, seasoning with salt and pepper. That's two delicious meals in no time flat!