Perfect Winter Soup
When winter kicks around, there are few foods that will warm you up faster than a steaming bowl of soup or stew. This beef barley soup is the perfect answer to cold weather when the only way to really warm up is from the inside out. It's full of goodness, is rich and hearty and keeps you satisfied until the next mealtime rolls around.

The Right Cut of Beef for Soup
The best beef barley soup has tender chunks of beef that just fall apart when you bite into them. They need to be tender enough t0 cut in half with a spoon because that's what you'll be using to eat a bowl of this soup. Makes sense, right? Well, the first step in getting those tender chunks is to use the right cut of beef. That right cut is chuck, or the shoulder of beef. It is a cut of beef that is full of flavor and has enough connective tissue to break down into tender morsels. You could buy chuck already cut up into stew meat or you could just buy some chuck and cut it up yourself – it's not hard to do and that way you can determine the size of the pieces, which need to be spoon-sized.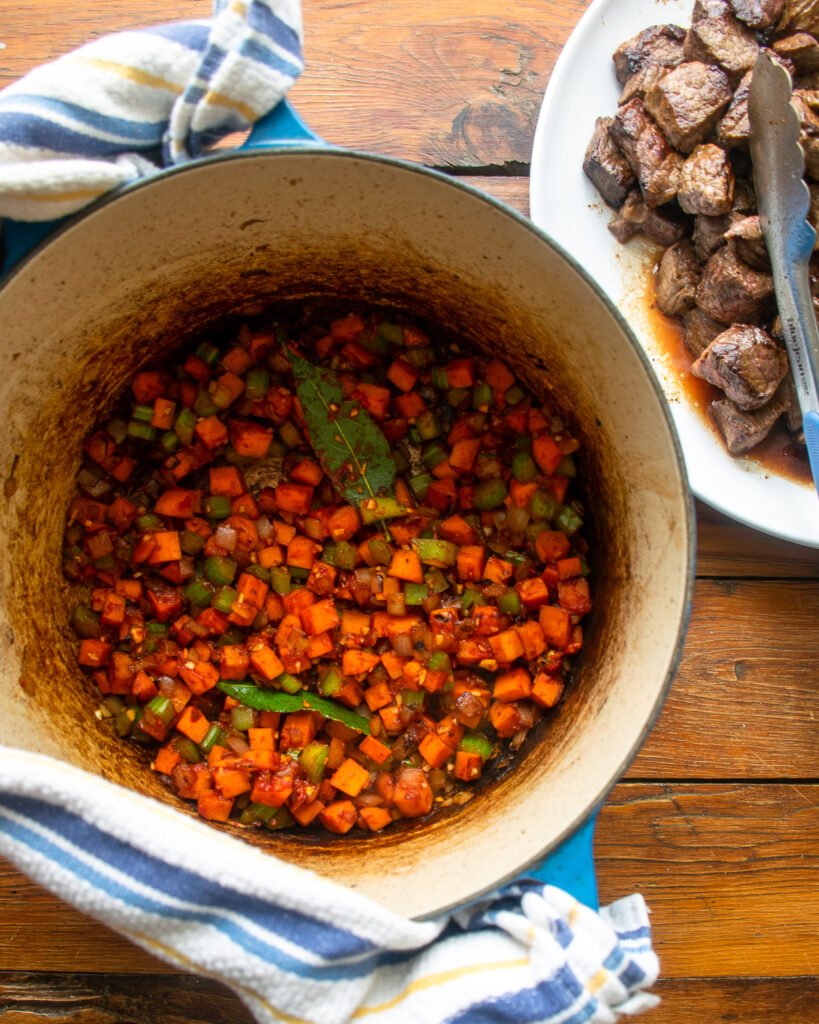 Steps to Making Tender Beef Barley Soup
Once you have the right cut of beef, there are just a couple of other steps to ensuring the meat is full of flavor and tender. First of all, brown the cubes of beef in batches – don't be tempted to throw it all in at once. Overcrowding the pan will just cause too much liquid to accumulate in the pot and you won't brown a thing. Honest. You'll need to do at least three batches of browning to get the right color on the beef cubes and that color gives your beef flavor AND creates a lot of flavor on the bottom of the pot, which then blends into your soup liquid when you deglaze. The other step that ensures you'll have tender beef is to simmer the stew gently. Very gently! You should just see a little movement in the pot, not boiling bubbles. Let the soup simmer for an hour and your beautiful cubes of beef will turn into tender spoonable pieces.

How to Cook Barley for Soup
Here's the great news – you don't have to cook the barley separately for this soup! The liquid quantity in this recipe is enough to cook the barley right in the soup after you simmer the beef. The added bonus in cooking it this way is that it absorbs the flavor of the soup as it absorbs the liquid. This recipe calls for pearl barley (barley that has had the husk and bran removed). You could use hulled barley (barley with just the husk removed) instead if you prefer. Hulled barley is considered a whole grain and has more nutrients left in it, but does take a little longer to cook. If you use hulled barley, you will need to cook it for 10 to 15 minutes longer (or add 5 minutes to the pressure cooker time).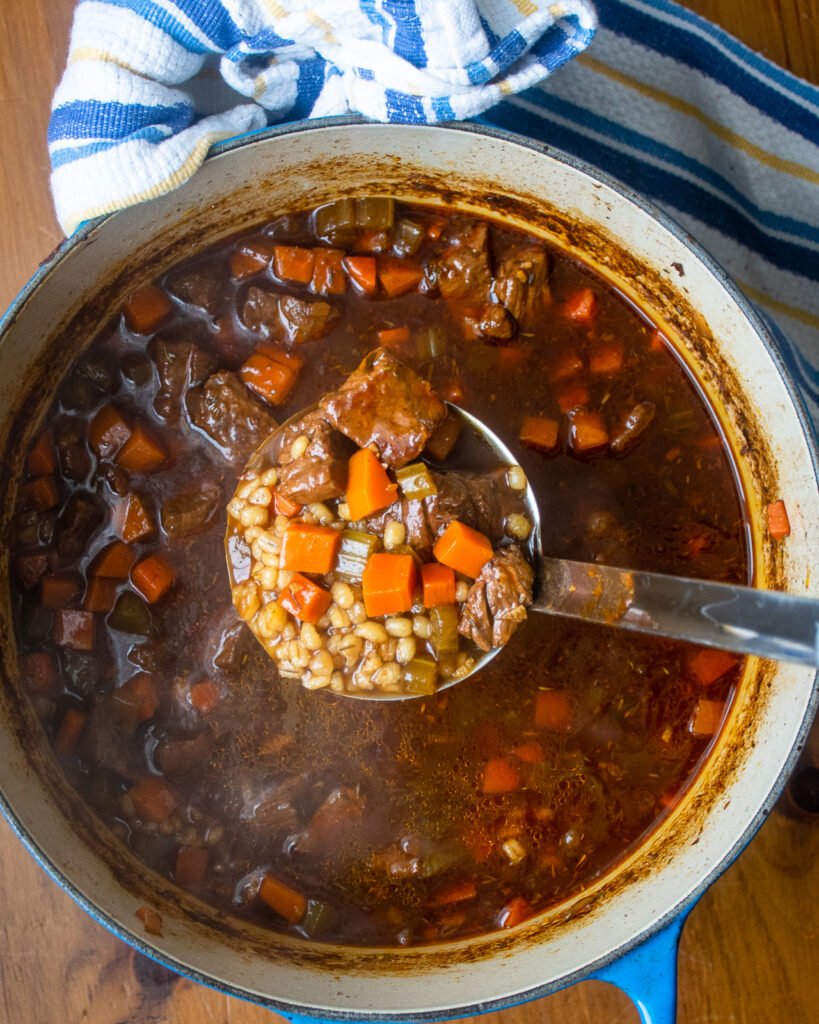 What to serve with Beef Barley Soup
You could enjoy a bowl of this soup for lunch or dinner and either way it doesn't need much to accompany it. A beautiful soft dinner roll or a buttermilk biscuit would be nice, along with a green salad – a simple arugula salad or a heartier radicchio salad with crisp apples. While some soups are good as a starter course, this beef barley soup is definitely the main meal.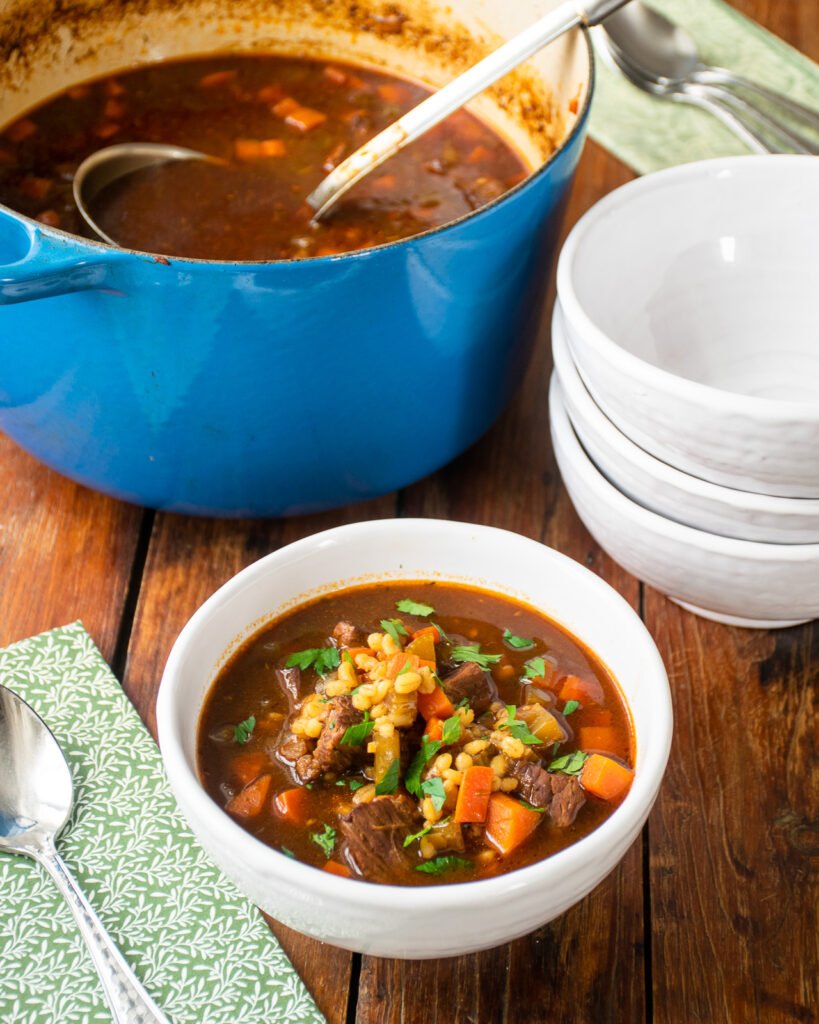 A Word about Leftovers
You can definitely package up the leftovers of this soup (if there are any) and keep it in the refrigerator or freeze it for a rainy day. Either way, however, when you do re-heat the soup you will need to thin it with some water. The barley will continue to absorb liquid as it sits, so by the next day it will be more of a stew than a soup. That's not a bad thing if you're in the mood for stew, but just know that thinning it with water will not dilute the flavor – there's plenty of that to go around.