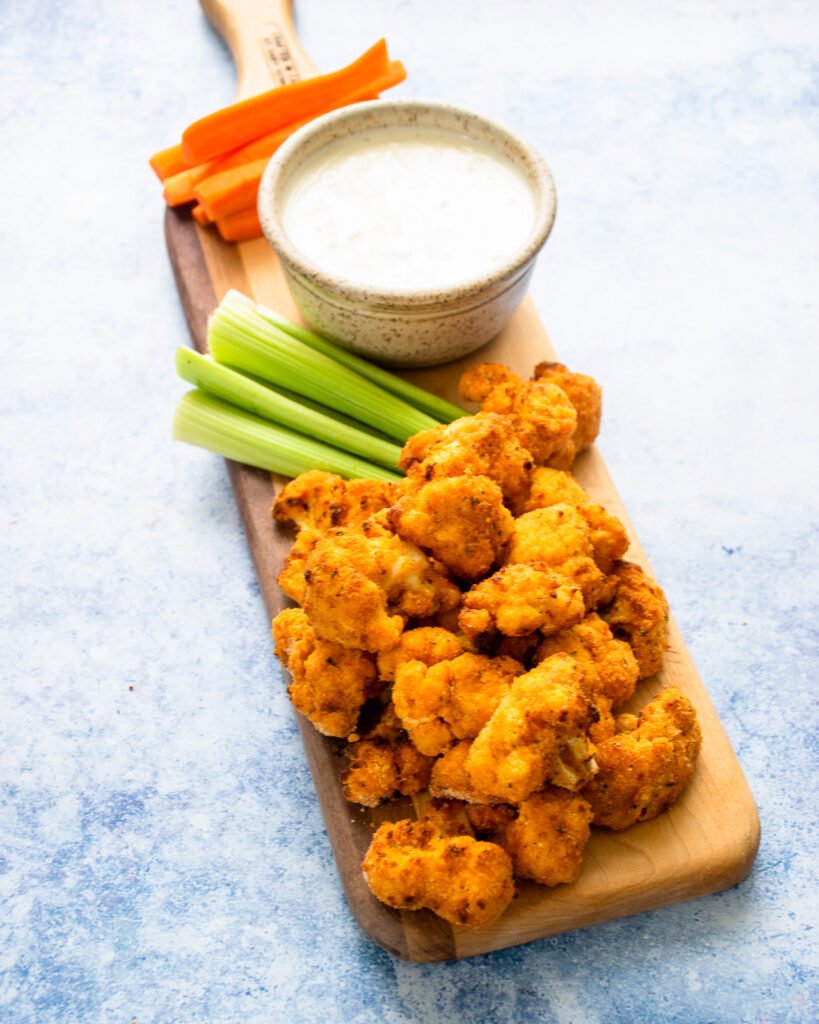 What is Buffalo Cauliflower?
Buffalo Cauliflower has become a super popular snack ever since cauliflower's rise to fame as a low carb, low fat and general all-around substitute for anything. With Buffalo Cauliflower, the cauliflower steps in to take the place of chicken wings in one of the US's favorite snacks of all time. Buffalo wings are delicious, there's no doubt, but they are fatty and greasy and generally a high calorie snack because they are first deep-fried and then tossed with the Buffalo hot sauce. One way to make this snack lower in calories is to make Air Fried Buffalo Wings. Another way to make the snack even lower in calories is to make air-fried Buffalo cauliflower!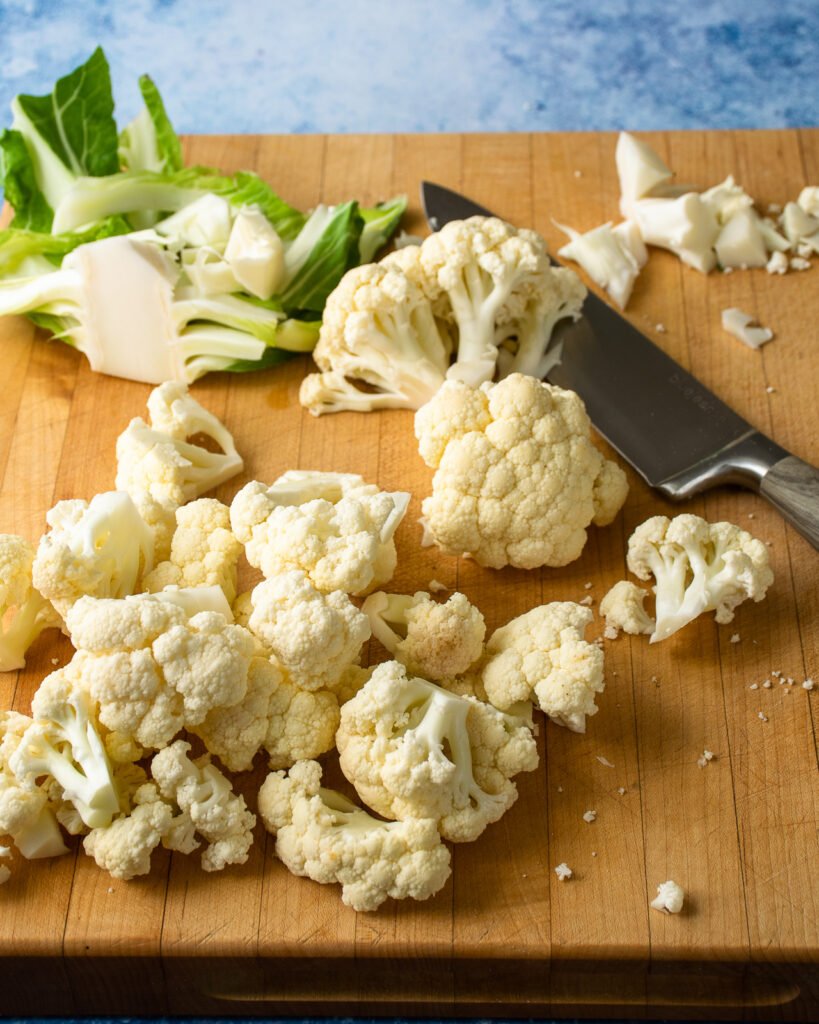 First the Cauliflower
How big is a head of cauliflower? Sounds like a trick question, doesn't it? Truth is, there's no one size when it comes to products of nature. This recipe calls for ½ a large head, and I've also given you a rough weight (about 1½ pounds), but you should just think about how many people you're serving and get enough cauliflower to feed all. If you run out of marinade, just make a little more (it's a simple ratio of two ingredients) and if you run out of crumbs, just throw some more into the mix. But first… cut the cauliflower into bite-sized pieces. This is because you really want to be able to eat the Buffalo cauliflower in one or two bites at most, but more importantly the pieces should be roughly the same size so that they cook evenly. Use your chef's knife and start from the root side with the florets on the countertop. Cut into the root to separate big florets and then cut the florets down from there.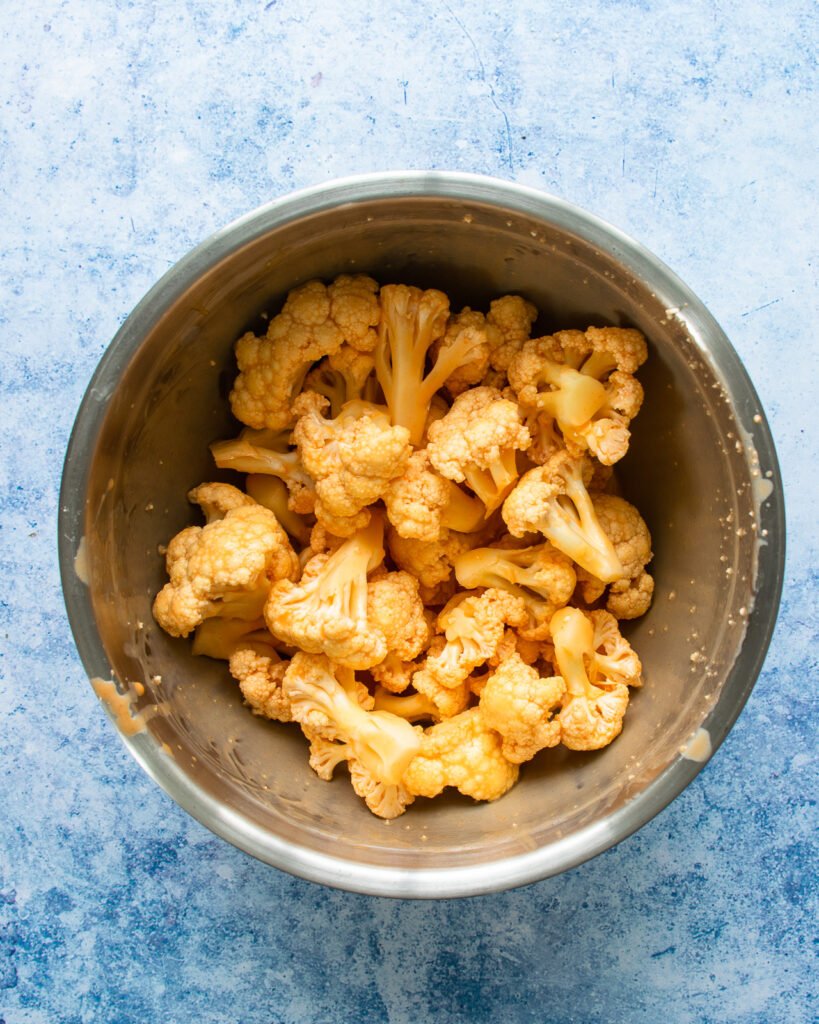 Marinating Buffalo Cauliflower
Now, most of the time when making Buffalo anything you just air-fry (or deep-fry) the food and then toss it in Buffalo sauce. That gives you great flavor …on the outside of the food. Marinating the food (in this case cauliflower) in the hot sauce-based marinade first allows the flavor to really penetrate the cauliflower, giving it way more flavor. The only other ingredient in the marinade is buttermilk. The buttermilk is there to lessen the intensity of the hot sauce and also to provide something for the crumbs to stick to. If you don't have buttermilk, you can make your own quick version by using milk and a little lemon juice. You only have to marinate for about 15 minutes, so it's not much of an inconvenience and it really pays off.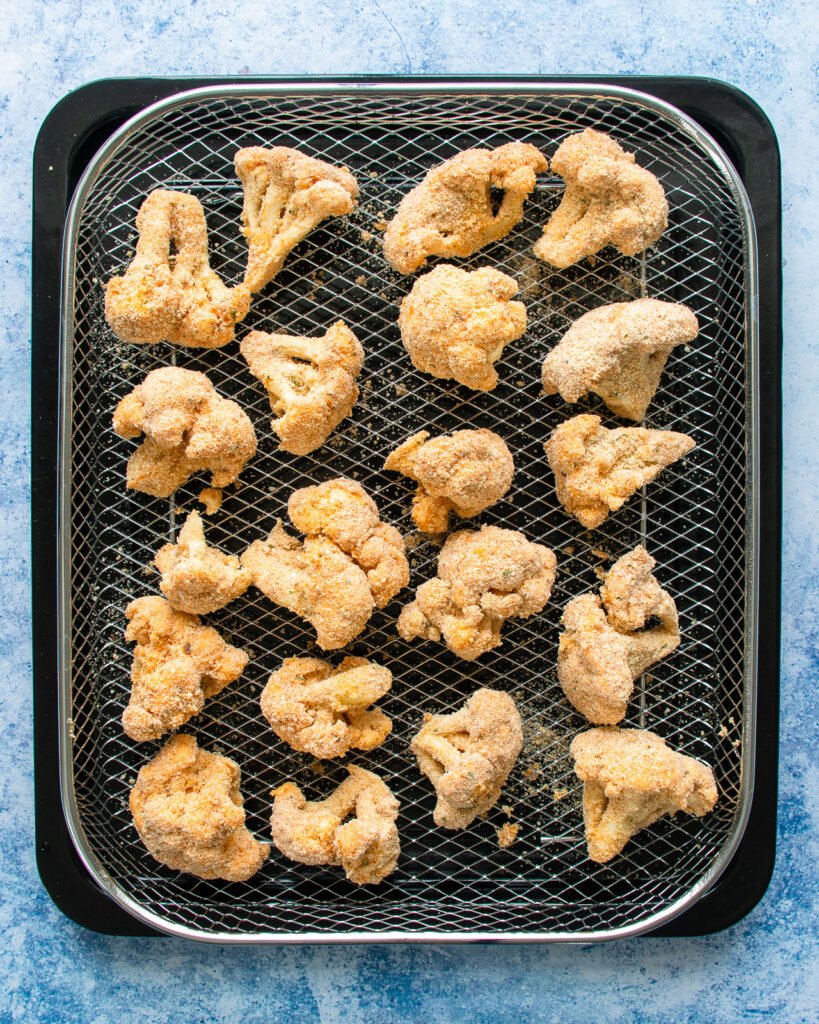 Coating the Buffalo Cauliflower
When it comes to coating the cauliflower, we're looking for two things – coverage and crispiness. That's why this recipe calls for two different types of breadcrumbs – fine breadcrumbs (coverage) and panko breadcrumbs (crispiness). It also calls for a couple tablespoons of cornstarch (to enhance even more crispiness) and some spices. Tossing the marinated cauliflower in the crumbs is very easily done with a zipper sealable plastic bag as long as you just do 5 to 6 pieces at a time. Once coated, be sure to spray the bites on all sides with a little vegetable oil. If you leave some crumbs uncoated with oil before sending it to the air fryer, guess what happens… they will still be dry breadcrumbs on the outside of your cauliflower after they come out. So, there's no need to spray heavily, but do spray evenly and coat all surfaces.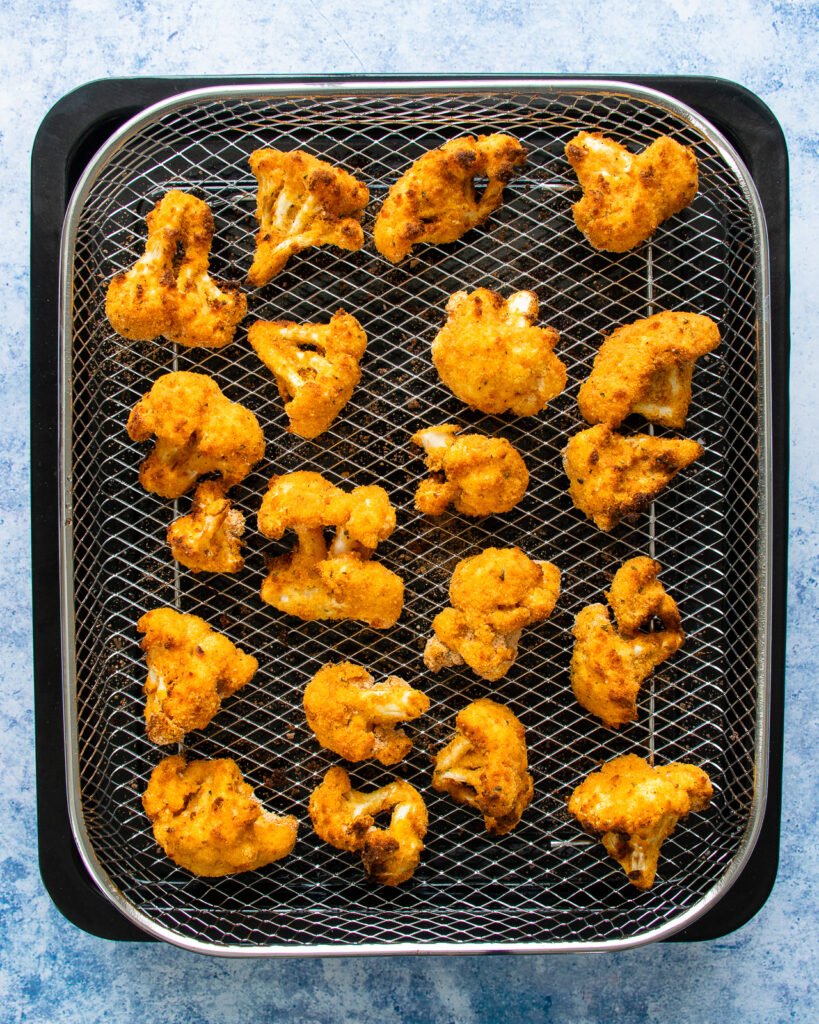 How Long to Air-Fry Cauliflower
This could be another trick question. The answer is it depends on how big your cauliflower pieces are. If you've kept the pieces bite-sized, they should take about 12 to 14 minutes in your air fryer at 400ºF, and that's without turning them over halfway through. As long as they are on a rack or in a perforated or mesh basket, you won't need to flip them. That's nice!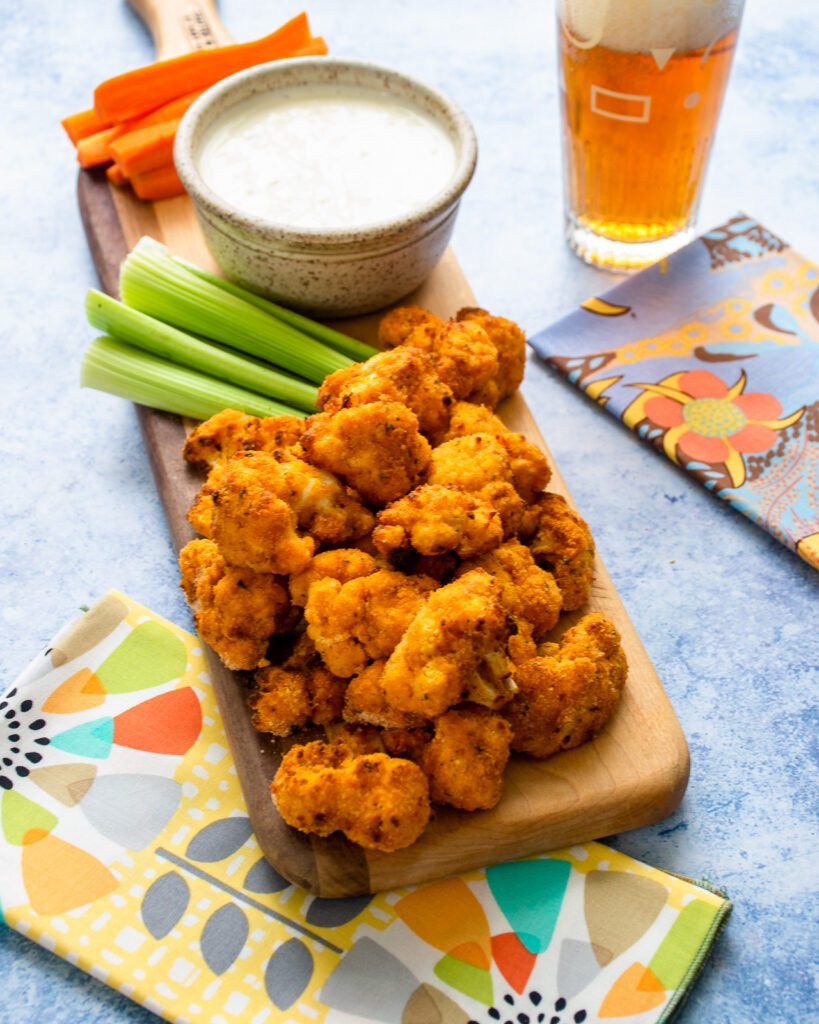 Low Carb Buffalo Cauliflower
If you're looking for a low carb buffalo cauliflower, I suggest omitting the breadcrumb coating altogether! Just air-fry your cauliflower until the florets are cooked through with little charred and crispy edges on some of them – same timing. Then, toss your air-fried cauliflower in a mixture of hot sauce and butter (the traditional ratio is 1:1, but you can ease up on the butter a little if you like it spicy). 
How to Serve Buffalo Cauliflower
Serve Buffalo Cauliflower the same way you would serve Buffalo Wings – with blue cheese dressing, carrots and celery sticks –  but here's where the calories come in. It's that darned Blue Cheese Dressing that gets us every time! If you are trying to watch what you're eating, you might opt for this Lemon Dill Buttermilk Dressing instead and load up on the vegetable sticks!