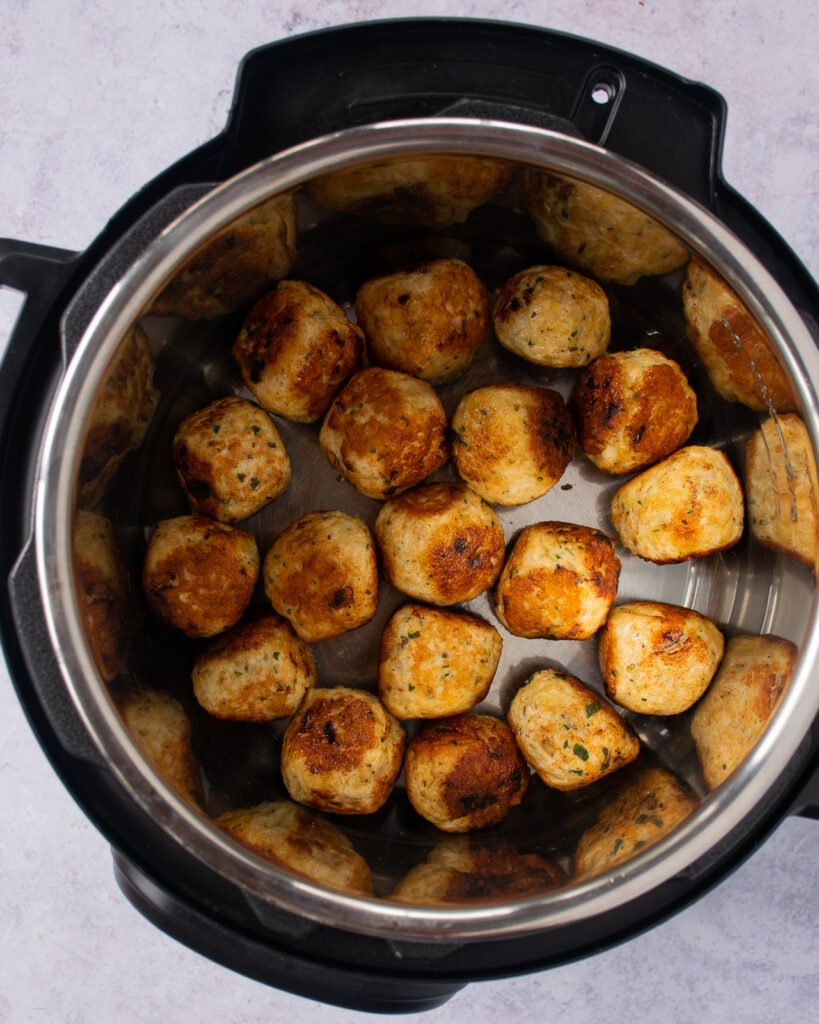 Homemade Spaghetti and Meatballs
If the Lady and the Tramp loved it, I love it too! Spaghetti and meatballs are one of those classic recipes recognized worldwide, but this version of pressure cooker spaghetti and meatballs speeds up the process significantly and makes a comfort meal big enough to feed a crowd. There are a lot of shortcuts you can take when making this dinner, but if you are ever going to make homemade spaghetti and meatballs now's the time – when everything cooks together in one pot. The meatballs called for in this recipe can be any type of meatball as long as they are not yet cooked. Frozen meatballs are fine too and you can use beef, pork, turkey or chicken meatballs like the ones you see in the photo above. Use the BROWN or SAUTÉ setting to brown the meatballs on all sides first. Then, move to the next step and make the marinara sauce.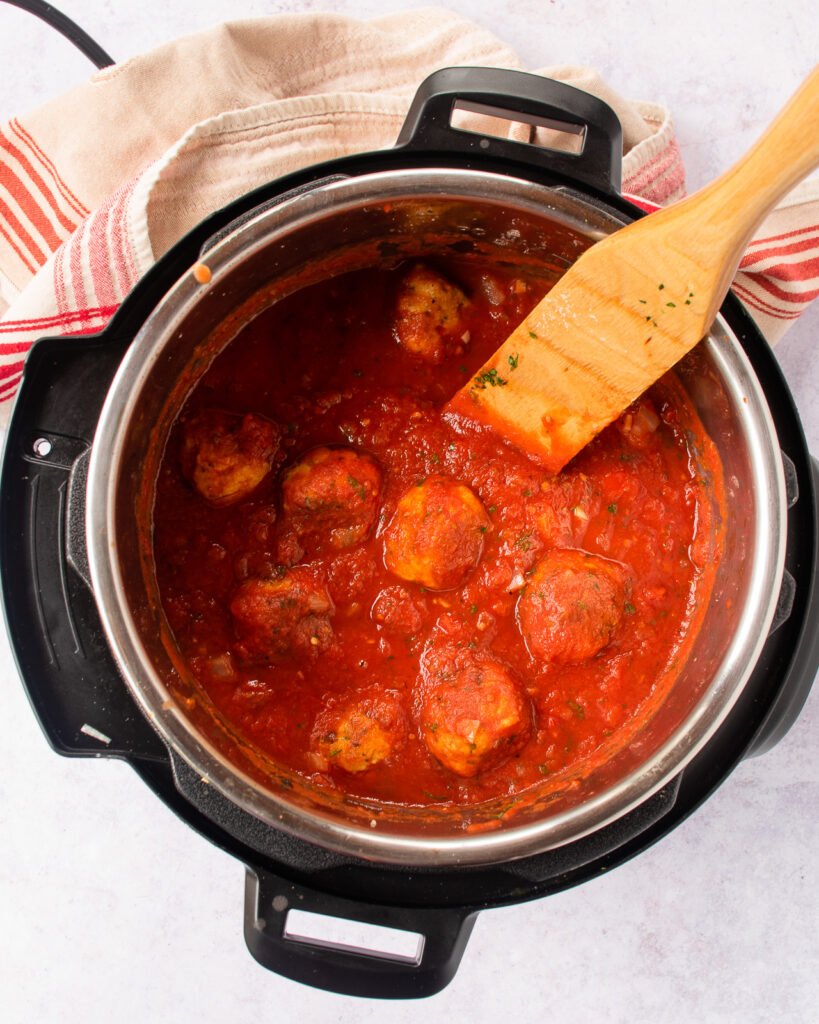 Homemade Marinara Sauce
Yes, you could substitute a jar of your favorite sauce instead of making the sauce for this pressure cooker spaghetti and meatballs, but honestly, making your own marinara is just a matter of sautéing some onion, garlic and red pepper along with some seasonings before adding the tomatoes. Doing it all yourself from scratch gives you good bragging rights and tastes better too.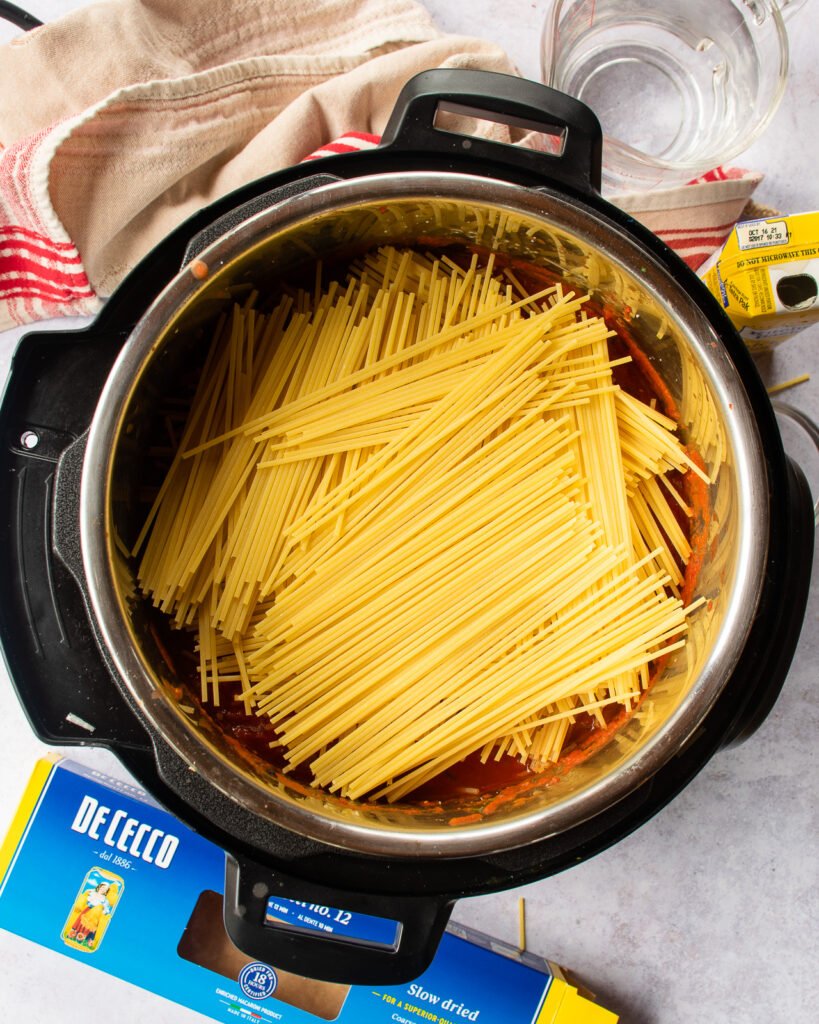 Instant Pot Pasta
Cooking pasta in the pressure cooker is not traditional. Purists will tell you that it's wrong and that you should only ever cook pasta in a large pot of salted boiling water. If you're a purist, you should cook the pasta separately and just make the sauce in the pressure cooker or Instant Pot®. Add ¾ cup of broth or water to the sauce and meatballs, pop the lid on and follow the rest of the recipe. If you're not a purist, don't listen to the others and go ahead and sprinkle the pasta into the cooker, separating the strands of spaghetti slightly as you do so. While you're at it, whatever you do, don't tell the purists that you also broke the spaghetti in half in order to fit it into the cooker! That is also very much a break (forgive me) from tradition, but if you want spaghetti in the pressure cooker that's the only way you can do it. If you're vehemently opposed to breaking spaghetti (and I do understand), use a smaller shaped pasta for this recipe instead. You can read my tips on cooking pasta in the pressure cooker here, which also gives you information on how to calculate the cooking time for a variety of pasta shapes. 
Quick and Easy Spaghetti and Meatballs
After a quick few minutes of cooking time, the spaghetti and meatballs will be finished. It won't look like the photo above when you remove the lid. You will need to gently stir everything together. Let everything sit in the warm cooker for a few minutes to absorb any extra sauce or liquid. Food out of a pressure cooker is way too hot to eat anyway, so let it cool to an edible temperature before serving it, which brings us to the last component of this meal…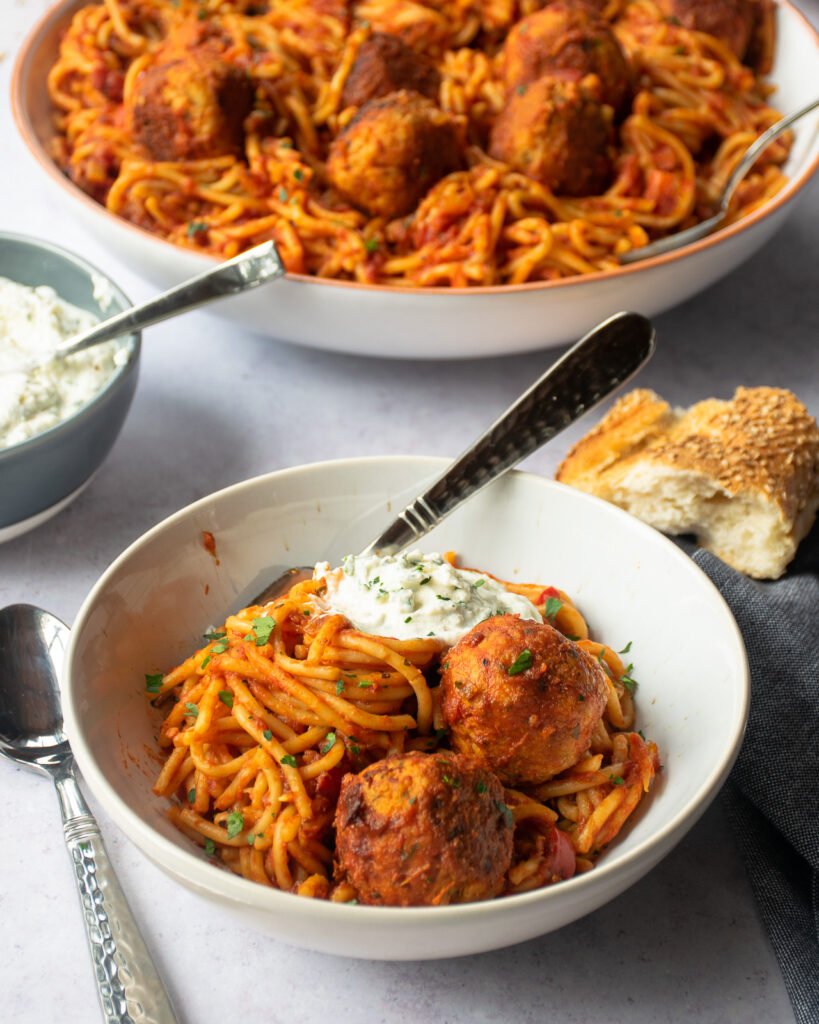 Whipped Herbed Ricotta
You could stop right here and serve the pressure cooker spaghetti and meatballs as is with some grated Parmesan cheese on top, or you could keep going for just a few minutes and give this meal a little flare with some whipped herbed ricotta cheese. It's as simple as stirring some ingredients together and a dollop of the ricotta with parsley, basil and Parmesan does add a burst of flavor to each bowl. It really depends on how you plan on eating the spaghetti. The addition of ricotta is not approved by Lady nor the Tramp.