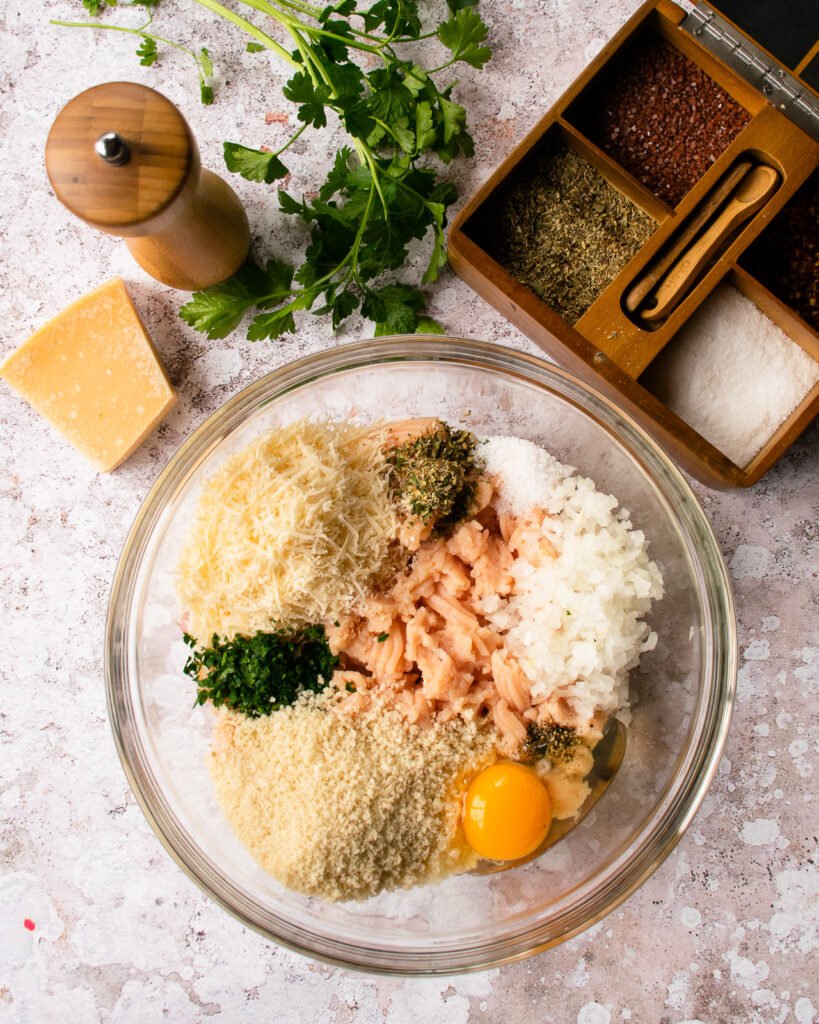 Easy Chicken Meatballs
You can make meatballs as easy or as complicated as you like. Me? I like easy. These Italian chicken meatballs have just the right number of ingredients to make them interesting and tasty without going too far or getting too complicated. Sometimes, I start my meatball-making adventures by sautéing the minced onion and garlic first before adding it to the ground meat and other ingredients. This time, I wanted to keep it on the simple side so I skipped that step, added the onion raw and left out the garlic. If you're a big garlic fan, you could add a little garlic powder, but I don't recommend adding raw garlic… unless you really like garlic!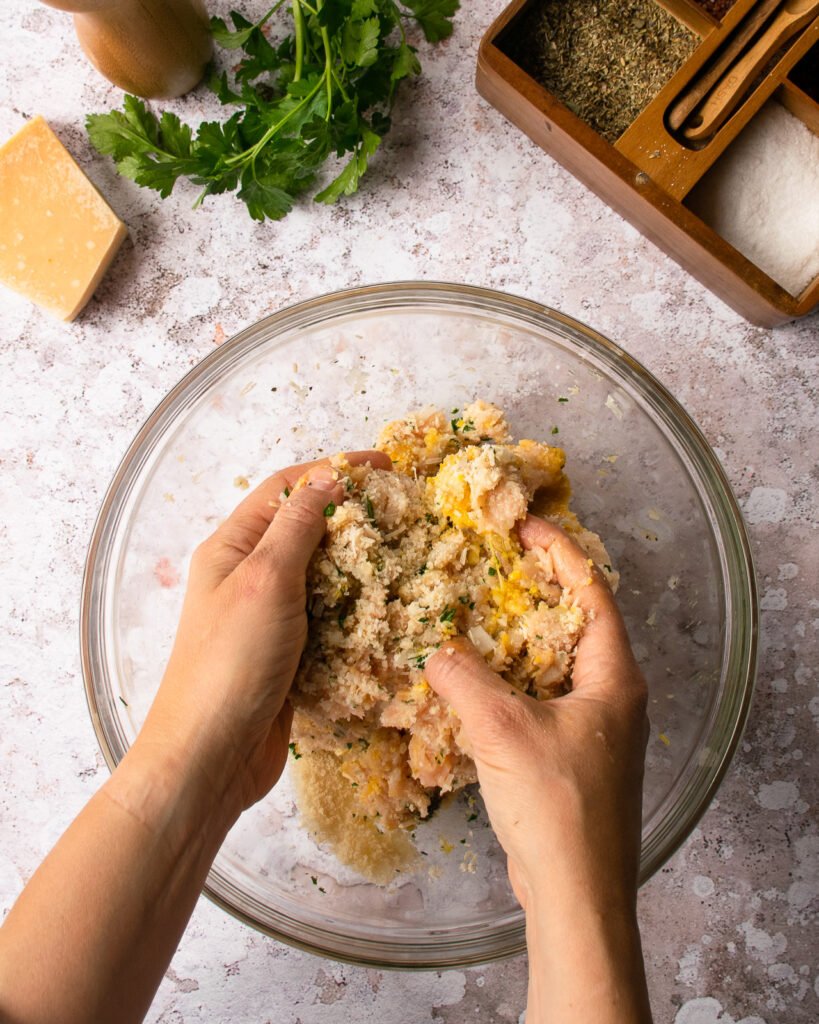 Homemade Meatballs = Handmade Meatballs
I've said it before and I'll say it again… the best tools you have in your kitchen are your hands. This is especially true when it comes to making meatballs. There's not a lot that can go wrong when you're making meatballs, but one common problem is making them too tough. Meatballs become dry and tough if you mix the ingredients or pack them together too hard, with too much force. In order to mix the ingredients together the best way possible without over-mixing, use your hands. Yes, it's messy and sticky, but you're cooking, you're in this!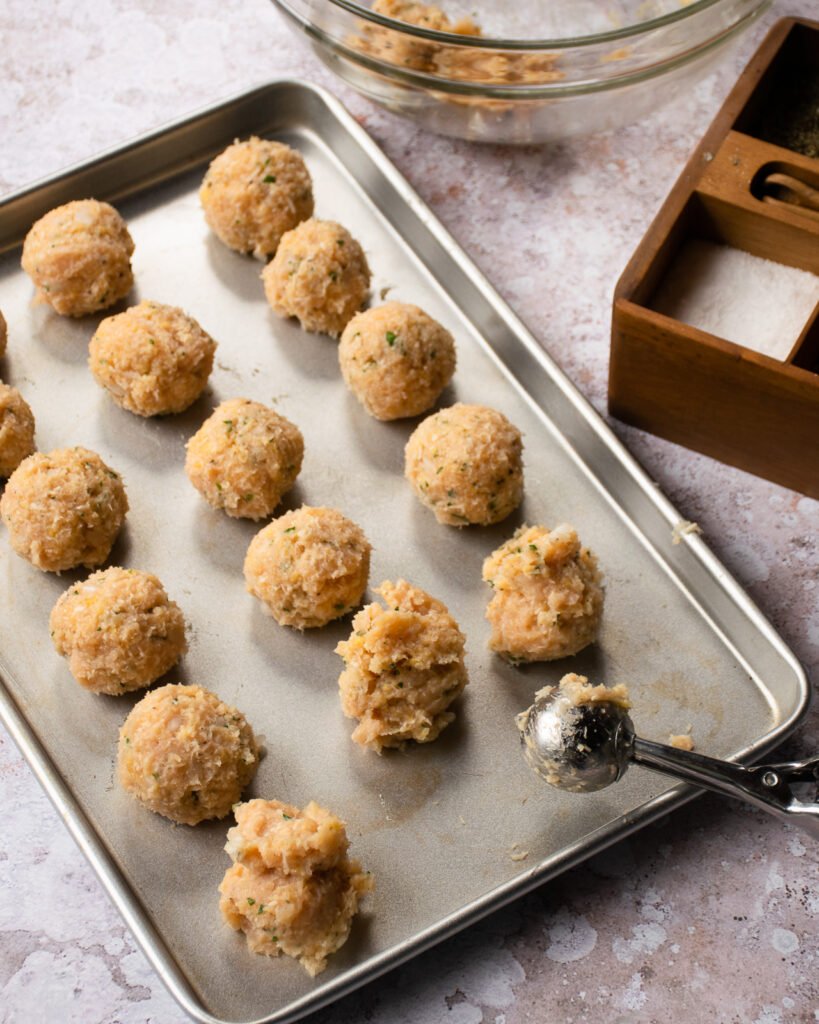 How to Make Uniform Meatballs
Uniformity is important in cooking. It's important because foods that are uniform in size cook uniformly. To help make meatballs uniform in size, scoop portions of the meatball mixture with a small ice cream scoop. Then roll each portion into a ball. A hugely helpful tip when rolling meatballs is to wet your hands first. This might seem counterintuitive, but the meatball mixture will have a much harder time sticking to your wet hands than it would to your dry hands. In addition, the meatballs will have a smoother texture if you roll them with wet hands. You're welcome.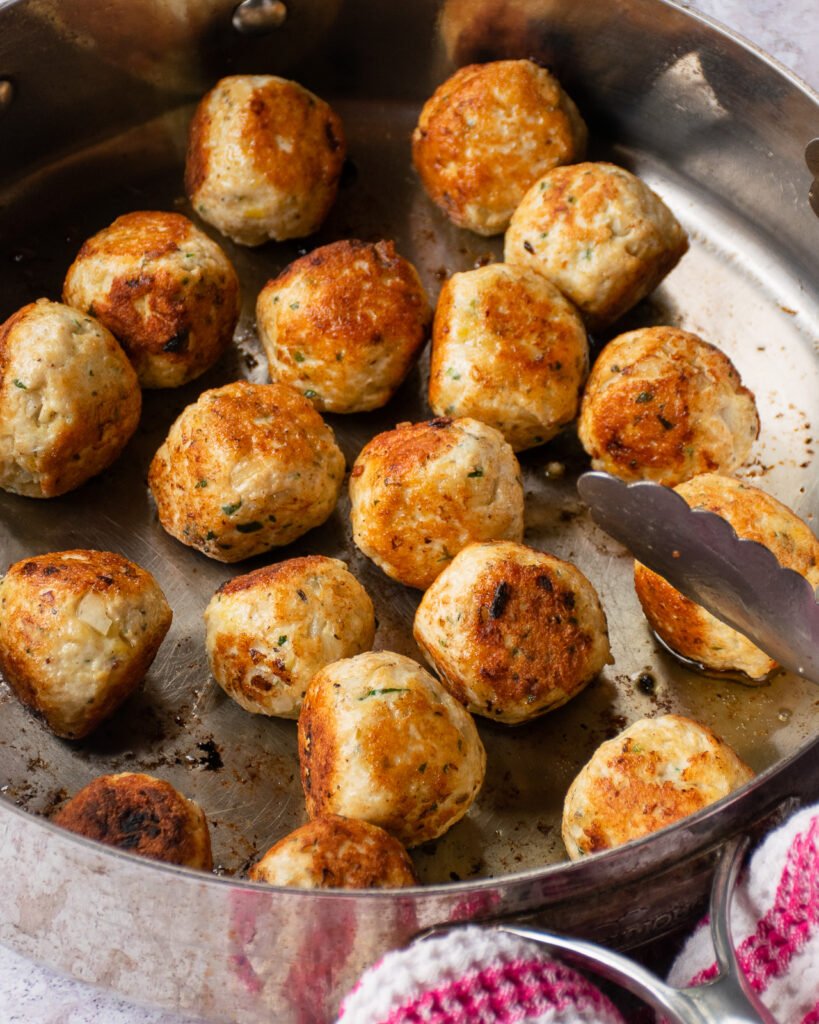 How to Cook Meatballs – Stovetop, Oven and Air-Fryer
There are a few ways to cook meatballs. In this recipe, start the meatballs on the stovetop in a little oil, rolling them around to get them brown on all sides. Then, transfer the skillet or sauté pan to a 375ºF oven to finish cooking the meatballs through. You could instead opt to use your air fryer to cook these meatballs. Depending on the size of your air fryer, you will probably have to cook the meatballs in batches. Air-fry at 380ºF for 10 to 12 minutes. Another method of cooking the meatballs is to place them on a baking sheet and bake them at 375ºF – 400ºF until they are fully cooked – about 20 to 30 minutes depending on their size. The advantage to the latter method is that the meatballs are more likely to remain round. Because these meatballs in particular are made with ground chicken, you'll find they are more likely to flatten a little as they cook, but think of it as a special safety precaution so the balls don't roll off your plate. Again, you're welcome.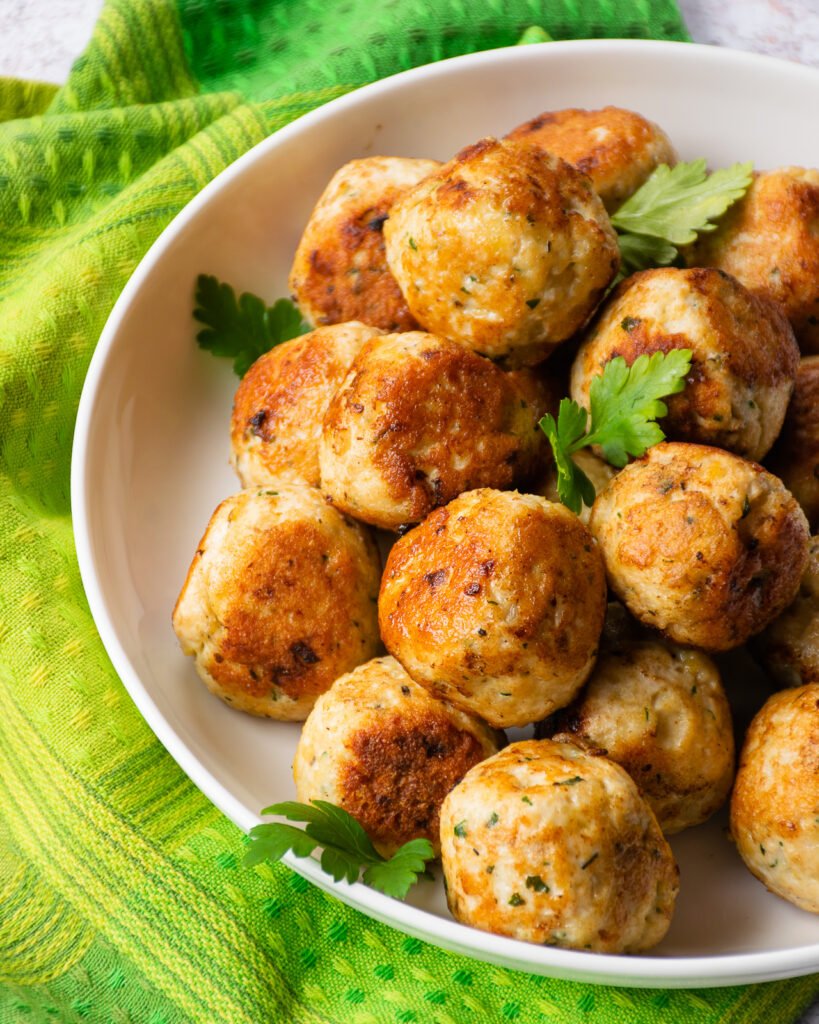 What to Serve with Meatballs
These Italian Chicken meatballs, when well seasoned so they are full of flavor, when they are gently packed so they are not tough, and when cooked until they are just cooked through so they are not dry, are a delight. You can serve them all on their own with a dipping sauce or two and some toothpicks and watch them disappear. The dip could be as simple as bottled sweet Thai chili sauce or you could mix some honey and mustard together with a dash or two of Worcestershire sauce. You could also make a cheese sauce or marinara sauce and serve either sauce warm with the meatballs. Meatballs can also be a part of another recipe or a component of a meal, like these Italian Chicken Meatball Grinders or this one-pot Pressure Cooker Spaghetti and Meatball dinner. You might think about making a double batch and keeping some on hand in the freezer. 
Because these meatballs are made of chicken instead of beef, they are a little lighter in texture and calories. That said, and because I know someone will ask, yes you can swap out the chicken for beef and make this your go-to meatball recipe. You're welcome. 😉