What to do with Turkey Leftovers?
If you hosted Thanksgiving or Christmas this year and served a turkey, chances are you have a lot of leftovers. Sure, you can heat up your turkey, gravy and all the sides one or two more times, and have a couple of turkey sandwiches in the days following the holiday. But then you think… I can't eat any more turkey! But if you reinvent your turkey into a fresh, new and totally different meal then you might even be wishing you had even MORE leftover turkey to use up.  Scroll down to find your new favorite way to "makeover" the turkey in your fridge!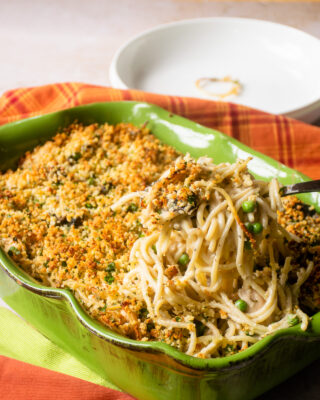 This classic Italian-American pasta bake is an amazing complete dinner makeover. The sauce is super simple to make and there is no can of soup involved! The mushroom cream sauce is tossed with spaghetti, leftover turkey, frozen peas and Parmesan cheese. Top with some breadcrumbs for little extra crunch. Pop it in the oven until hot and bubbly and serve up something warm and satisfying!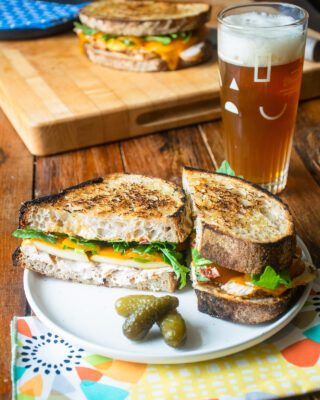 Don't just make a plain old turkey sandwich when you can make one that is something special! This panini has turkey breast, sharp Cheddar cheese, bright peppery arugula, sweet pear slices, spicy chipotle mayo, and… wait for it…crispy Jalapeño pepper slices. Grill until everything is warm and toasty. Don't let the Jalapeños scare you off, they are not too hot, but they do add a little crunch and gentle spice to this tasty sandwich.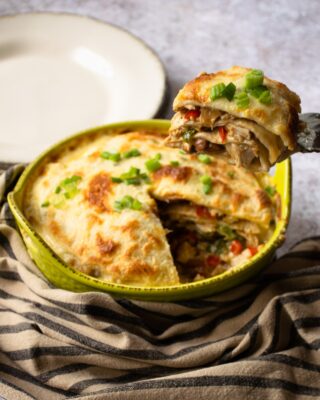 This enchilada casserole gives you totally different flavors from your traditional turkey dinner. It's easier to make than regular enchiladas because you simply layer the zesty filling of turkey, pinto beans, peppers, onions and spices in between layers of tortillas, making it easier to assemble. It is then all topped with a silky white sauce, made with pepper-Jack cheese, and baked until golden brown.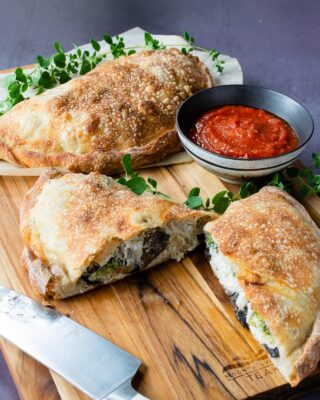 This fun recipe for a homemade calzone is stuffed with ricotta and mozzarella cheeses, with turkey, broccoli, and sautéed mushrooms. You can also add any leftover vegetables that you have in the fridge as well. Bake until the crust is crispy on the outside and the filling is gooey and cheesy on the inside. SO much better (and cheaper) than soggy takeout.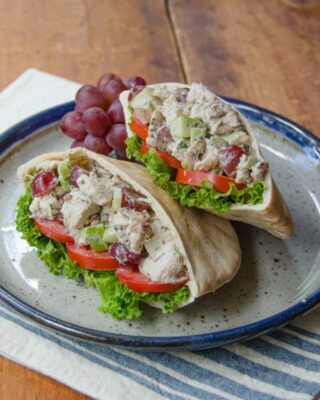 This recipe adds cubes of turkey to the classic flavors of a Waldorf salad with, grapes, apples, celery and toasted walnuts, in a tangy mayo-based dressing. I love putting it in warm, fresh pita bread but any bread will work. If you prefer a salad, you can just top off some greens with this terrific mixture, OR just grab a fork and dig in!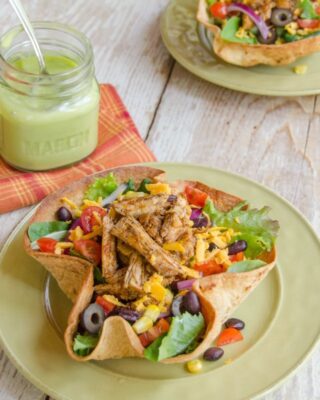 Here is a delicious and hearty dinner salad that doesn't require much cooking at all. A quick sauté of shredded leftover turkey with onions and spices makes the perfect topping for a Texas style salad complete with corn, peppers, olives, black beans and Cheddar cheese. Top it off with a delightful creamy avocado dressing that you can whip up in seconds in a food processor. It's also fun to serve this in a store-bought or homemade tortilla shell.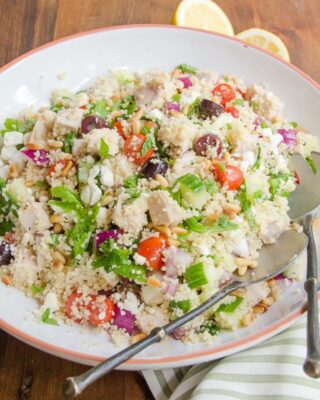 This delightful salad is on the lighter side and might be just what you need the day after a holiday when you may have eaten an extra piece of pie! It's super simple to make with all the flavors of a Greek salad. Toss your turkey, cucumbers, kalamata olives, tomatoes and feta cheese with some fluffy couscous. Finish it off with a little oil and vinegar, feta cheese and chopped mint leaves for a fresh and satisfying salad.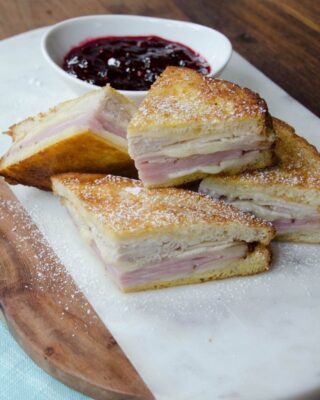 Here is a recipe that is perfect if you served turkey AND ham at your holiday dinner. This toasted sandwich has the sweet taste of French toast with ham, turkey and melted Swiss cheese layered in between. It is grilled until golden browned and served with powdered sugar on top and a fruit preserve for dipping. All together it makes a pretty divine combination. You will love this sandwich that makes your meal feel like a real treat!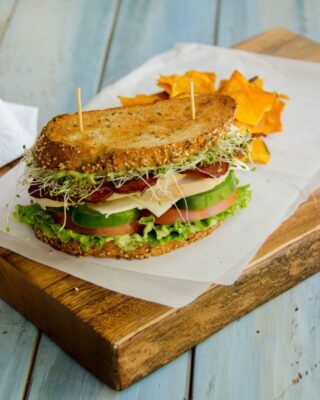 If you are going to make a turkey sandwich, make it a hearty club sandwich that will make you feel like you're dining in a restaurant! The avocado spread is what makes this sandwich "California style" with toasted artisan whole grain bread. Fill it with sliced turkey, bacon (turkey bacon or regular…your choice!), Havarti cheese, lettuce, tomato, green peppers and some alfalfa sprouts too. It is as beautiful as a sandwich can be and it tastes pretty darn good too!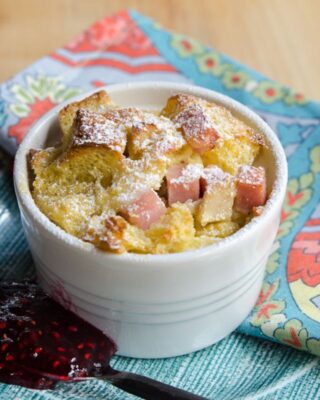 This recipe takes all the flavors of the Monte Cristo sandwich and puts it in a more comfortable, humble outfit – easy to make and still beautiful to look at. It's a savory bread pudding made with turkey, ham, and Swiss cheese but it still has the sweet finish of the raspberry jam and powdered sugar on top. Perfect for brunch, especially if you have leftover guests too! 😉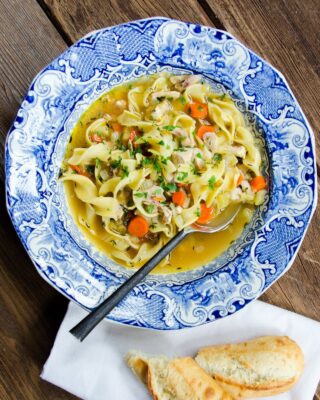 Here's a Bonus Recipe! – A nice homemade soup is an easy way to use up leftovers. Technically this recipe is for classic chicken noodle soup, but you can easily swap the chicken for turkey and make a delicious pot of soup. Leftover (or frozen) corn is also a nice addition to this easy soup recipe that only takes about 30 minutes to make. You probably have some leftover rolls to warm up and enjoy alongside your hot bowl of soup!