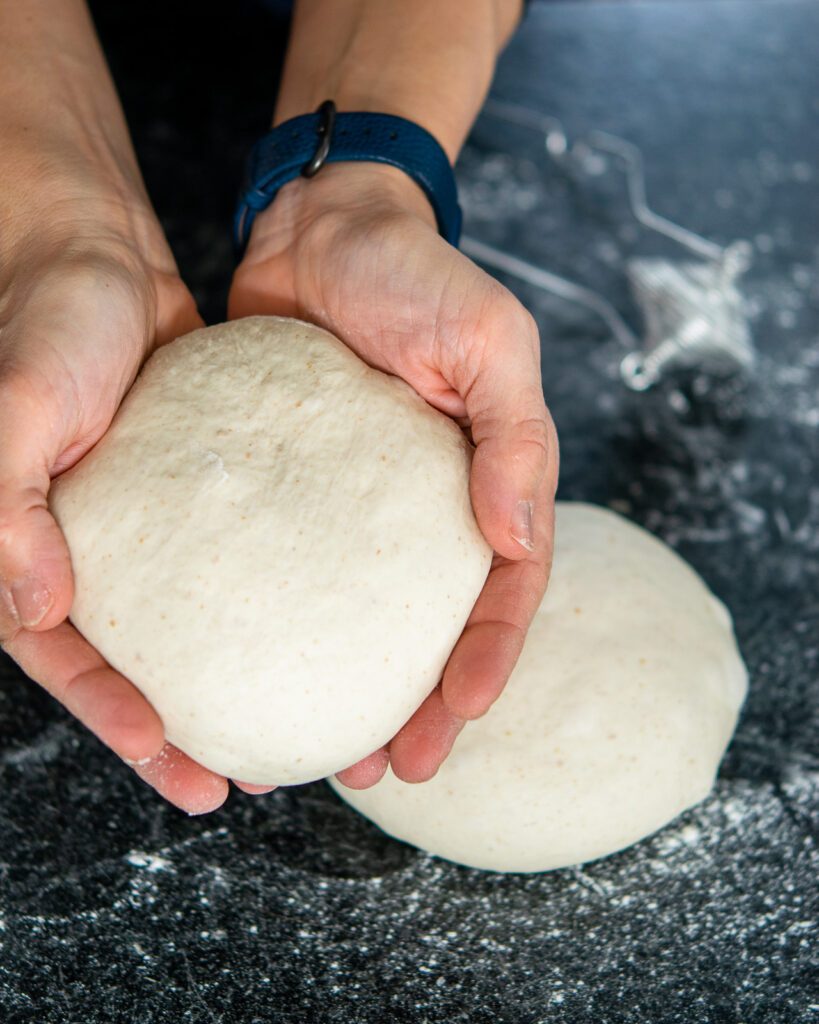 Simple Sourdough Pizza Crust
Pizza dough is not complicated. You just need a few ingredients and a little time. Making a sourdough pizza dough just adds one more ingredient to the mix and you end up with a dough that is significantly more flavorful, but just as versatile and usable as regular pizza dough. This recipe for pizza dough can be made the day you need it, but it keeps really well up to five days and improves with time. My favorite day to use it is on Day 3, so consider making a big batch of pizza dough and saving a few balls in the fridge for later in the week, or freezing for a rainy day.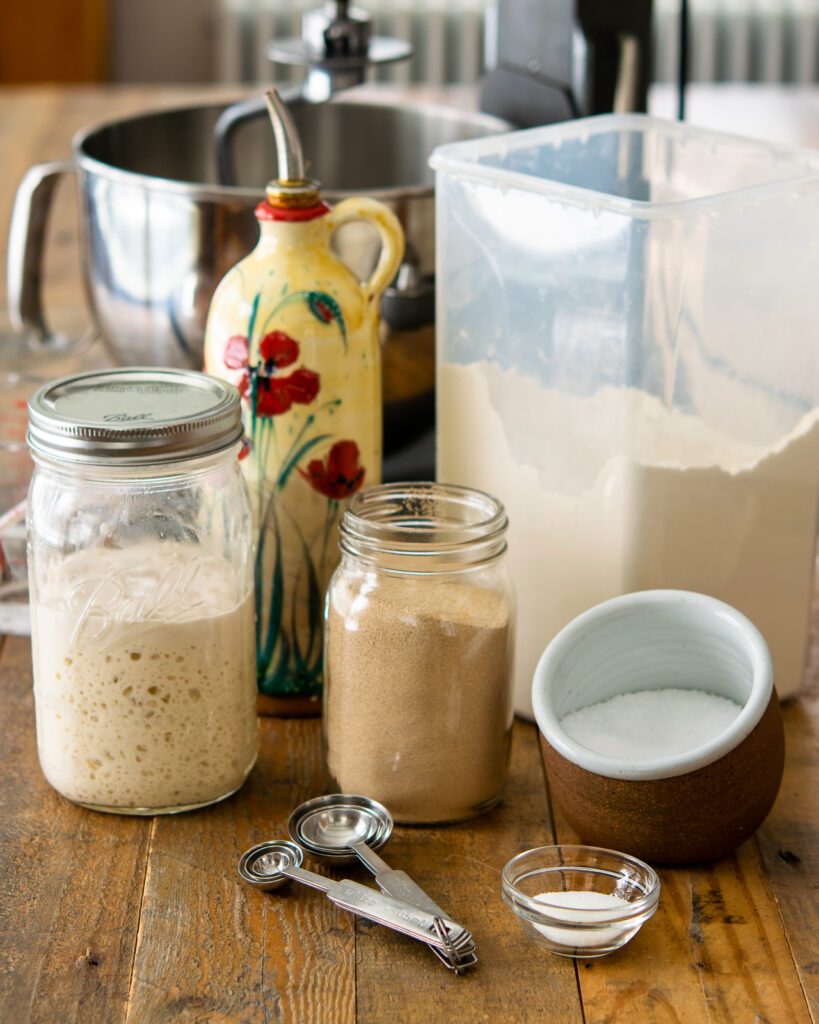 Key Ingredient: Sourdough Discard
If you are a keeper of sourdough starter, you are very familiar with sourdough discard. If you are new to sourdough, then you'll need to know that the "discard" is the part of the starter that you… yep you guessed it… discard each time you feed the starter. If you didn't discard some of the starter each time, you'd soon have a starter that was so large it would eat you out of house and home, or at least eat all the flour in your home. The downside to discarding starter each time you feed it is that you are throwing a good ingredient away. This pizza dough recipe uses sourdough discard to replace some of the flour and water that is already present in the recipe and to give your pizza dough a boost of flavor. It's a win win situation.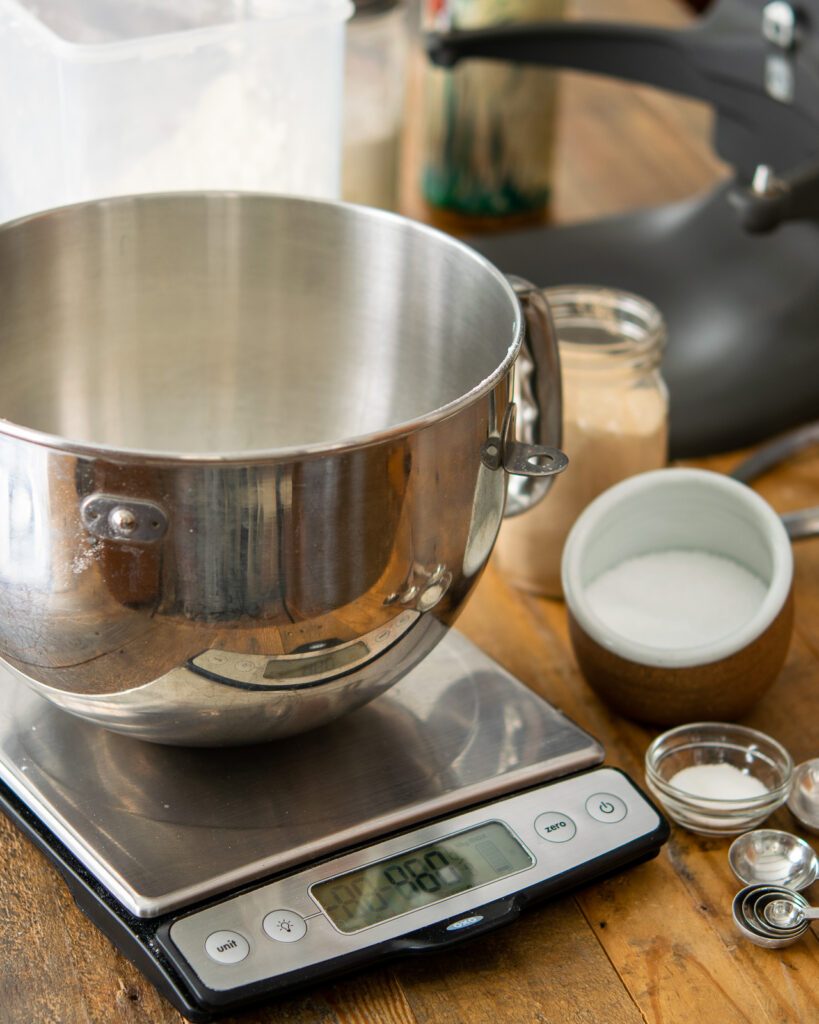 Weighing Ingredients
If you are a keeper of sourdough, you probably already have a kitchen scale and are used to using it to measure out the ingredients to feed your starter. Weighing ingredients is a much better way of measuring, especially when you are making doughs and batters. Weights never fluctuate the way volume measurements do as a result of human error. That makes you, the baker, much more consistent each time you make a recipe. Though I do provide you with volume measurements, I highly recommend weighing your ingredients for recipes, especially for all doughs.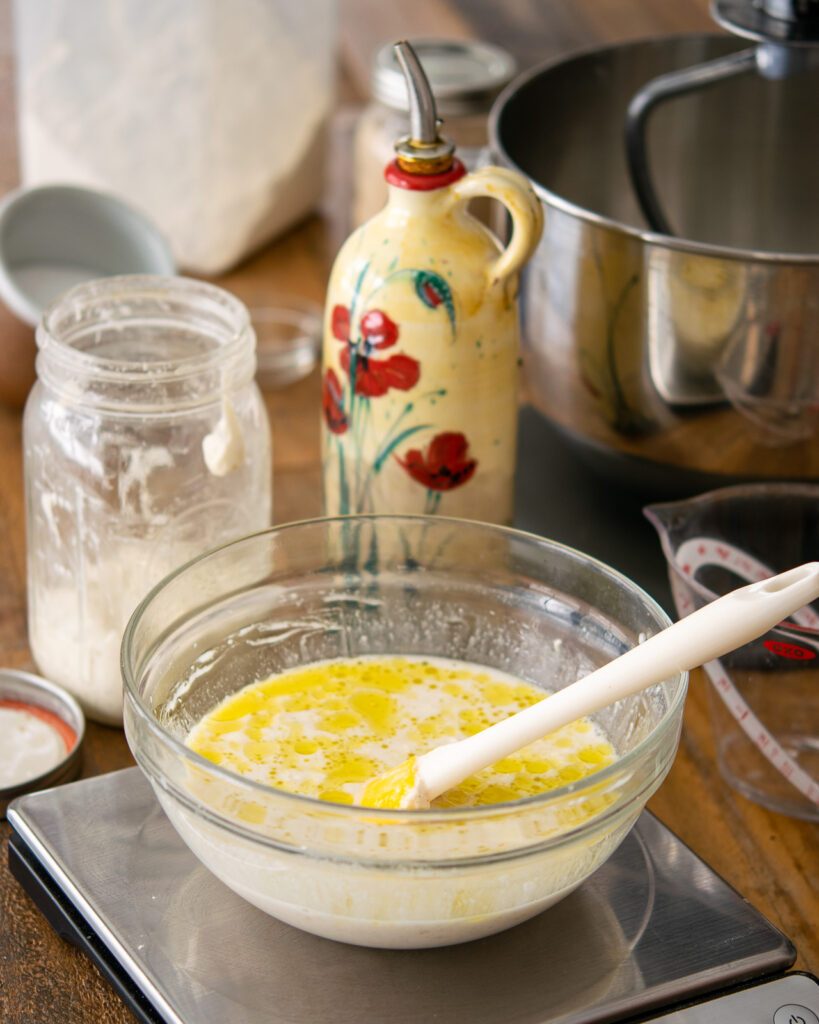 How to add Starter to Pizza Dough
Whenever you add starter to a recipe, it is easiest to dilute the starter in whatever liquid you are adding to the recipe. In this case, the starter is mixed with the water and olive oil and then added to the dry ingredients in a bowl. The recipe still calls for instant yeast (yes, you can substitute active dry yeast instead) because it speeds up the process a little, helping the pizza dough to rise enough for you to use the dough the day it is made.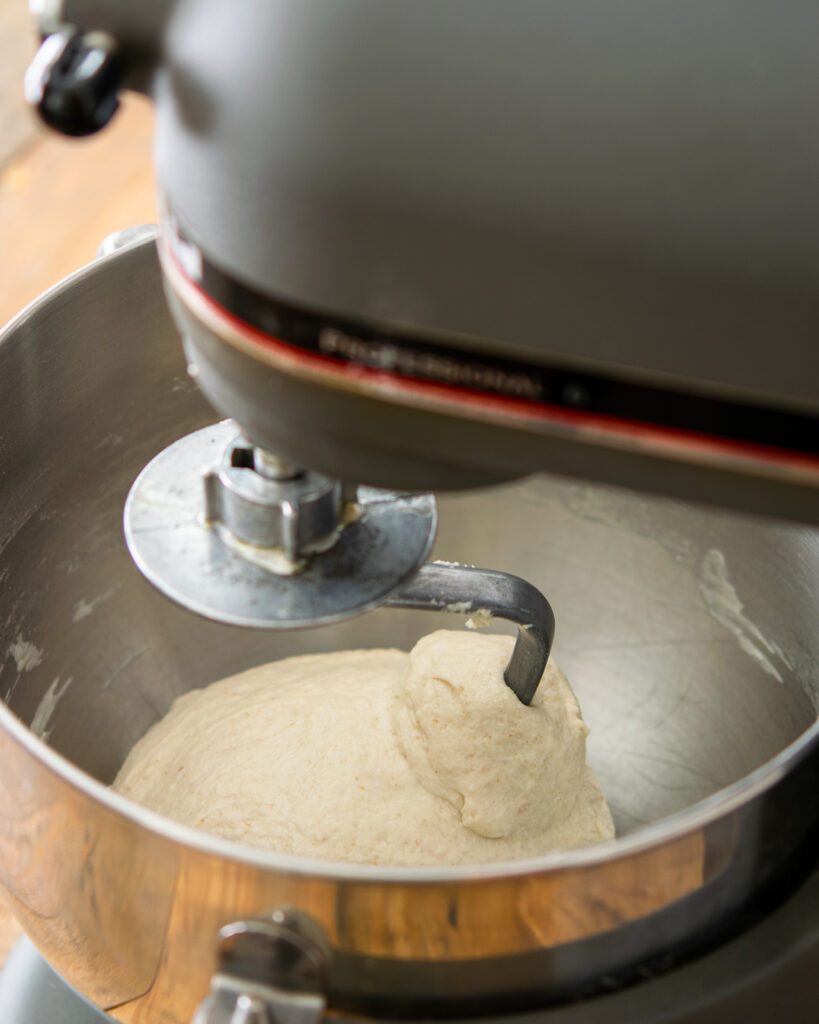 How to Make Sourdough Pizza Dough
The easiest way to mix a pizza dough is to use a stand mixer. Use the dough hook on speed 2 or 3 of a KitchenAid mixer and let the dough come together until the dough pulls away from the sides of the bowl. You might even hear the dough start to slap the side of the bowl, which is a great audio clue that the dough has been kneaded enough. If the dough is sticking to the bowl, add a little sprinkling of flour until it comes together just right.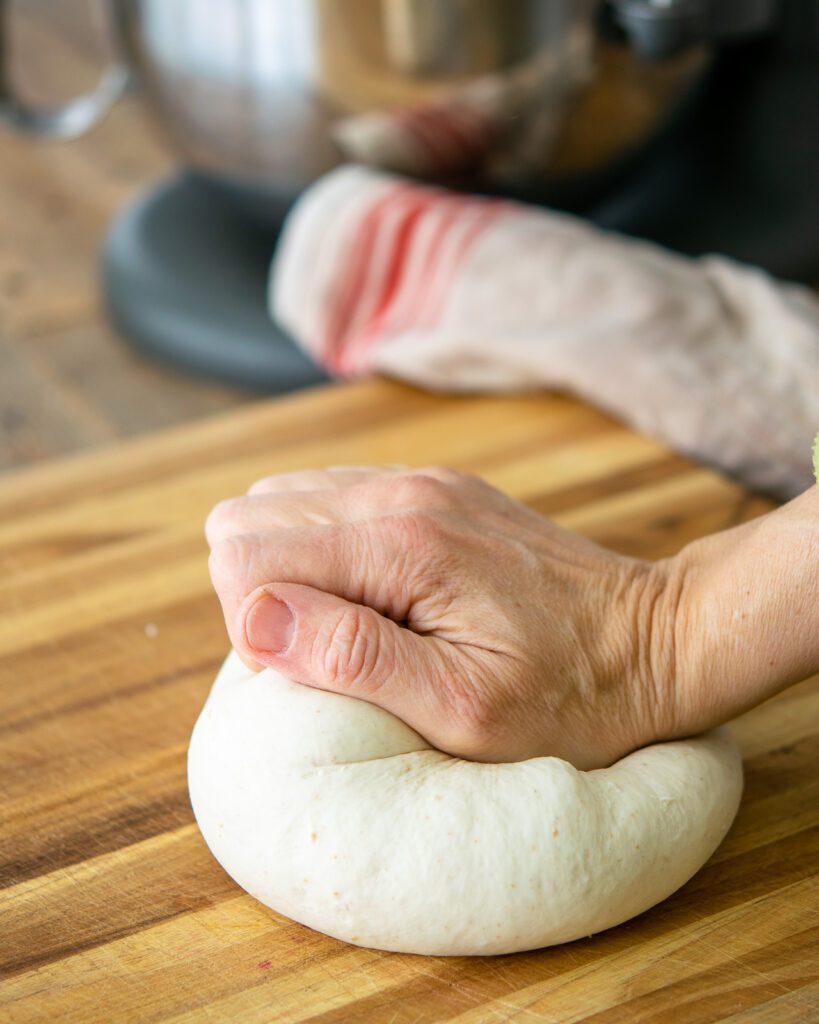 Kneading Pizza Dough by Hand
If you don't have a stand mixer, don't fret. You can still make pizza dough by hand and work out all your problems at the same time! Combine the ingredients in the bowl and continue to turn the dough over on itself in the bowl until it feels somewhat unified. Once you're able to turn it out onto a countertop or board without it falling apart, do so and continue to knead the dough by hand until it feels smooth. It has been kneaded enough when it feels like a horse's nose when you run your hand across it. That might sound like a strange analogy, but try it and you'll understand!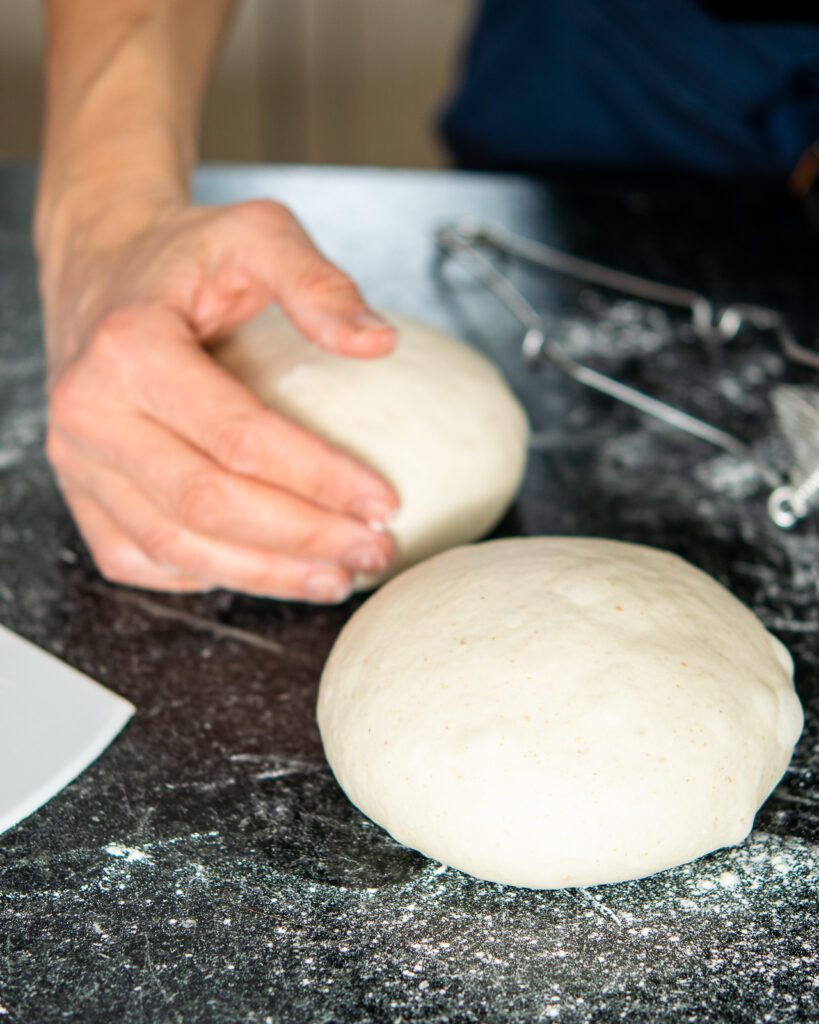 Shaping Pizza Dough
Once the dough has been kneaded, shape it into a round. This is more important than it sounds. The key to making a pizza round is to start with a round ball of dough. If you're going to make a different shaped pizza, then it doesn't matter as much, but getting your pizza to be round is much easier if you start with a round ball. Shape the pizza by cupping your hand around the dough and pulling it towards you while you give it a 90 degree turn. This helps shape the dough, stretches the top side of the dough into a smooth surface and seals all the open edges on the bottom.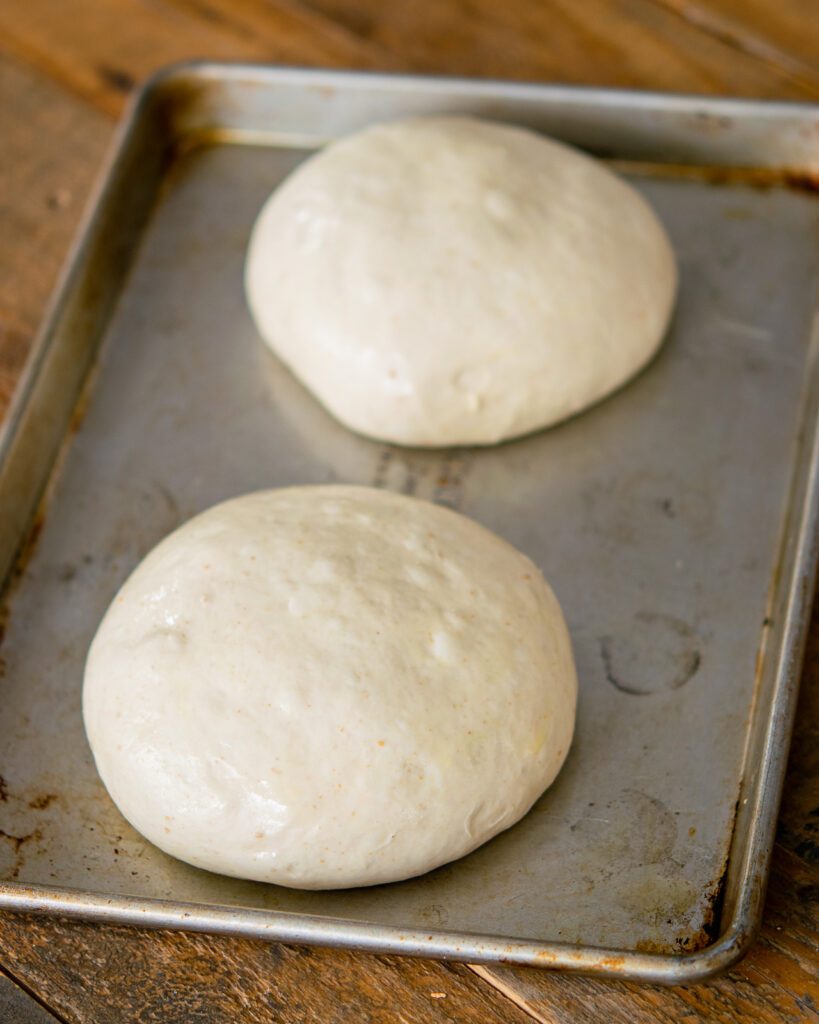 Freezing Sourdough Pizza Dough
If you're planning on using this dough today, let it sit out on the countertop for an hour or two before stretching it into a crust. If you're not using it today, lightly oil the surface of the dough, cover it with plastic and pop it in the refrigerator. It can live happily in the fridge for up to 5 days and builds flavor the longer it waits. You can also freeze the dough at this stage. I like to put each dough ball into a lightly oiled plastic bag, sucking out all the air and freezing it on a flat tray.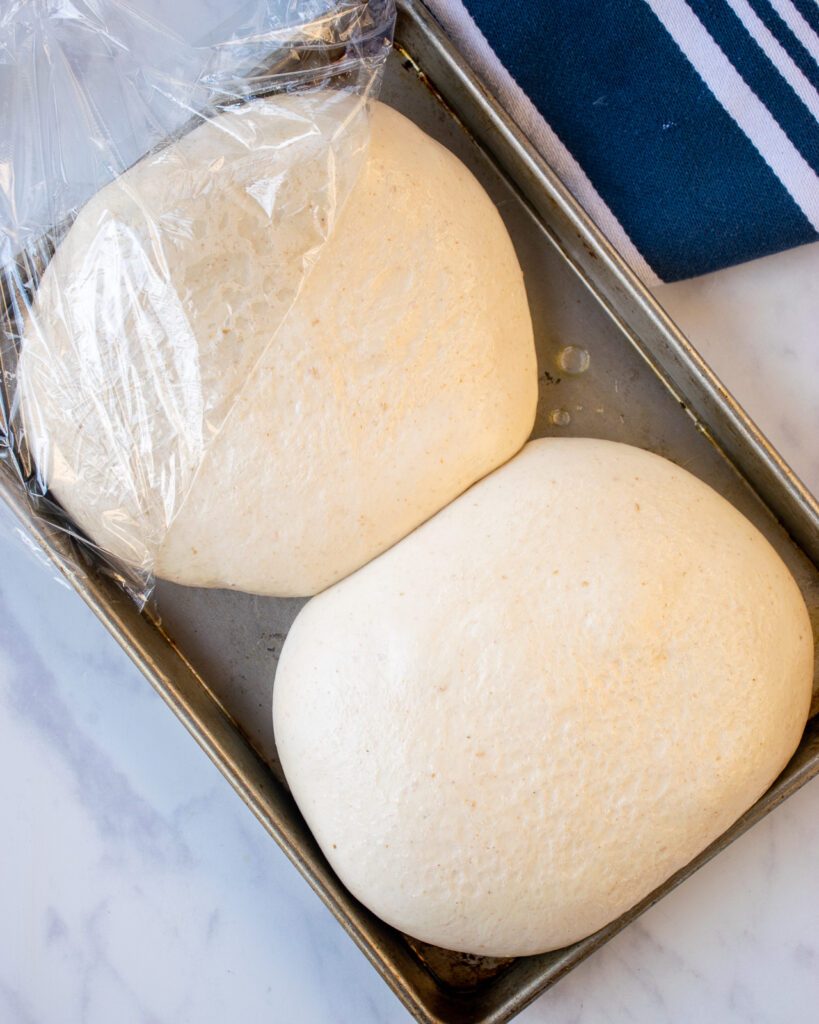 Ready to Use
Take the pizza dough out of the refrigerator at least one hour before you start to cook. The dough will have grown in size. Remove it from the baking sheet carefully, trying to keep its round shape intact. Transfer the dough to a lightly floured surface and shape it to suit your needs – a pizza, a calzone, a stromboli, or even some sugar fried dough for a sweet treat.