Homemade Egg Rolls
Everyone loves an egg roll in a Chinese restaurant, so why not make them at home? Don't say because they are too hard to make, because these Shrimp Egg Rolls are easy and actually a lot of fun to put together. Don't say because they are too guilty a pleasure to have at home, because this version is air-fried making them a whole lot less guilty!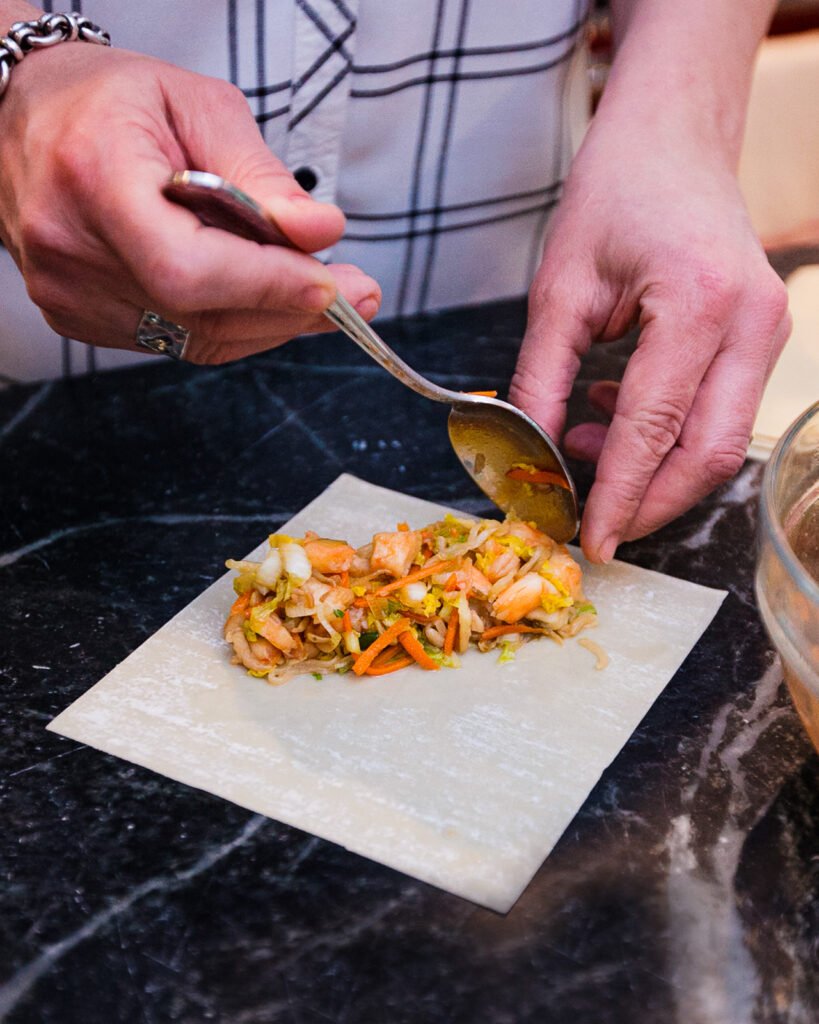 How to Roll an Egg Roll
Once you have made the filling and have the egg roll wrappers on hand (look for them in the refrigerated section of the deli department of your grocery store, or if your store has a refrigerated ethnic section, check there too), it's just a matter of starting with the egg roll wrapper in the right position. That right position is diamond-shaped – put one of the corners of the egg roll wrapper facing you so that the wrapper looks like a diamond. Then, place a little row of filling across the egg roll, making sure to leave at least one inch on either side.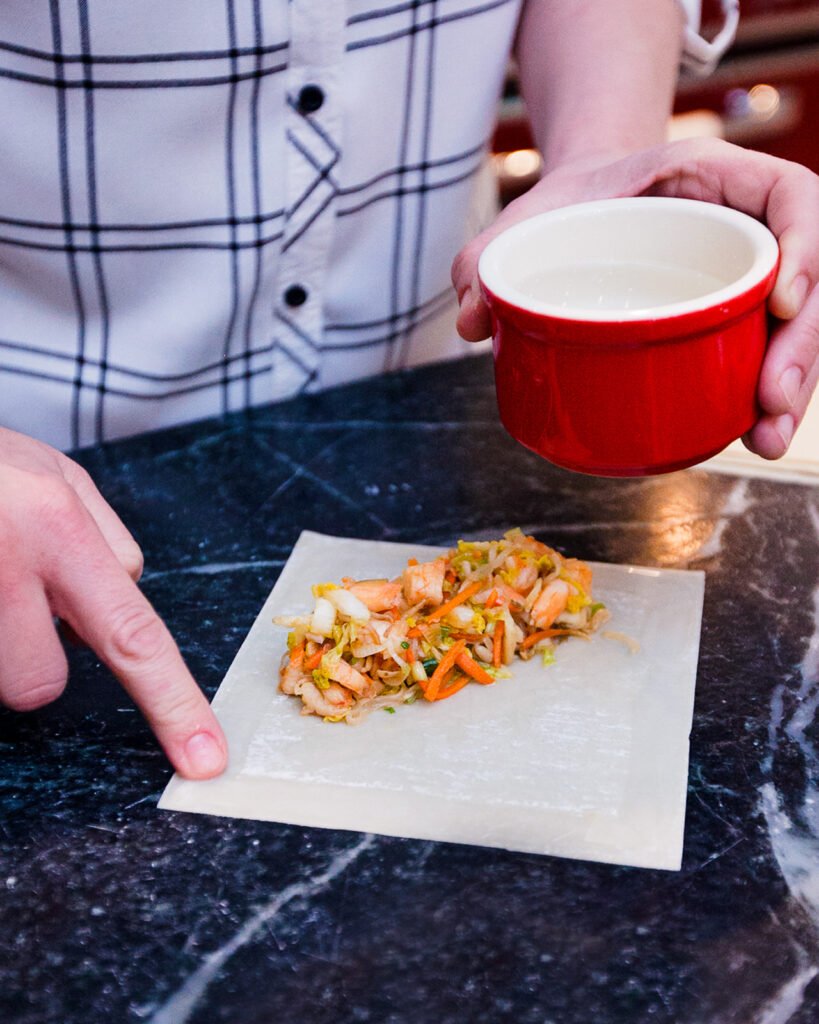 Brush the outer edge of the wrapper with a little water. I just use my finger, but you could use a basting brush if you prefer.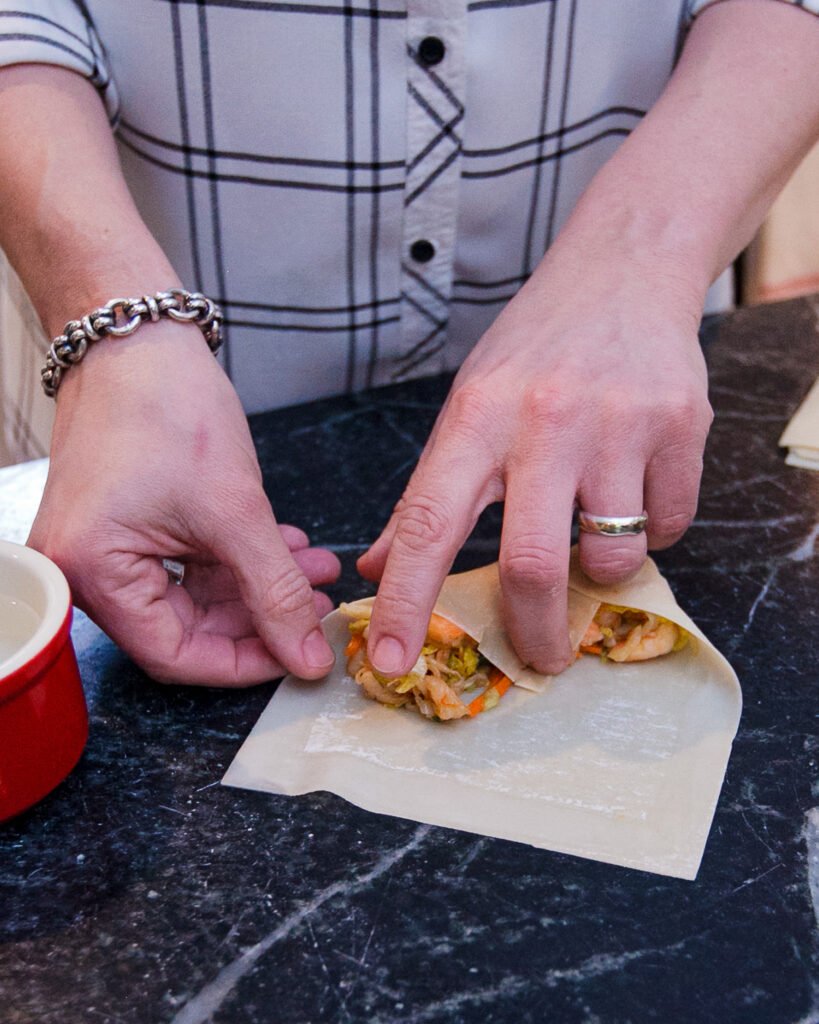 Make a tight first roll around the filling and then start folding in the sides of the egg roll wrapper. When both sides have been folded in, your egg roll should look like an open envelope.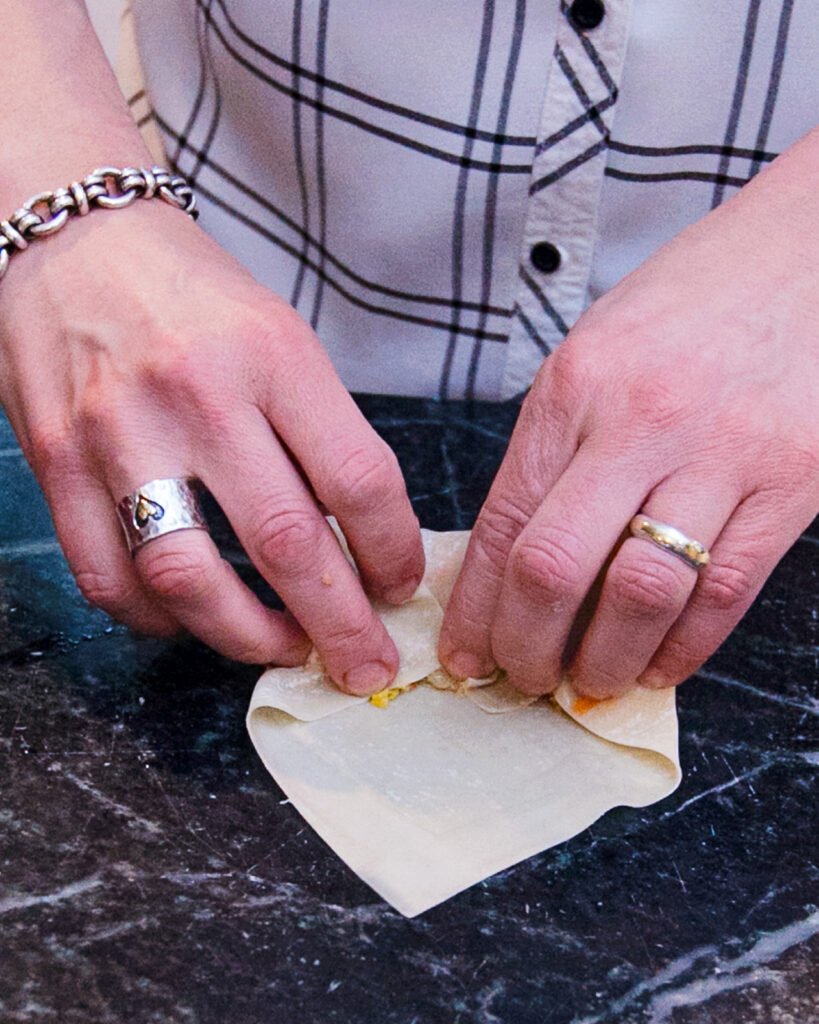 Finally, continue to roll the wrapper up around the filling and make sure it seals to itself. Use a little extra dab of water if it needs some help.
Freezer-Friendly Egg Rolls
At this stage, with all your little egg rolls wrapped up and ready to go, you can postpone your pleasure and freeze them for a rainy day. Place all the egg rolls on a sheet pan in your freezer until they are frozen. Then, transfer them to an airtight freezer bag, squeezing out as much of the air as possible, and return them to the freezer. When it comes time to delight your tastebuds, you can pop these straight into your air fryer, spritzing or brushing with oil and air fry them to perfection, adding an extra 4 minutes because they are frozen. 
Shrimp Egg Rolls – Air Fryer, Stovetop or Oven
This recipe calls for air-frying your egg rolls because it's honestly the easiest and fastest way to make them. If you don't have an air-fryer, however, don't worry. You can also bake these in the oven at 400ºF for about 12 minutes, turning them over halfway through. If you have a cooling rack, even better – place the cooling rack on a cookie sheet and the egg rolls on the cooling rack. Otherwise, just place them directly on the baking sheet. If you want to go with the traditional deep-frying route, heat about 2 inches of cooking oil in a deep pan on the stovetop until it reaches about 375ºF. Deep fry the egg rolls until they are golden brown all over and then drain on some clean kitchen towel. 
Egg Roll Variations
Once you have these shrimp egg rolls down, you can start mixing up your filling ingredients. There's no end of variations that you can create. You can try these very non-traditional Reuben Egg Rolls for a start!