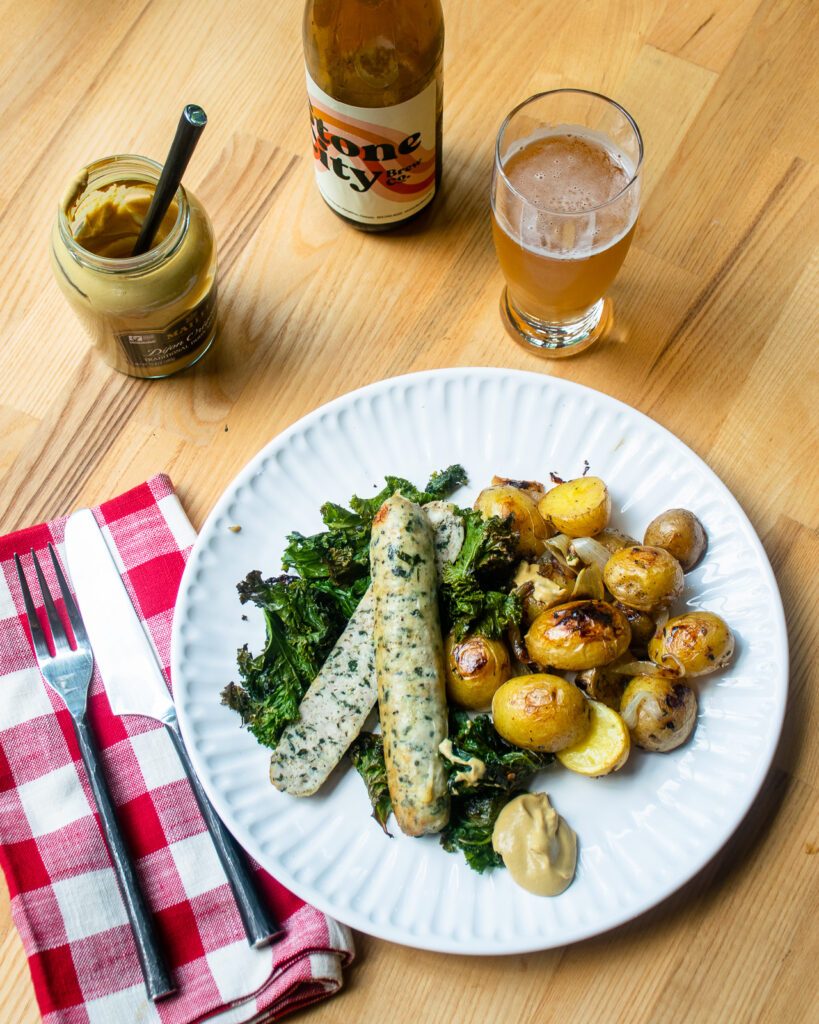 Easy Sheet Pan Dinner
There are two beautiful things about a sheet pan dinner. First of all, they are easy to make because you're using one technique – roasting. Secondly, after all is said and done, you only have one pan to wash up at the end of the night. When you're tired, or just tired of cooking, a sheet pan dinner like these Sheet Pan Sausages with Potatoes and Kale can come to the rescue. The roasting time in the oven is about 50 minutes, but the prep only takes 5 minutes, so with an hour of unattended time, you can have a simple but good dinner on the table.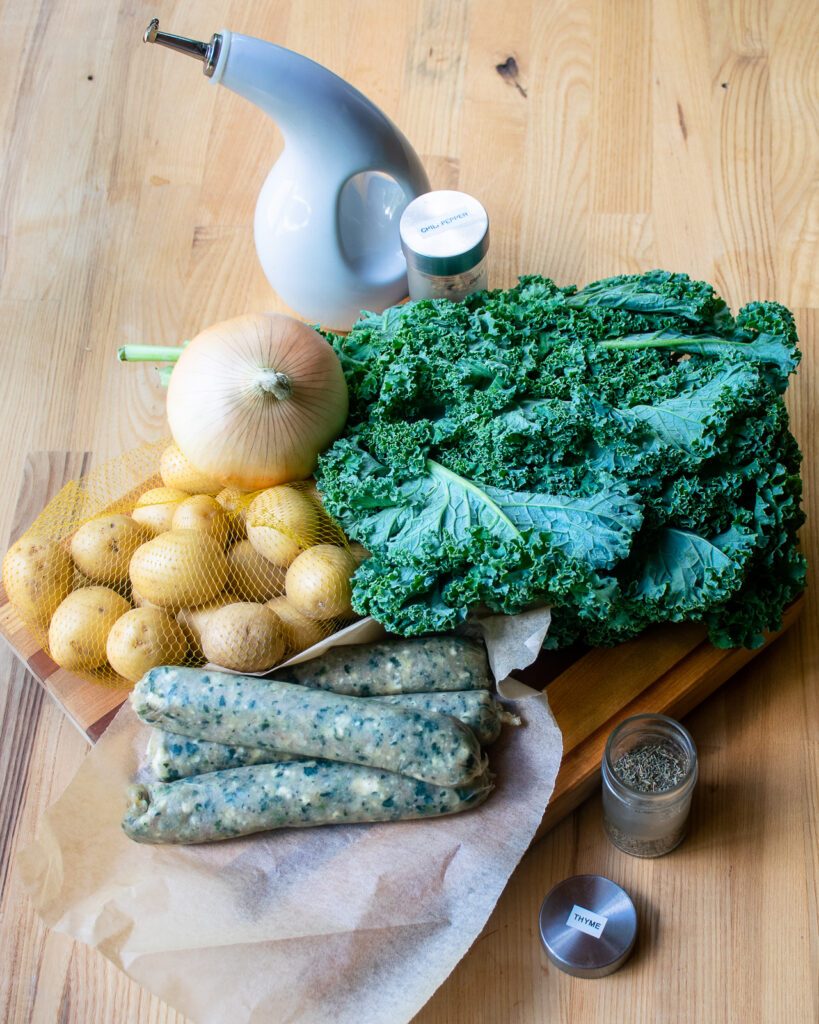 What Sausages to Use
Another beautiful thing about this recipe for Sheet Pan Sausages with Potatoes and Kale is that you can use any type of sausages that you like. In fact, since the other ingredients (potatoes and kale) are pretty plain and straightforward, it's nice to add some flavor to this meal by using flavored sausages. The ones in the photo above are a chicken sausage with feta and spinach, but you could use any type of pork, chicken or turkey sausage. The one stipulation is that they should be raw sausages, not fully cooked or smoked sausages.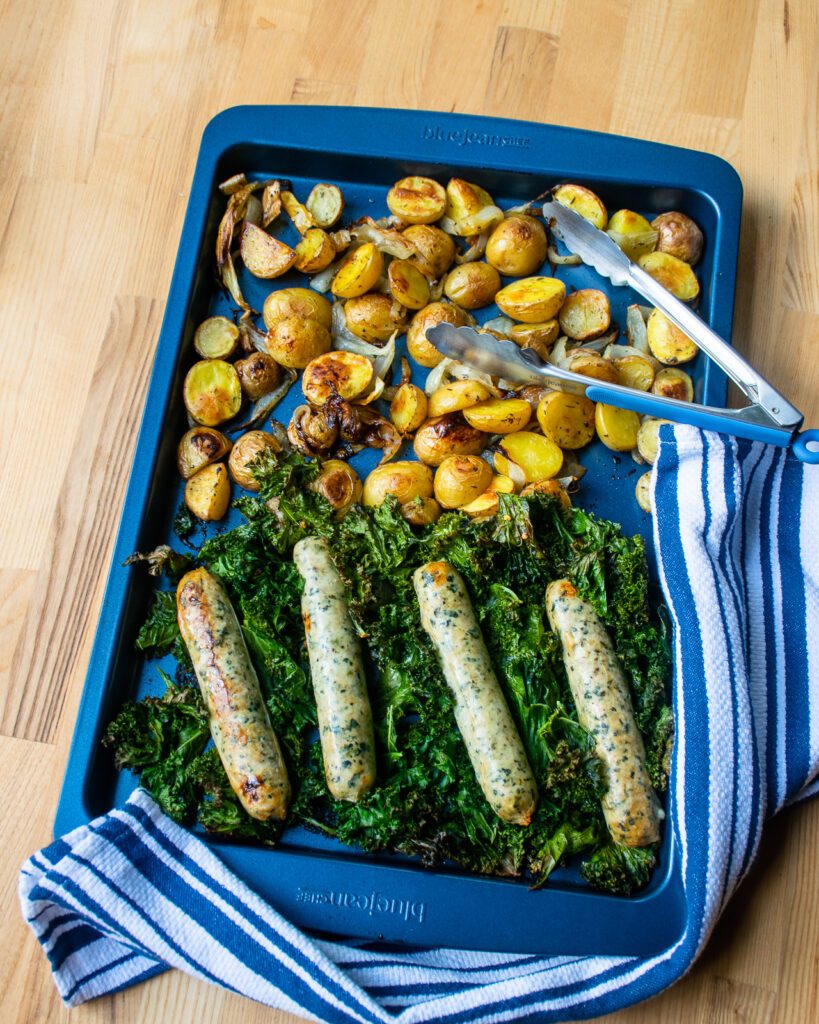 Staggered Cooking Times
The potatoes and onion in this dish are really delicious because they get a good long time in the oven to become tender in the middle but crispy on the outsides. The onions caramelize a little and add a sweet note to the potatoes. The potatoes and onions take the longest to cook, so start them on the sheet pan first. Then, just push the potatoes and onions over and add the sausages to the pan. Finally, tuck the kale underneath the sausages and roast everything all together for just as long as you need to get your kale to where you want it to be – just wilted or a little more cooked. 10 minutes is enough for me.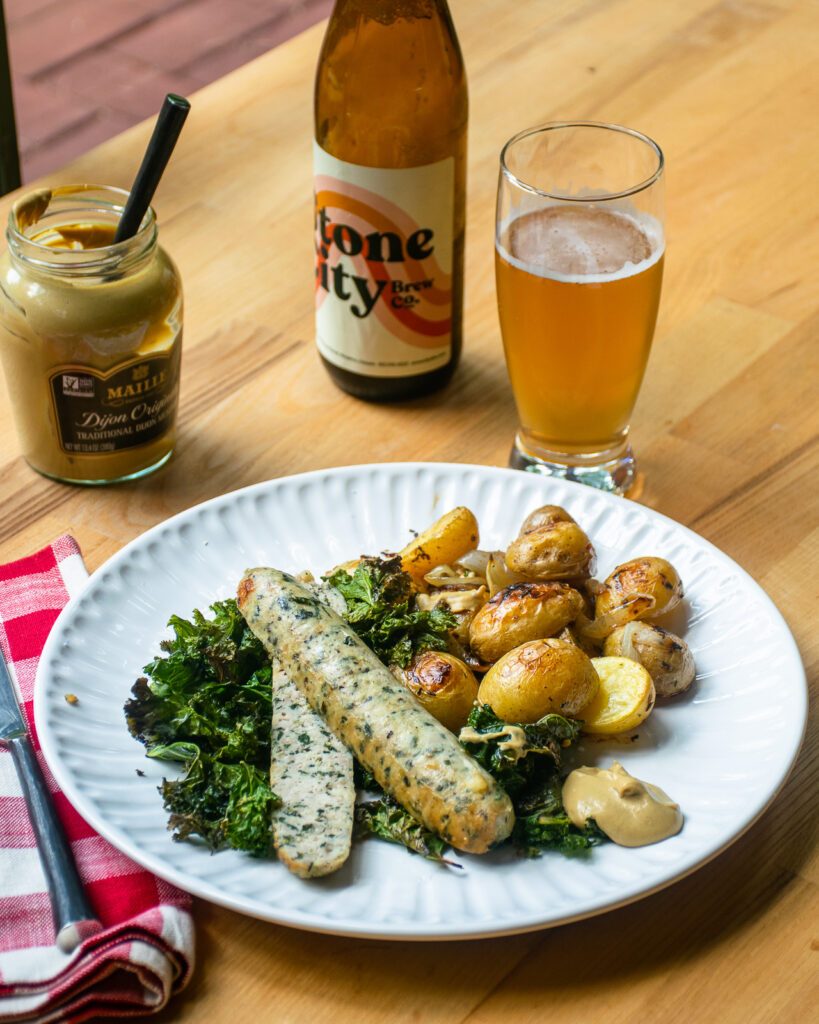 Ingredient Substitutions
The ingredients in this recipe are very basic, but you do have some room to flex. Because I expect this is something you'll make in a pinch, with just ingredients you have in your kitchen, here are some substitutions you can make:
No gold potatoes? Use red potatoes, white potatoes or even sweet potatoes with just 10 minutes of cooking time before you add the sausages.
No Vidalia onion? Use any yellow, white or even red onion. You could also use a few shallots instead, but make sure you cut them in half, rather than slice them.
Sausages? Use any kind of sausages as long as they are raw and not pre-cooked. Pork, chicken, turkey, spicy, mild, flavored, plain… whatever you like.  The cooking time will depend on the thickness of the sausage so take that into consideration.
No Kale? You can use spinach instead. Oil it well and shorten the cooking time to 5 minutes.