How to Make Rigatoni with Italian Sausage, Artichoke and Sun-dried Tomato Sauce
The base of this pasta is a tomato sauce, but the ingredients added to that sauce cover the entire spectrum of flavors. The tomatoes provide the sweet-acidic base. Marinated artichoke hearts add a tangy note. Sweet sun-dried tomatoes deepened the tomato with their concentrated sugars. Then there's the spicy Italian sausage kicking it up a notch. Rigatoni is a great choice because the wide tubes are perfect to carry more of this sauce along with every bite.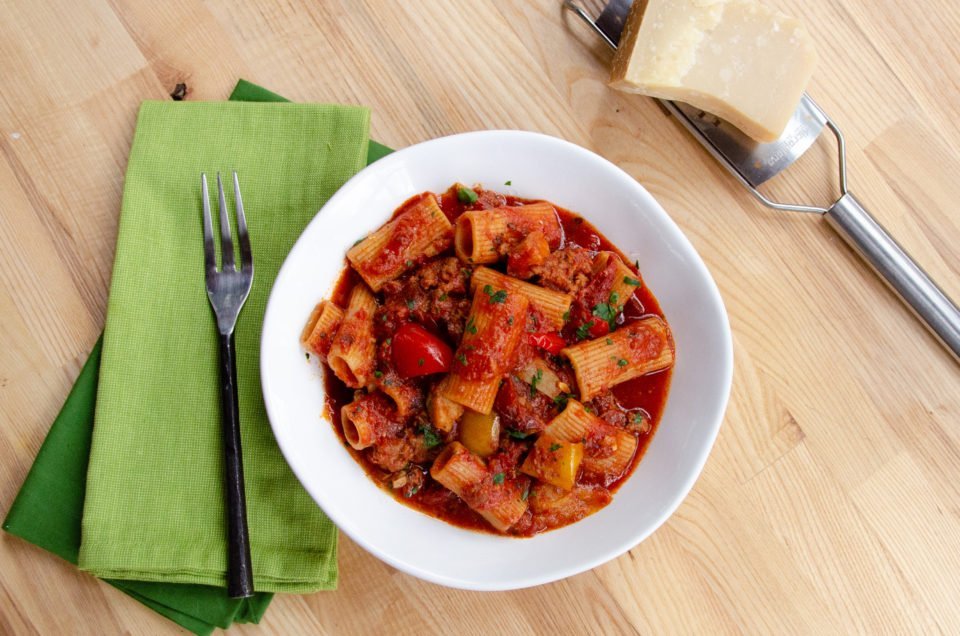 Cooking Pasta in a Pressure Cooker
The beauty of this recipe is that you can make it in a pressure cooker OR on the stovetop. Making rigatoni with Italian sausage in a pressure cooker allows you to cook the dried noodles right in the sauce, saving time and cleaning up a second pot. The whole thing is done in a quick 7 minutes of cooking time. Yes, you do need to wait for the pressure cooker to build pressure, but it's a quick-release of pressure at the end and you'll find the whole process gives you just enough time to tidy up the kitchen and lay the table. No need to call folks to the table – with the way this smells, they'll be seated and waiting! For more benefits on cooking pasta in a pressure cooker, check out my cooking school article on How to Cook Pasta in a Pressure Cooker.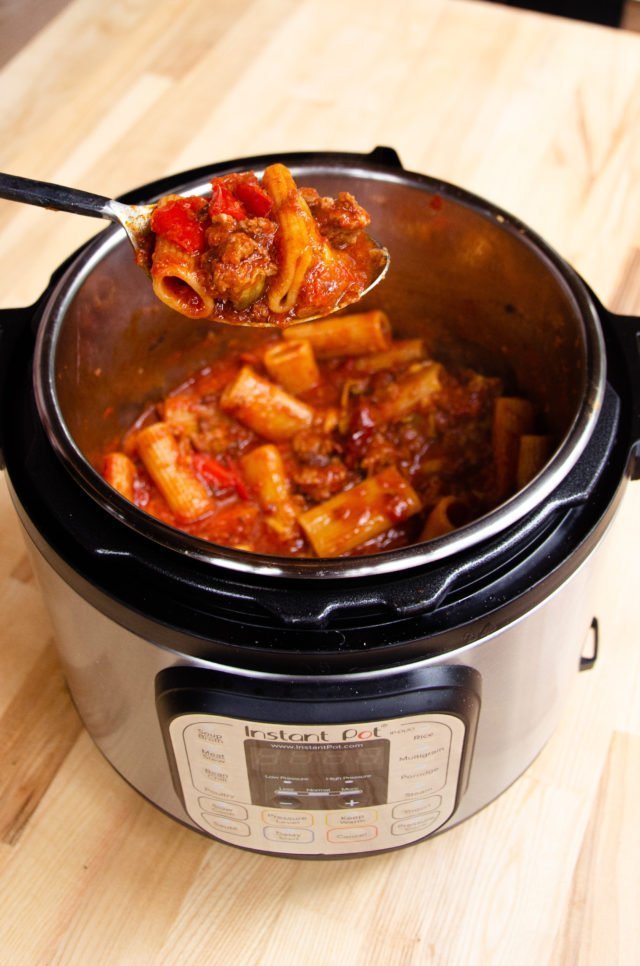 Making Rigatoni with Italian Sausage on the Stovetop 
Yes! If you don't have a pressure cooker, not to worry. Of course you can make this recipe on the stovetop, making the sauce separately and boiling the pasta to toss with it. The advantage of the stovetop method is that you can save any leftover sauce separately. Use it in 3 to 5 days or freeze the sauce and use it for another meal. Whichever way you make it, I'm certain of one thing… you'll be making it again (and again)!
More Great Pressure Cooker Pasta Dishes
If you enjoy this one pot pasta dinners for your Instant Pot® / pressure cookers, then check these delicious (and easy) recipes to try.