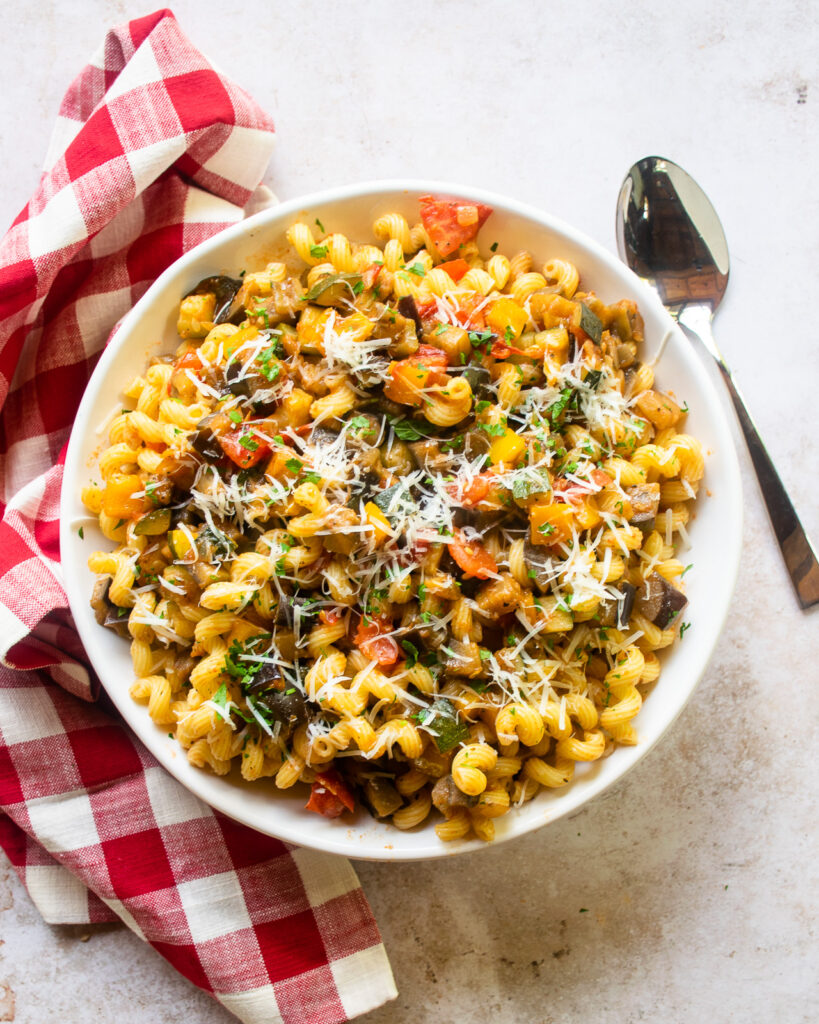 What is Ratatouille?
Ratatouille is more than just a movie named for a rat who has aspirations to become a chef. It's a French Provençal dish that is made up of a mixture of summer vegetables. While ratatouille is usually served as a side dish, it makes a perfect meal when tossed with cavatappi or other pasta shape and made into Ratatouille Pasta. Not only is it delicious, but it's a great way to use up your end of summer vegetables if you're a gardener or love to visit the local farmers' markets.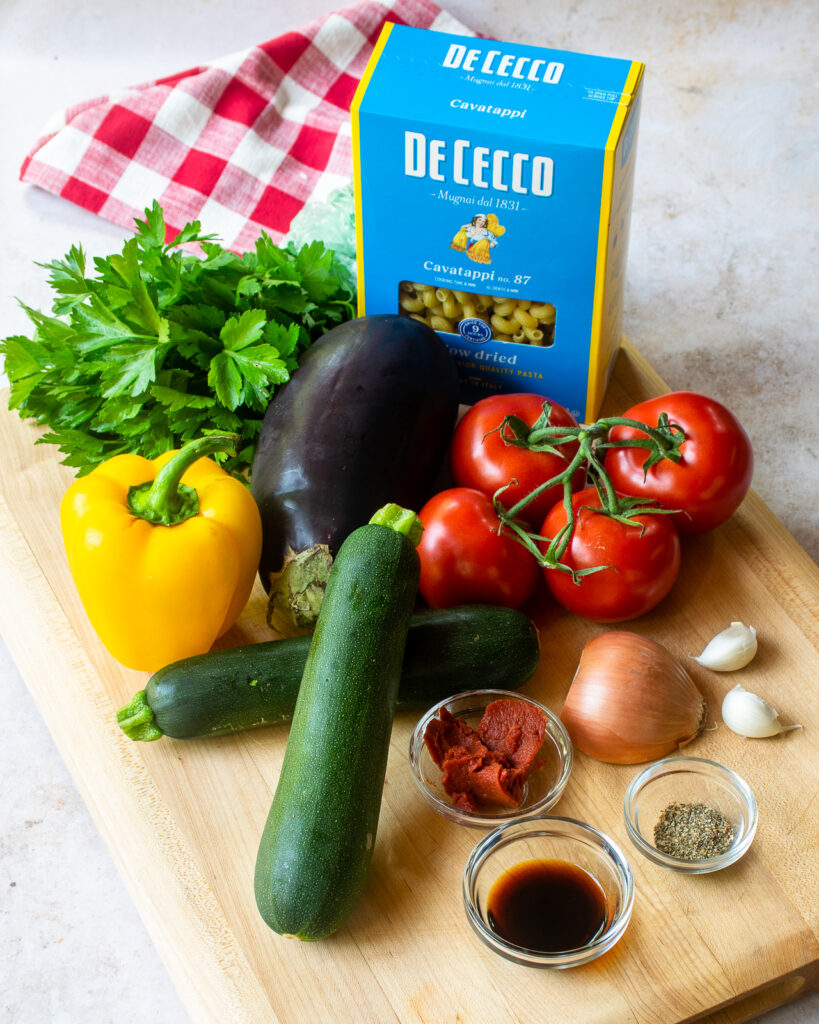 Ingredients for Ratatouille
The main ingredients for ratatouille are eggplant, zucchini, bell pepper, onion and tomatoes. To season these vegetables, we'll add some Italian seasoning, garlic, tomato paste and balsamic vinegar. The proportions of these vegetables are up for debate and how to cook them is a matter of debate as well. There are some who say that each vegetable must be sautéed individually and then combined. Others cook the vegetables in one pan, adding them the order of which vegetable takes longer to cook. I do a mixture of the two. I cook the onion and pepper together, then add the zucchini and garlic. I remove these from the pan and cook the eggplant on its own, mostly because by the time you need to add the eggplant, the pan is getting full but also because eggplant soaks up so much oil and needs room to brown properly. Then, everything gets mixed together and I add the tomato and other seasonings.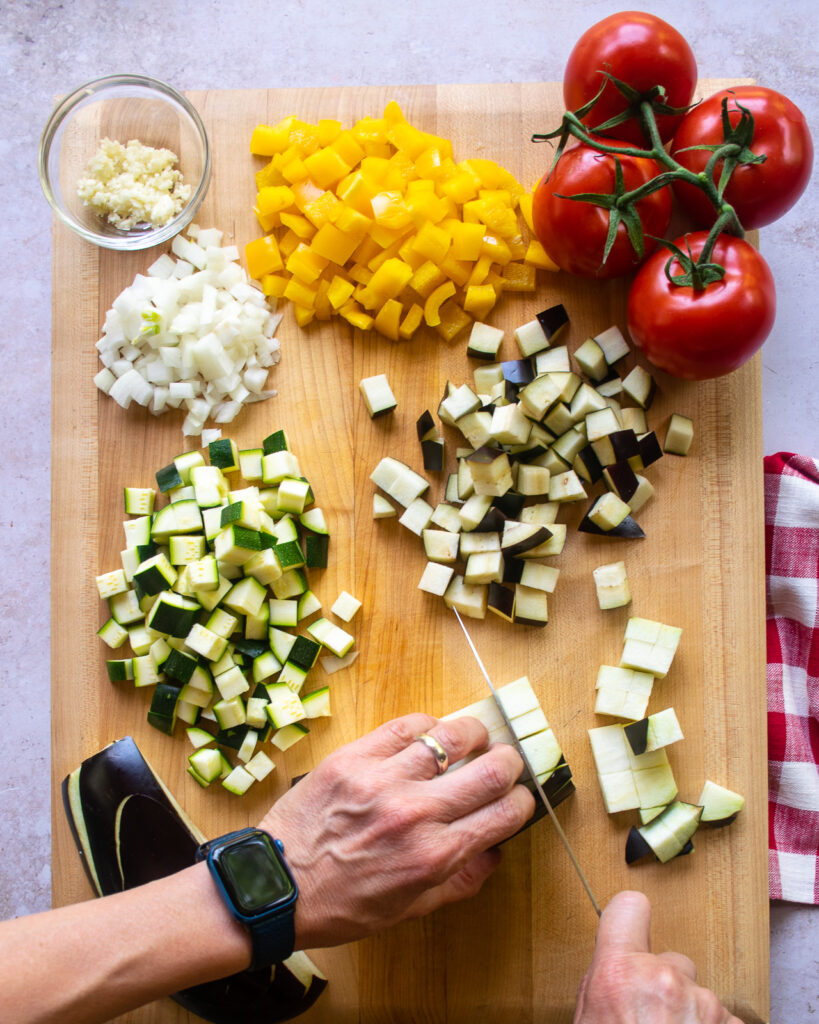 How to Cut Vegetables for Ratatouille Pasta
One thing that is important to me when making ratatouille is the size of the vegetable cuts. In order for vegetables to cook evenly, they need to be uniform in size, so take the time during your prep to practice your knife skills. Cut the vegetables uniformly and think about the size – you'll want people to eat this with a fork with pasta, so don't make the chunks too big.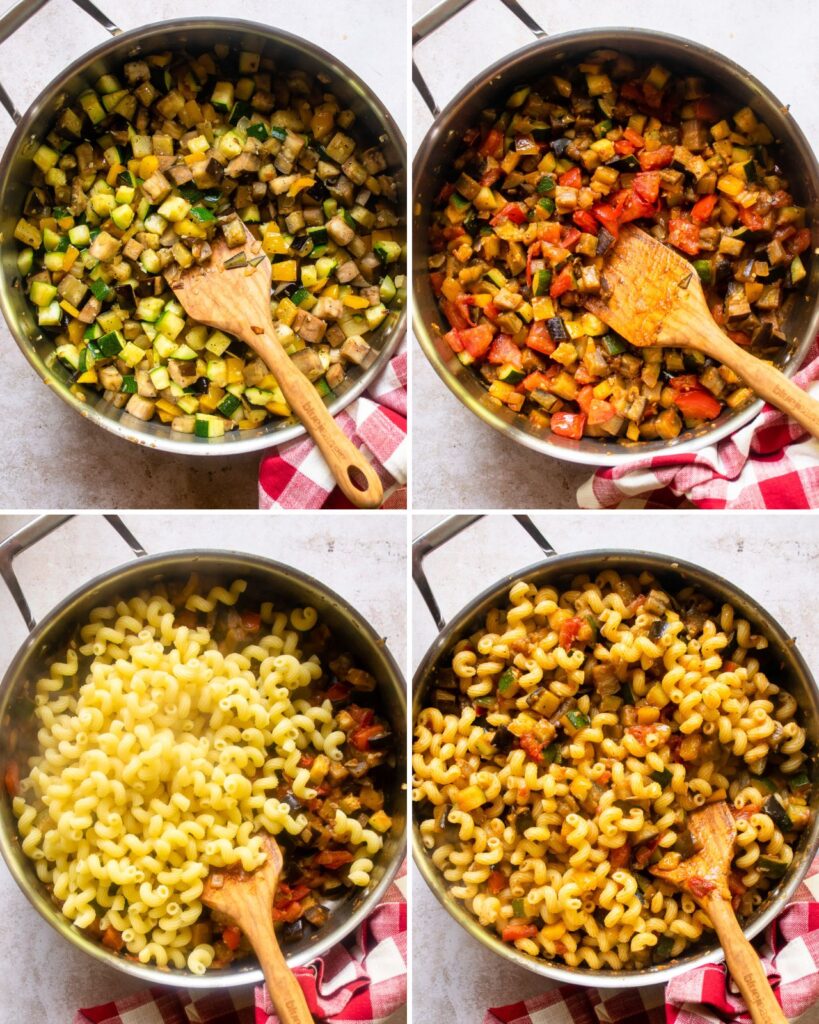 What to Serve with Ratatouille Pasta
This pasta can be thinned or made more saucy with extra tomato and reserved pasta water, but I like it to be all about the vegetables. Serve the ratatouille pasta with a side salad – perhaps a Caesar salad – and a glass of wine! It's a perfect end of summer meal.