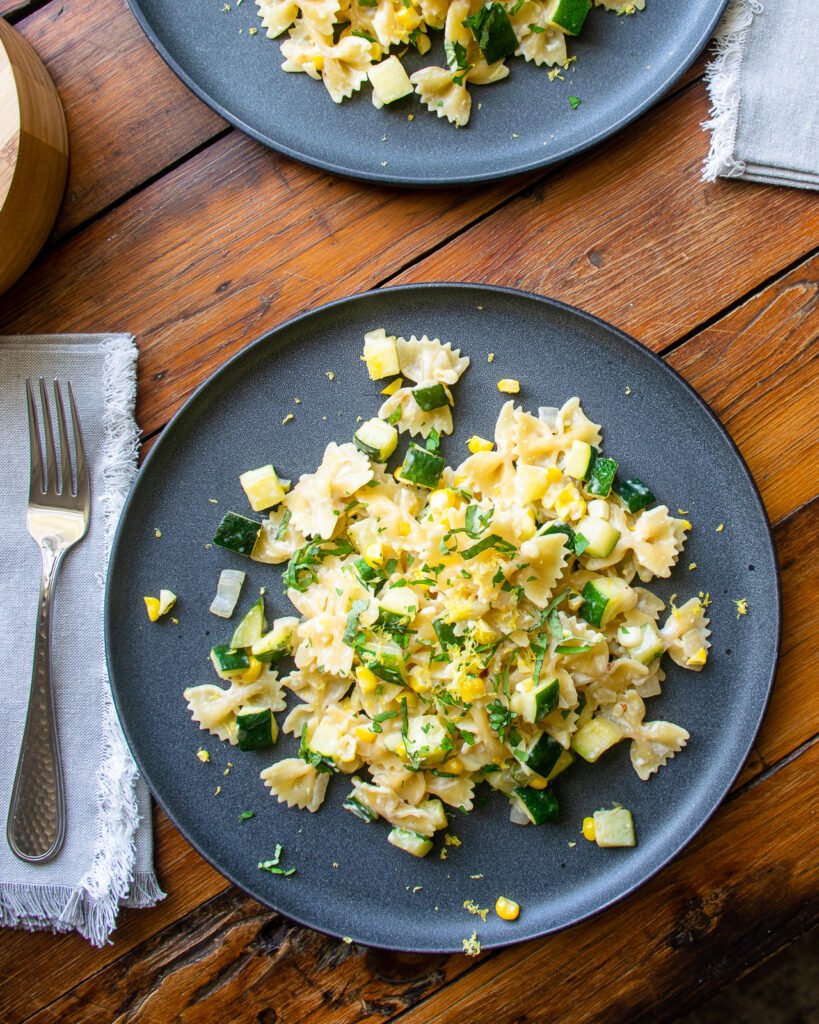 The Perfect Summer Pasta
Why is Farfalle with Zucchini, Corn and Mascarpone the perfect summer pasta? So many reasons. First of all, it takes advantage of the delicious fresh corn and zucchini that is abundant and at its peak in the summer time. This is especially true for corn – there really is no other time to enjoy corn off the cob. Secondly, the shape of farfalle reminds me of the sun shining down. Finally, the mascarpone cheese that makes this pasta so delicious without being too decadent or heavy is just a delicious way to have a creamy pasta that completely satisfies.
Mascarpone and Other Ingredients
Mascarpone cheese is an Italian cow's milk cheese that is similar to cream cheese, but has at least twice as much fat. Don't let that scare you – it's that fat content that makes it super smooth and delicious. It can usually be found in the deli cheese section of your grocery store, but if you can't find it, substitute regular full fat cream cheese in an equal quantity. All the other ingredients in this recipe are very easy to find, especially in the summertime. (If it happens to be winter and you're craving this pasta, you can substitute frozen corn kernels.)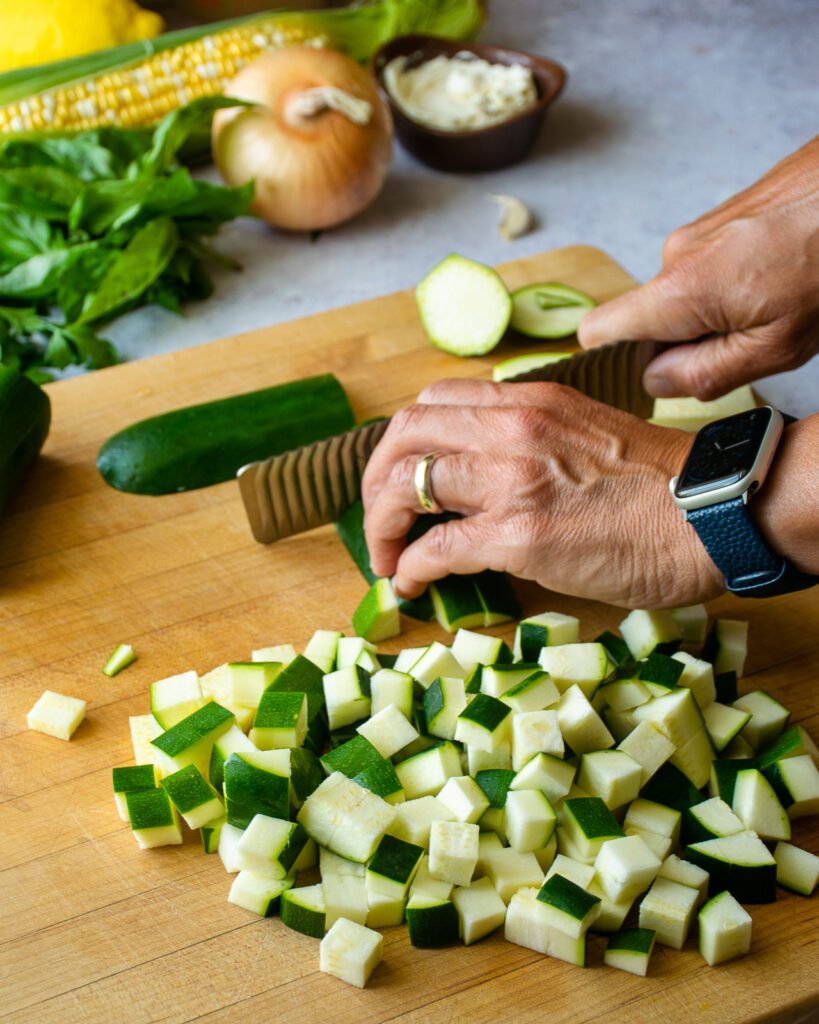 Dice the Zucchini
I like to dice the zucchini for this recipe, rather than slice it because it holds its texture better in little cubes. It still takes no time to sauté this into tender morsels of summer goodness.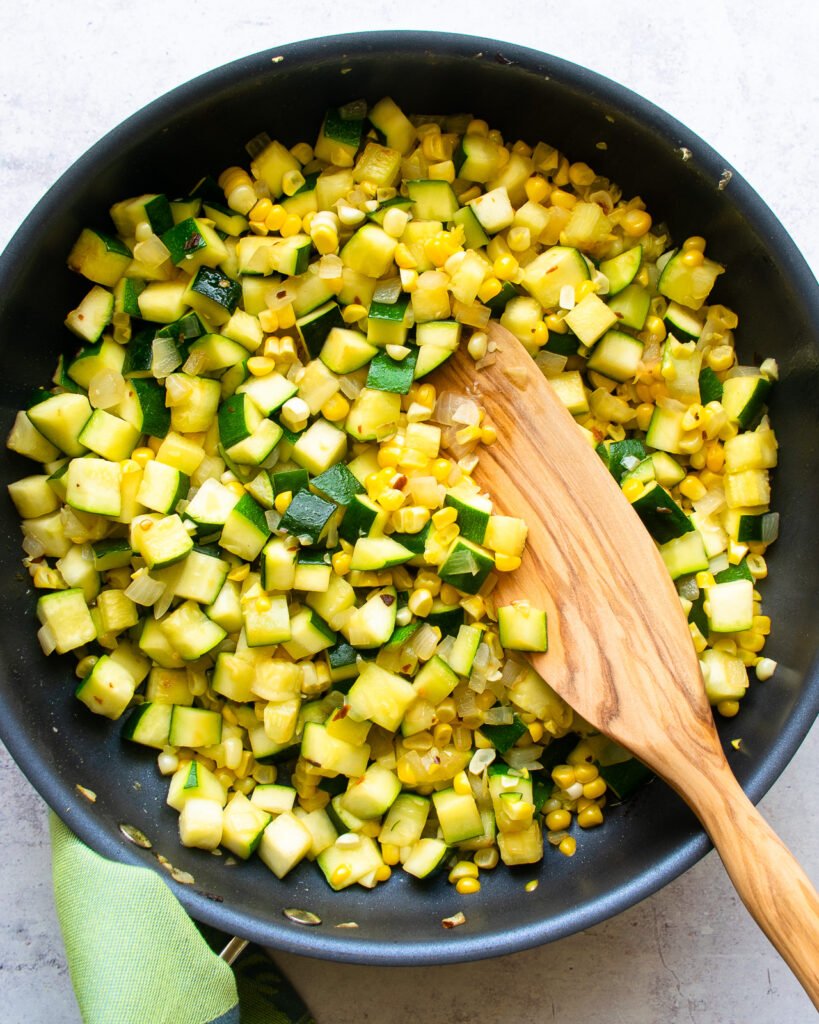 A Quick Sauté
You will need to cook the vegetables separately for this recipe, but they honestly take no more than 8 minutes, which you can do while the pasta is cooking, maximizing your efficiency if you're in a rush. If you've got a lot of time on your hands, you could opt to grill the corn to give it a little charred flavor if you like.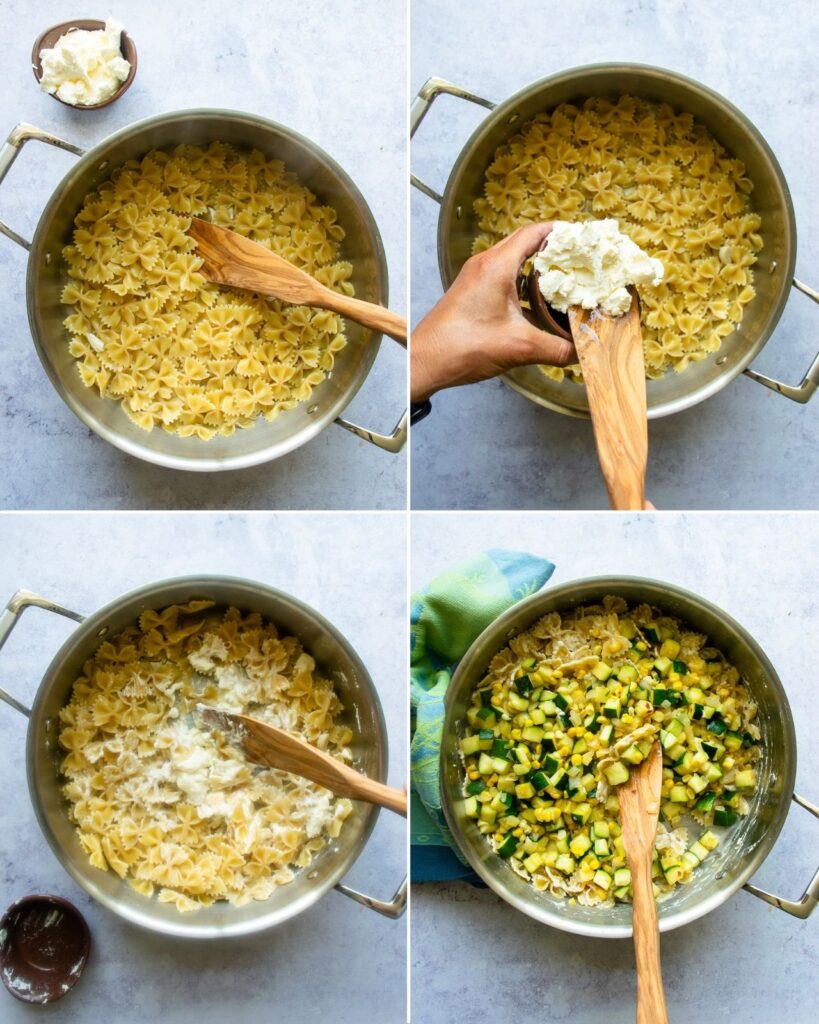 Cooking the Pasta
The pasta cooks in a shallow pan for this recipe, which is not traditional. It also cooks in vegetable or chicken stock instead of water, which gives it a lot more flavor. Bring the stock and smashed garlic clove to a simmer and add the pasta. Cover the pan with a lid, lower the heat and simmer the pasta until the liquid is almost absorbed. Then, add water as needed – roughly ¾ cup. The timing will depend on the brand of pasta that you buy. You should have a little liquid left in the pan when the pasta is al dente. Don't drain any liquid away. Instead, turn off the heat, stir in the cheese and thin with more hot water if you need to. Add the zucchini and corn mixture to the pasta and toss it all together. Finish with the fresh herbs and lemon and you have just made the perfect summer pasta – Farfalle with Zucchini, Corn and Mascarpone.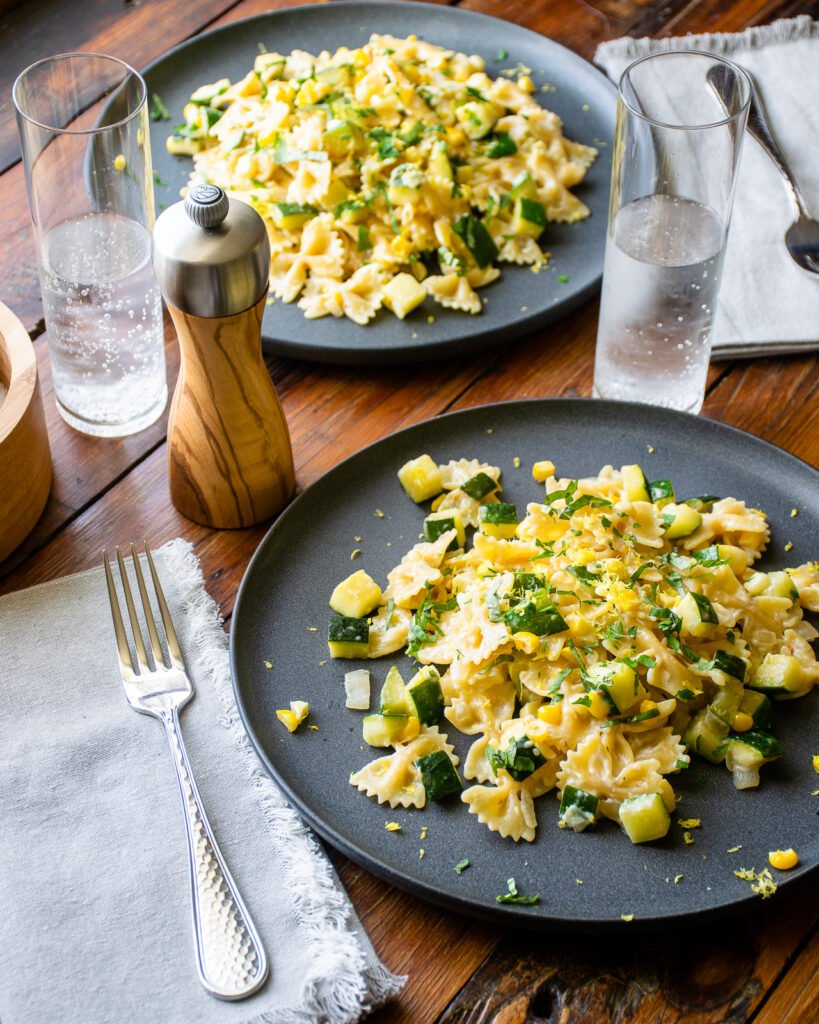 How to Serve
You can serve this pasta in a bowl, on a plate, with a side salad or by itself, but serve it hot out of the pan. A little sprinkling of extra herbs and lemon zest on top is nice too. Enjoy!