What is No Knead Bread?
No knead bread is exactly what it says it is – bread that requires no kneading whatsoever. No knead bread became a craze several years ago when Jim Lahey of the Sullivan Street Bakery in New York City figured out that you don't have to knead bread dough to get the critical gluten development required for a perfect loaf. Instead, if you have patience, time will do the job. Letting the bread dough rise slowly (very slowly), allows the gluten to develop just as well as kneading it. Hence, no need to knead!
If you've tried my recipe for No Knead Bread or Whole Wheat No Knead Bread, you're in for a treat with this No Knead Fruit and Nut Bread. I've tweaked my recipes a little, used both all-purpose flour and whole wheat flour and incorporated dried fruit and nuts into the mix, using the delicious fruit and nut bread from one of my favorite restaurants – Parc in Philadelphia – as the role model.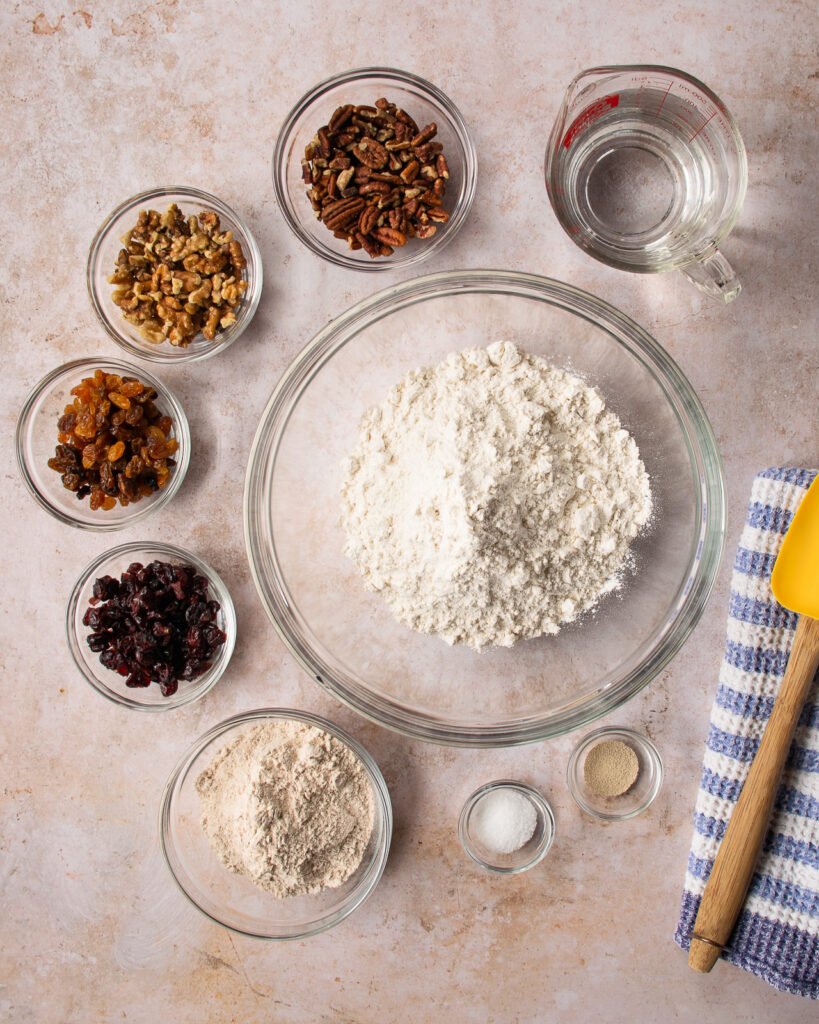 No Knead Ingredients
For this recipe, you will need very basic ingredients. It starts with all-purpose flour. I often use bread flour in my recipes, and you can certainly substitute that here, but I wanted a recipe that started with all-purpose for the sake of convenience. Add to that a little whole wheat flour, some yeast and some salt. Those, along with some water, are your basic ingredients for no knead bread. To make it fruit and nut bread, you'll add two cups (total) of dried fruit and nuts. I use half a cup each of golden raisins, dried cranberries, pecans and walnuts, but you could substitute any dried fruit and nuts that you like and have in your pantry.