What is No Knead Bread?
No knead bread is exactly what it says it is – bread that requires no kneading whatsoever. No knead bread became a craze several years ago when Jim Lahey of the Sullivan Street Bakery in New York City figured out that you don't have to knead bread dough to get the critical gluten development required for a perfect loaf. Instead, if you have patience, time will do the job. Letting the bread dough rise slowly (very slowly), allows the gluten to develop just as well as kneading it. Hence, no need to knead!
If you've tried my recipe for No Knead Bread or Whole Wheat No Knead Bread, you're in for a treat with this No Knead Fruit and Nut Bread. I've tweaked my recipes a little, used both all-purpose flour and whole wheat flour and incorporated dried fruit and nuts into the mix, using the delicious fruit and nut bread from one of my favorite restaurants – Parc in Philadelphia – as the role model.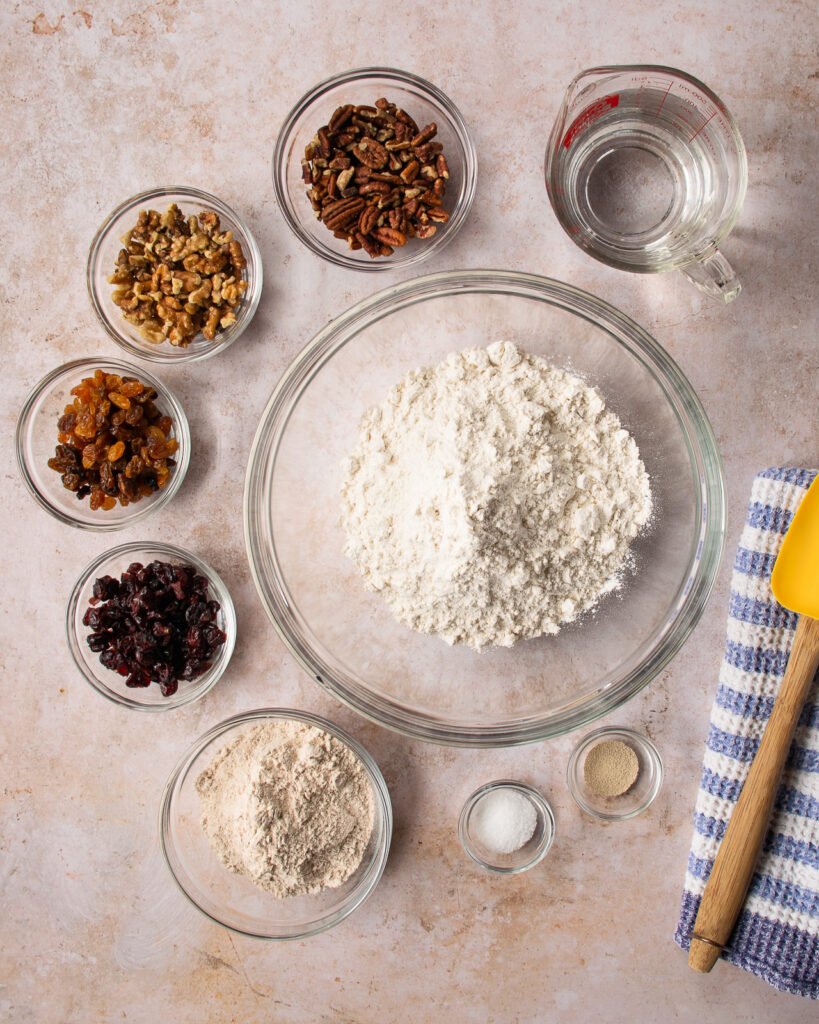 No Knead Ingredients
For this recipe, you will need very basic ingredients. It starts with all-purpose flour. I often use bread flour in my recipes, and you can certainly substitute that here, but I wanted a recipe that started with all-purpose for the sake of convenience. Add to that a little whole wheat flour, some yeast and some salt. Those, along with some water, are your basic ingredients for no knead bread. To make it fruit and nut bread, you'll add two cups (total) of dried fruit and nuts. I use half a cup each of golden raisins, dried cranberries, pecans and walnuts, but you could substitute any dried fruit and nuts that you like and have in your pantry.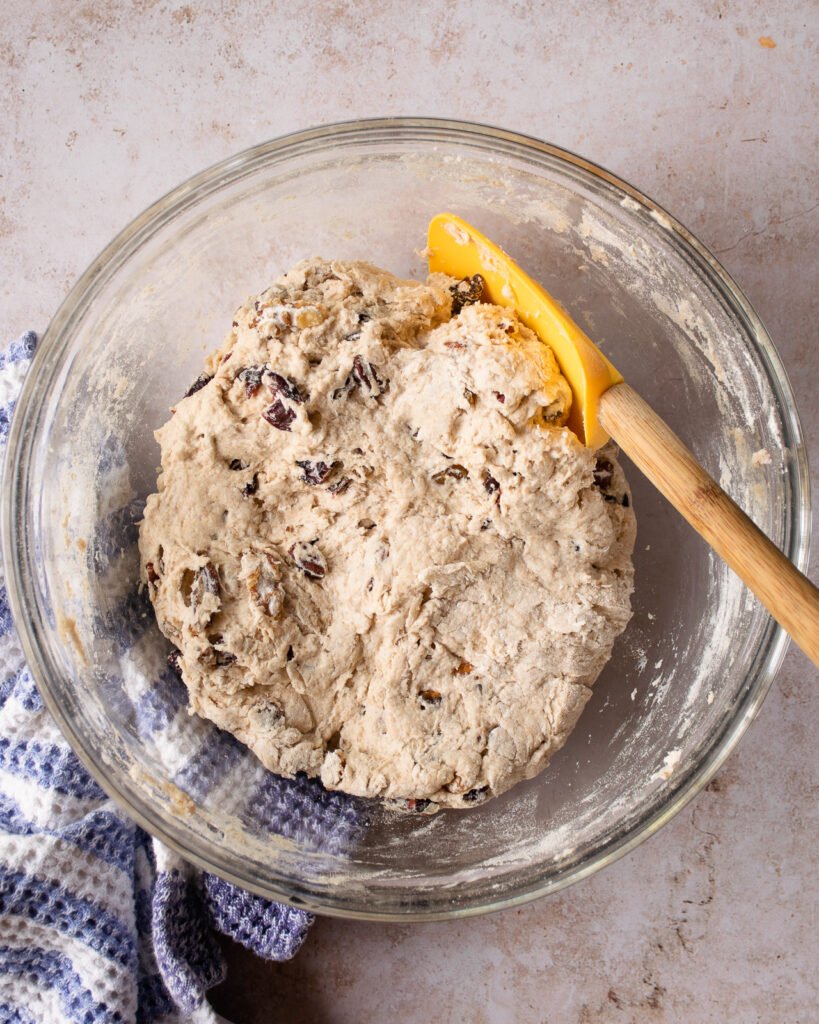 Stir, Don't Knead
The beauty of no knead bread is that you don't need a lot of strength, elbow grease or an electric mixer to make it. You do, however, have to stir all the ingredients together until you no longer see any traces of flour. What you end up with will look rather un-extraordinary, but that's it. Now you wait.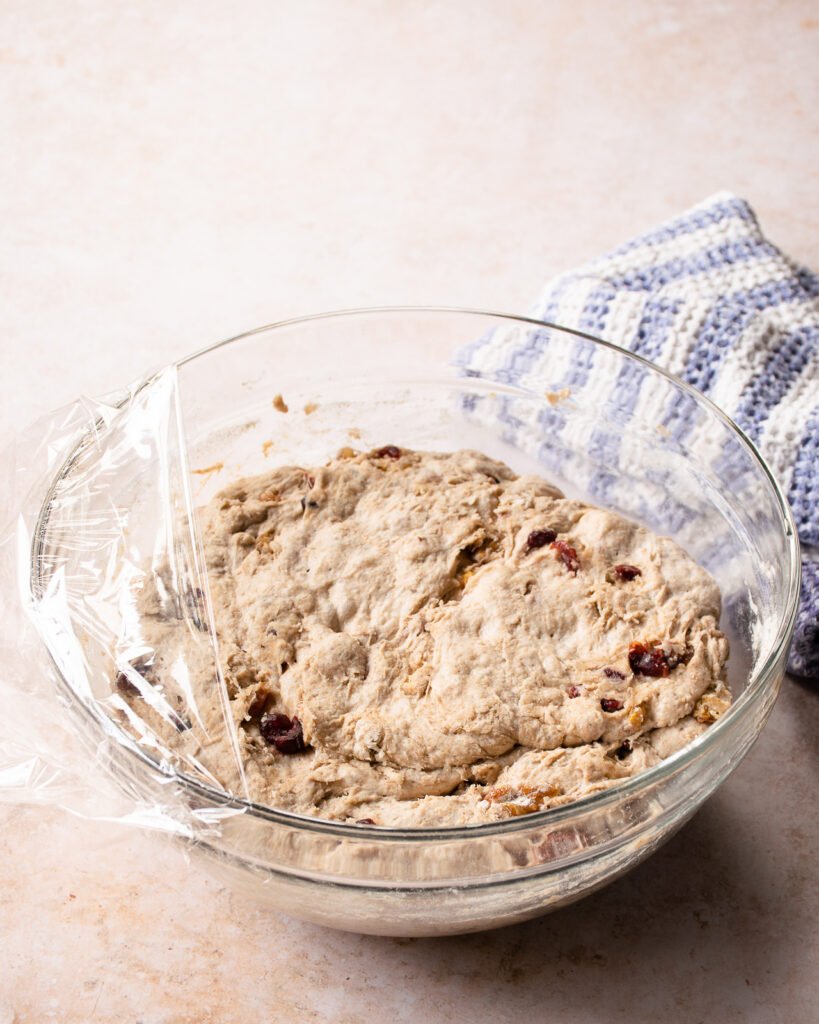 Rise up!
I let the dough sit in a warm spot of my kitchen, covered loosely with plastic wrap for 18 hours. You can go as little as 8 hours or as long as 18, but the longer the better in my books. That allows for more flavor development in the dough.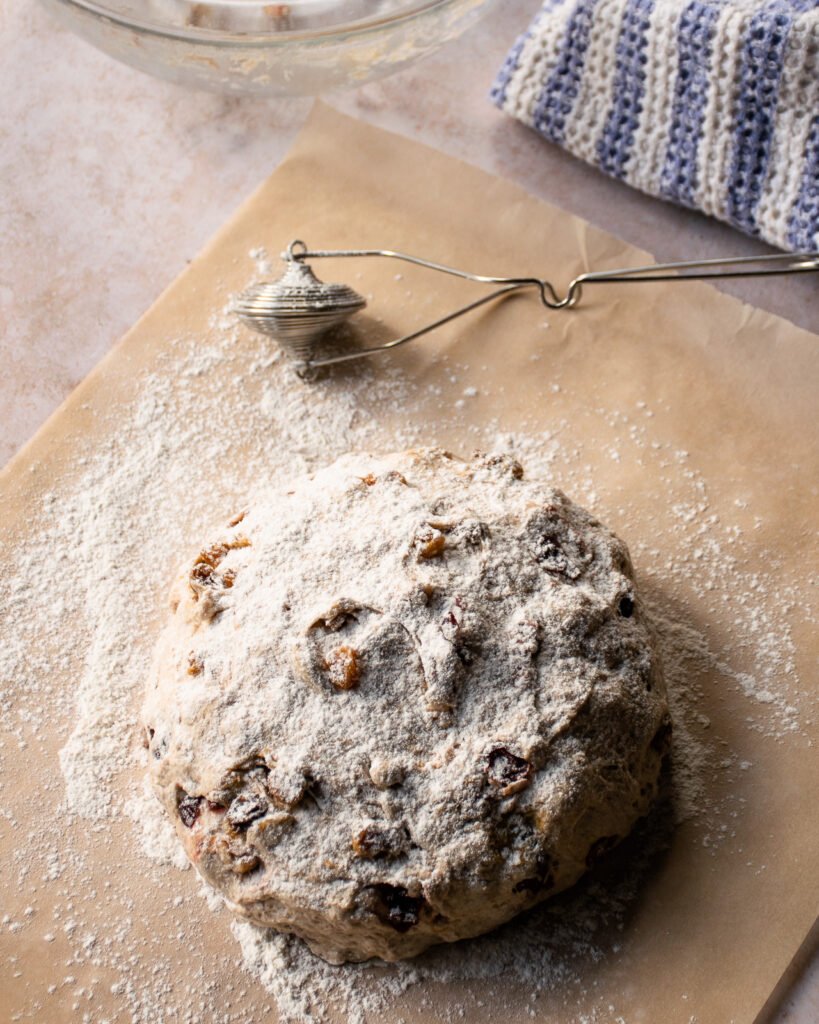 Shaping No Knead Bread
Shaping no knead breads can be the trickiest part of the process. With this recipe, however, the dough is not as loose and sticky as with my other no knead bread doughs. Sprinkle a lot of flour on a piece of parchment paper. (I use my favorite little single-use tool – my flour duster – for this.) Then, turn the dough over on itself a few times and shape it loosely into a round and place the untidy side down on the paper.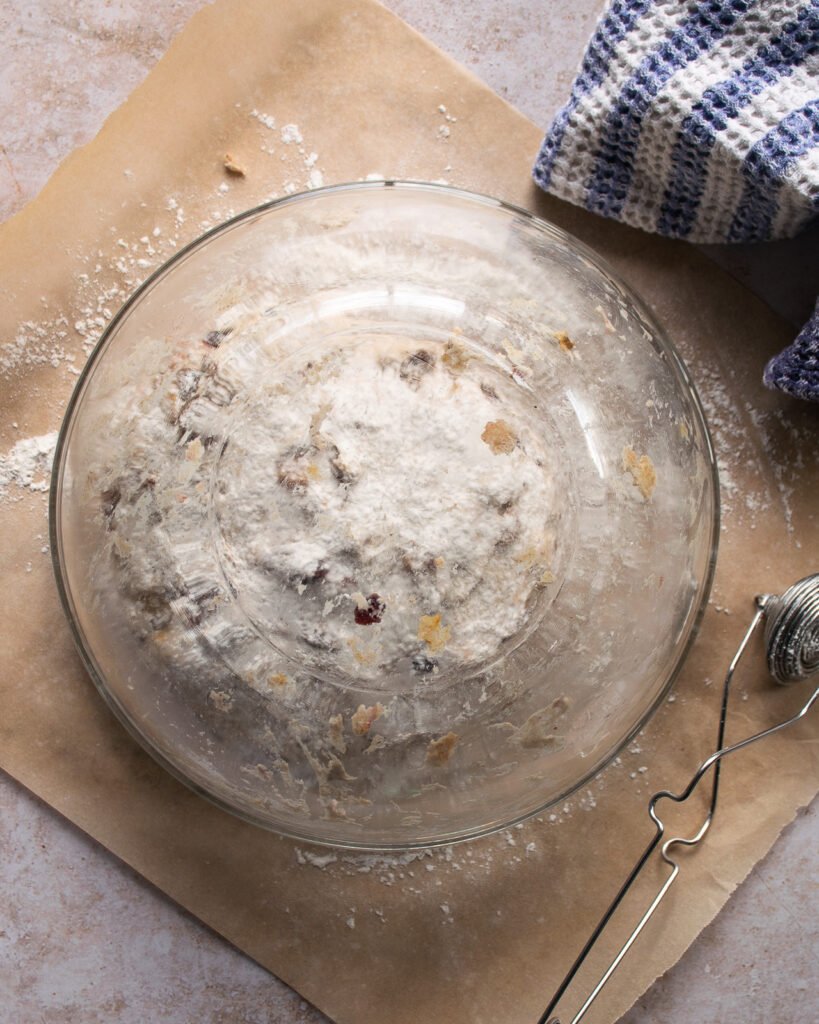 A Second Rising
Once the dough has been shaped, it still needs to rest and relax for a couple of hours before going into the oven and it needs to be covered while it rests. You could put a clean towel over the bread, but I find it often sticks, making a mess of your shaped loaf. So, invert the bowl that it rose in over the top to keep it from drying out. With my other no knead bread recipes, I invert the dough into a hot cast iron pot, but with this no knead fruit and nut bread I use the parchment to lift the dough into the pot, baking the bread with the parchment paper. This allows you to actually shape the dough the way you want it and makes managing the dough and a very hot cast iron pot much easier. Before you lift that parchment paper and place the dough into the hot cast iron pot, take a baker's lame or sharp serrated knife and make two or three slashes in the top of the dough. Doing so will give the steam trapped inside the bread an escape route and allows you to control the look of the bread.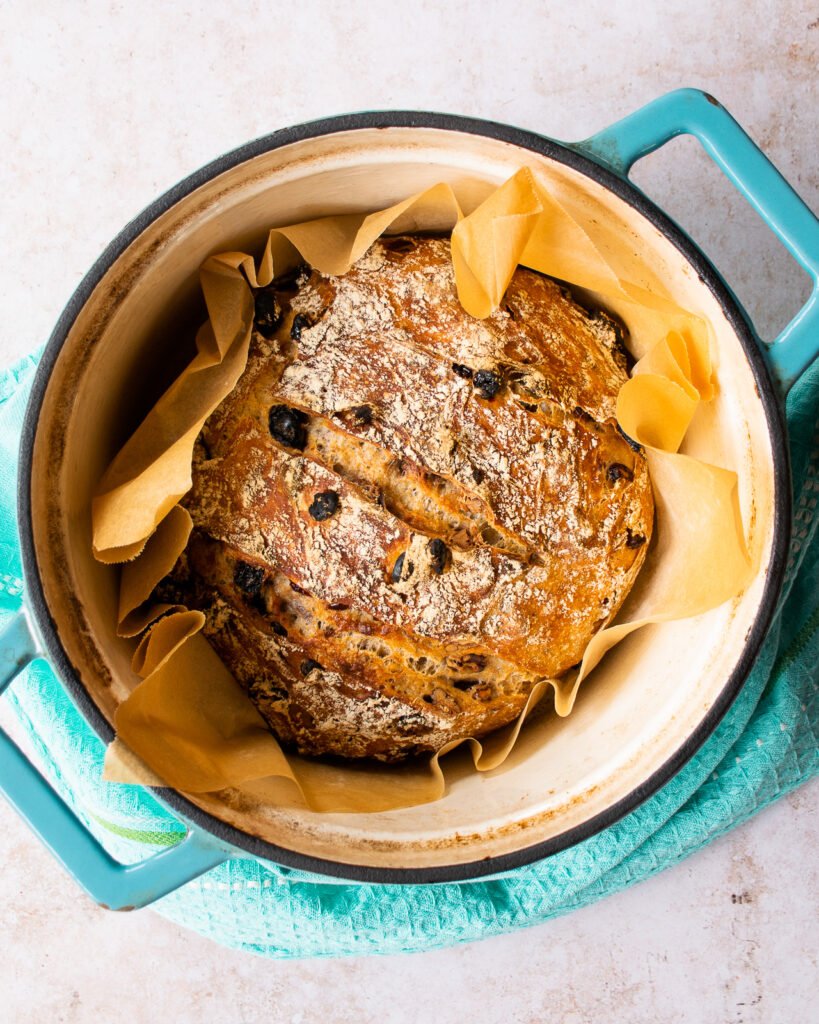 The Best Pot for No Knead Bread
The best pot to use for no knead bread is a cast iron pot. It pre-heats in the oven and gets very hot indeed. The thing about cast iron is that it holds the heat and turns into a mini oven inside your oven. If you don't have a cast iron pot, you can use any other heavy duty lidded pot that is oven safe to 425ºF. The bread might not get quite as crispy a crust, but it will work. Remember that the diameter of your pot will control the size of your loaf. If you have a very large pot, the bread will spread out more and not rise as high. If you have a smaller Dutch oven, the bread will be forced to rise up.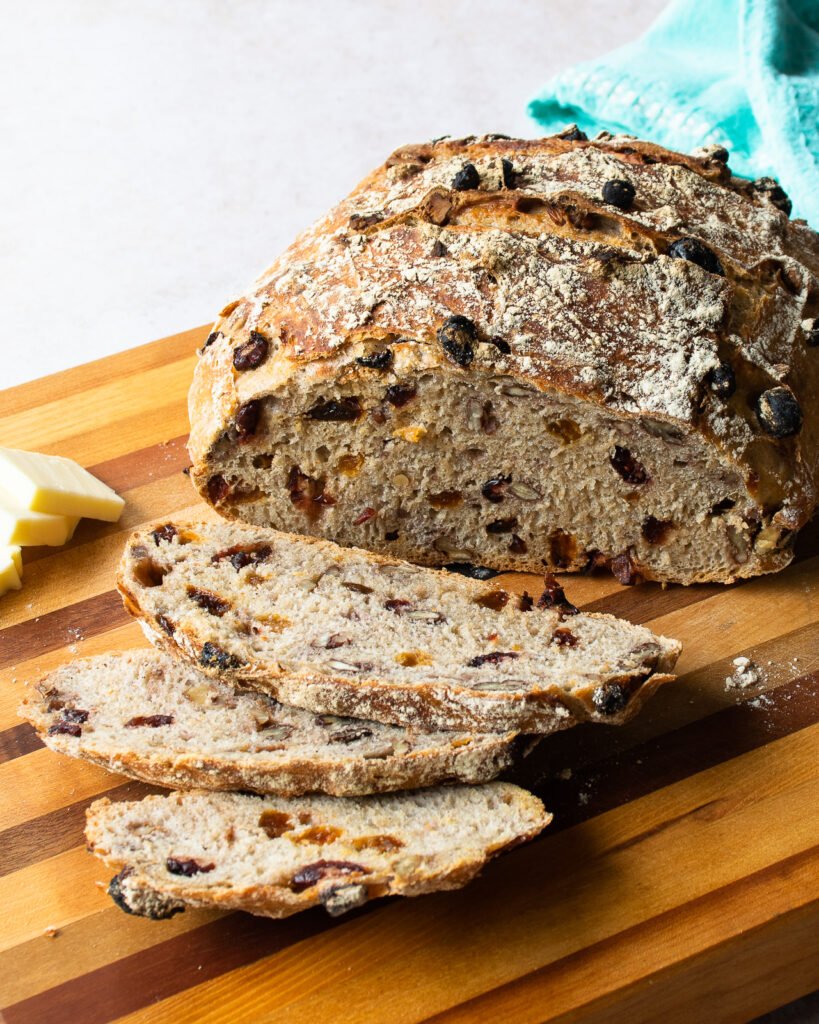 How to Know your No Knead Bread is Done
After baking the bread in a covered pot at 425ºF for 30 minutes and then for another 10 to 15 minutes without the lid, your loaf should have a nice brown crust and should be completely baked inside. If you're uncertain, you can carefully remove the loaf from the pot and tap the bottom, listening for a hollow sound. To be absolutely certain, you can insert an instant read thermometer into the center of the loaf. It should read 200ºF and there should be no wet batter on the thermometer when you remove it.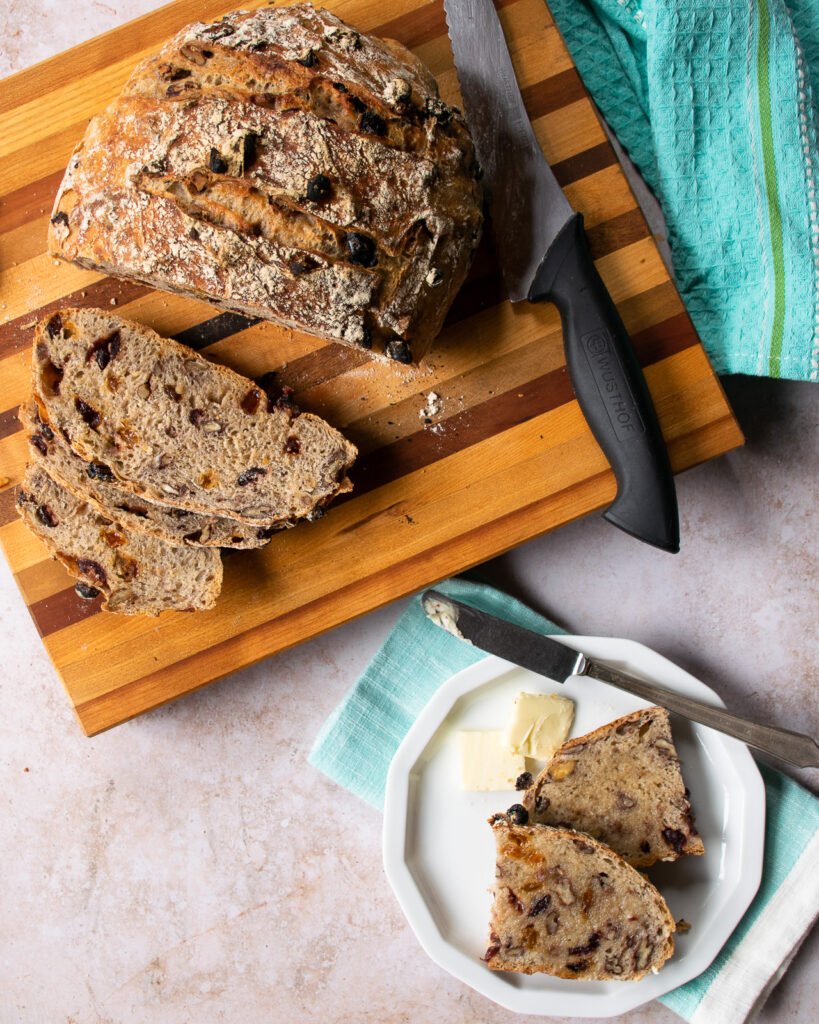 How Long will No Knead Bread Keep?
Well, that depends on how hungry you are. 
On a serious note, no homemade bread lasts as long as store-bought bread and that is because it has no preservatives in it. That's a good thing. Homemade bread is always best the day it's baked, but this bread should last 5 to 7 days in an airtight bag or container or wrapped well. After day 2, it's best toasted… delicious actually.