Potato Cakes vs Potato Pancakes vs Latkes
This recipe for mashed potato cakes comes from having a lot of mashed potatoes leftover after a big meal, but they are actually a pretty great reason to MAKE mashed potato leftovers! I call them potato cakes because that's exactly what they are – dense patties of mashed potato and cheese, fried up so they are deliciously crispy on the outside and tender on the inside. They are not potato pancakes or latkes, which are generally made from grated raw potato. These cakes start from already cooked (and seasoned) mashed potatoes.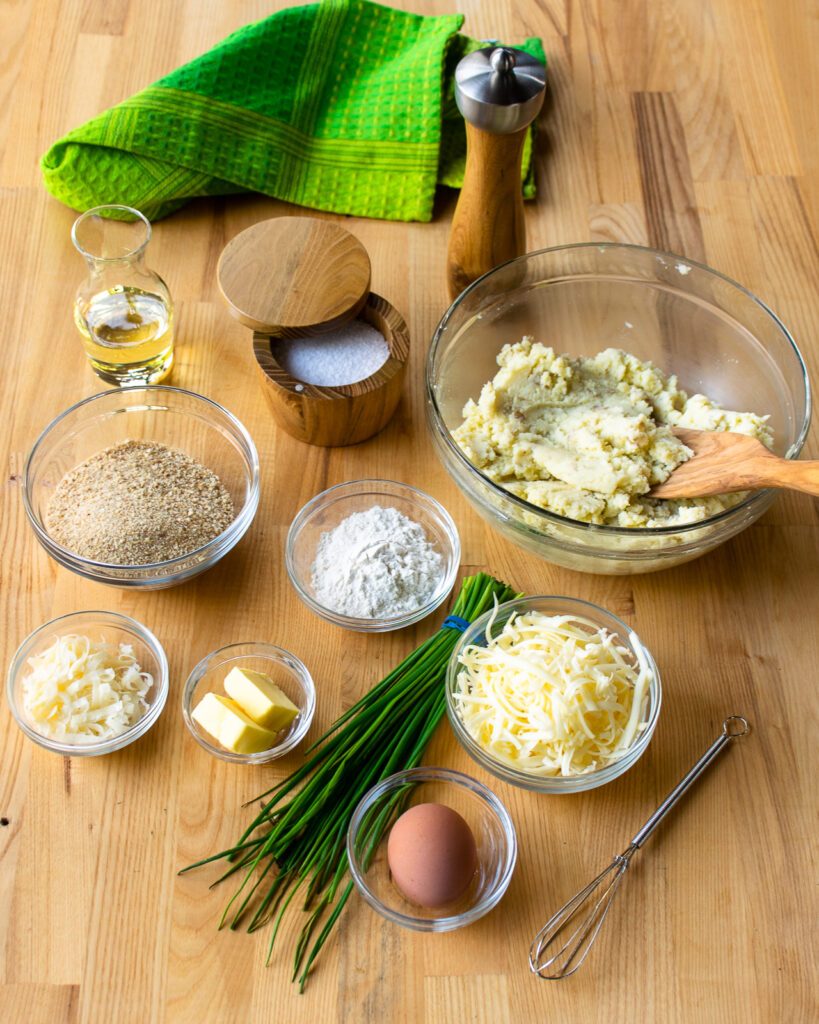 How Long can you Keep Mashed Potatoes?
Generally, you can keep mashed potatoes in your refrigerator for three to five days, so using them up in a different way – like with these mashed potato cakes – is a great idea. You might have added sour cream, butter, cream, half-and-half, milk, chives, roasted garlic, cheese or any number of ingredients to your mashed potatoes. They can ALL be used to make these mashed potato cakes. You can even use mashed sweet potatoes – you'll just learn how to adapt in the next step.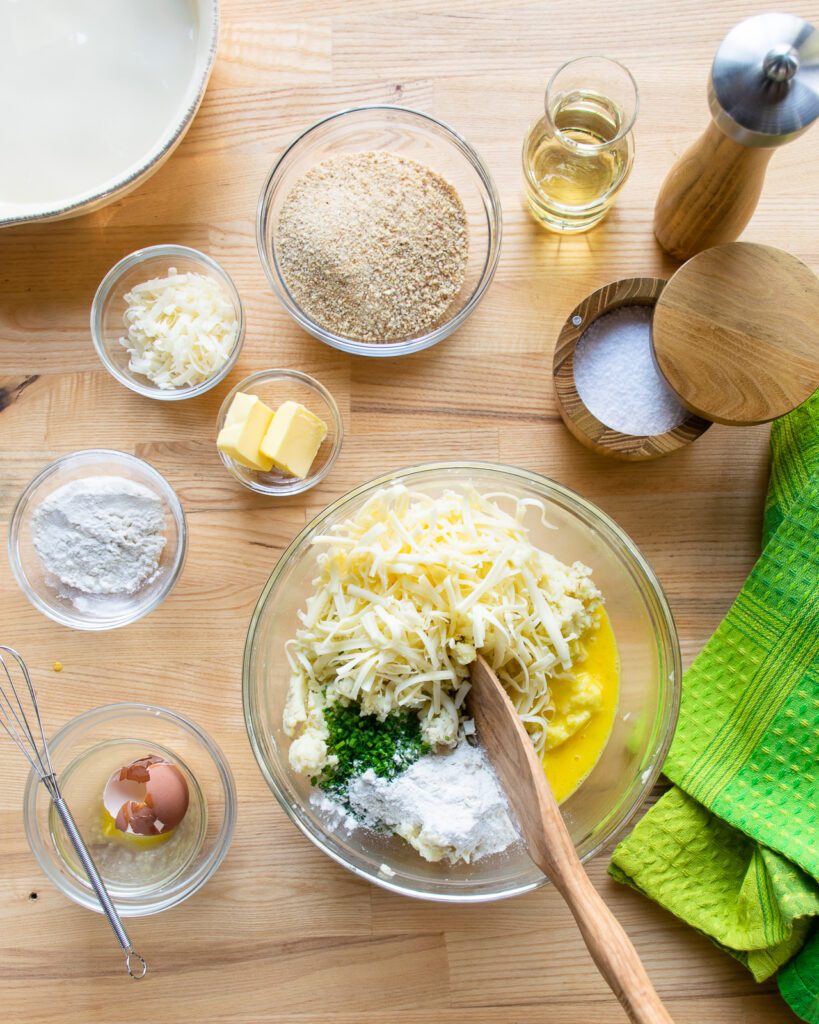 How to Make Mashed Potato Cakes
Because there are lots of ways to make and season mashed potatoes, your leftovers might be thicker or looser than the potatoes I used. That is why you'll see in the instructions to add flour to the mashed potatoes incrementally. If your potatoes are on the looser side you'll need more flour than if they are stiffer and thicker. If you're working with leftover mashed sweet potatoes, you'll definitely need to add more flour because they will be more moist naturally and need the flour to help give them structure. Just play it by ear and add the flour as needed.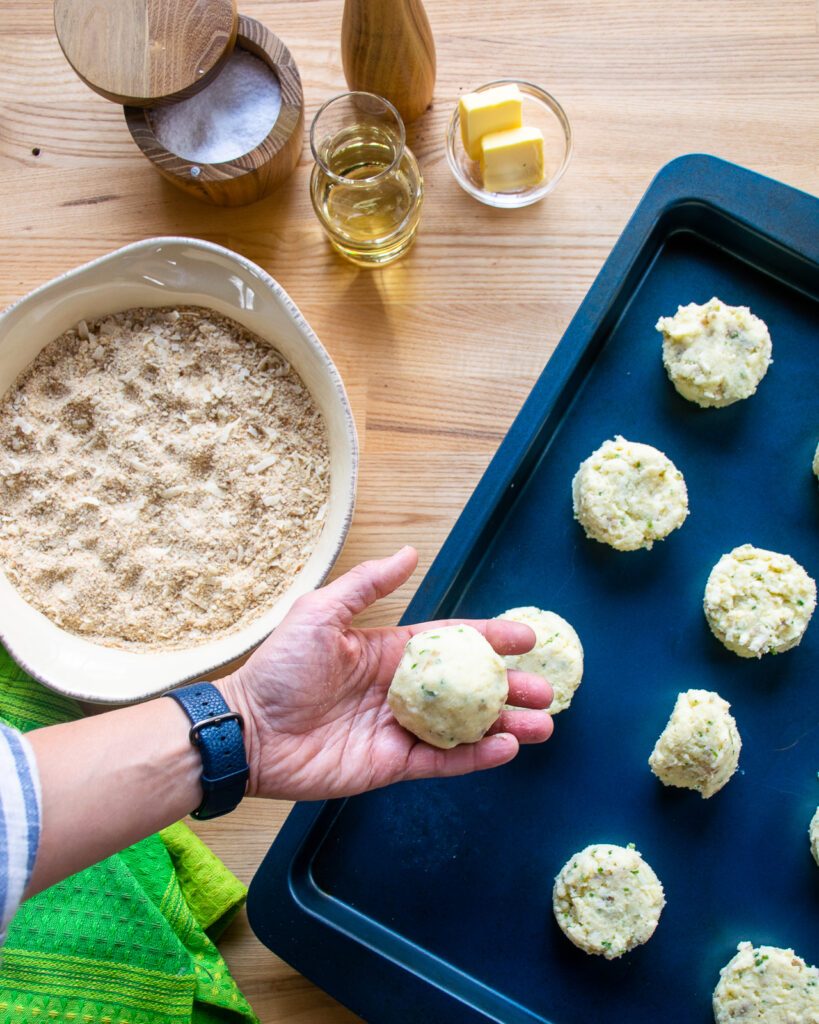 How to Shape the Cakes
I like to scoop the potato mixture in a level ⅓ cup dry ingredient measure. That way every cake is the same size, which not only leads to fewer arguments at the table, but also helps them to cook uniformly at the same time. Roll the portioned potato mixture into a ball and then flatten the ball into a patty by pressing it into a breadcrumb-Parmesan mixture. The patty will be delicate at this time, so flip it over carefully and coat the other side as well before transferring the patties to a sheet pan.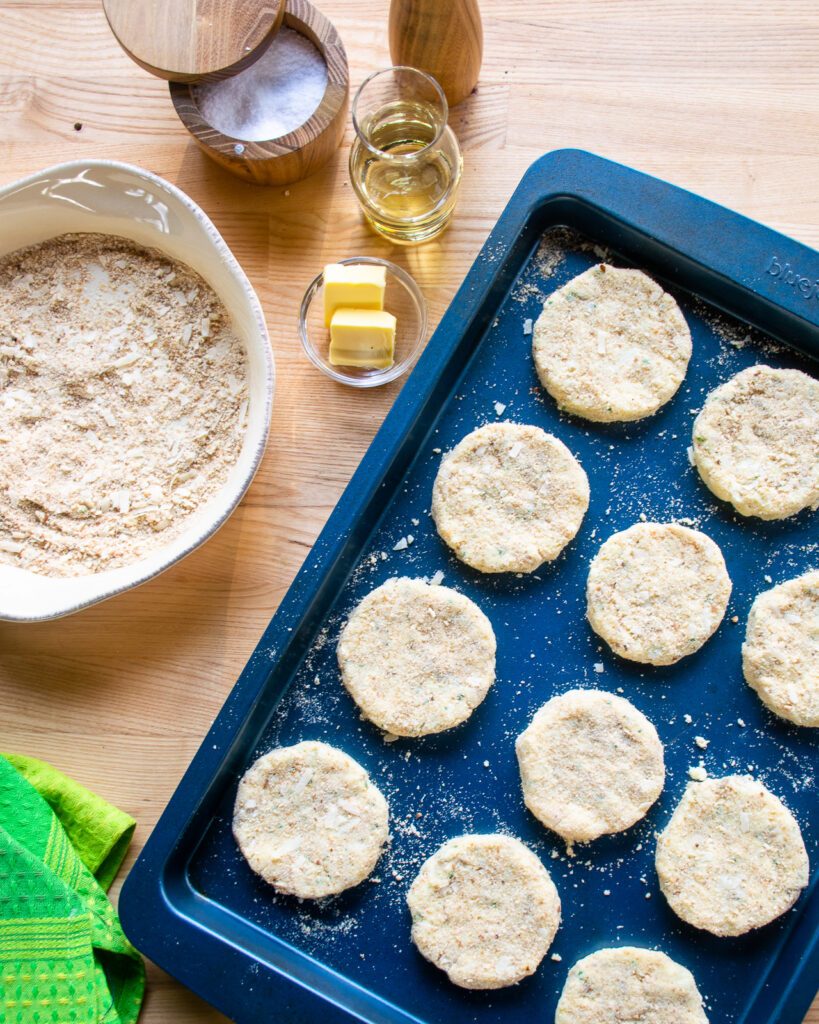 Coating the Cakes
Coating the potato cakes with the Parmesan-breadcrumb mix has a couple of benefits. It helps give the cake a little more structure, it makes it easy to brown and crisp the exterior of the cake, and the Parmesan adds flavor. You can chill the potato cakes at this time if you're not ready to cook them yet – that will make them a little more sturdy, but add a few minutes to the cooking time.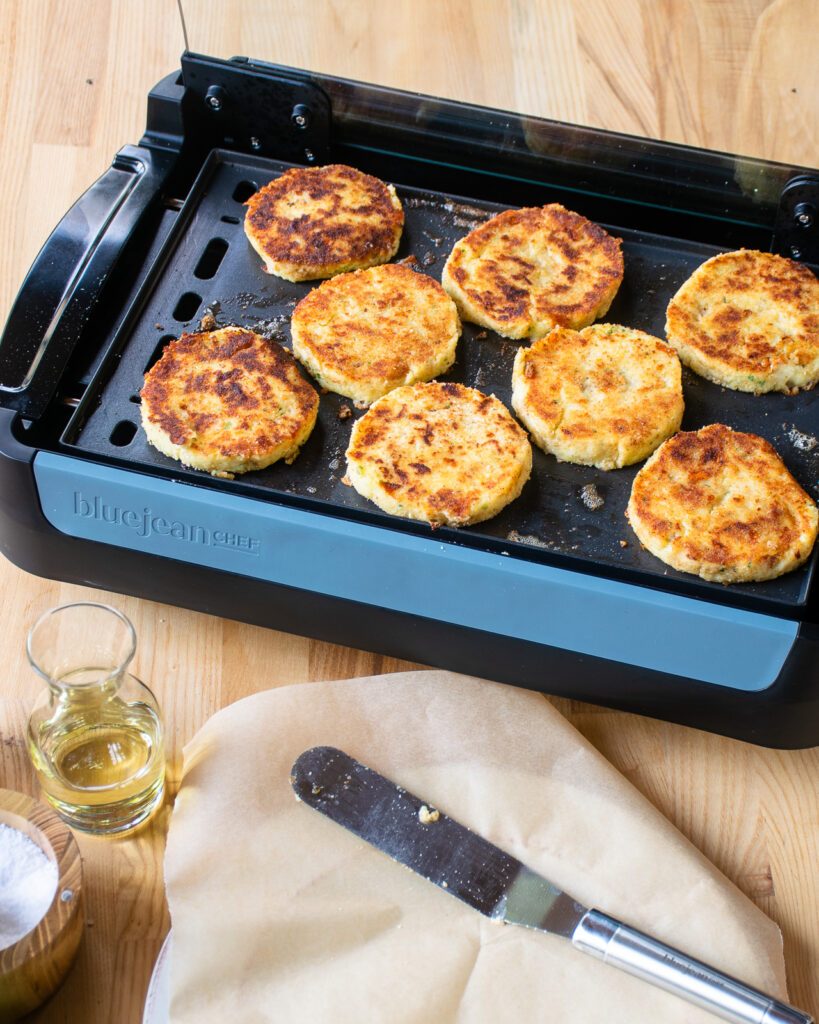 How to Cook Mashed Potato Cakes
You can fry these mashed potato cakes in a skillet or on a griddle, using both oil (for its high smoke point) and butter (for its flavor). They will take 8 to 10 minutes per side. If you're using a griddle, set it at 325˚ to 350˚F. If you're using a skillet on the stovetop, pre-heat the pan on medium-high heat and then lower the heat to medium once the cakes have started cooking.
You can also air-fry these potato cakes. I start them on a piece of parchment paper to prevent them from sticking in the air fryer basket. Spray them with oil and cook at 400˚F for 10 minutes. Then, flip them over in the basket – I just invert them from the parchment paper right into the basket. The browned side of the potato cake won't stick because it has a cooked surface. Spritz with oil and air-fry for another 10 minutes, until the cakes are nicely browned. 
What to Serve with Mashed Potato Cakes
My favorite way to serve these cakes is with a side salad and some sour cream to dollop on top. You can also use them as the side for a number of dishes, like a perfectly cooked ribeye, or easy glazed pork chops, or even as a base for a chicken marsala. You can basically put them anywhere you'd serve potatoes, but don't be mad if they end up taking center stage!