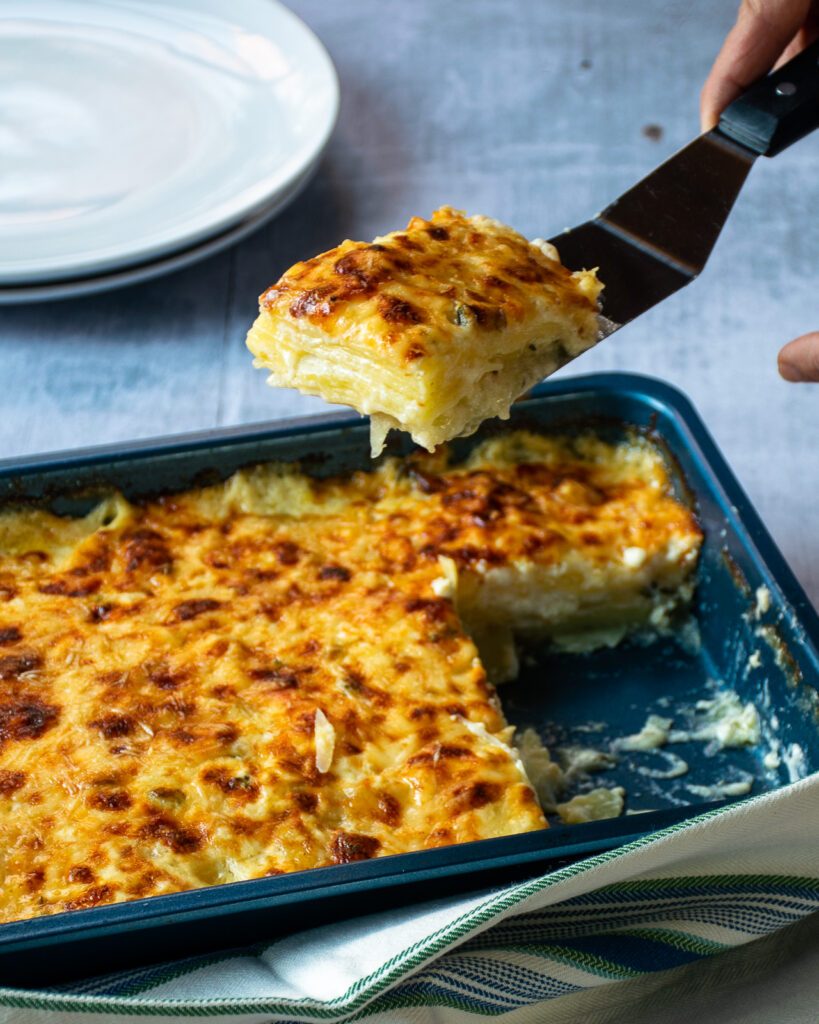 Scalloped Potatoes vs. Potato Gratin
This is a loaded subject. There are many different opinions on what the difference is between scalloped potatoes and potato gratin. Some say that cheese has no place in scalloped potatoes; others say that the potatoes should be sliced thinner in potato gratin. I honestly love both dishes equally and have my own way of distinguishing between the two. In my world, potato gratin is cooked with garlic scented cream and then topped with cheese which forms a crust on top (the definition of au gratin). It's simple, it's pure and it's decadent. Scalloped potatoes, on the other hand are cooked with a béchamel sauce – a pre-thickened sauce made with milk – and often thinly sliced onions. Scalloped potatoes don't have to have cheese on top, but why not? Scalloped potatoes are more casual, a little less decadent than potato gratin, but just as delicious.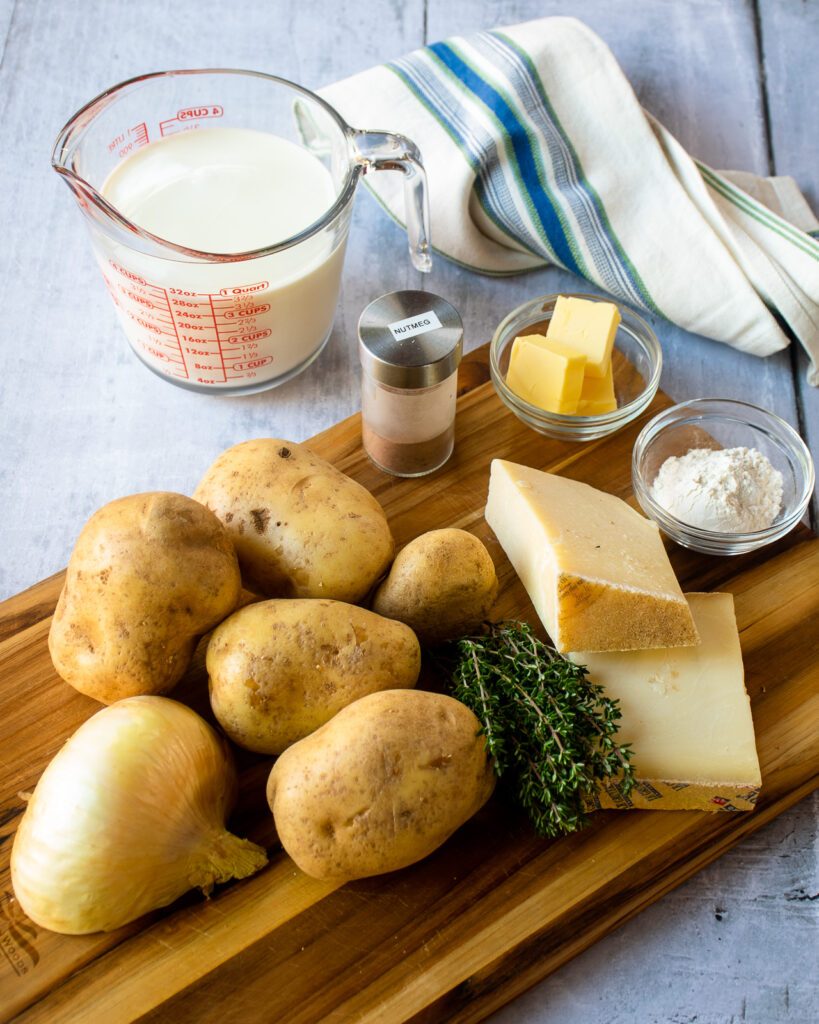 How to Make Scalloped Potatoes (ahead)
There are just a few components to scalloped potatoes – the sliced potatoes, the sliced onions, the grated cheese and the béchamel sauce. Get all the components ready first and then build the dish. If you are making the scalloped potatoes ahead of time, build the dish, bake the dish and then cool completely before covering and storing in the refrigerator. When you want to serve the potatoes, keep them covered and re-heat at 350ºF for 30 minutes, removing the foil for the last 5 minutes or so.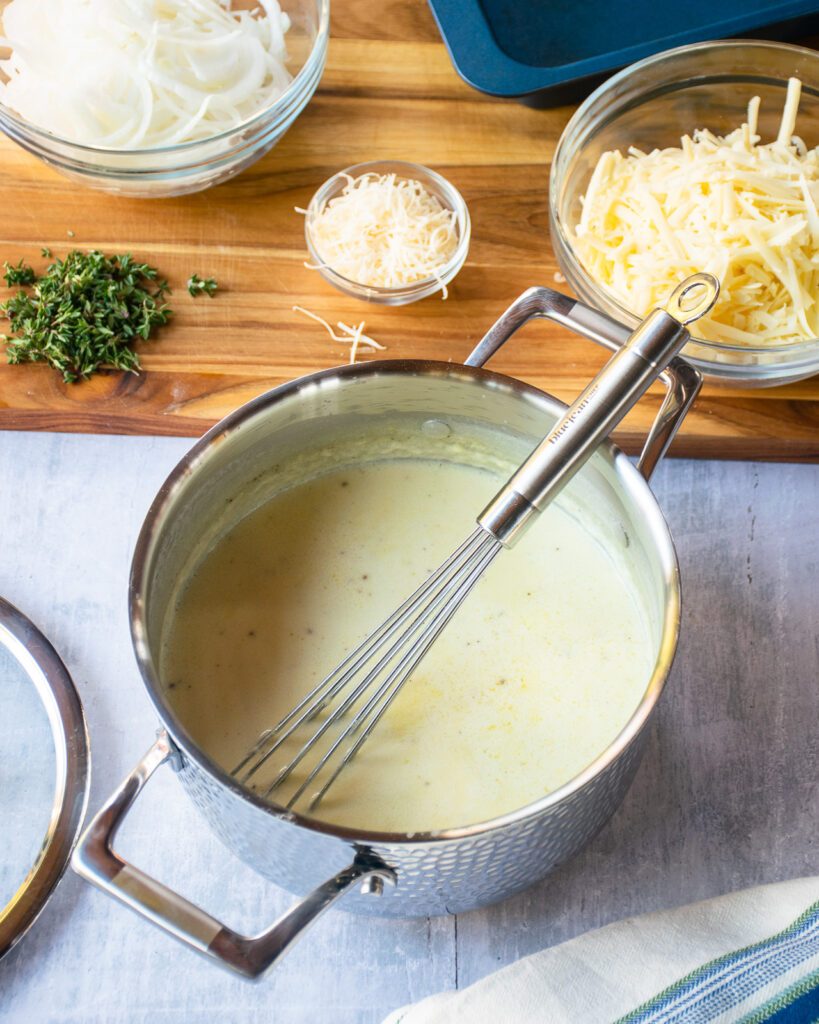 Sauce for Scalloped Potatoes
The sauce for scalloped potatoes is a béchamel sauce – the most basic of mother sauces. It's easy to make and easy to make ahead of time too. You can learn all about béchamel here. While you could make the sauce with part cream for an ultra rich side dish, I think using milk is what helps distinguish scalloped potatoes from potato gratin.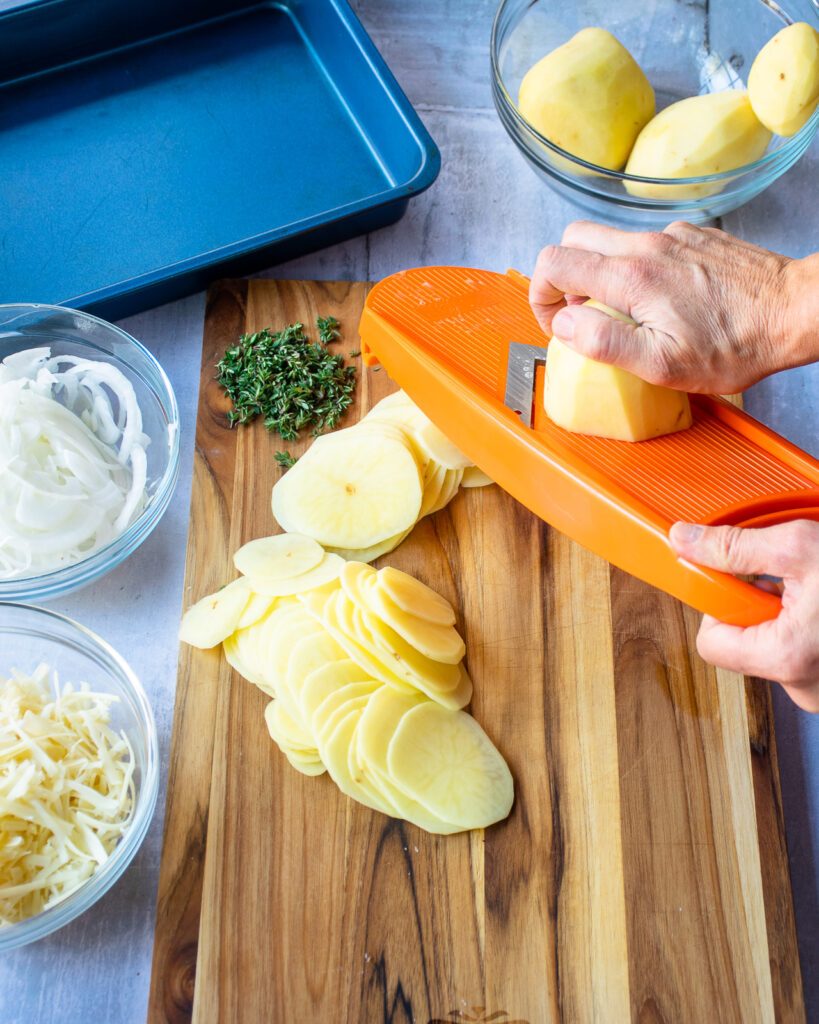 How to Slice potatoes for scalloped potatoes
Slicing the potatoes is an important step in making scalloped potatoes and the most important part of this step is ensuring that the slices are an even thickness. The easiest and fastest way to do this is with a mandolin slicer. Try to slice the potatoes ⅛-inch thick and absolutely no thicker than ¼-inch. It's also important to slice the onions very thin as well. In this recipe, you do not cook the onions ahead of time before layering them in the casserole, but very thinly sliced onions  soften easily in the dish while the potatoes cook.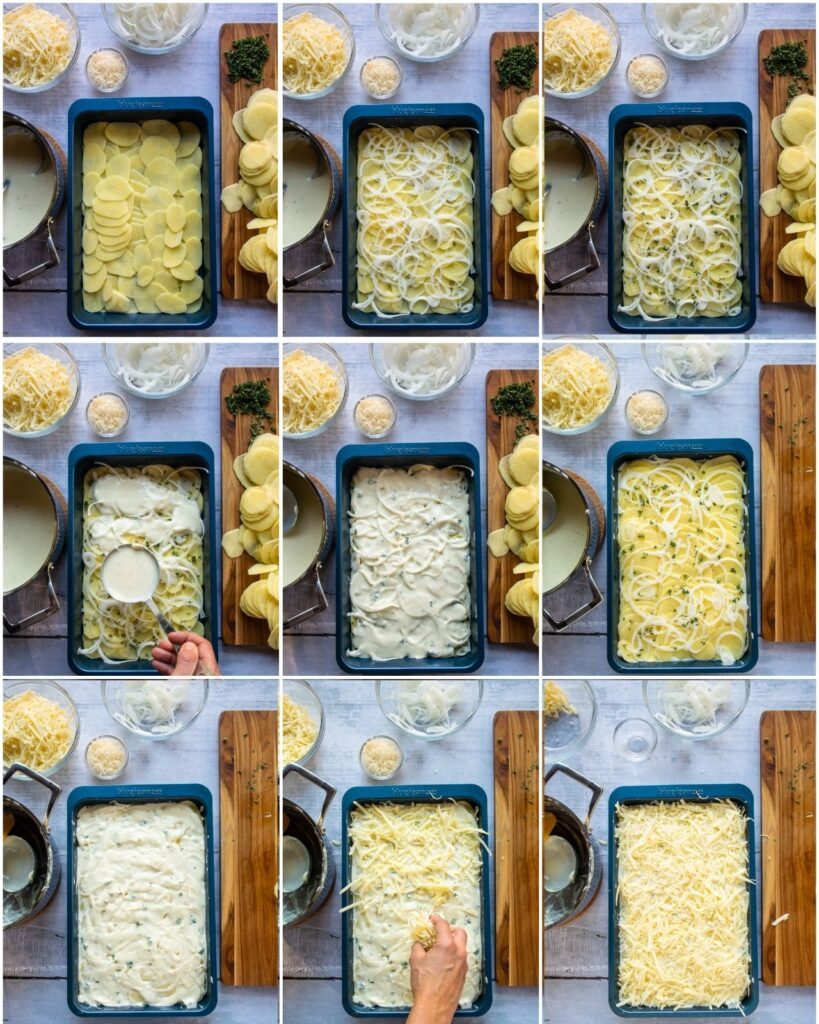 Build It and They Will Come
Never has this phrase been more true than with scalloped potatoes! The smell of  these potatoes baking in the oven brings everyone down to the dinner table promptly. It's a simple build, layering the potatoes, onions, thyme and sauce a few times and then topping with a mix of Gruyère and Parmesan cheeses.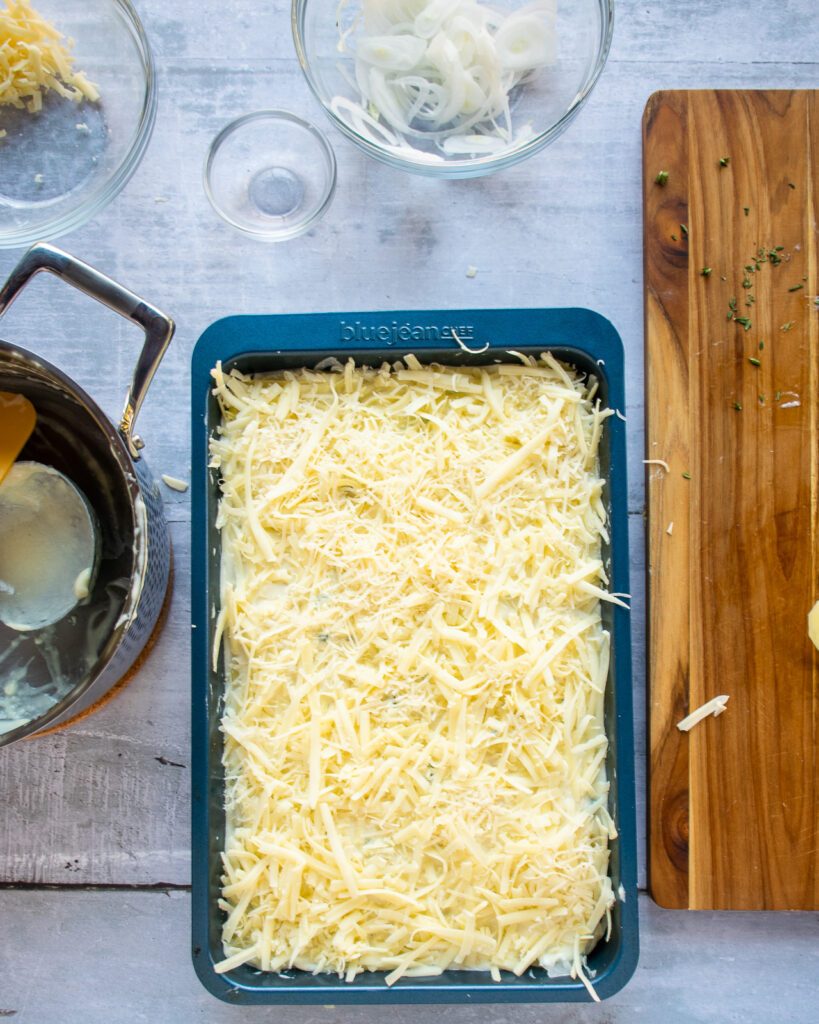 Best Cheese for Scalloped Potatoes
I like to use the combination of Gruyère and Parmesan cheeses for this dish because they have different qualities that I like. Parmesan adds a salty seasoning to the top of the dish, while Gruyère is a fantastic melter with a smooth, nutty flavor. If you can't find Gruyère, try a Swiss cheese. Cheddar will also work well if that's one of your favorites.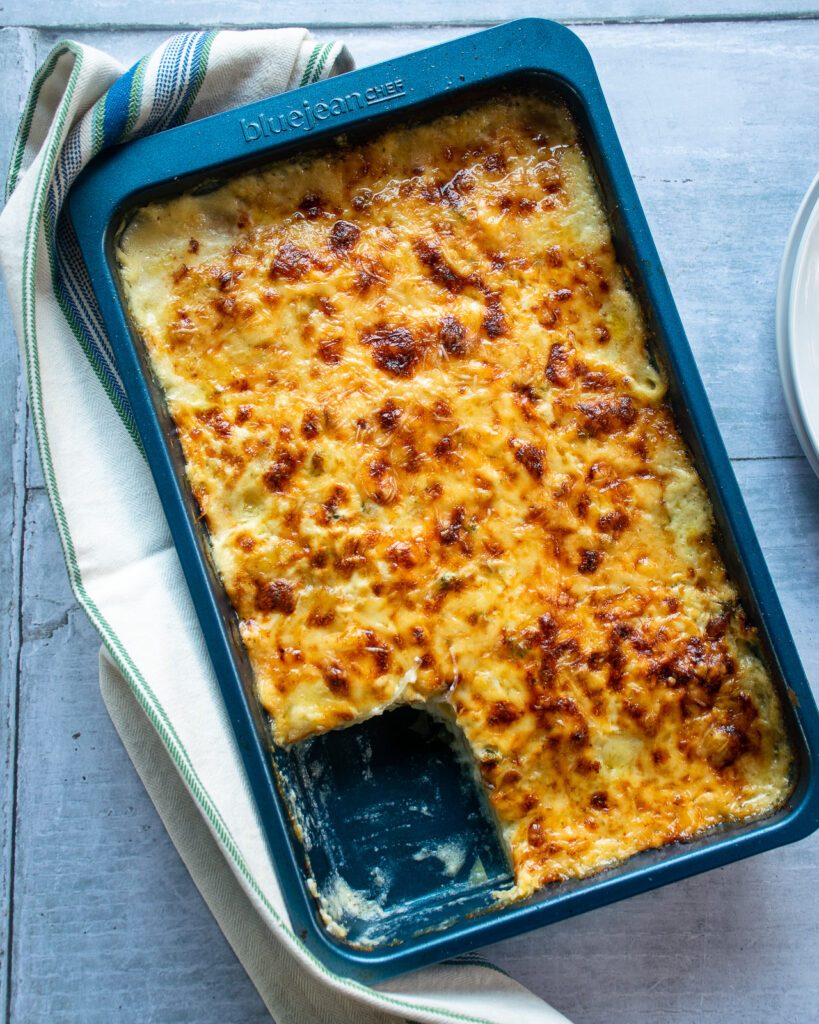 What to Serve with Scalloped Potatoes
Scalloped potatoes always make me think of ham. In fact, I can't remember the last time I had a baked ham without scalloped potatoes. It would also be a delicious side dish with roast beef or grilled or air-fried steak. You could also layer in some leafy greens like spinach or kale and make this the center of a vegetarian dinner. So many possibilities!