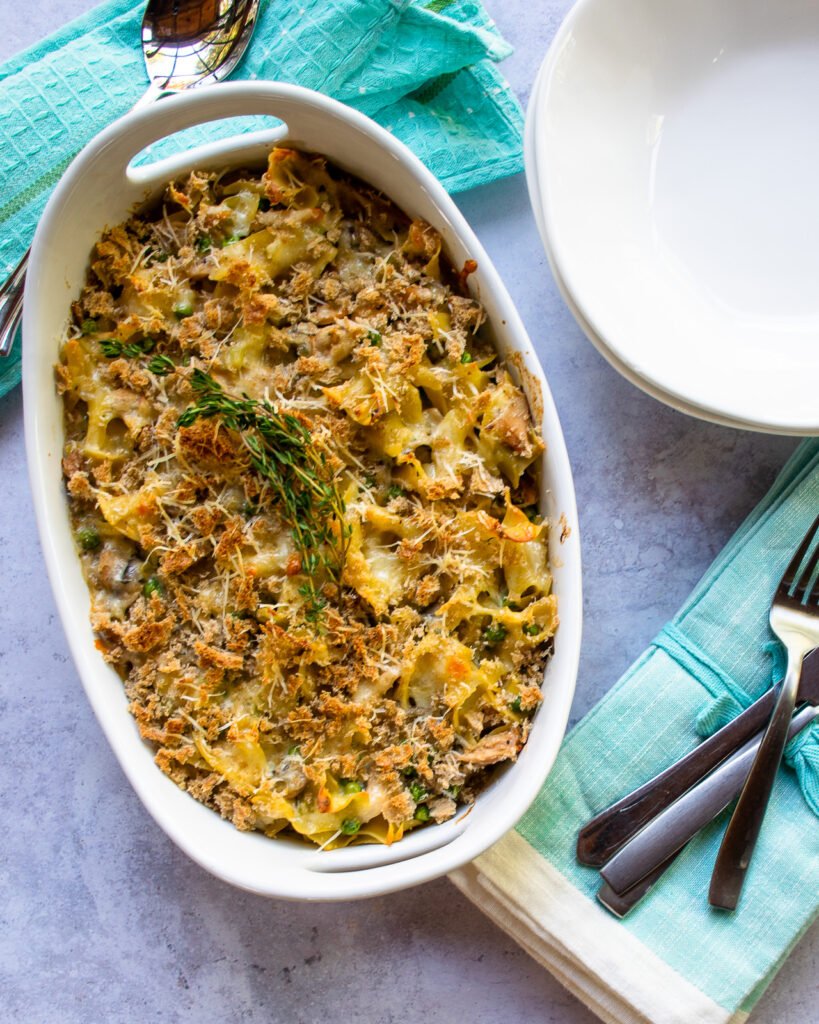 What is Tuna Noodle Casserole?
To be honest, tuna noodle casserole was NOT a dish I grew up with. Along with meatloaf, tuna noodle casserole was something I first experienced when I was at university in Canada, living with four other university students. That's when I learned that you could combine a can of tuna, a can of cream of mushroom soup, frozen peas, grated Cheddar cheese and some cooked egg noodles in a casserole dish, top it with breadcrumbs (or other crunchy topping) and bake it into a meal that can happily and inexpensively serve five young college students. I expect I'd never had it at home growing up because my mum was a "from scratch" cook and wouldn't think to use a can of soup in a recipe. I expect if I asked her today whether or not she knows what tuna noodle casserole is, she'd say she has no idea.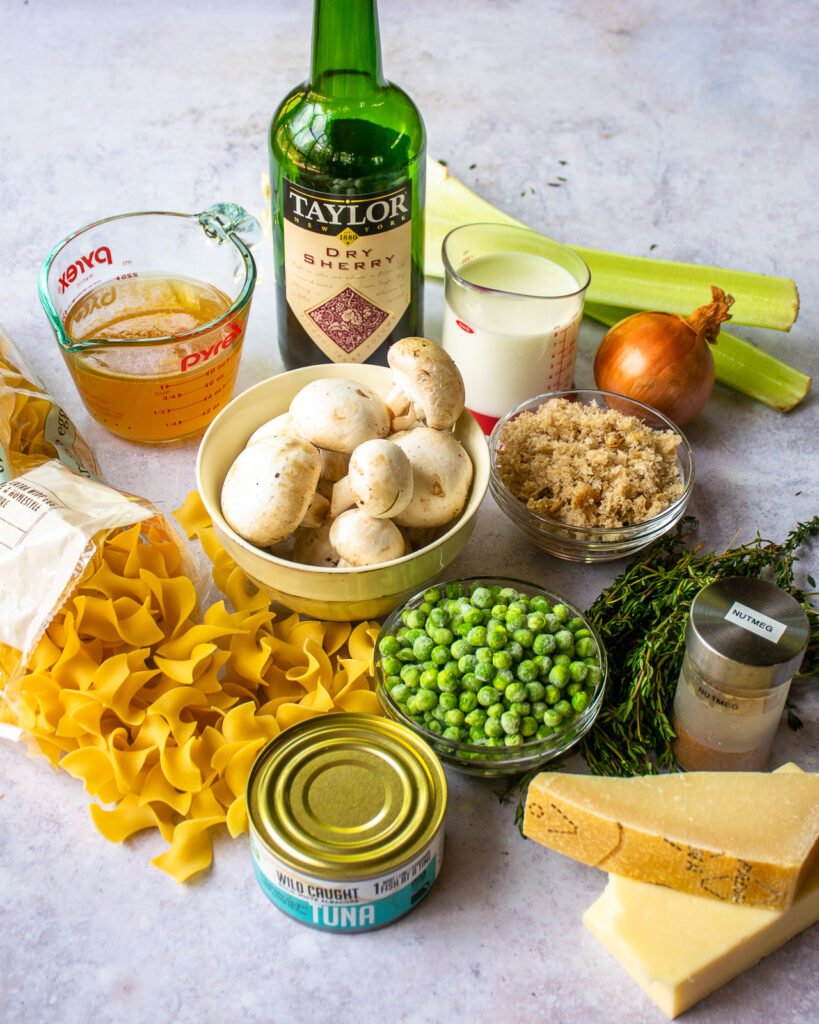 How to Make Tuna Noodle Casserole from Scratch
You don't have to make tuna noodle casserole with processed condensed soup. It's actually quite easy to make a homemade tuna noodle casserole by making a mushroom-y white sauce in lieu of the soup and I bet you'll find it even more delicious than your childhood versions. You'll just need the three ingredients for a basic béchamel sauce (milk, butter, flour), some chicken stock and some mushrooms. To me, celery is an important addition to this dish, but it's not critical. The same goes for the sherry. Sherry and mushrooms go together so nicely, but you could leave the sherry out if you don't want to include it. Peas? Well, that's up to you. My friends used to call this dish Tuna Pea Wiggle, so the peas seem essential to me. As with all meals that you make to nourish your body, go for the best quality ingredients you can find. Pick up a good quality can of tuna and get some good sharp Cheddar cheese and some grana padano Parmesan cheese (the cheaper version of Parmigiano-Reggiano cheese).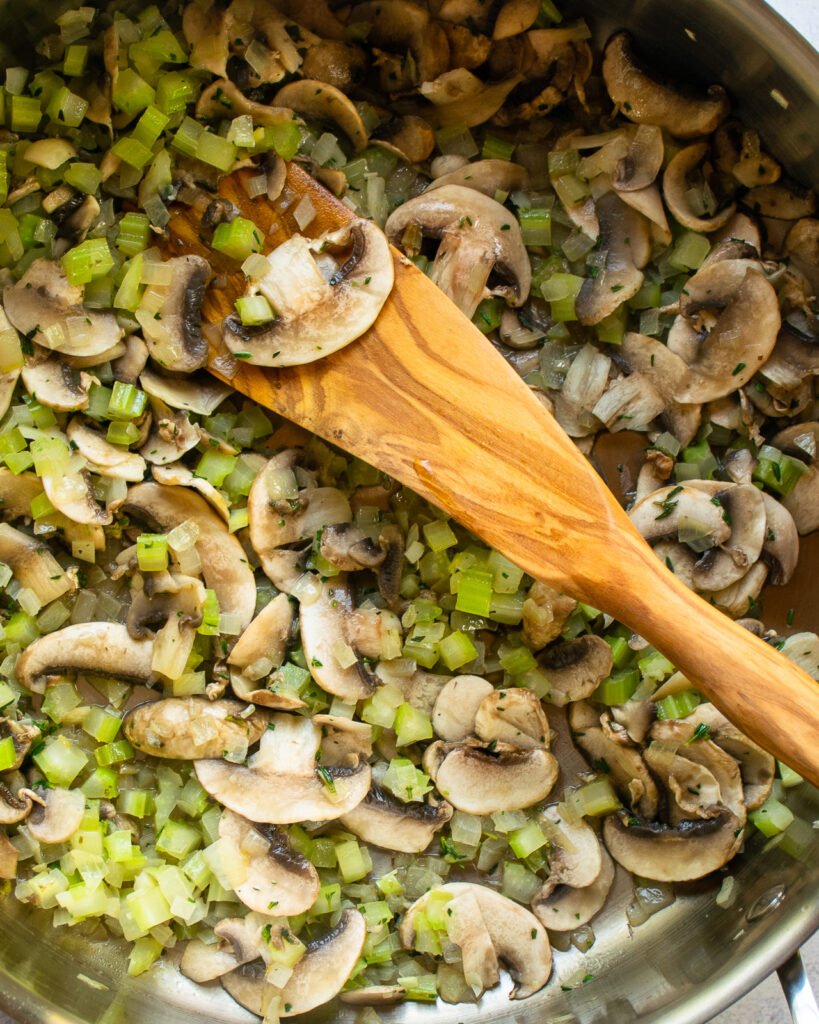 When Was Tuna Noodle Casserole Created?
I would have sworn that Tuna Noodle Casserole was invented by the Campbell's Soup Company as a way to promote their cream of mushroom soup, but in fact this recipe in some form has been around since the late 1930s in the Pacific northwest of the country and the combination of tuna with pasta probably dates back much farther than that. Of course, Campbell's Soup made the dish famous as it's can of soup turned it into a meal that anyone could make relatively mindlessly. You can read more about the history of the dish here.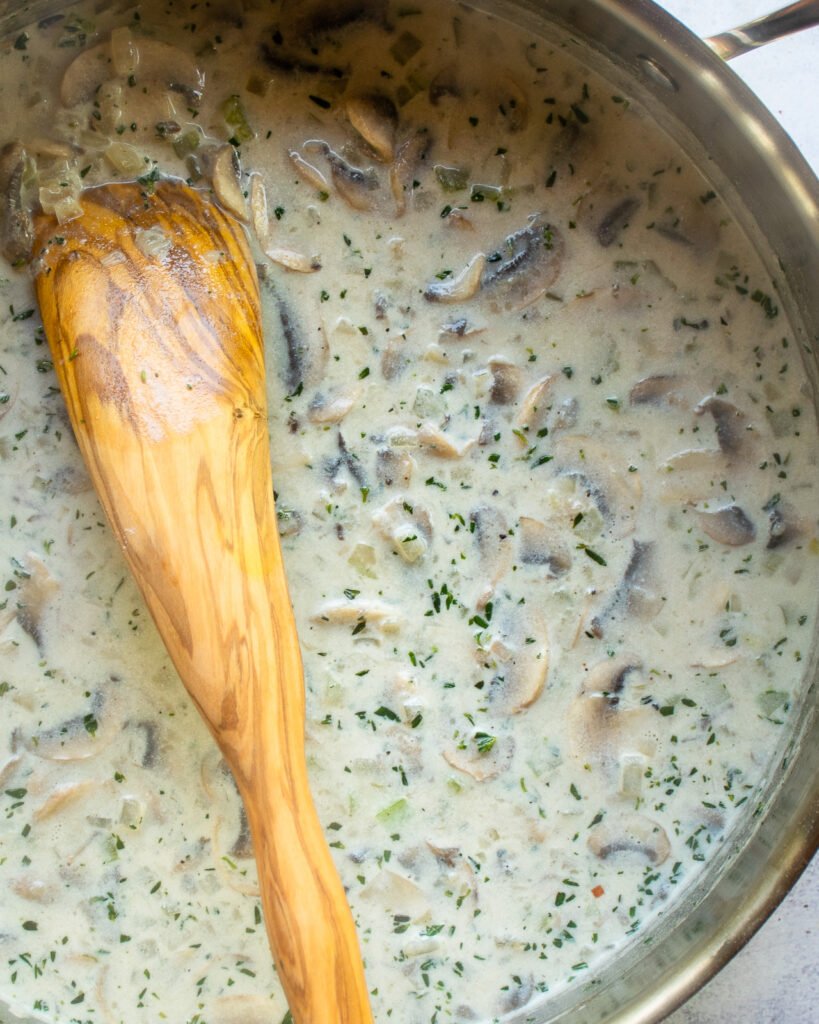 Sauce for Tuna Noodle Casserole
The sauce for this recipe is very easy. Simply start by sautéing your onions and celery. Add the mushrooms and fresh thyme. When everything is tender, sprinkle flour over the vegetables and cook for just a couple of minutes before adding the sherry (if you're using it), milk and chicken stock. Bring the mixture to a boil and season with salt, pepper and nutmeg. Easy. It is important to note, however, that this sauce should be relatively thin and loose. The noodles are going to absorb liquid as they bake in the oven, so let the sauce provide that extra liquid.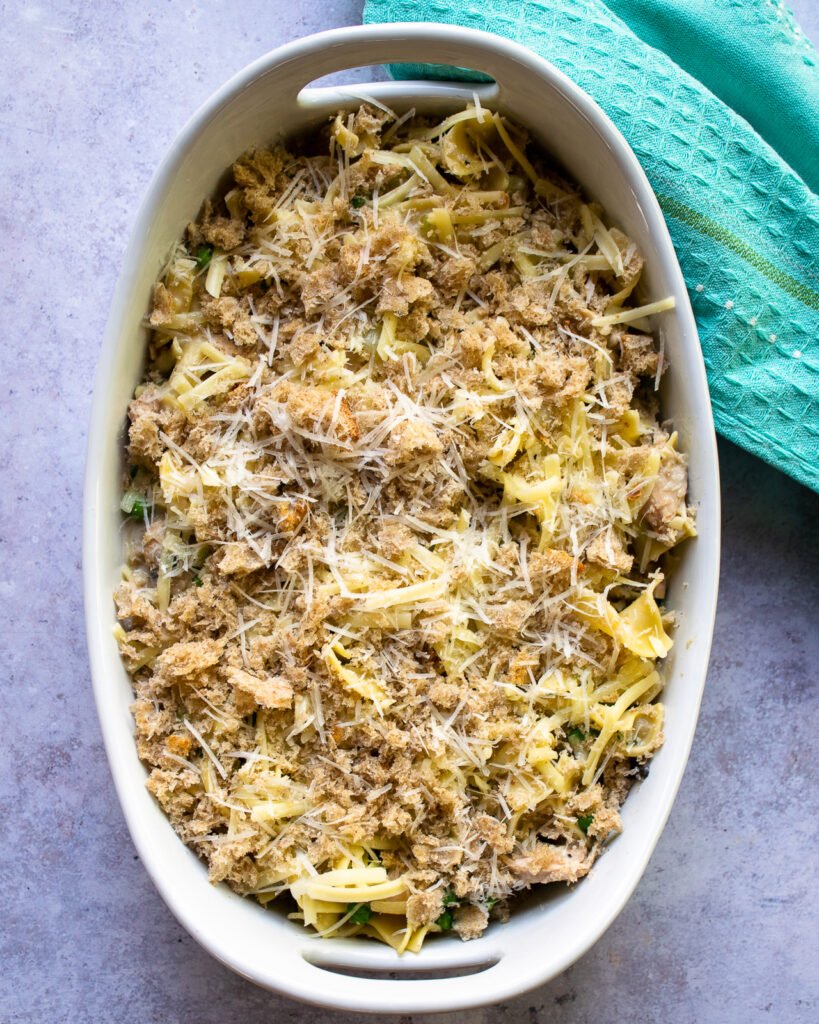 Different Toppings for Tuna Noodle Casserole
This recipe uses homemade fresh breadcrumbs and some Parmesan cheese for a delicious crunchy topping on a layer of Cheddar cheese, but there are other options. If you prefer, you could crumble up some potato chips, your favorite crackers or dried Italian seasoned breadcrumbs and use those instead. This recipe should take you back to the Tuna Noodle Casserole you enjoyed as a kid, so go back to what you used to enjoy on top of this classic.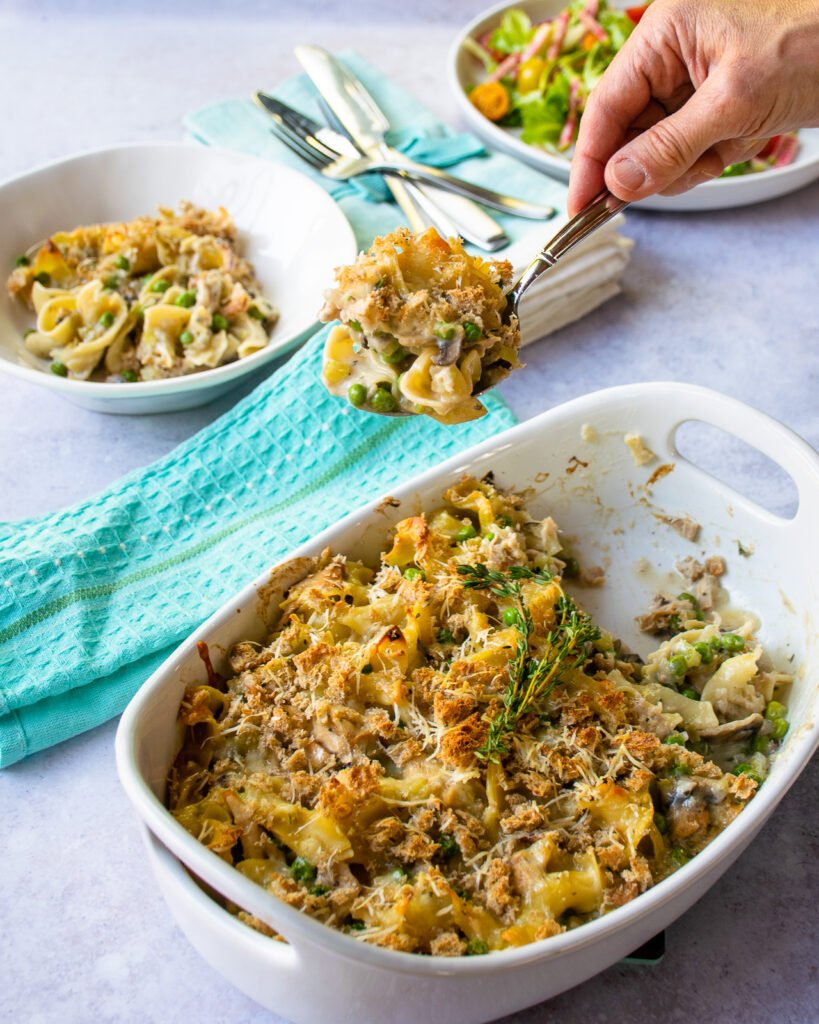 What to Serve with Tuna Noodle Casserole
As a university student, I'm sure I just ate Tuna Noodle Casserole on its own and a lot more of it than I do now. These days, my portion size is quite a bit smaller and I put a green salad on the side. It seems appropriate with this more sophisticated version of the classic recipe, or maybe it just makes me feel more like a grown up – a grown up eating Tuna Pea Wiggle. 😉