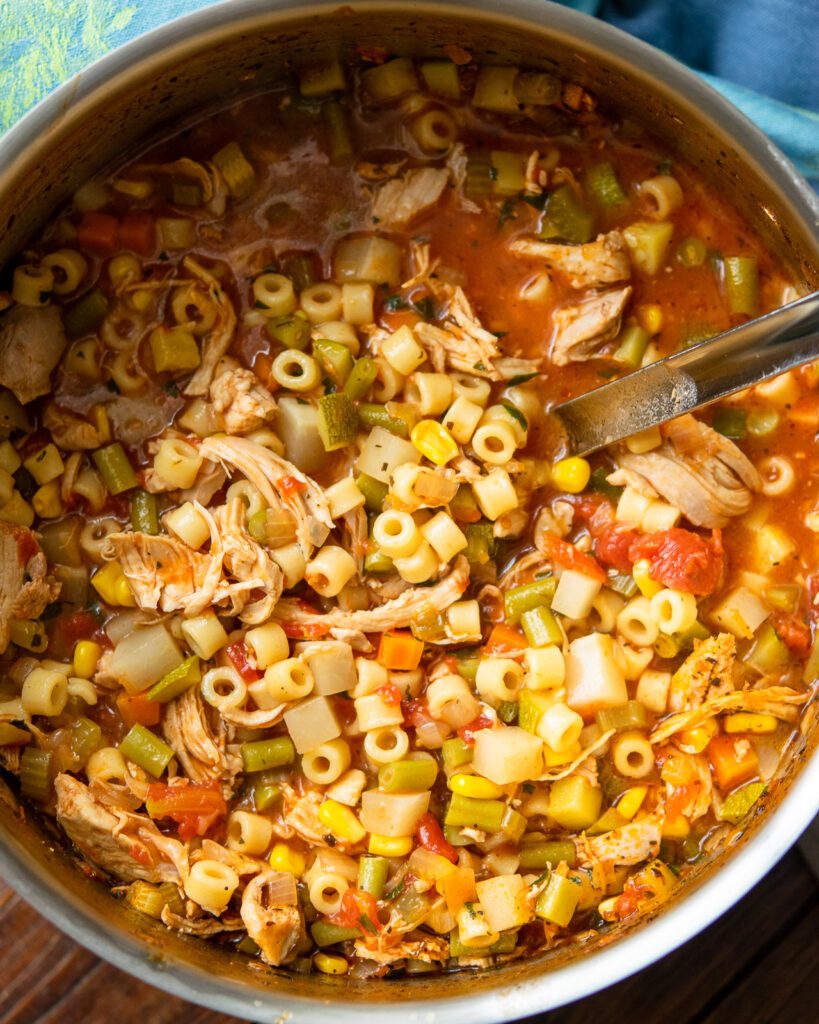 Chicken Vegetable Soup from Scratch
There's something very cathartic about making a soup from scratch. I find this especially true when it's a chunky soup like this Chicken Vegetable Soup. Maybe it's something about seeing every little vegetable that you chopped up, every piece of chicken that you shredded and then tasting the glorious flavor of everything cooked together with tomatoes, herbs and spices. This soup is a hearty meal that lends itself very well to using whatever you have in your refrigerator, so get ready to improvise.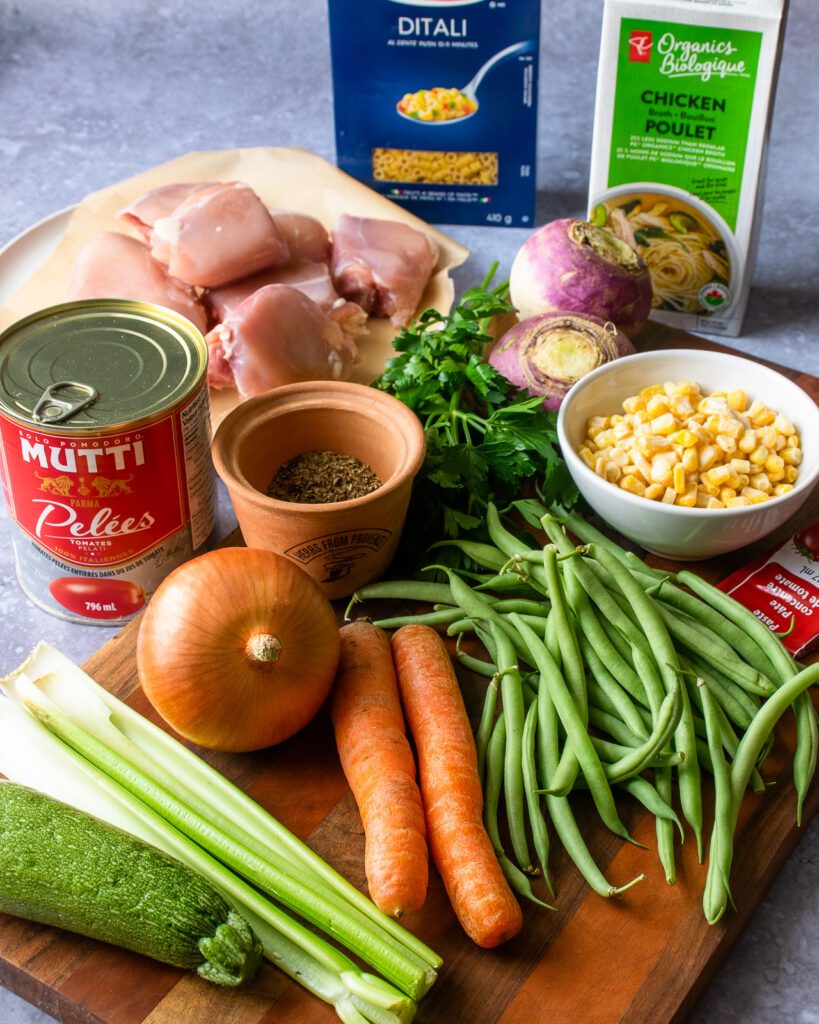 What Vegetables go in Chicken Soup?
Honestly? Any vegetable can go into this Chicken Vegetable Soup. The recipe does add the vegetables in two stages, depending on how quickly they cook, but that's easy to figure out if you're using vegetables other than the ones listed. If the vegetable you are adding is dense like a carrot, add it with the first group of veggies. If, on the other hand, it is more tender and cooks more like a green bean, add it with the second group of veggies. In reality, you can't really go wrong since all the vegetables in this soup will be cooked through – we're not looking for precision cooking here.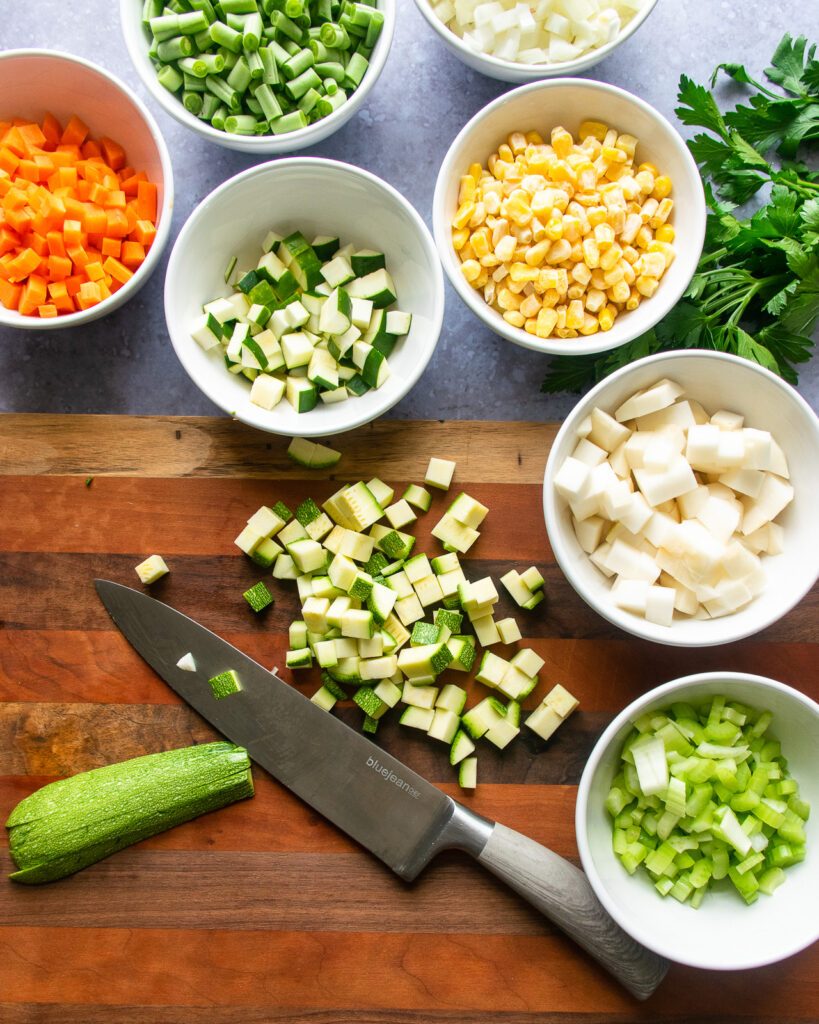 How to Cut Vegetables for Soup
Whenever you're cutting anything for a recipe, you should visualize how you want the food to look at the end AND how the food is to be eaten. Soup is eaten with a spoon, so you want to make sure all the vegetables are easy to eat with a spoon. There are no knives when eating soup, and long dangling vegetables can be messy when eating with a spoon, so cut the vegetables into small chunks. The smaller the chunks the faster they cook and the more uniform the chunks, the more evenly the vegetables will cook. All in all, you want about 8 cups of chopped vegetables for this Chicken Vegetable Soup.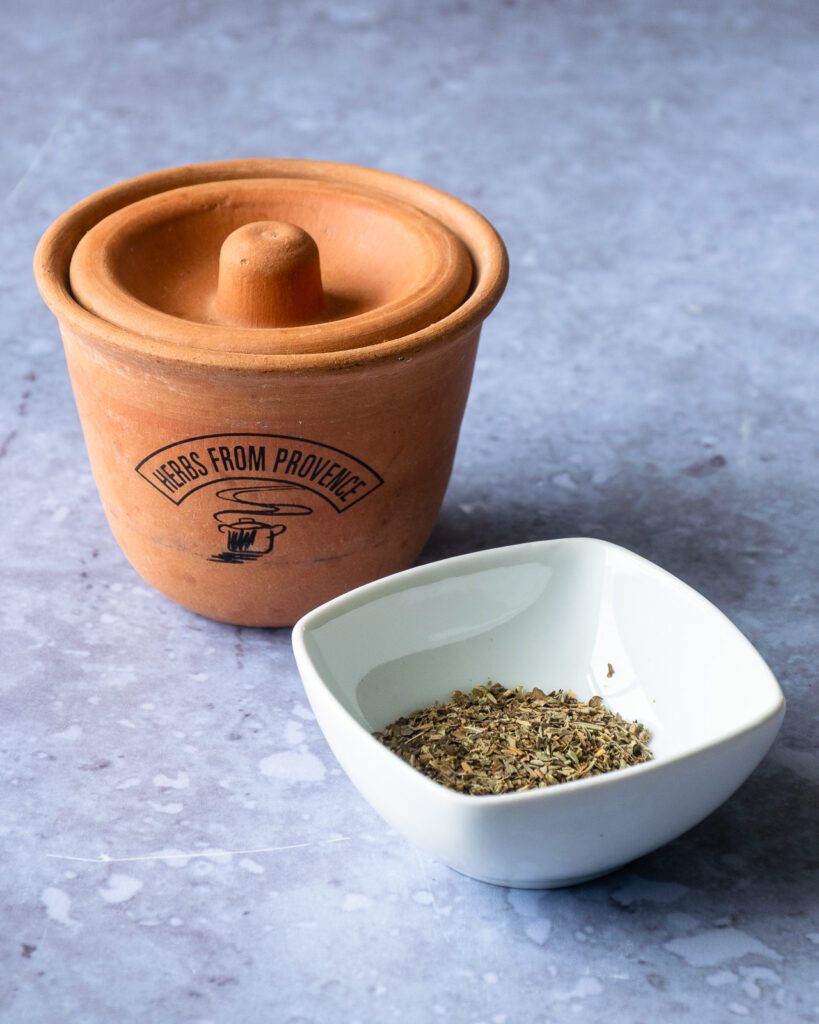 Seasoning Vegetable Soup?
There's also a lot of flexibility when it comes to seasoning this soup. The recipe calls for herbes de Provence, which is a blend of herbs found commonly in Southern France. Generally, this includes parsley, thyme, oregano, rosemary, marjoram and sometimes fennel, lavender and tarragon. So, what to do if you don't have any herbes de Provence? Just add a combination of any of these dried herbs, leaning more on the first in the list and less on the last in the list. Easy.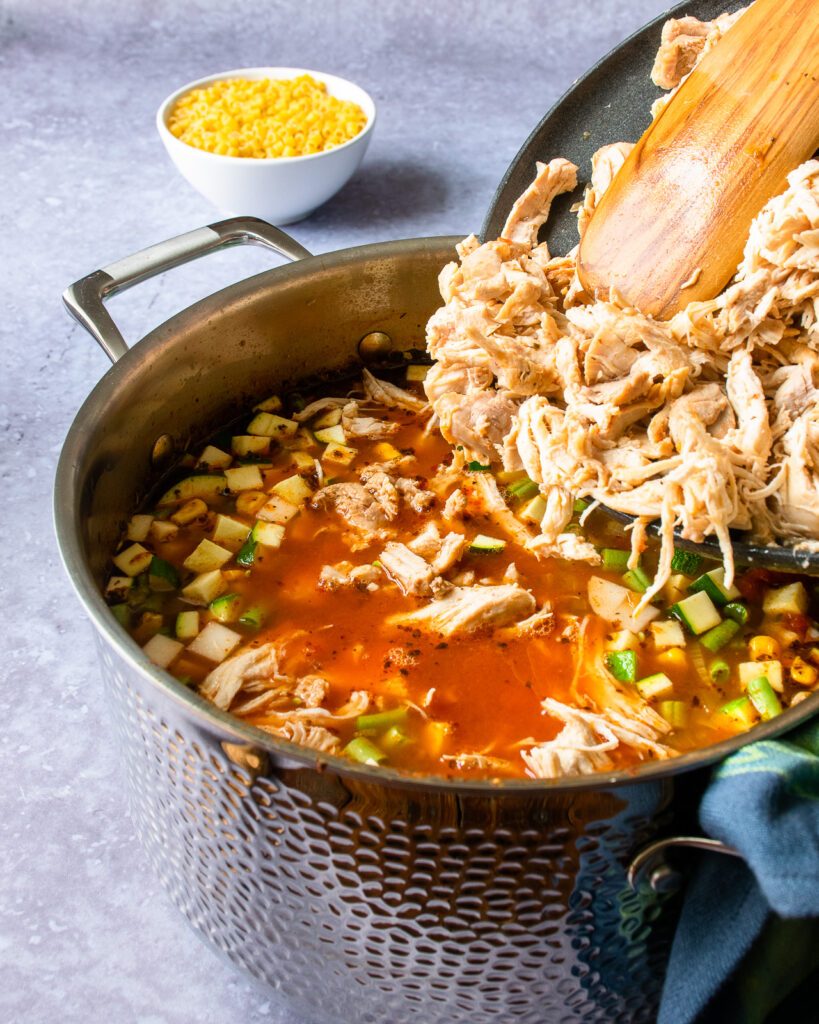 Can you put raw chicken in soup?
This recipe cooks the chicken in large pieces right in the soup and then the chicken is shredded and returned to the pot. If you prefer, you could cube the raw chicken and add it to the soup, but reduce the cooking time a little so you don't dry the chicken out (especially if you're using chicken breast). You could also add leftover cooked chicken to this soup, adding it along with the pasta closer to the end.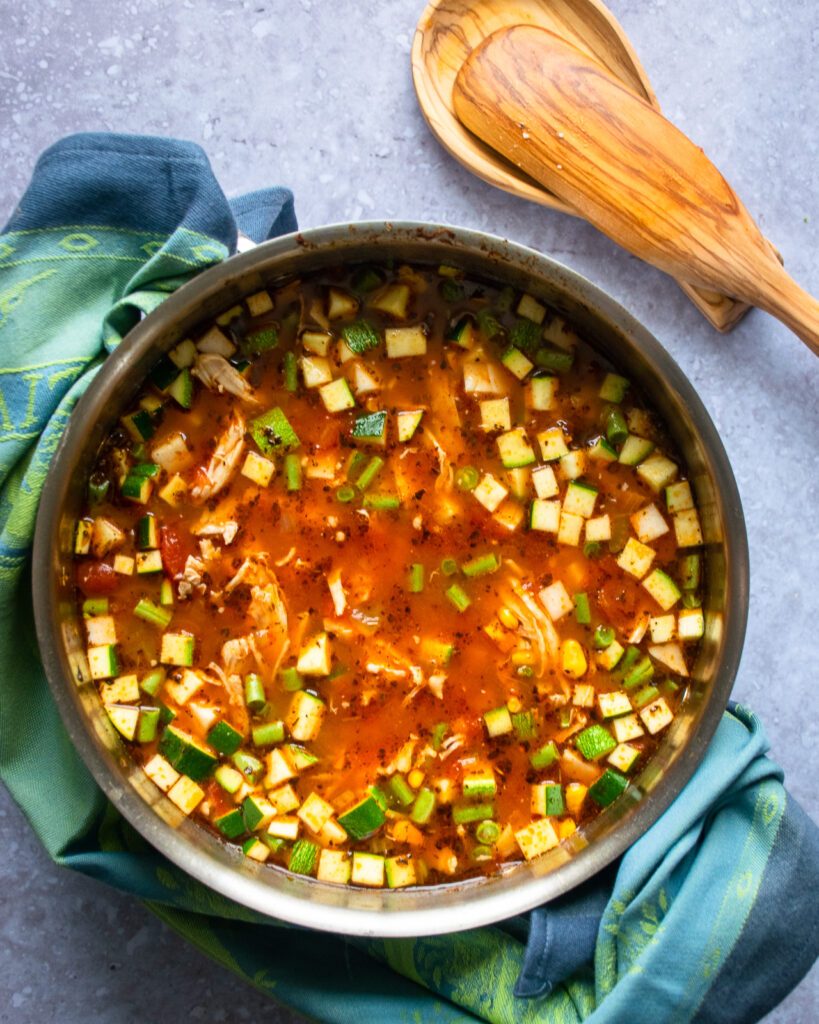 Chicken stock for chicken vegetable soup?
When it comes to using stock for soups, I always think about what I want the dominant flavor of the soup to be. As a result, when making vegetable soups, I often opt for water over chicken or vegetable stock because I want the flavor of the vegetable in the title to be the dominant flavor. (Vegetable stocks are so varied and can have a very strong flavor of their own.) With this Chicken Vegetable Soup, I want chicken to really be the star, so I use chicken stock. If you'd prefer this soup to have vegetables as the flavor star over chicken, use vegetable stock or a combination of both. Feel free to use part water if you don't have quite enough stock.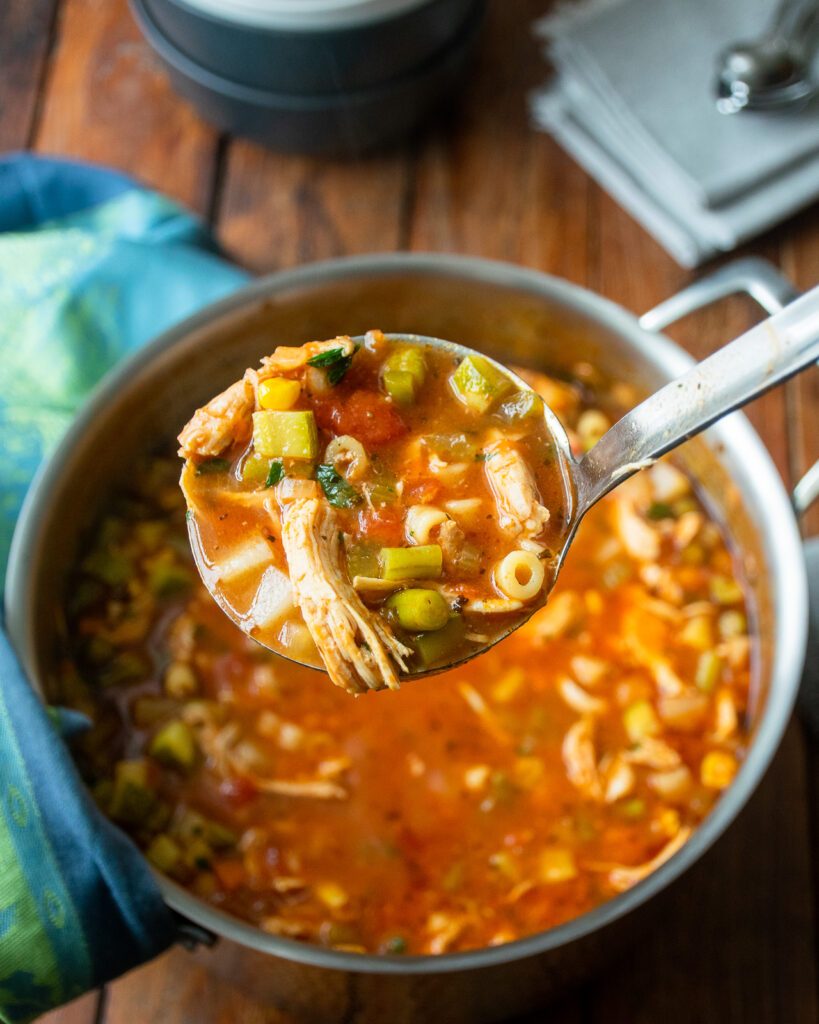 What to serve with chicken soup?
This soup is so hearty that you really need very little else to go alongside. I like it with a piece of sourdough or no knead bread and a simple green salad. You could serve this for lunch or for dinner, depending on your appetite, and you'll get at least 8 if not 10 servings out of the recipe.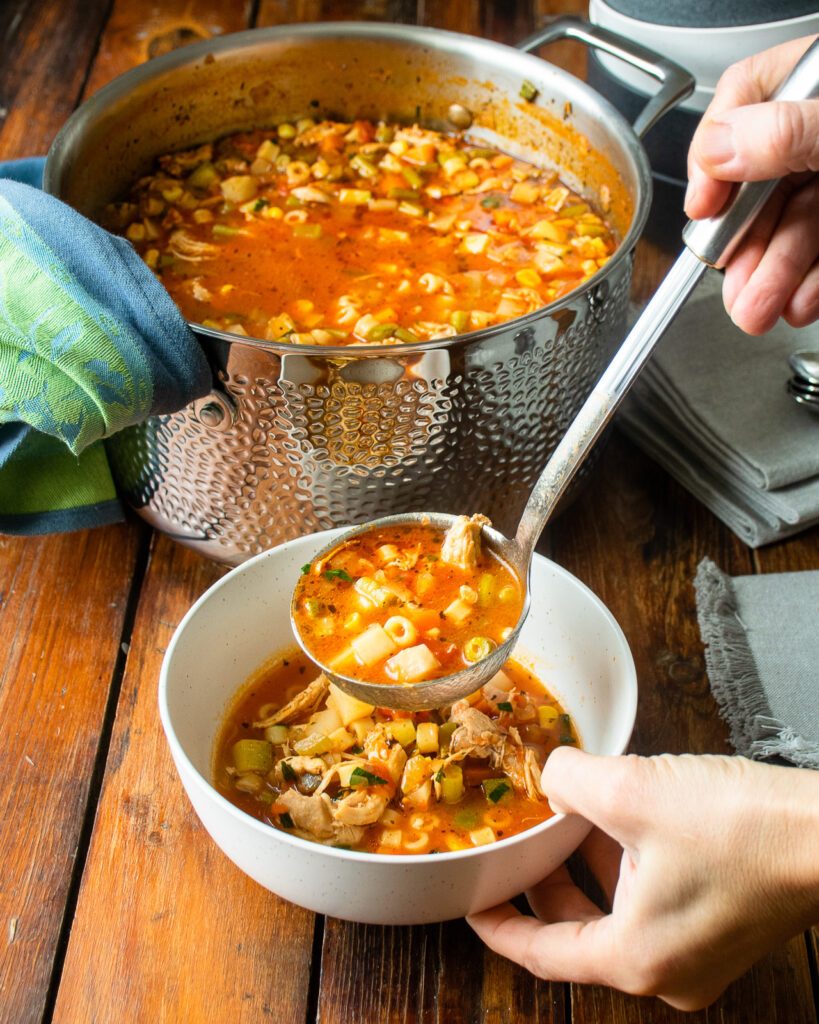 Can you freeze Chicken Soup?
Should you have leftovers, you can freeze chicken vegetable soup and keep it for several months in your freezer. Just make sure to leave a little room in the container for the soup to expand in the freezer and know that you might want to dilute the soup when you re-heat it because the pasta does continue to absorb liquid. With some of this soup in the freezer, a hearty and nutritious meal is only 10 minutes away!