Two things in life are true. First thing – I always want to eat good food. Second thing – I don't always want to spend all my time cooking. That's why this chicken pot pie soup recipe is perfect – it's delicious and feels like down home good comfort food, BUT since it cooks in your slow cooker or Crock-Pot®, it's very low on effort. I love that. 
Easy Crock-Pot® Chicken Pot Pie Soup
I haven't really met anyone who doesn't love chicken pot pie, but when you plan to make it from scratch, you're signing up for a few hours of kitchen work – making the base, making the pastry, rolling the pastry, baking everything together, etc… This chicken pot pie soup, on the other hand, really doesn't take that much of your time. The first thing to do (and an important tip for slow cooking) is to pre-heat your slow cooker. No, you don't have to do this, but it really does help your slow cooker and gives it a head start. You do, after all, have to cut up some vegetables, measure out some spices and season the chicken, so just turn it on first and you'll be ready to go.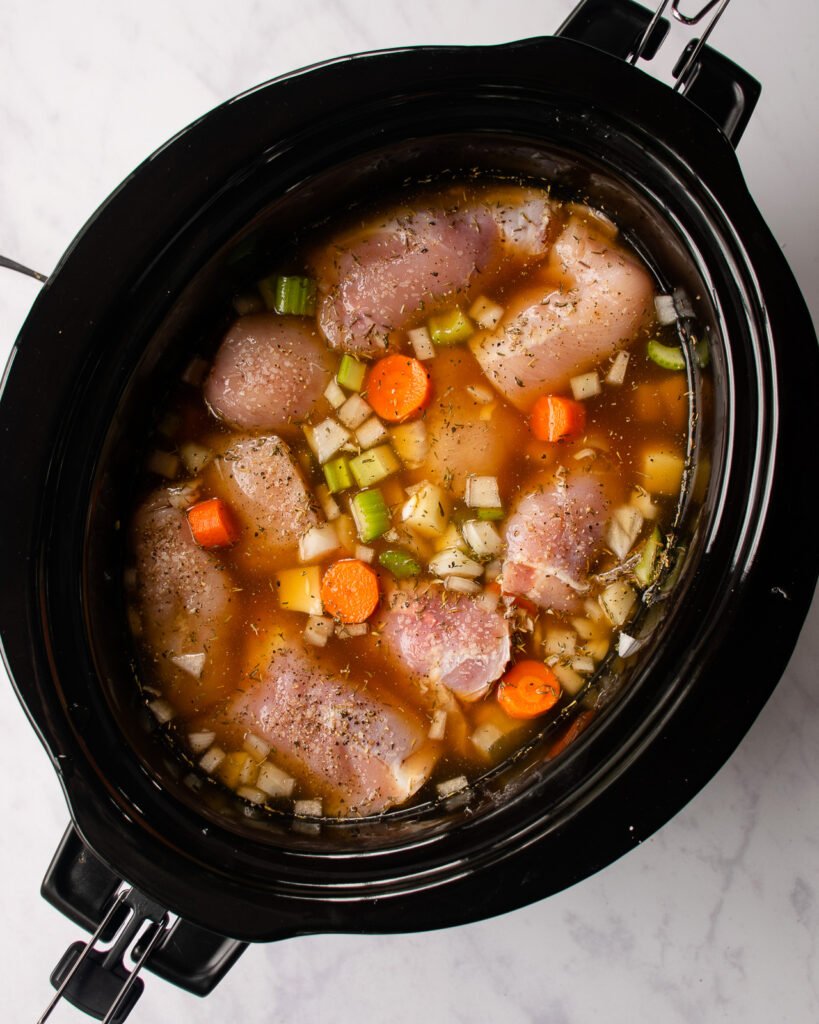 Then, all you really do is put all the ingredients into the slow cooker, cover it with the lid and let it go. Cook on HIGH for 3 hours or LOW for 6 hours. That gives you plenty of time to do whatever it is you do – read, work, work out, go for a walk, peel grapes, you name it! Somewhere in that time, however, you could (did I say "could"? I meant "should") do the next step which sincerely takes this soup from good to great. You should make the mini buttermilk biscuit croutons.