Two things in life are true. First thing – I always want to eat good food. Second thing – I don't always want to spend all my time cooking. That's why this chicken pot pie soup recipe is perfect – it's delicious and feels like down home good comfort food, BUT since it cooks in your slow cooker or Crock-Pot®, it's very low on effort. I love that. 
Easy Crock-Pot® Chicken Pot Pie Soup
I haven't really met anyone who doesn't love chicken pot pie, but when you plan to make it from scratch, you're signing up for a few hours of kitchen work – making the base, making the pastry, rolling the pastry, baking everything together, etc… This chicken pot pie soup, on the other hand, really doesn't take that much of your time. The first thing to do (and an important tip for slow cooking) is to pre-heat your slow cooker. No, you don't have to do this, but it really does help your slow cooker and gives it a head start. You do, after all, have to cut up some vegetables, measure out some spices and season the chicken, so just turn it on first and you'll be ready to go.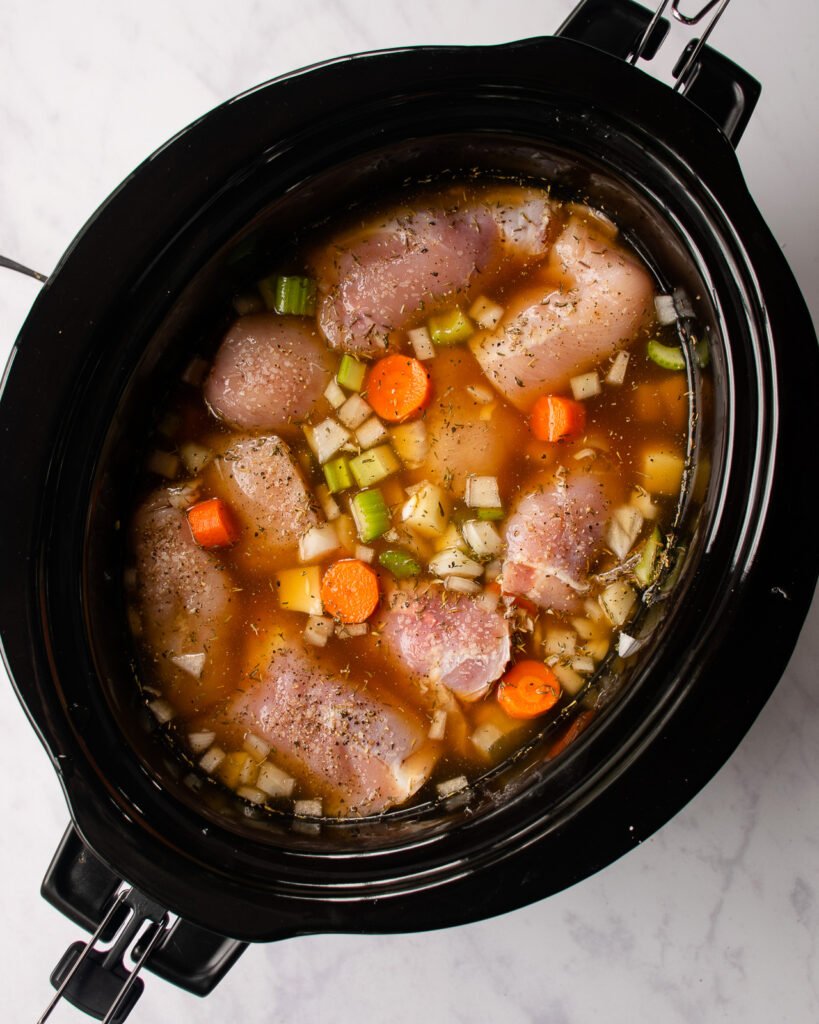 Then, all you really do is put all the ingredients into the slow cooker, cover it with the lid and let it go. Cook on HIGH for 3 hours or LOW for 6 hours. That gives you plenty of time to do whatever it is you do – read, work, work out, go for a walk, peel grapes, you name it! Somewhere in that time, however, you could (did I say "could"? I meant "should") do the next step which sincerely takes this soup from good to great. You should make the mini buttermilk biscuit croutons.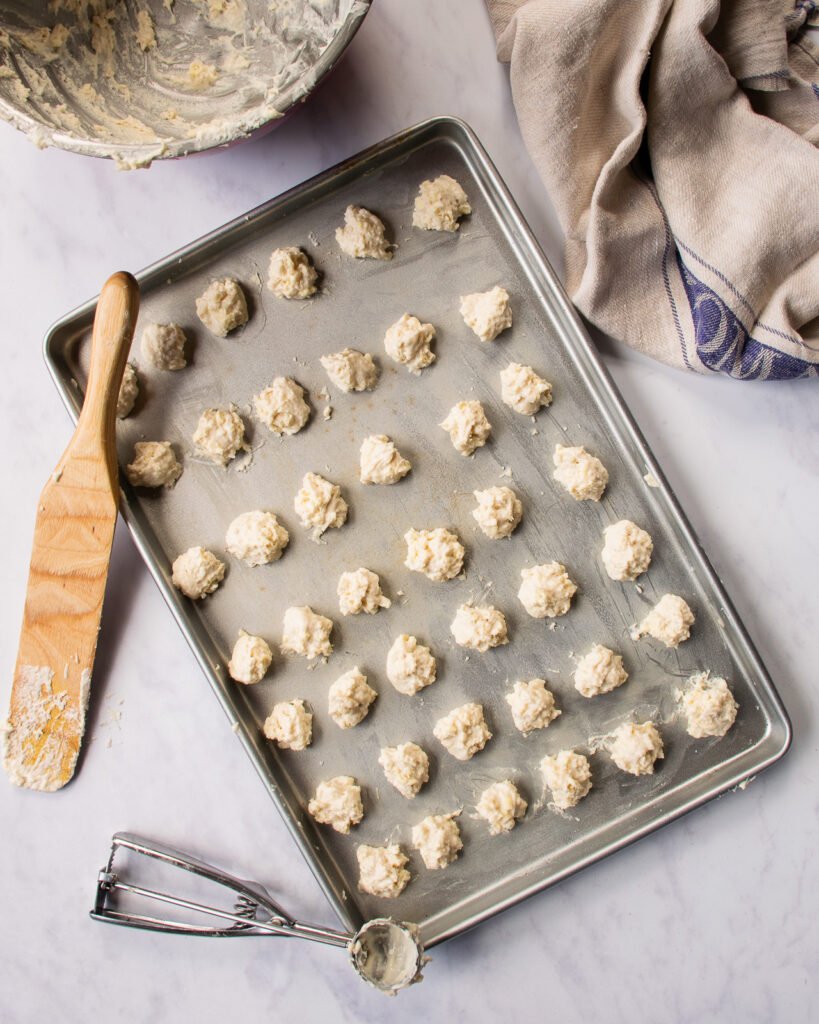 How to Make Buttermilk Biscuit Croutons 
These little delicious croutons are made with the same buttermilk biscuit dough that you'll find in my regular buttermilk biscuit recipe. If you've tried and loved those, you'll flip over these croutons. It's the same dough, but scooped into little balls about the size of a large tablespoon. Using a mini ice cream scoop will help you make all the croutons the same size, but you can also use two spoons and have a variety of sized croutons. The only difference between these croutons and my buttermilk biscuits is that there's no need to toss the little portions of dough in flour before baking, and you bake them separated on a baking sheet instead of pressed up together in a cake pan. You can make these little croutons ahead of time, but I recommend waiting until the soup has cooked for the first three hours. Then, you can bake them while you finish the soup and the finished croutons will be nice and warm. 
Crock-Pot® Pulled Chicken
Once the biscuit croutons are baking, it's time to shred the chicken. Now, of course, we are going to put this chicken back into the soup, BUT.. if you happened to have cooked a few extra pieces of chicken, it would make perfect pulled chicken for tacos or a sandwich with some BBQ sauce. Just letting you know…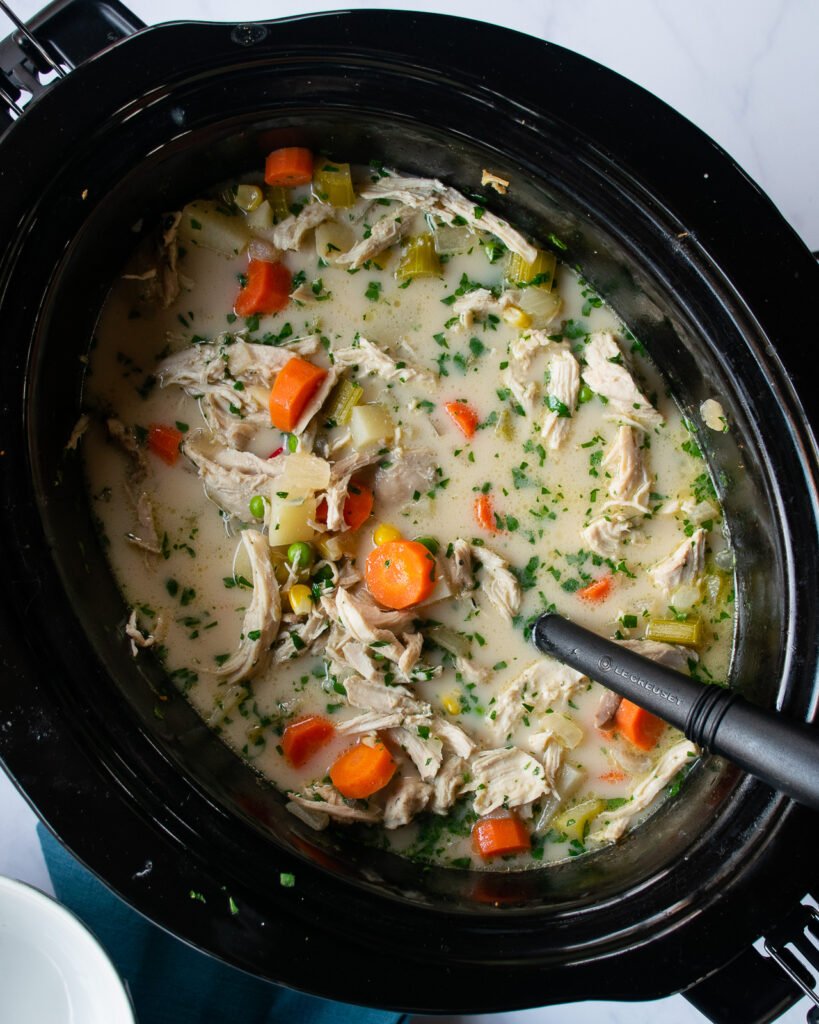 The last 30 to 60 minutes of slow cooking time is really to let the vegetables (peas and corn) warm through. Running them under warm water first does speed up the process and helps to not cool the soup down when you add them. If you have longer than 60 minutes before dinner, no problem! Just let the cooker sit on the warm setting until you are ready.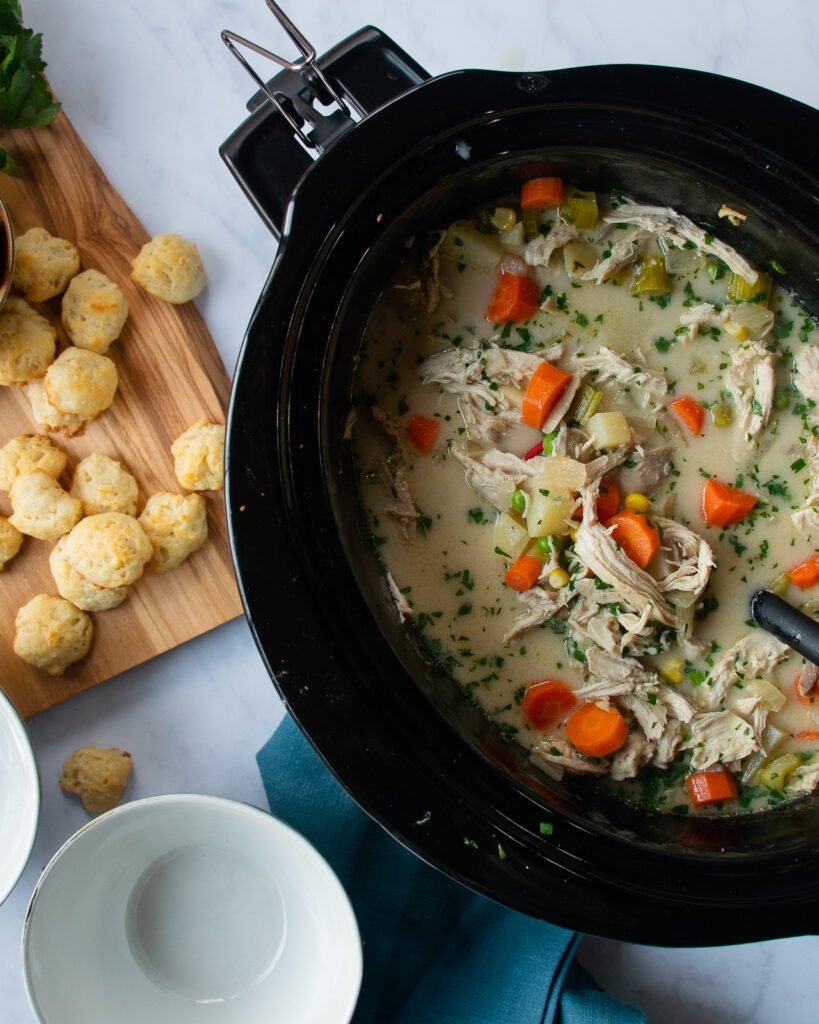 Best Chicken Pot Pie Soup
The next step is my favorite – taste and season the soup with salt and pepper and then serve it up in bowls. Drop the little biscuit croutons on top and serve. It's a recipe like this slow cooker chicken pot pie soup that reminds me that life is good – you CAN eat delicious meals without having spent all your time cooking.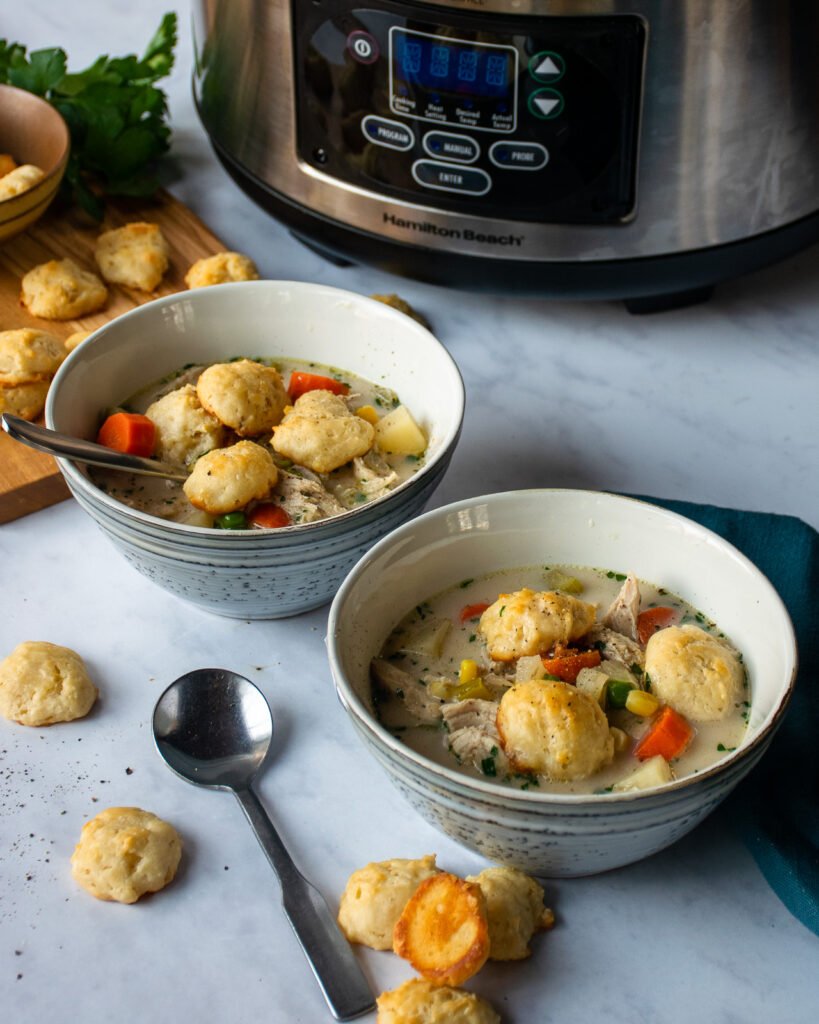 How to Make Chicken Pot Pie Soup in your Instant Pot® 
This recipe is an easy conversion to your pressure cooker. Simply start by sautéing the onion, carrots and celery for 5 minutes using the BROWN/SAUTE setting. Then, add the potatoes, spices, chicken stock and chicken pieces and lock the lid in place. Pressure cook on HIGH for 5 minutes and then let the pressure release NATURALLY for 10 minutes. Release any residual pressure from the cooker and remove the chicken to a resting plate or cutting board. Now's the time to bake the buttermilk biscuit croutons, so get those into the oven. Shred the chicken into pieces with two forks and add the chicken back into the pressure cooker, along with the peas and corn and heavy cream. Stir in the parsley and season to taste with salt and freshly ground black pepper.