When you're out for Chinese food, everyone loves an egg roll. Egg rolls are not, however, something that you often see at a cocktail party passed around as hors d'oeuvres. That all changes with this recipe for chicken egg roll wonton cups. In this recipe, you make the filling for chicken egg rolls, but instead of rolling them up and deep-frying them, you bake wonton wrappers into the shape of a cup (with the help of a mini muffin tin) and spoon a little of the filling with a dollop of traditional duck sauce into each cup. Et voilà, you've suddenly made egg rolls more accessible.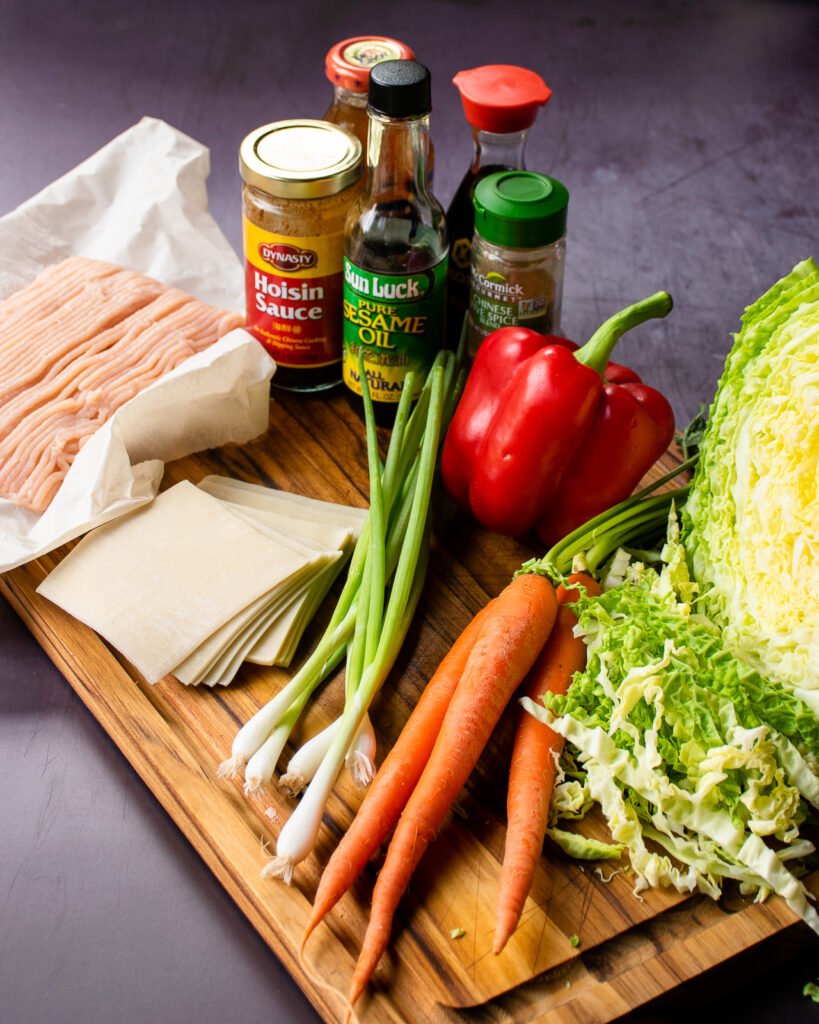 How to Make Egg Roll Filling
You do have options when you're making the egg roll filling. This recipe uses chicken, but you could substitute ground pork or go meat-less and keep it all vegetables. You can also use the Savoy cabbage called for here, or use regular white cabbage – whatever you can find. There are, however, some Asian ingredients that you will need to hunt for. Hoisin sauce, soy sauce, sesame oil and duck sauce should all be readily available in the ethnic section of your grocery store and wonton wrappers can be found either frozen or in the refrigerated area near the produce section where you'll also find things like refrigerated dressings, kimchi and prepared cold foods.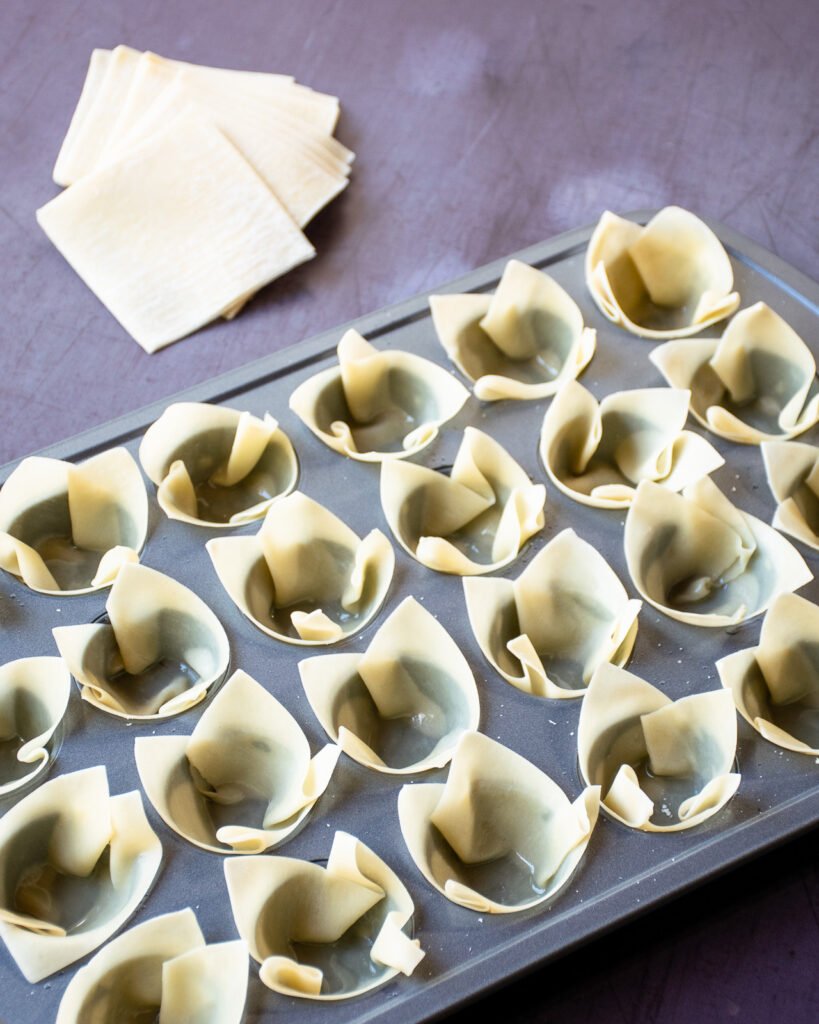 How to Make Baked Wonton Cups
The wonton wrappers are baked into the shape of a cup using a mini muffin pan and spritzing with oil. They only take about 10 minutes to crisp up and brown and you can do this in advance, storing them in an air-tight container if necessary (if you're making them a day or two ahead of time).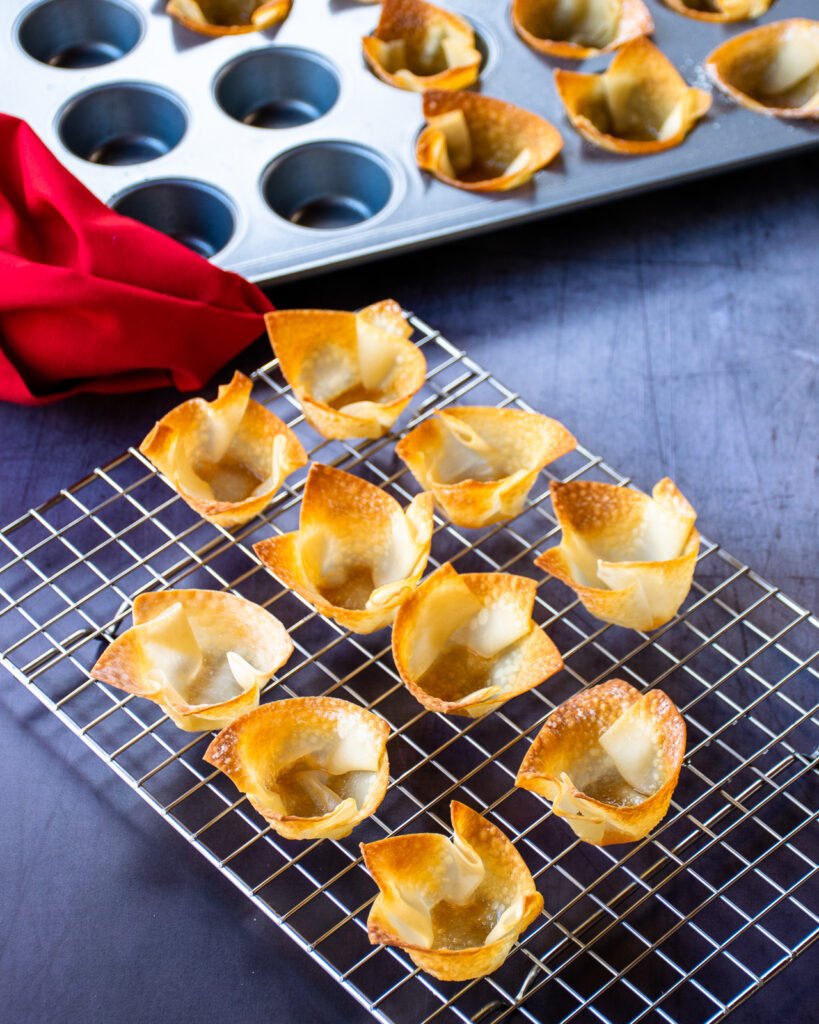 Filling Baked Wonton Cups
Once the wonton cups have cooled they should be crisp and able to stand up on their own. If they are not crisp, pop them back into the oven for a minute or two. Then, you just have to make the filling, which also comes together very easily – you are basically just sautéing ground chicken, adding the vegetables for a couple of minutes and then seasoning with the Asian ingredients. The best part is you can also do this part of the recipe ahead of time, keeping it warm if you're planning on serving the egg roll wonton cups in an hour or so, or refrigerating the filling and heating it up just before you're ready to serve.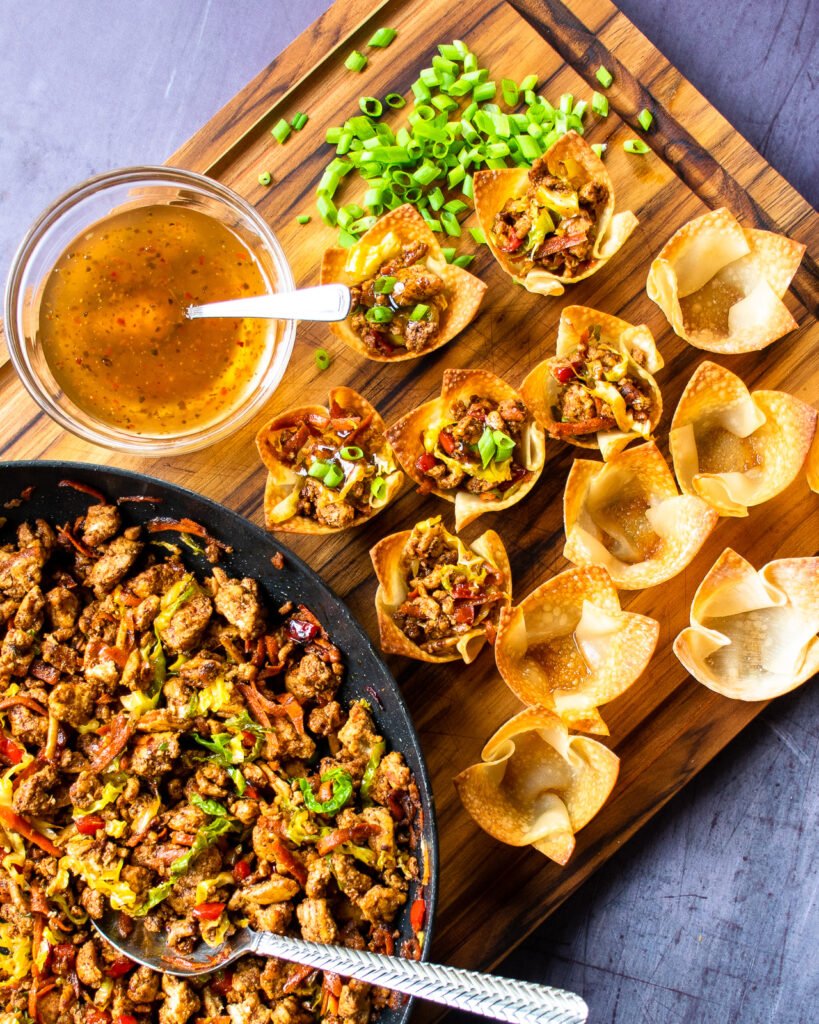 Making Ahead
If you really want to be prepared for your guests, you can actually go ahead and fill the chicken egg roll wonton cups with the filling up to an hour before your guests arrive, keep them on a baking sheet and pop the entire sheet into a 350ºF oven for 5 to 7 minutes. All you'll have left to do is dollop a little duck sauce on top and garnish with a few scallions. Then, just watch them disappear.  Once you make this filling for a party, you might just want to make it again. Serve the chicken egg roll filling in a bowl, and make some air fried or baked wonton chips to go with it.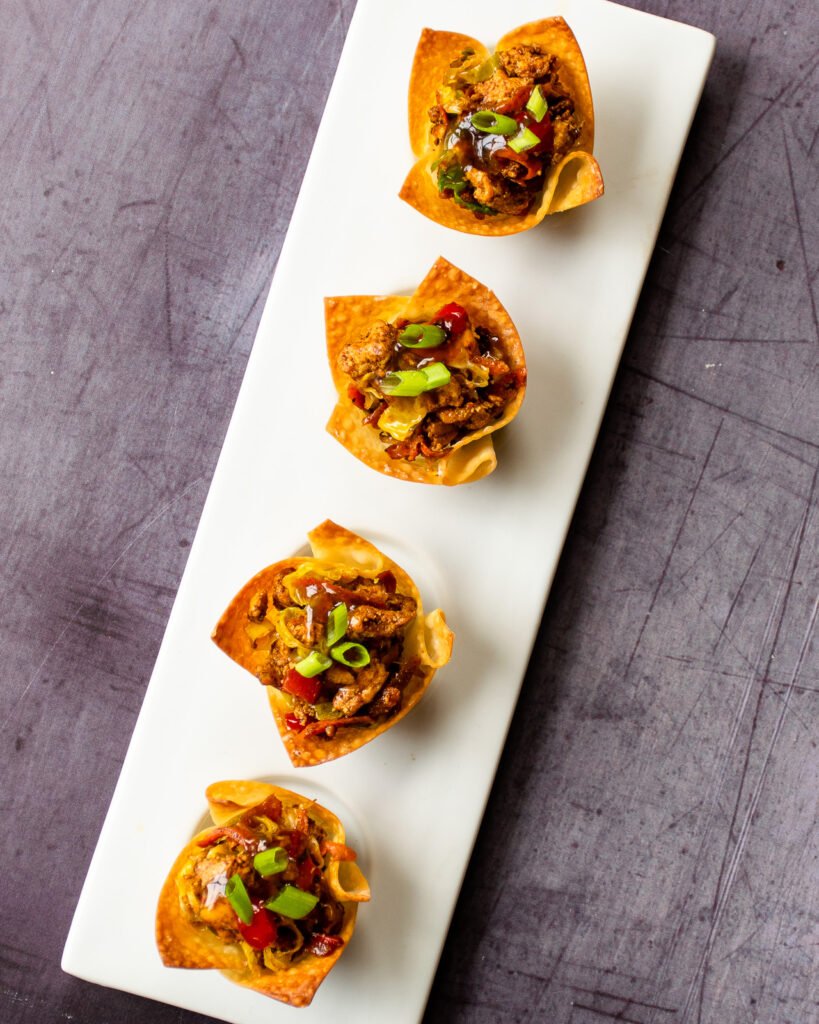 What to Serve with Chicken Egg Roll Wonton Cups
If you want to stick with a fun Asian theme to your party, a nice warm Crab Rangoon Dip with Wonton Chips would be the perfect dip to serve with this appetizer. Not to mention a great use for any leftover wonton wrappers. Impress your guests even more with some easy main dish entrees and serve, Kung Pao Chicken, Sesame Noodles, Sweet and Sour Pork, or Drunken Noodles. Everyone will think you ordered in! Once you make this filling for a party, you might just want to make it again. Try a Chicken Egg Roll Bowl and serve it with air fried or baked wonton chips for a great dinner any night of the week.