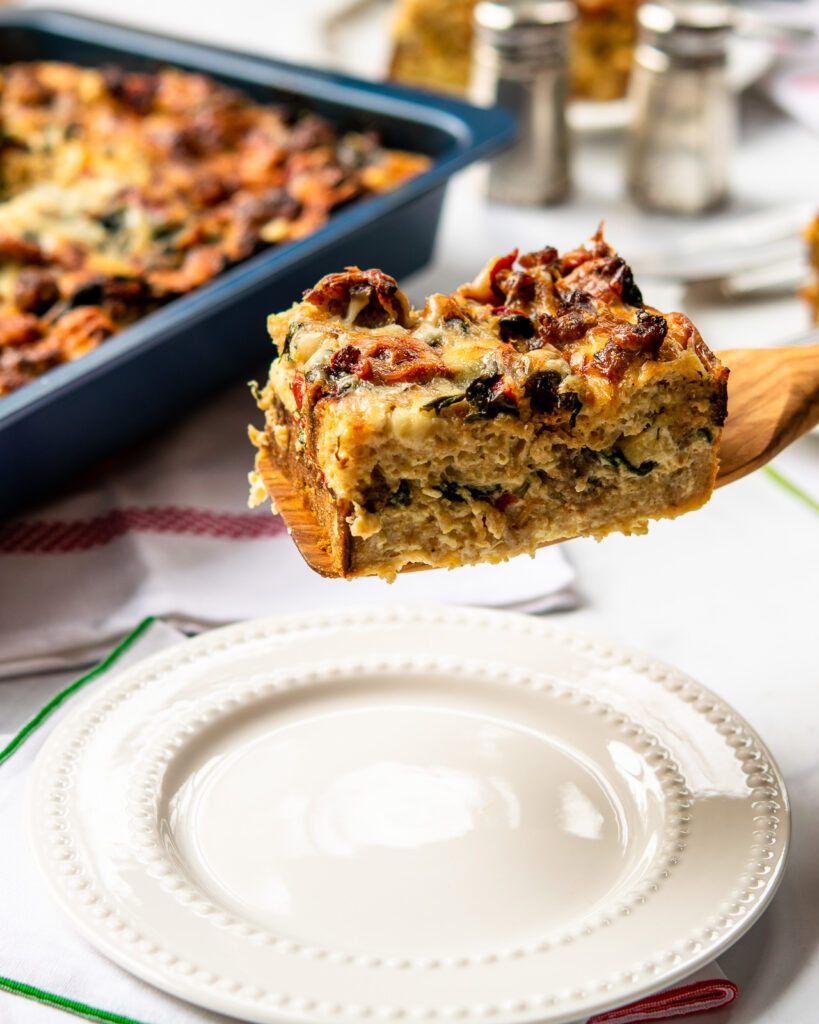 What is a Breakfast Strata?
A breakfast strata is a layered casserole of bread, eggs and cheese, along with other flavorful ingredients. It's similar to a bread pudding, but a strata generally has a higher egg to liquid ratio, making it a traditional breakfast or brunch dish. A strata does require soaking time before you bake it and that makes it a perfect make ahead breakfast item. You can make it the night before, let it rest in the fridge and then all you have to do is pop it into the oven in the morning.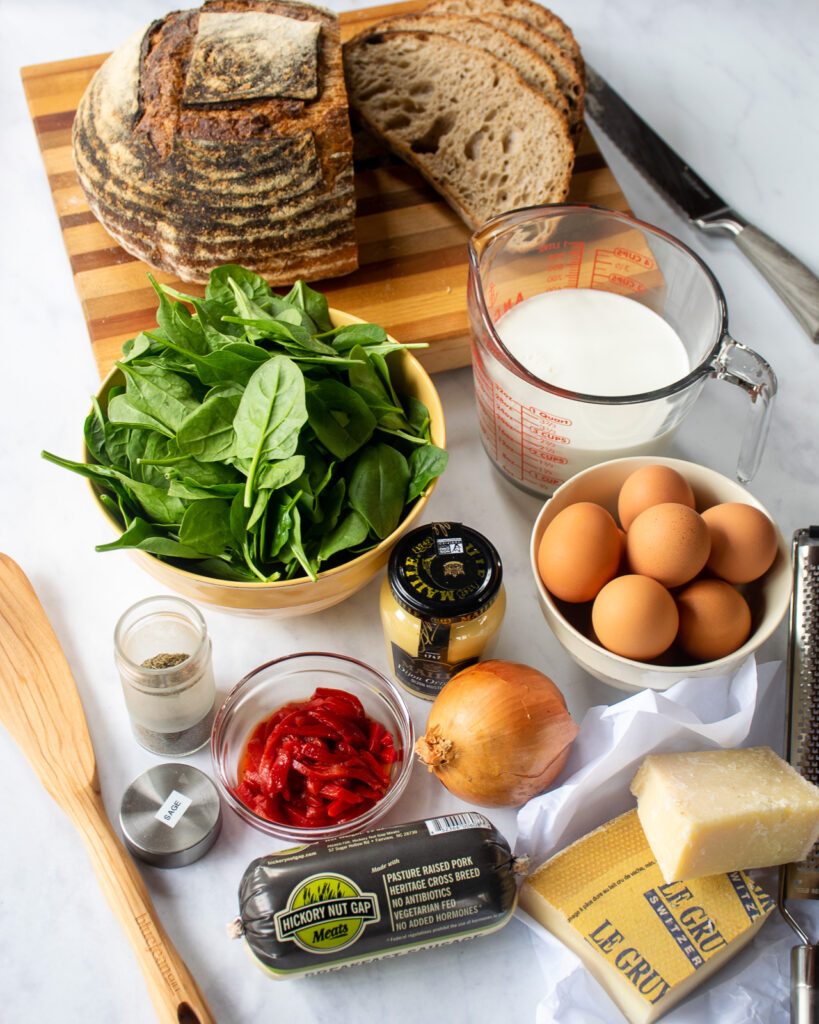 Strata Fillings and Flavors
One of the nice features of a strata is how versatile it is with respect to the ingredients and flavors you put inside. It can be savory, like this breakfast strata with sausage, spinach, roasted red peppers and Gruyère cheese, or you could make a sweet strata with fruit, cinnamon sugar and cream cheese. It's a great way to use up what you have in the refrigerator. You could use the custard with any number of different fillings AND different breads. Here I used a whole wheat sourdough bread, but you could use brioche, Italian bread, baguette, or even cinnamon raisin bread or a Christmas pannetone if you are making a sweet version.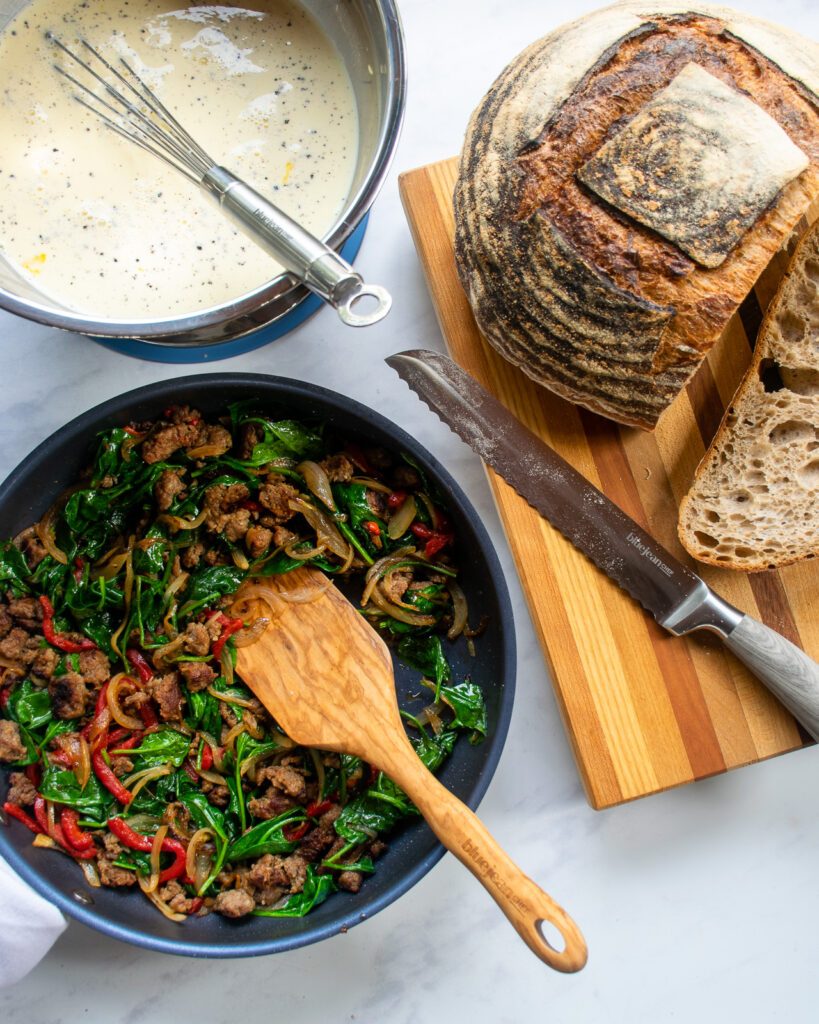 Overnight Breakfast Casserole
The soaking is important to a strata. Letting the bread really soak up the egg and milk custard is what makes the strata creamy inside once it's baked. I never see the soaking time required by this recipe as a negative. To me, soaking the casserole overnight gives this dish a level of convenience, although it does require thinking in advance. But since a strata is a special occasion breakfast, not a seat-of-your-pants breakfast, you've probably planned to have it in advance anyway.
How to Build a Strata
Building a strata is as simple as layering the bread, the filling, the cheese and then pouring the custard on. Do this two or three times and your strata is ready for its rest. The one tip I have for you when building the strata is to spread all the layers as evenly as possible so that the casserole bakes and rises (and eventually falls) evenly. That means you need to make sure your bread reaches into all the corners of the pan. If you're using square bread slices, this is relatively easy. If, however, you are using oval slices as above, make sure to cut some pieces to fill the gaps. If the bread goes all the way into the corners and the other layers are spread evenly over top, every piece is just as good as the others.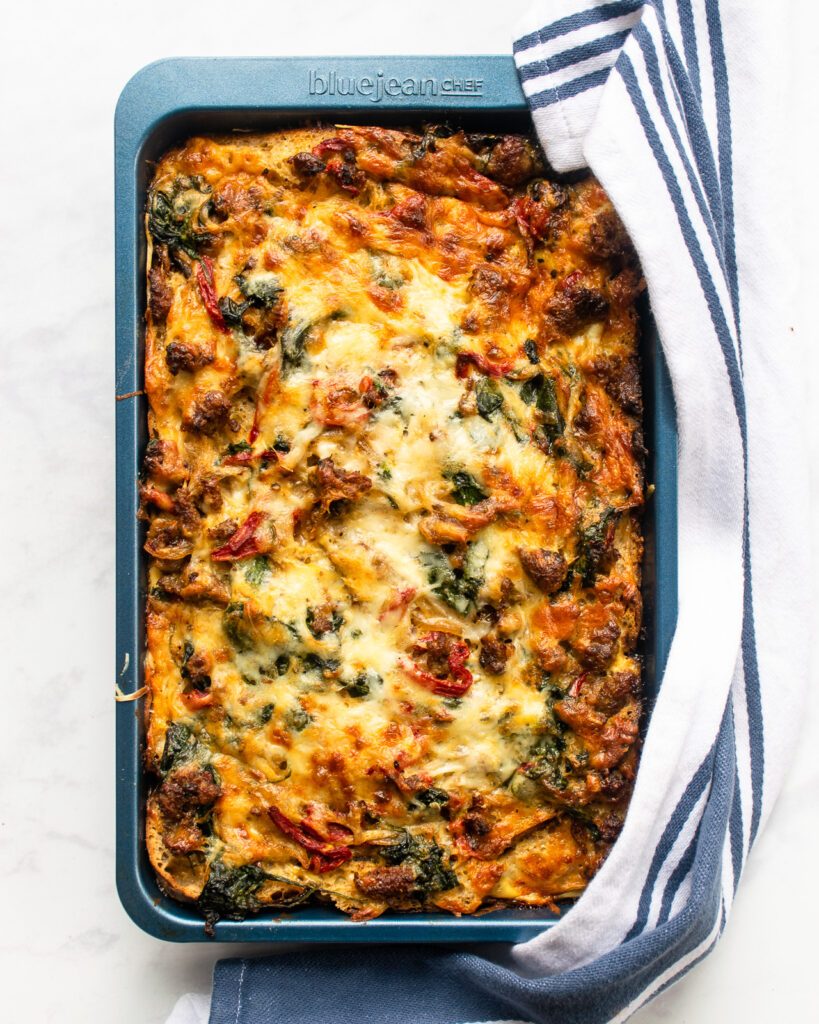 How Long to Soak and How Long to Bake
Soaking the breakfast strata takes at least 6 hours, but a full 12 hours is probably more convenient and gives you a creamier result. Do make sure to leave the strata out on the counter while the oven pre-heats and then bake it for about an hour, covered for part of the time, or a little longer until it has browned nicely on top and the egg has set in the very center. It will be puffy when you take it out of the oven, but it will sink pretty rapidly. Not to worry, it will be just as tasty.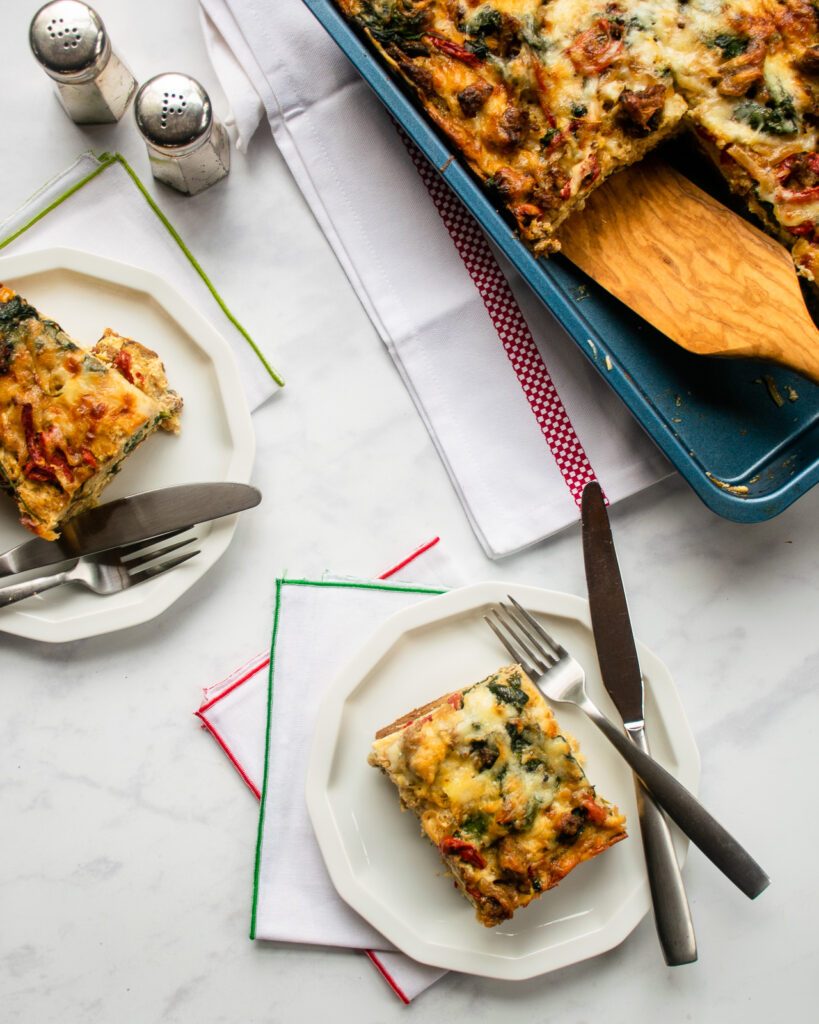 What to Serve with a Breakfast Strata
You can serve the breakfast strata right out of the oven, or you can let it cool to room temperature, making it perfect for those occasions when people come down to breakfast at staggered times. It could be part of a brunch with other offerings like a winter fruit salad, and some ham and Cheddar grits, or you could serve it with some buttermilk biscuits  or a slice of no knead bread and a simple little side salad. Whatever you decide to serve along with the strata can certainly be made while it's in the oven baking. You'll have time on your hands.