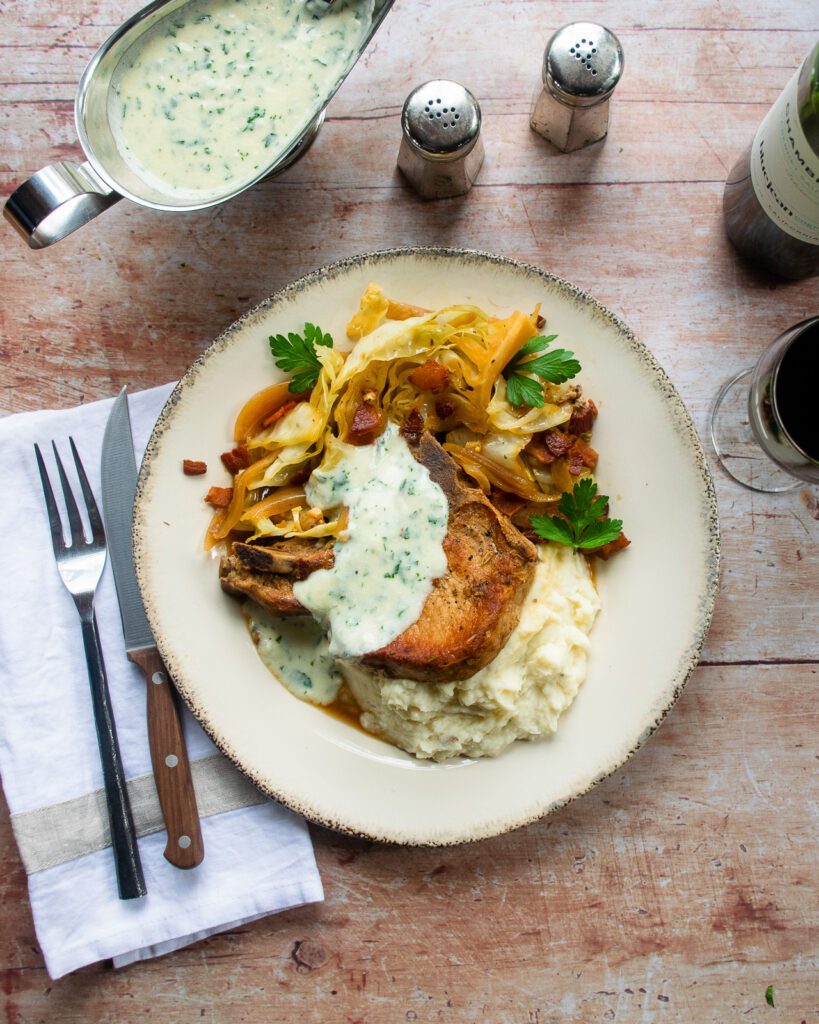 Simple Braised Pork Chops
I hate to pigeon-hole recipes to a specific day of the year, but… if you are looking for a delicious alternative to the traditional corned beef and cabbage for St. Patrick's Day, this recipe is a great option. Braised pork chops with cabbage and bacon is a delicious and comforting meal that can be enjoyed any time of the year, honestly, but it does fit well into mid-winter or early spring, which is what the weather feels like in mid March (at least in Canada it does!).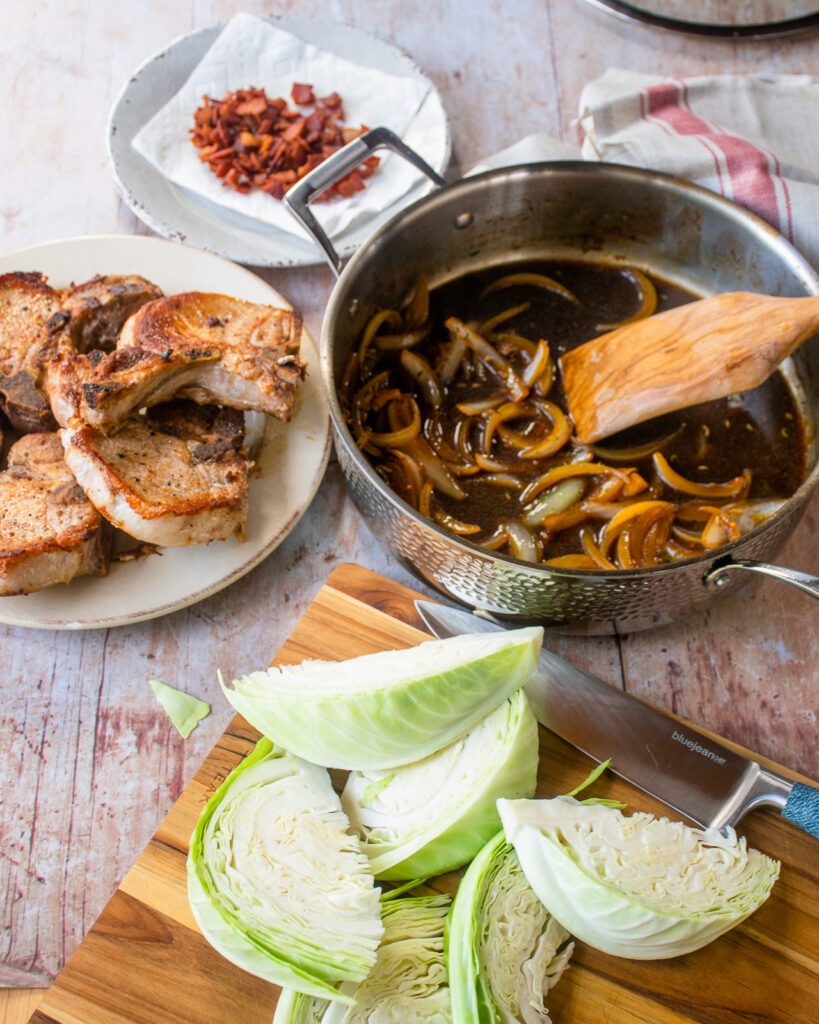 Skillet Braised Chops
Braising pork chops is an excellent way to cook them to perfection, ensuring they remain tender and juicy. The trick is to use the right pan and not to over-cook the chops. I like a straight sided pan for braising because it needs to hold liquid and with straight sides, there's less sloshing around. You'll need a large pan for this recipe in order to get the cabbage wedges in along with 4 good sized pork chops – at least 11 inches in diameter – and you'll also need to use a pan that has a lid to cover the chops while they braise.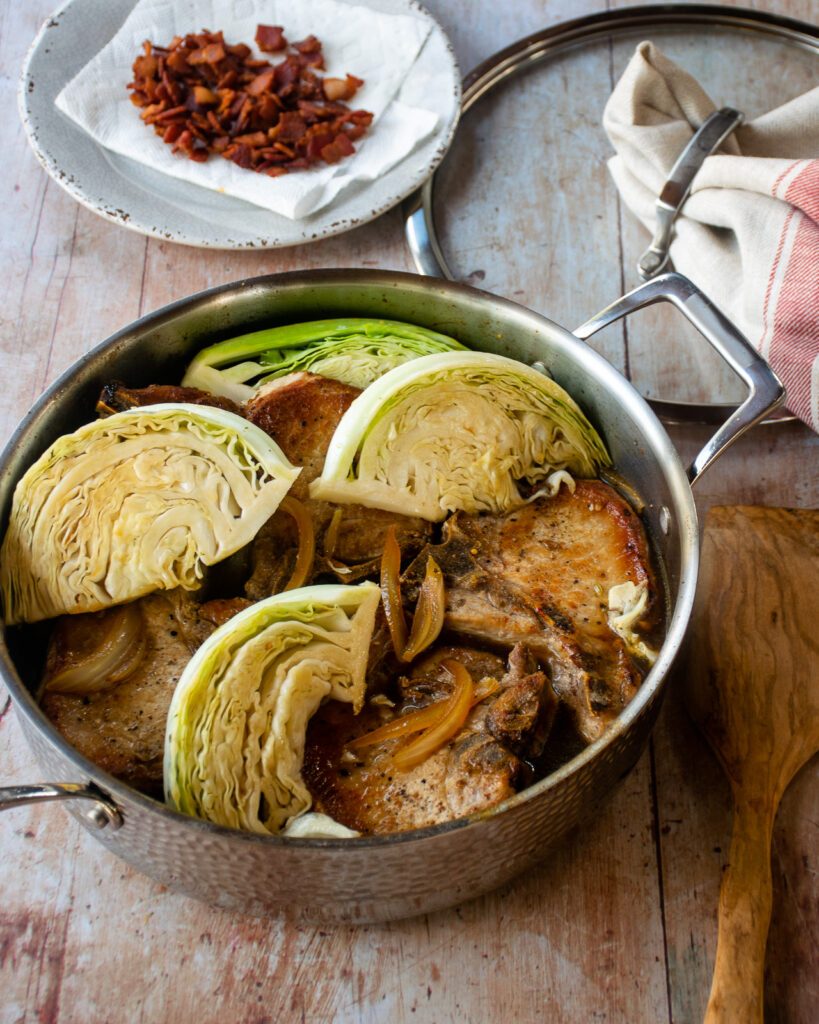 Fitting It All In the Pan
Now, don't get frustrated. It will feel somewhat impossible to get everything into the pan, but you need to keep the faith. The cabbage wedges are firm when you add them to the pan, but they will soften and shrink. Do your best. You can adjust the chops and cabbage part way through the cooking to nestle everything together again, or to turn things over so they share time in the delicious braising liquid.
How Long to Braise Pork Chops
Over-cooking pork chops is not uncommon, so let's talk about that for a while. How long to braise your chops depends on two things: how thick your chops are AND how long you cooked them when you were trying to brown them originally. Use a very hot pan and brown those chops as quickly as possible – you are just looking for a little color. Then, when it comes to time under cover… as a general rule, you should cook pork chops until they reach an internal temperature of 145°F (63°C). This usually takes about 30 minutes when braising pork chops that are about 1-inch thick. If your chops are thinner than that, check them a little sooner. If they are super thick, give them more time.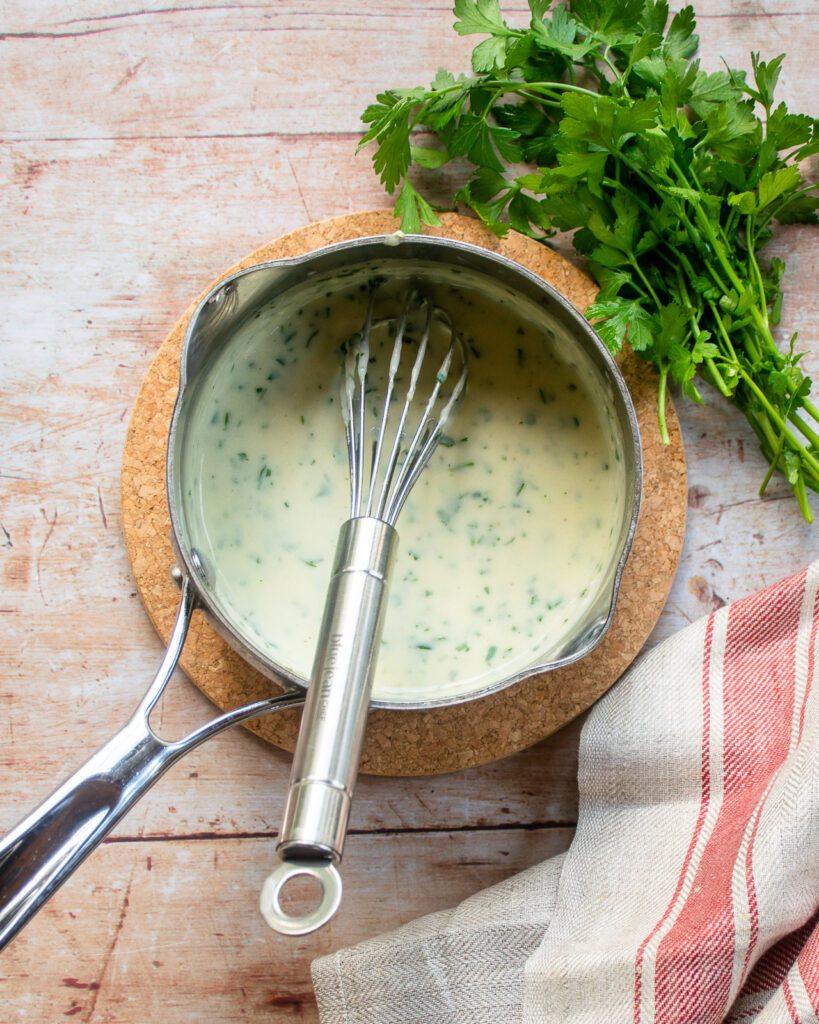 Parsley Sauce
Parsley sauce is a traditional British sauce that is super simple to make. It is basically a béchamel sauce that has a lot of parsley added to it. Traditionally the British serve parsley sauce with pan-fried fish or ham, and in Ireland it is always served with "Bacon and Cabbage" (which is not to be confused with this dish because that bacon is actually made with Irish boiling bacon which is nothing like North American rasher bacon at all… although this dish was inspired by Irish "Bacon and Cabbage" because I love it and long for it).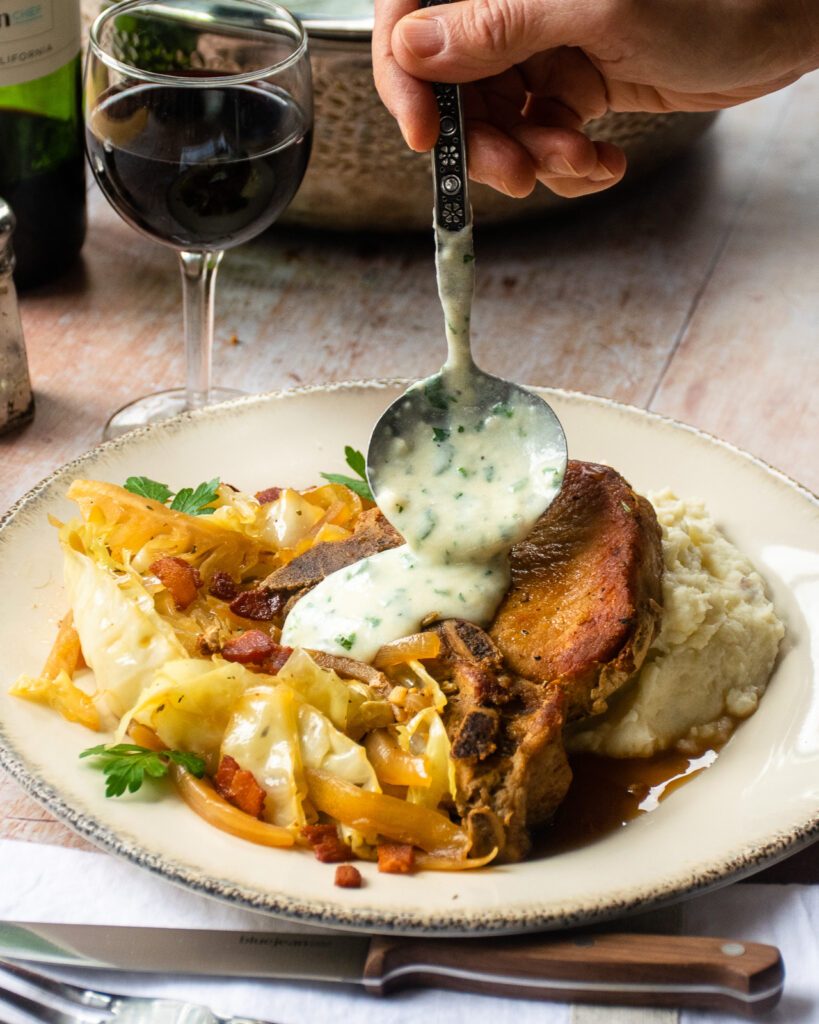 What to Serve with Braised Pork Chops
Braised pork chops go well with a variety of sides but I'm partial to mashed potatoes.  I could, however, be convinced to serve it over rice or with some crusty bread on the side to soak up all the delicious sauce.