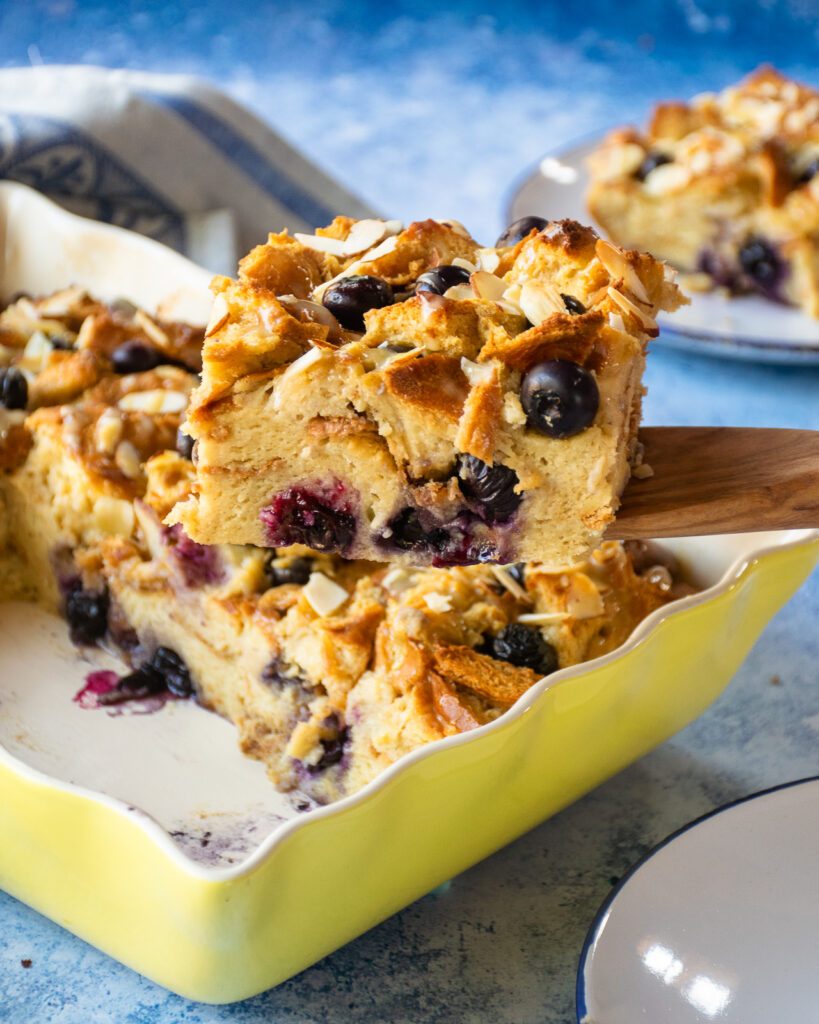 Easy Bread Pudding
One of the best things about this blueberry bread pudding is that it's incredibly easy to make. You don't need any special equipment, just a few simple ingredients, a baking dish and an oven. The key is to use stale bread, as it absorbs the custard mixture better than fresh bread, but it's not critical. You can also use any type of bread, but brioche or challah bread are particularly good for bread pudding.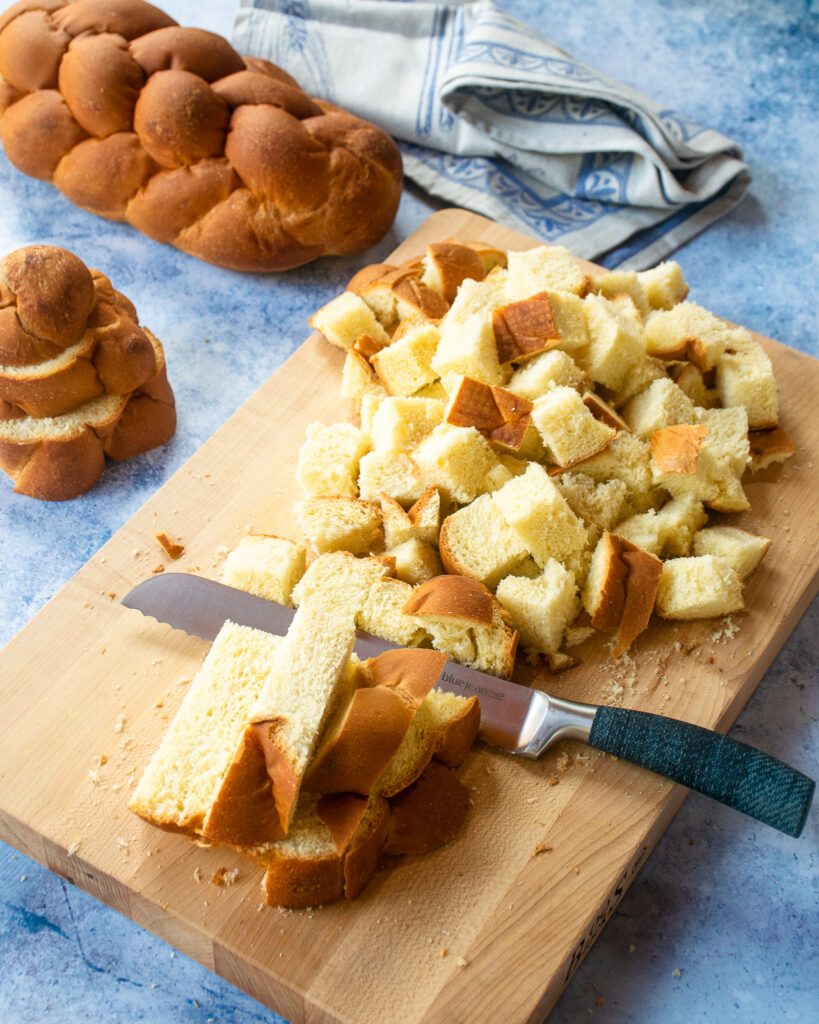 Brioche or Challah Bread Pudding
Brioche or challah bread are both types of rich, buttery bread that make for a decadent bread pudding. They have a soft and fluffy texture that holds up well in the custard mixture. You can either use store-bought bread or make your own for an extra special touch. If you're making your own bread, make sure to let it cool completely before using it in the bread pudding. If you're using store-bought, cut it into cubes and let it dry out for several hours or even overnight. If you're in a rush and haven't thought that far ahead of time, not to worry. You'll just soak the bread for less time and remember to dry the bread next time. 
Soaking Time
If your bread is stale or dried well, let it soak in the custard mixture for at least 30 minutes before assembling and baking. This allows the bread to absorb the mixture and become soft and custardy. If you want an even more decadent dessert, you can let it soak for up to an hour or overnight in the refrigerator. Just make sure to cover it with plastic wrap so that it doesn't dry out. If your bread is fresher, just soak it in the custard for 10 minutes or so and make sure to pour any excess custard over the top of the pudding before baking.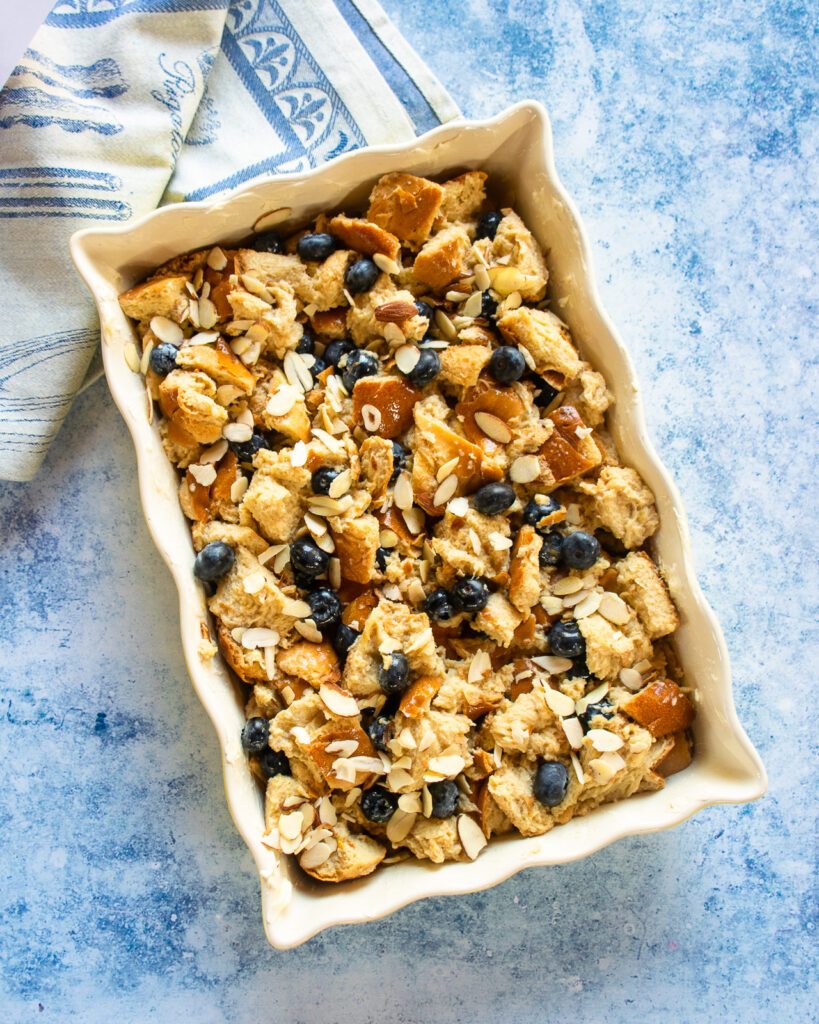 Other ingredients to Add
This variation of the classic bread pudding recipe includes blueberries and almonds, but there are many variations you can try to make it your own. Here are a few ideas:
Add lemon zest to the custard mixture to create the classic lemon blueberry flavor combo.
Use frozen blueberries instead of fresh for a more intense blueberry flavor.
Add a teaspoon of cinnamon or nutmeg to the custard mixture for a warm spice flavor.
Use raspberries or chunks of peaches instead.
Add chunks of chocolate instead of blueberries and hazelnuts instead of almonds.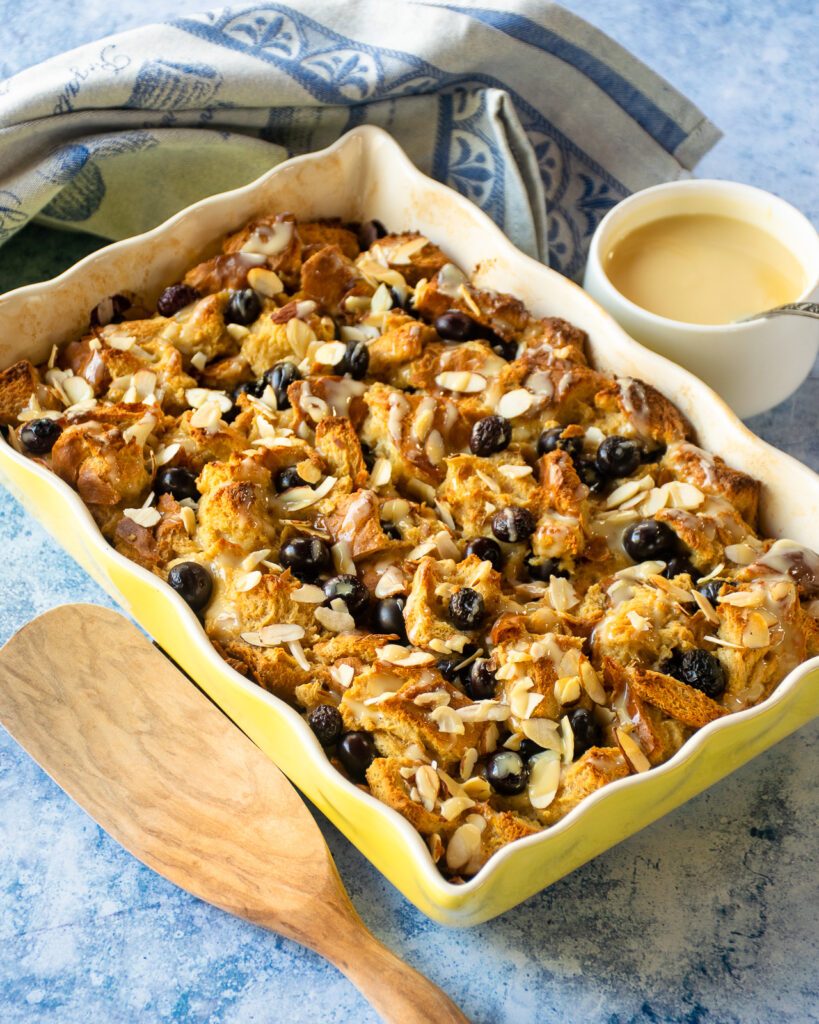 Sauce for Bread Pudding
While blueberry bread pudding is delicious on its own, it's even better with a sauce. A classic sauce for bread pudding is a simple vanilla custard sauce, but this recipe has an even easier solution – maple mascarpone sauce. It is simply mascarpone cheese (an Italian cream cheese), melted and stirred together with maple syrup. Drizzle that over the top of the bread pudding while it is still warm. It's not only pretty, but delicious too.