The Best Gourmet Burger
What makes a burger a gourmet burger? Well, it starts with a great burger patty made with the right ground beef and seasoned perfectly. Then, you dress that perfect patty up with a few extra special touches. This Bacon Blue Burger definitely fits the bill of gourmet burger. Its base is a delicately shaped patty made with 80% lean ground beef, grated onion, parsley, salt and pepper that is topped with bacon jam, blue cheese, arugula and some crispy fried shallots. If that doesn't say "gourmet burger", I don't know what does.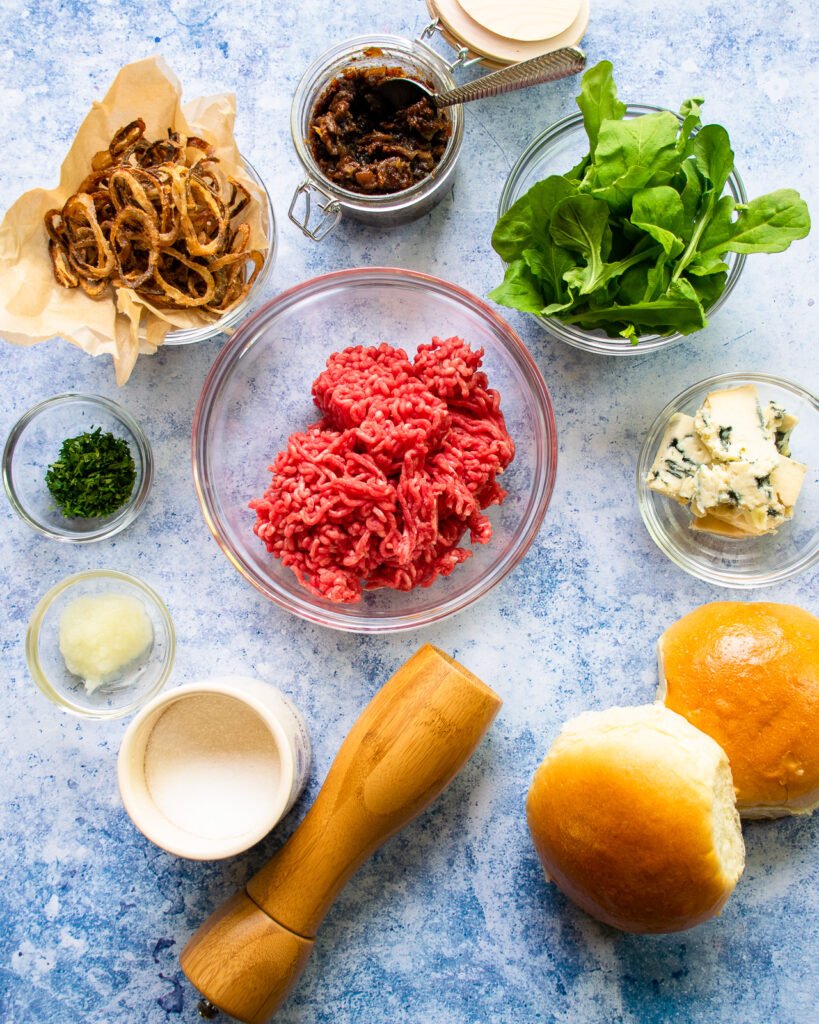 Perfect Burger Patty
Sometimes we tend to think that lean is better, and with many things it might just be. But with burgers the leanest ground beef is not what makes the best burger patty. Ideally, you want to use 80% lean ground beef for burgers. Ground beef that is 80% lean has 20% fat, and although that might sound like a lot, the fat renders out when you cook the burger and you're left with a burger patty that is more moist and tender than one that has only 10% or (gasp!) 5% fat. Season the patty with salt and pepper and add the grated onion and parsley. Work these seasonings into the beef gently – really gently. Then, shape your burger patty with a divot in the middle. Learn all about how to make a burger patty here.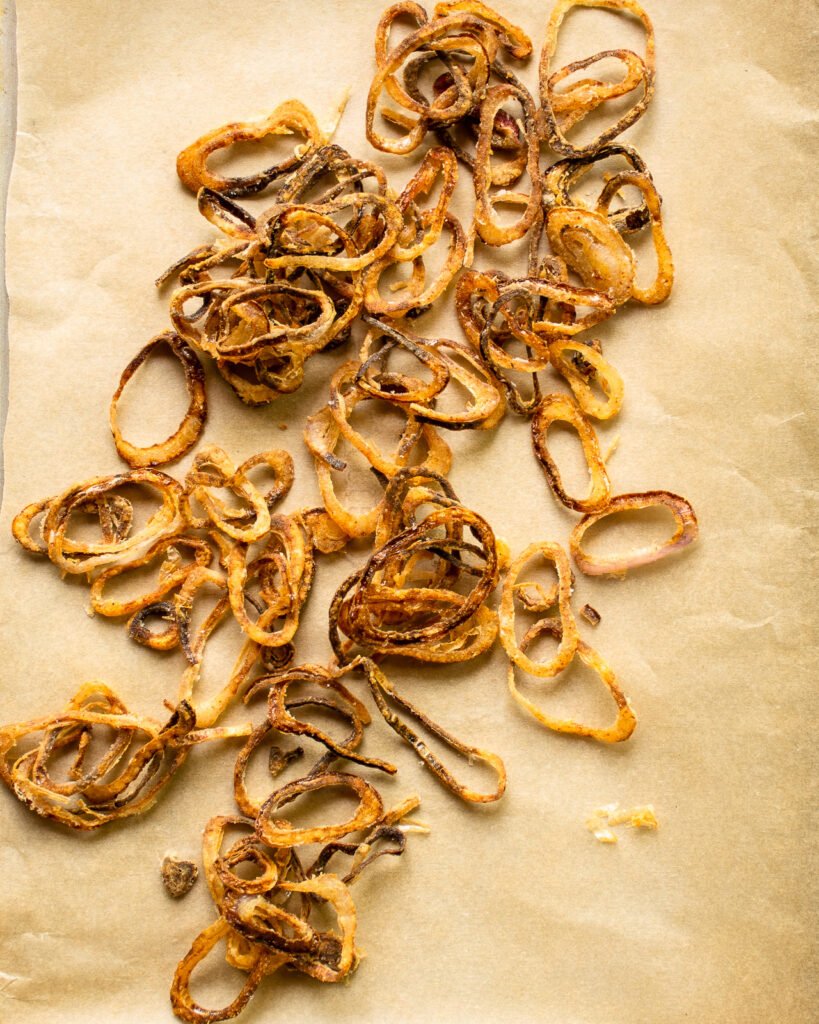 How to Make Crispy Shallots 
Crispy shallots do take a little extra effort, but they make this bacon blue burger something really special. In all honesty, they are not difficult to make. Slice the shallots very thinly, toss them in a zipper sealable plastic bag with flour, cornstarch, paprika and salt and then fry them in just a little oil for about 3 minutes. Remove them, dry them on a paper towel and season again with salt. I use the same paper towel to sop up the leftover oil in the pan and then discard the paper towel. That way, you're not pouring any oil down your sink.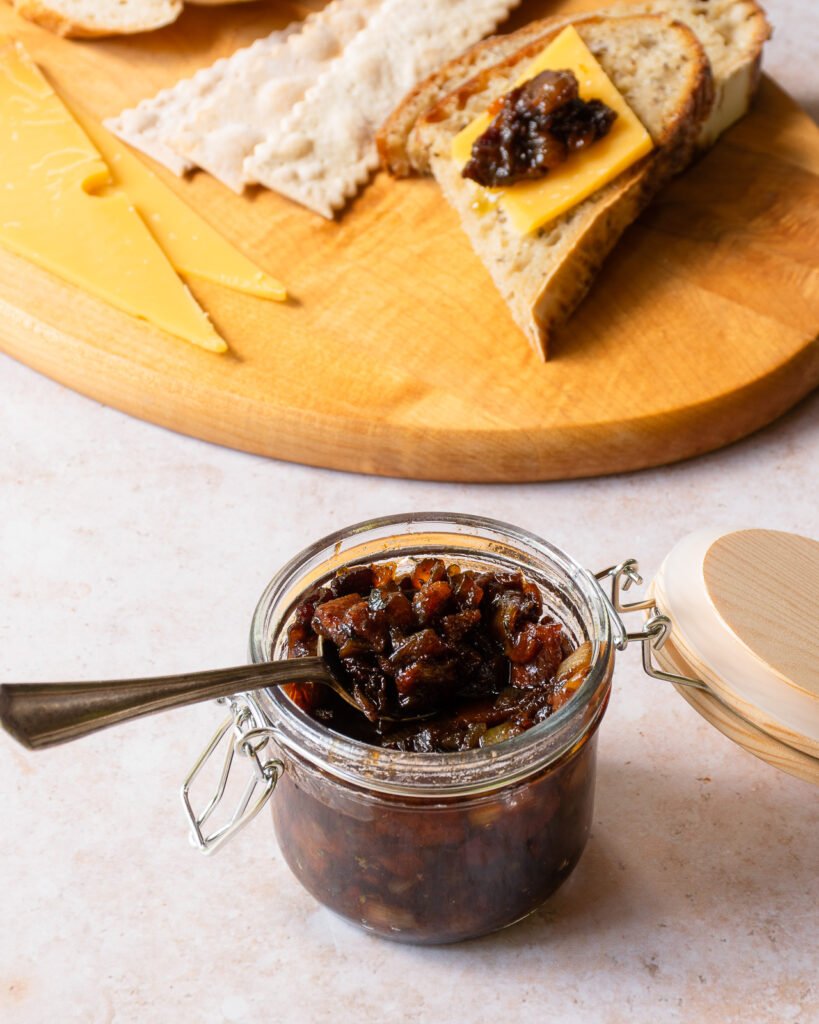 Bacon Jam
Now we're getting into the gourmet part of this bacon blue burger. Bacon jam is something you will want to make ahead of time. Of course, if you don't have the time you could substitute plain old bacon on this burger, but you won't get the sweet-salty deliciousness of this savory spread. Plus, you'll have leftover bacon jam if you make a full batch (see recipe here) and you can spread it on so many other delicious foods (like steak, grilled chicken, a grilled cheese sandwich, mashed potatoes…).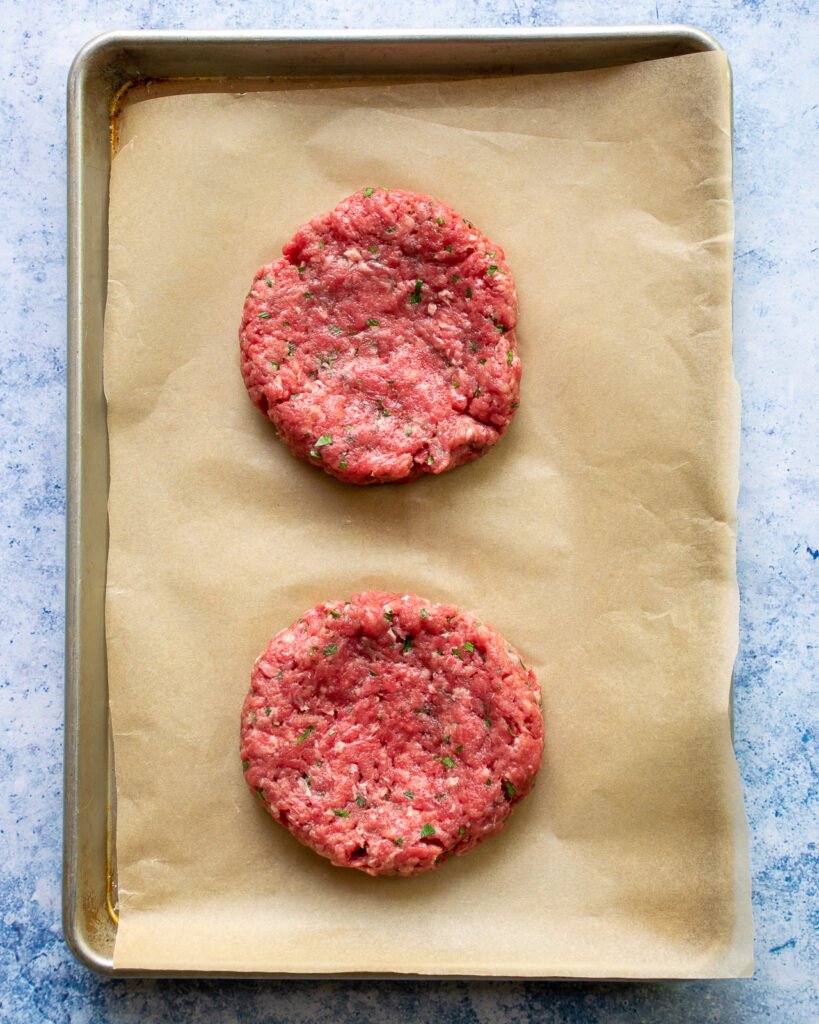 How to Shape Burger Patties
The important thing to remember when you're shaping burger patties is to be gentle. You don't want to over-pack the meat because first of all, that is just mean, and secondly it makes your burger tough. If you see gaps of air in the shaped patties, that's a good thing. If I'm shaping burger patties (as opposed to making a smashburger), I toss the meat back and forth from one had to another to press the meat together. I don't squeeze and smush the meat. You can see a video of how to do that here.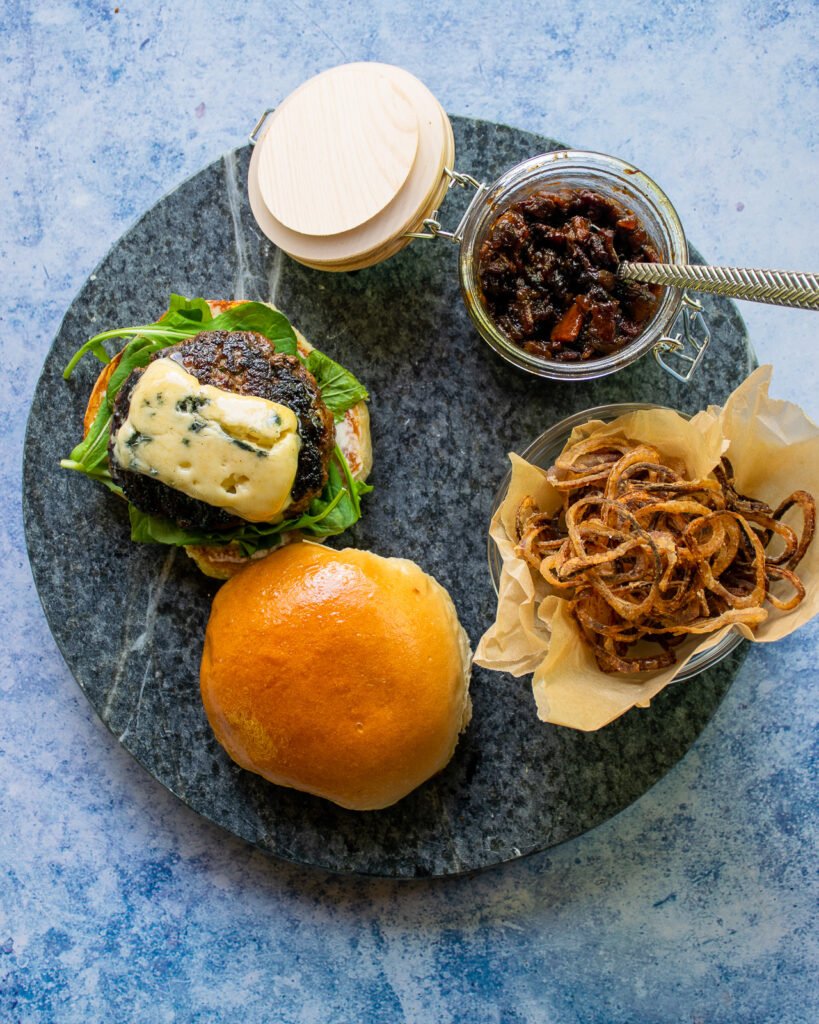 How to Layer Toppings on a Burger
Then, it's all about putting the burger together. Toast your burger buns. It makes a difference and takes no time at all. In fact, the time it takes to toast the buns will force you to let the burger patty rest, which is also important. Then, spread a little mayo on the bottom bun and top with arugula. The mayo will help the arugula stick to the bun. THEN put the patty on top. That anchors the greens so they can't get away. You can also put the bacon jam on the bottom of the burger if you like, but I like it right next to the blue cheese that is melted on top. As for the crispy onions – they can go on top of the bacon jam OR put them on the side of your plate and eat them like mini onion rings (which would also be a delicious accompaniment to this burger if you have the time).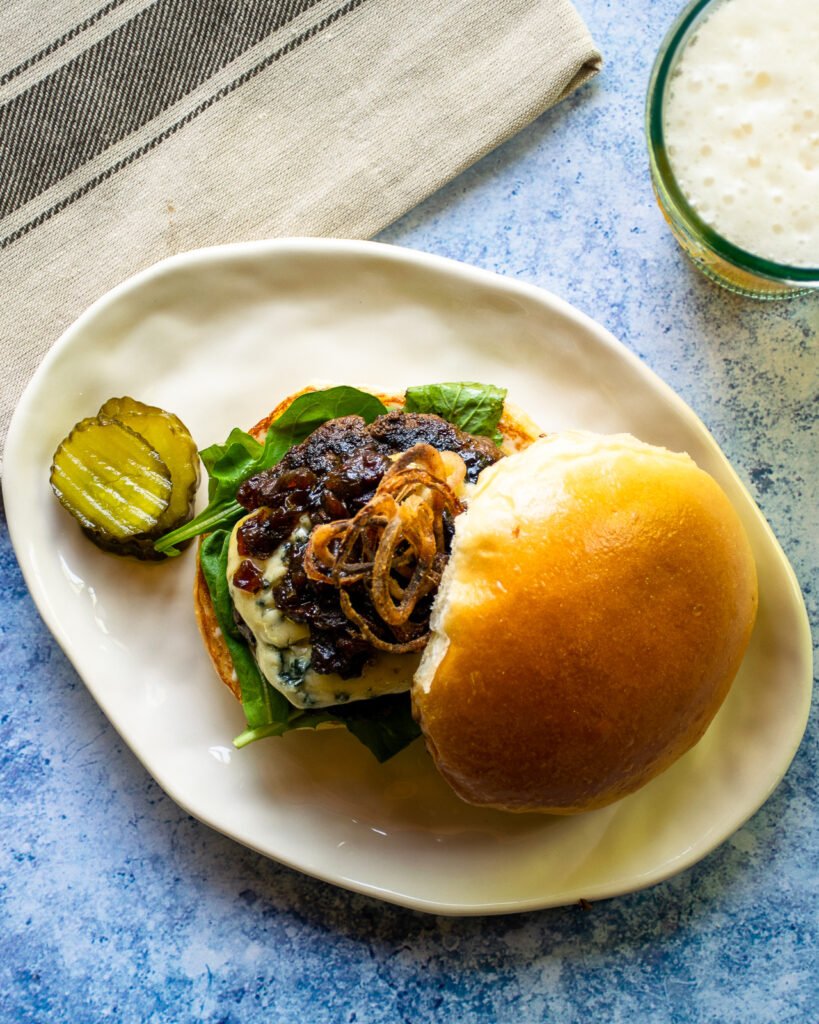 What to Serve with a Burger
I'm sure I don't need to even write anything here. No-one needs advice on what to eat with a burger, but I'll give it anyway. In addition to air-fried onion rings, you could make your own homemade French fries or serve some potato salad with this bacon blue burger. I find the burger quite rich, however, and prefer a simple green salad with a light vinaigrette. While I often enjoy a beer  with a burger, this burger also lends itself quite nicely to a glass of full-bodied red wine. I wouldn't turn down either!