What is a Grinder Sandwich?
I can confidently say that of the words "Italian Chicken Meatball Grinders", there's only one that might need further explanation. A "Grinder" is a New England name for a large sandwich, usually served warm. The name supposedly came from the fact that these sandwiches would require some "grinding" to chew through them. That makes it sound less than desirable and I want to reassure you that there's nothing undesirable about these delicious sandwiches!
Large sandwiches have several different names in the United States – sub(marine), hoagie and hero. Submarines are usually cold and with a size of 6 to 12 inches long, they resemble… you guessed it, a submarine. Hoagies are a Pennsylvania (among other places) thing and are so called because of the implication that you had to be a "hog" to eat one ("hoggie" morphed into "hoagie"). Similarly, New Yorkers have "heroes" because you'll need to make a heroic attempt to finish one of their large meat-filled sandwiches. So, you see, the one thing all these sandwiches have in common is the size, or the challenge. These Italian Chicken Meatball Grinders are no small feat to eat and will more than satisfy the hungriest mouth you have to feed.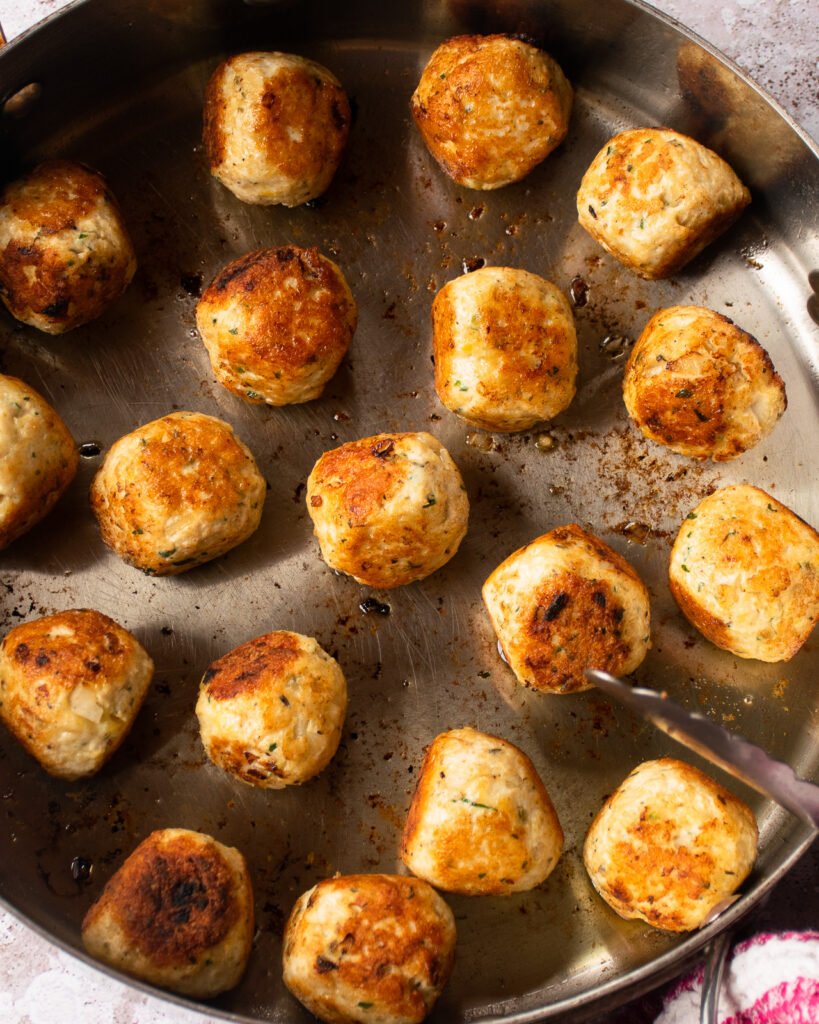 Easy Chicken Meatballs
The fist step in making these large sandwiches is to make the meatballs. You'll find the recipe for these chicken meatballs here. They are easy to make and a little lighter than traditional pork or beef meatballs, but if you're not up for the task you can substitute a store-bought meatball and cook them in the oven, on the stovetop or in an air fryer. You can find instructions for how to do so on the meatball recipe page.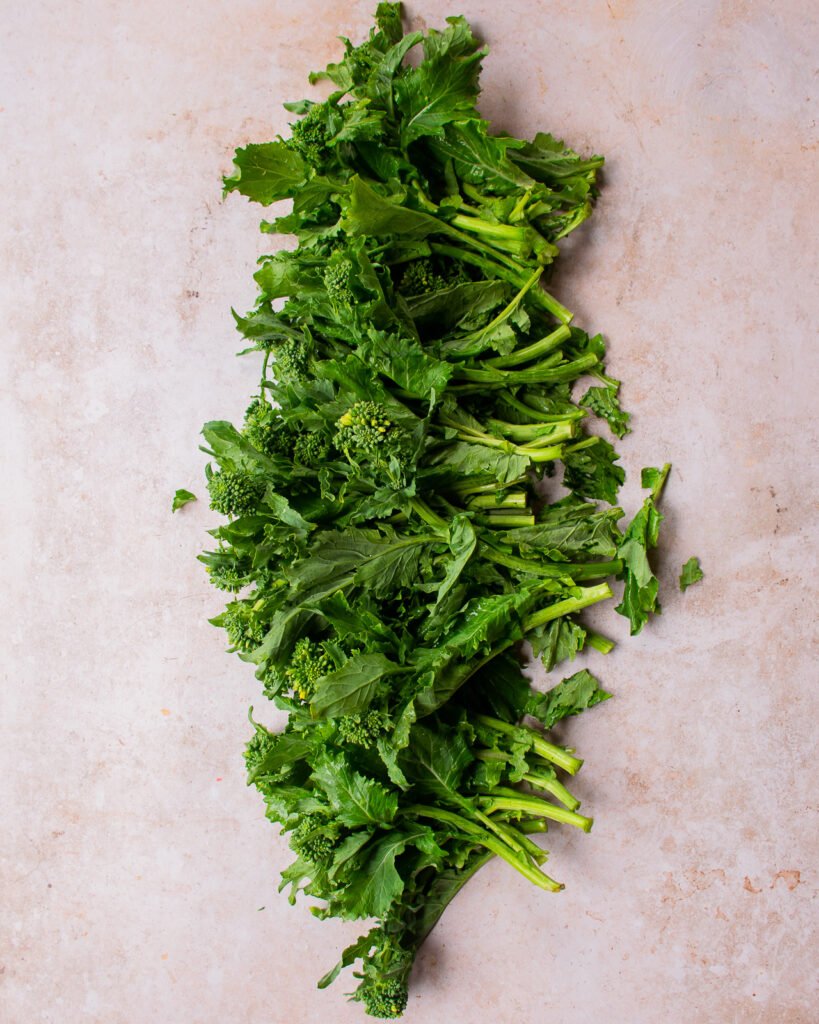 How to Cook Broccoli Rabe
Broccoli rabe, also known as rapini, is a slightly bitter member of the mustard or turnip family. It has an earthier flavor than broccoli and despite sharing part of its name and the look of the little florets on its stalks, it is actually not related to broccoli at all (broccoli is a member of the cabbage family). The trick to using broccoli rabe in a recipe is to try to minimize its bitter taste. To do this, trim off the tough ends of the stalks and blanch the broccoli rabe in salted boiling water for a couple of minutes. Then, shock it in an ice bath to stop the cooking process and set its beautiful green color. A quick sauté in some oil with garlic, crushed red pepper flakes and salt brightens it up and turns it into a delicious component of this grinder.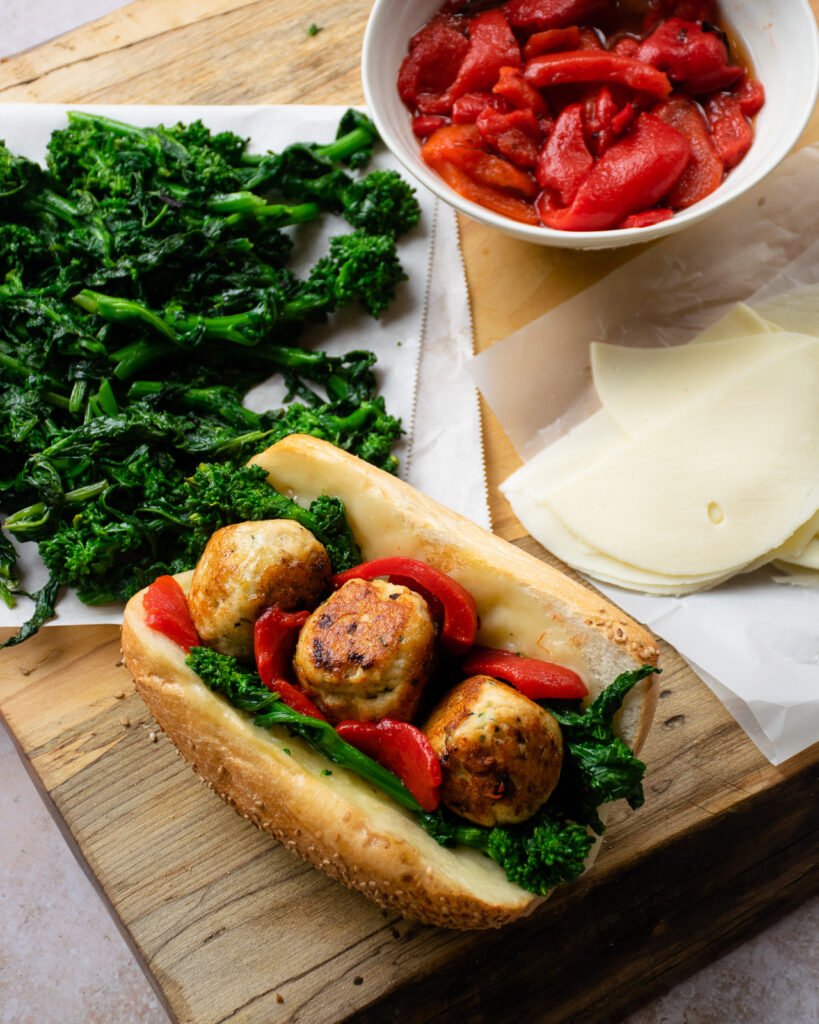 Italian Meatball Sandwich
Once you have your meatballs cooked and warm and your broccoli rabe sautéed and seasoned, it's time to build these grinders. The bread roll is an important part of this meatball sandwich. If you've made efforts to make the perfect meatball, it's a shame to have a roll that turns the tender meatball into a tough sandwich. Choose sandwich rolls that are fresh and relatively soft. The crusts of the rolls will toughen up in the oven. A little roasted red pepper and provolone cheese rounds out these grinders and turns them out into not only delicious, but beautiful sandwiches. I didn't intend to have the colors of the Italian flag represented in this recipe, but look at that! Maybe the Italian flag has these colors because of these Italian ingredients… you never know.