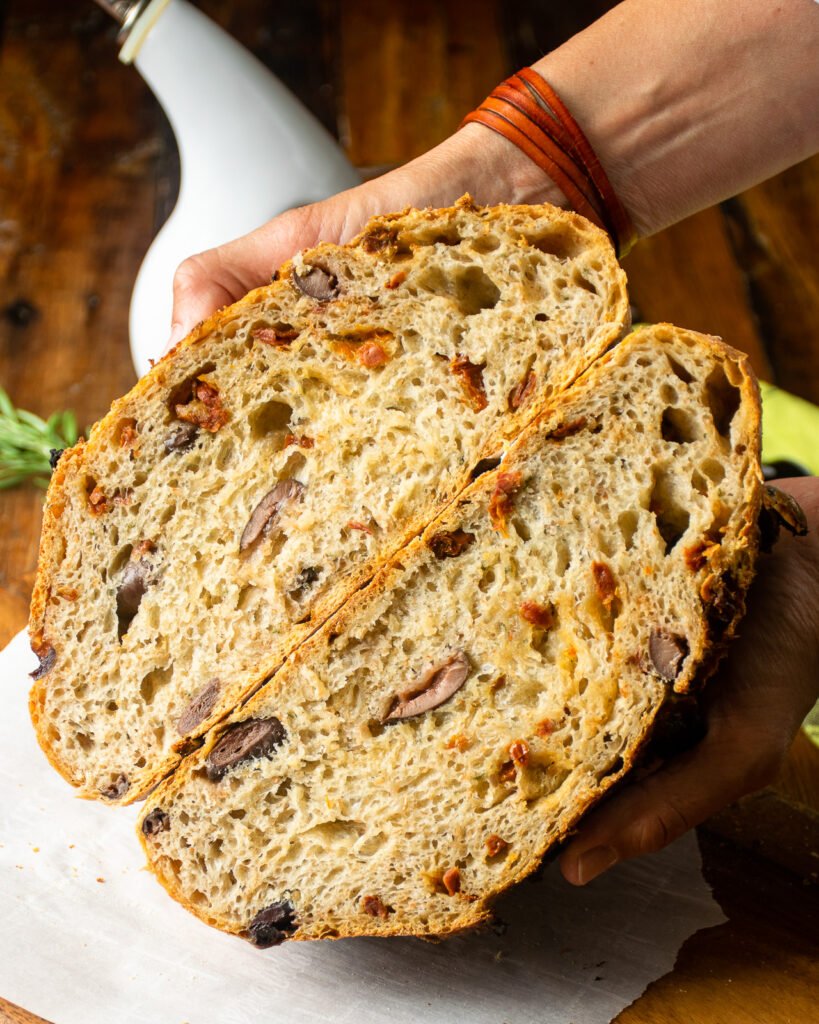 What is No Knead Bread?
For those of you unfamiliar with no knead bread, it's a way of making delicious artisanal loaves of bread without having to knead it at all. It was made famous by baker and owner of the Sullivan Street Bakery, Jim Lahey and it's really taken hold of home bakers everywhere. Instead of kneading, you just have to let the dough rise and rest for a long time – 12 to 18 hours. That time is sufficient to develop the gluten necessary for bread. Then, you bake it in the oven in a cast iron pot, creating an oven within an oven, and you end up with a fantastic looking loaf, full of flavor. When you make sun-dried tomato no knead bread, however, you'll get even more flavor and a true rustic bread to serve as a sandwich or just next to your delicious dinner.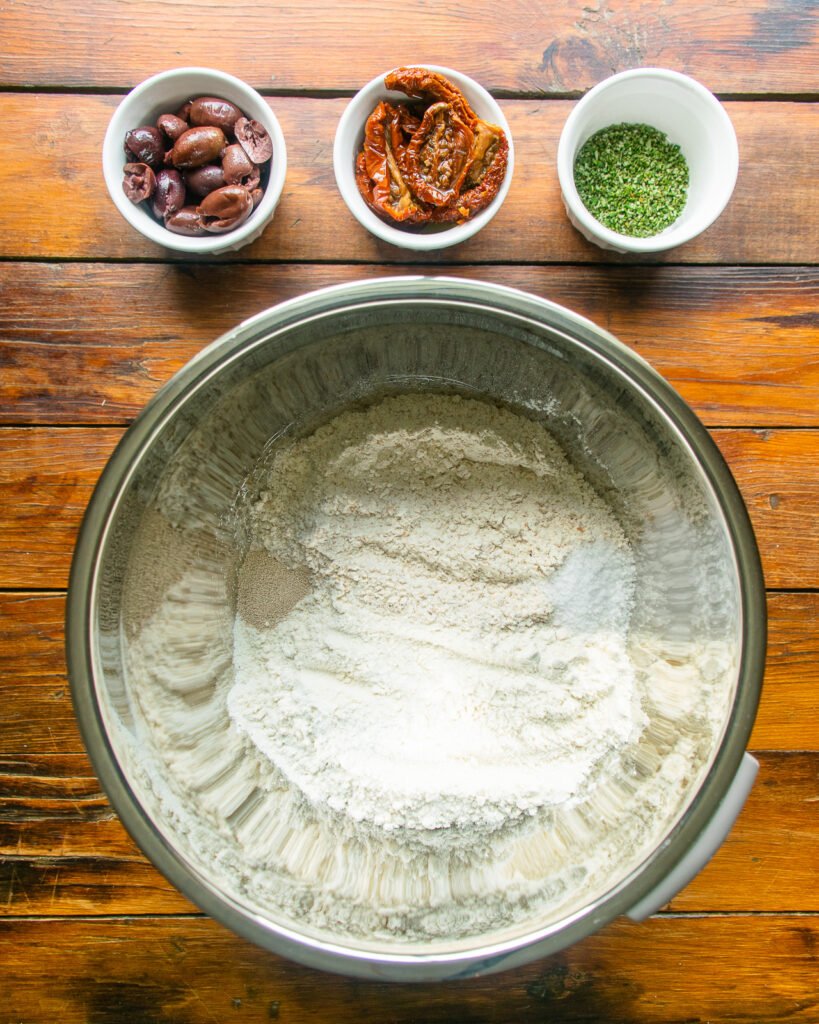 Ingredients for Sun-Dried Tomato No Knead Bread
You don't need much for this recipe (get it?) – bread flour, whole wheat flour, yeast, salt and water, and then your flavoring ingredients – sun-dried tomatoes (I prefer oil-packed), olives (I used Kalamata here, but you do you) and some chopped fresh rosemary (but oregano would be nice too).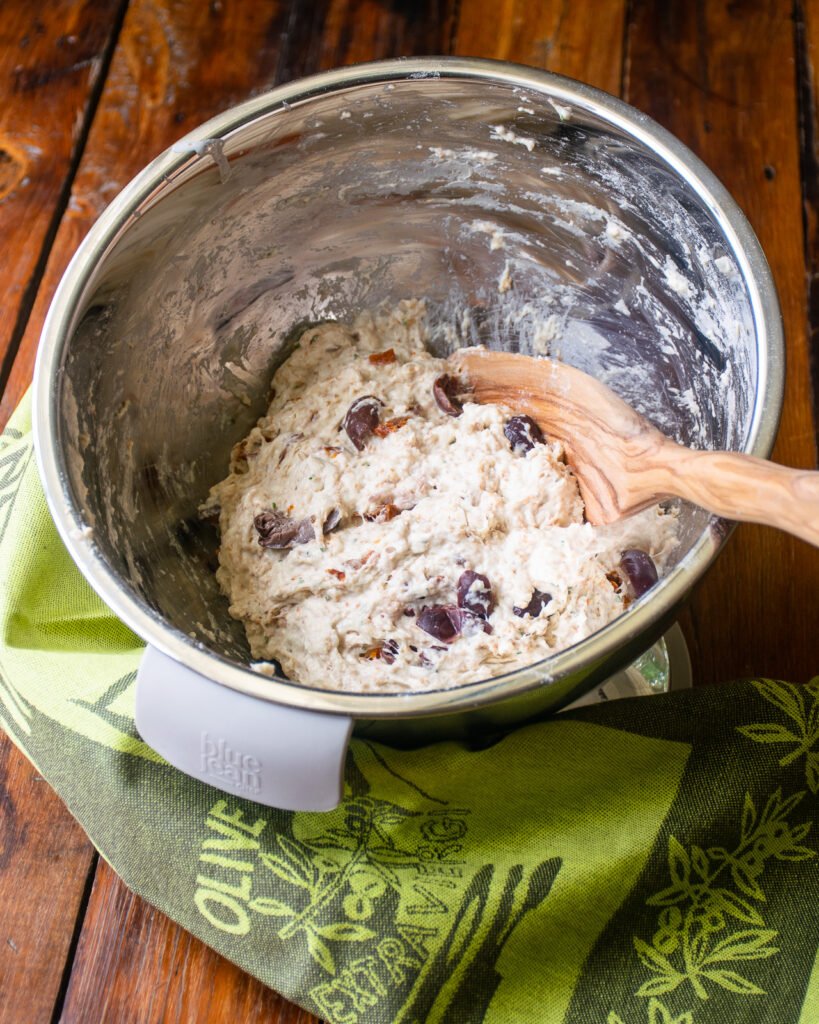 Mixing the Dough
Mixing the dough is just what it says – just mix the ingredients together until there are no more streaks of dry flour. You can use a spatula, a wooden spoon or just your hands, but mix it in a bowl that has room for the dough to rise and expand.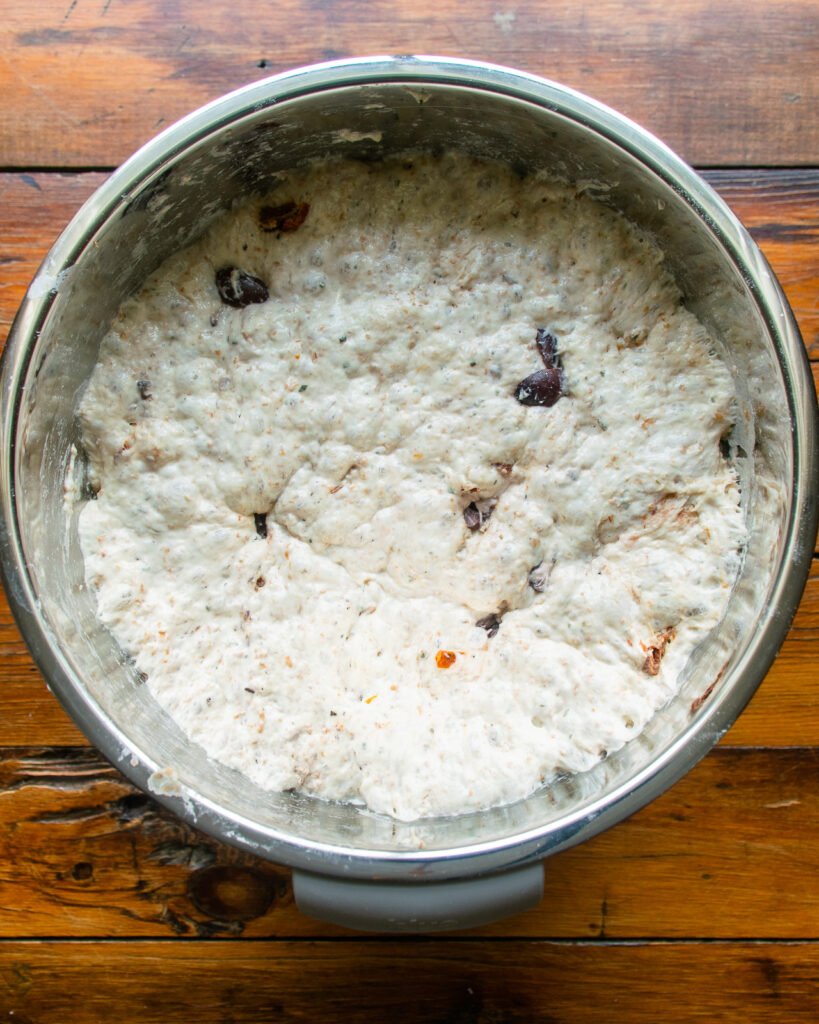 Let it Rise… For a Long Time
The rising time is serious – twelve to eighteen hours – so it's best made in the evening and left to rise overnight while you are sleeping. Cover it with a lid or some plastic wrap and let it do its thing. After it has risen, it will be bubbly and light. Turn it over with your hands and shape it into some sort of a circle. Place it on a piece of parchment paper that has been floured to rest for another hour.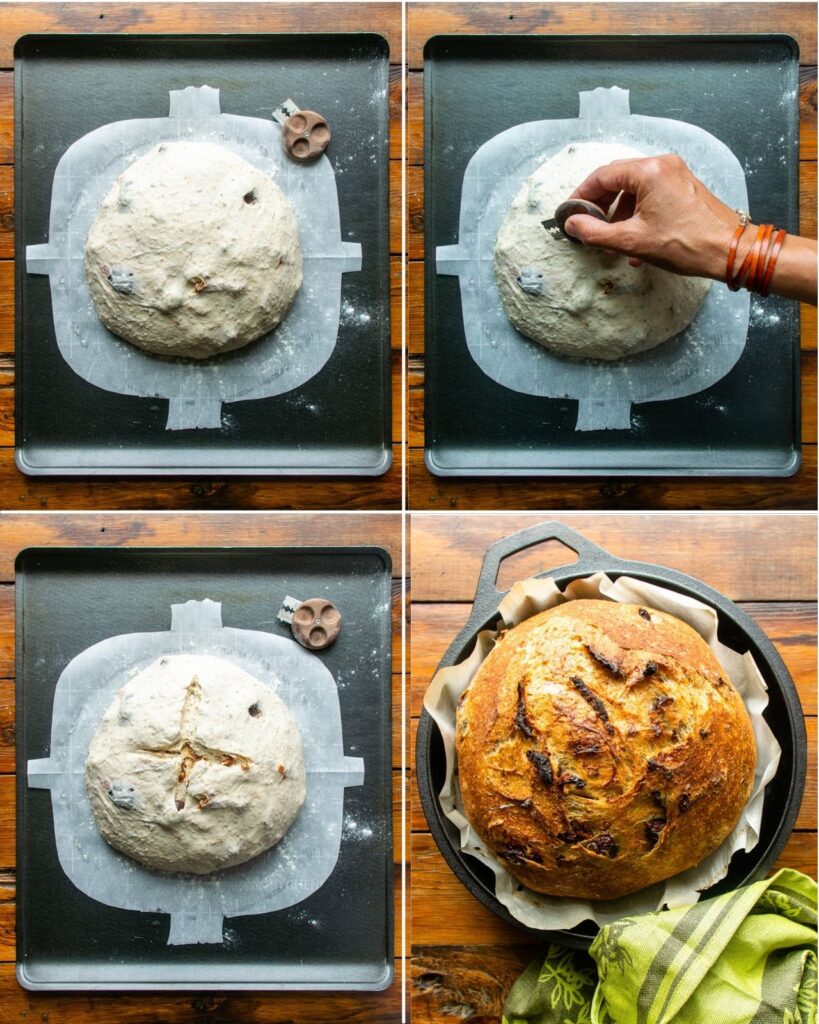 Slashing the Bread (if you want to)
While the dough is resting in its circle shape, pre-heat the oven with the cast iron pan inside for at least 30 minutes. I put the loaf on parchment and then onto a sheet pan that has no sides so I can slide it into the cast iron pot easily. Before putting it in the pot, however, you can slash the loaf if you like. Slashing the loaf ensures that the steam that escapes from the bread as it bakes will break the bread open where you want it to crack. You don't have to slash the bread. If you don't, the steam will just form a crack wherever it wants to and there's no harm in that. This is not the sort of bread you'll make designs on with a bread lame because there are too many chunky ingredients inside.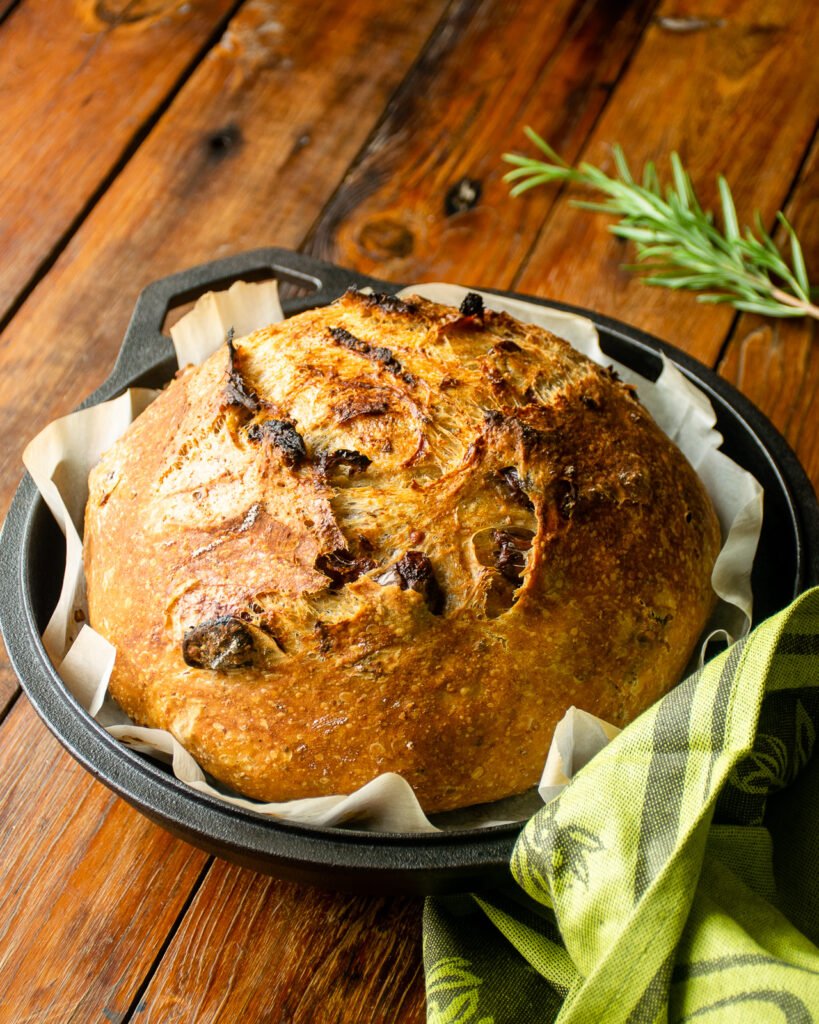 Baking Time for No Knead Bread
Bake the bread, covered in the cast iron pot, in a hot (450˚F) oven for 30 minutes with the lid on. Then, remove the lid and let it continue to bake and brown for 15 to 20 minutes. Removing the lid is my favorite part because you'll get your first glance at what is to come.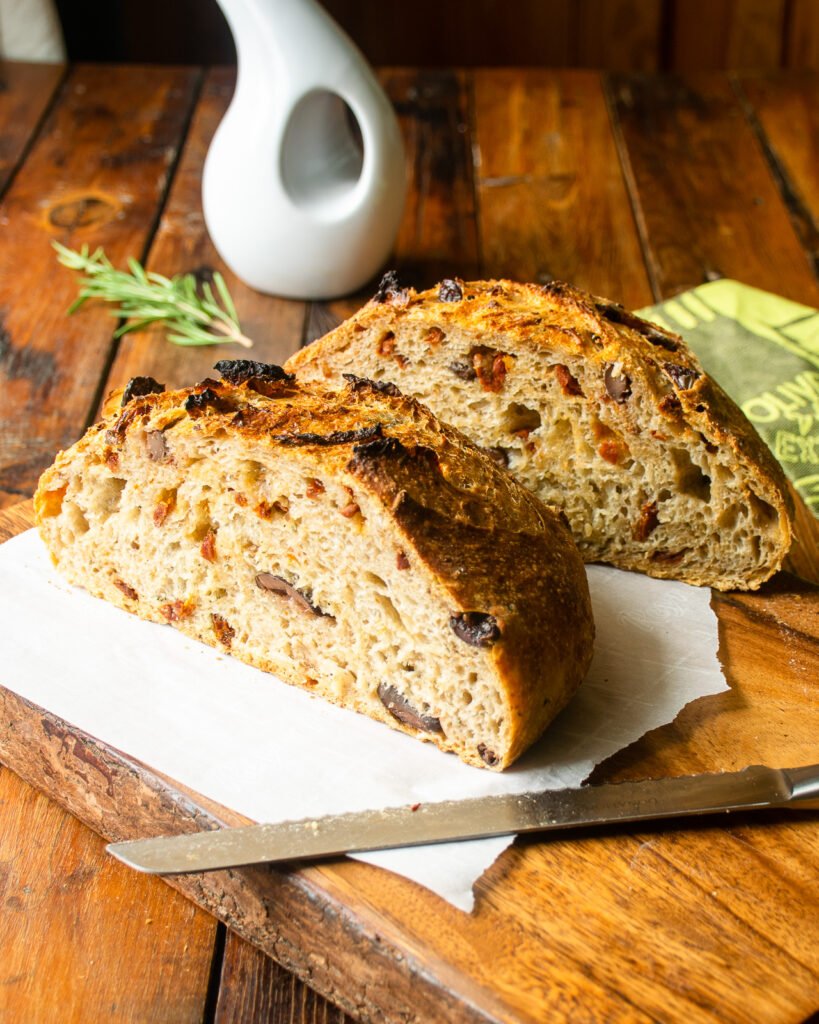 How to Serve Sun-Dried Tomato No Knead Bread
You can serve this bread all on its own – it's that good. Or, you could serve it with some olive oil to dip into next to a perfect Italian pasta dinner. It could also go next to a cheese board or be made into a sandwich with some Italian meats and cheeses, but I'll bet you'll snack on it all by itself.