The first step in making a beautiful cheese and meat board is to select all the ingredients you want to put on the board. Of course you want cheeses and meats, but you can also select some fresh and/or dried fruit, pickled vegetables, nuts, condiments and then the bread and crackers. Below you'll find tips on how and what to select from each of these categories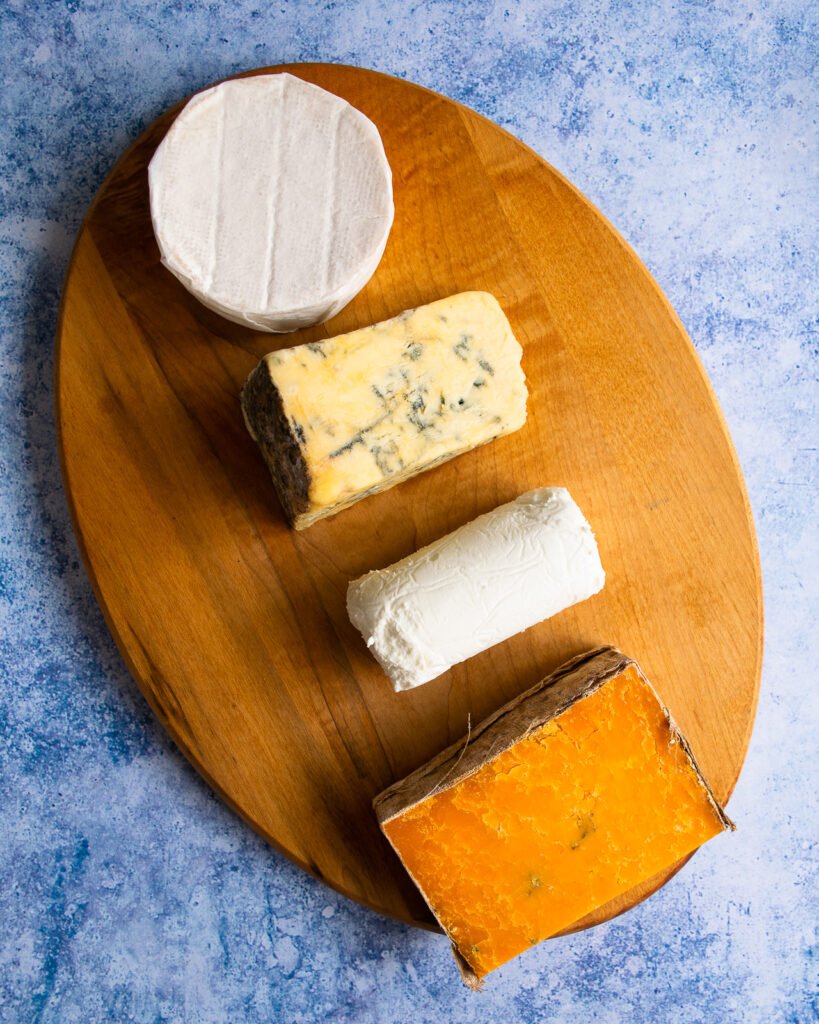 The Cheese
You can make a small cheese board with just one or two cheeses, but generally, three to five different cheeses are a good number for a party-sized cheese board. Try to select cheeses that are different from each other with complimentary flavors, textures and colors. Picking one cow's milk cheese, one goat's milk cheese and one sheep's milk cheese is a good way to start. You should also select a firm or hard cheese, a soft spreadable cheese, a blue cheese and a soft-ripened cheese to ensure there are complimentary textures and flavors on the board. There are thousands of different varieties of cheese in the world, but below you'll find a few from each category listed below. With some soft-rind cheeses, like brie, it's nice to take a wedge or two out of the wheel before serving so that you remove any concern a guest might have about being the first to cut into a cheese. Plus, cutting a wedge also lets people know how you intend that particular cheese to be cut – in slices, in wedges, etc… 
| | | | | | |
| --- | --- | --- | --- | --- | --- |
| Cow's Milk | Texture | Sheep's Milk | Texture | Goat's Milk | Texture |
| Asiago | hard | Feta | crumbly | Bucheron | soft-ripened |
| Boursin | soft cream | Lanark Blue | semi-hard blue | Feta | crumbly |
| Brie | soft-ripened | Manchego | hard | Humboldt Fog | semi-soft |
| Cambozola | soft-ripened | P'tit Basque | hard | Garrotxa | semi-hard |
| Cheddar | hard | Pecorino | hard |   |   |
| Fontina | hard | Robiola | soft-ripened |   |   |
| Gorgonzola | soft crumbly blue | Roquefort | semi-hard blue |   |   |
| Gouda | hard |   |   |   |   |
| Havarti | semi-soft |   |   |   |   |
| Parmesan | hard |   |   |   |   |
| Stilton | semi-soft blue |   |   |   |   |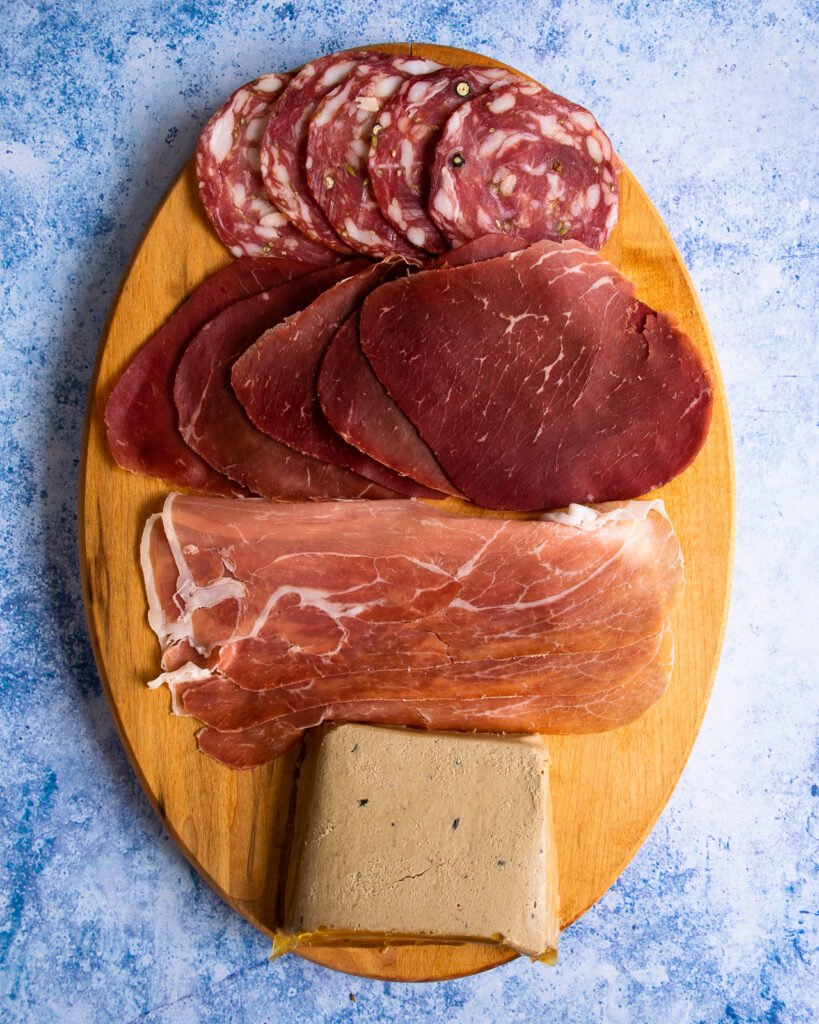 The Meat 
Selecting different meats for your board follows the same rules as for cheese. You can make sure you have beef, pork and poultry represented on the board for a start. Then, look for different flavors and textures. A chicken liver paté or the spicy, spreadable pork salume 'nduja (pronounced en-DOO-ya) are delicious soft textured meats. Salty prosciutto or cured hams can be complimented with chewy air-dried beef (braesola) and softer fresh salamis with a variety of flavors added like black pepper, fennel seeds and other spices. 
| | | |
| --- | --- | --- |
| Name | Origin | Texture/Flavor |
| Bresaola | Beef | salted, dry-aged |
| Chorizo | Pork | coarsely ground, spicy |
| Coppa | Pork | spice-rubbed and dry-cured |
| Finocchiona | Pork | ground, dry-cured salami with fennel |
| Guanciale | Pork | cured, dried, spice-rubbed cheek |
| Jamón Ibérico | Pork | salted, aged |
| Liverwurst | Pork | spreadable |
| Mortadella | Pork | steamed sausage with pistachios |
| 'Nduja | Pork | spreadable spicy sausage |
| Prosciutto | Pork | salted, air-cured, aged |
| Saucisson D'Arles | Pork | dry-cured salami |
| Soppresatta | Pork | coarsely ground, extra fatty salami |
| Speck | Pork | cured, smoked ham |
| Summer Sausage | Beef and Pork | finely ground, cured, fermented |
Fresh and Dried Fruit
It's nice to have both fresh and dried fruit on a cheese board. Fresh fruit pairs with cheese very nicely and can also be a palate cleanser between different cheeses. There are really no rules to follow when deciding what fresh fruit to add to the board. Grapes are the most traditional fruit on a cheese board, perhaps because they are so easy to manage – just rinse and plop down on the board – but slices of apple, pear, strawberries, raspberries and blackberries are great choices too. Dried fruit like dried apricots, dried cherries, dried cranberries or figs are also great additions. 
Nuts
You can put salty or sweet nuts on a cheese board as well. Nuts help to bring out nutty flavors in cheese and also go really nicely with creamy cheeses too, so it's a win-win. It is important, however, that the nuts be seasoned and toasted before being put on the cheese board. You can toast nuts in the oven for about 10 minutes at 350ºF or in a skillet over medium heat for several minutes, tossing regularly. Of course, it's even easier to buy nuts that are already seasoned and roasted.
Sweet, caramelized nuts are another nice addition to a cheese board too. If you're game for making sweet spiced nuts on your own, here's a simple recipe that can be done in your air fryer, or on a sheet pan in a 350ºF oven for 20 to 25 minutes (just remember to stir the nuts every five minutes in the oven).  
Pickled or Marinated Vegetables 
You've already got cheese, meat, fruit and nuts on the cheese board…if you add some vegetables, you could make a full meal out of this! (I'm only partially joking!) You'll often see olives on a cheese board, and while olives are legally fruit, they can fall into this category of pickled and marinated ingredients. In addition to olives, cornichons (little finger-sized pickled cucumbers), pickled onions, marinated artichokes, marinated mushrooms, marinated peppers and sun-dried or slow roasted tomatoes work nicely with both cheeses and meats, adding a little zing and contrasting flavor. 
Condiments
Ingredients like honey, fig jam, fruit preserves, pepper jelly, olive tapenade and mustards fall into this category. If you are making a very simple cheese board, you can get away with just some cheese and one or two condiments and call it a day, but on a big cheese board it is nice to have a few choices. Sweet, fruity condiments pair nicely with creamy cheeses like soft goat cheese and soft-ripened cheeses like brie, honey is particularly nice with blue cheeses and hard Cheddars, but it's fun to mix and match different flavors with different cheeses to see what you like. Mustards would go with the charcuterie. 
Breads and Crackers
Finally, you just have to decide whether you'll serve your cheese and meat board with bread, crackers or both. A nice fresh baguette is always a good option and the number of crackers you have to choose from is overwhelming. 
It's also generous and kind to always have a gluten-free option with your offering so that even your gluten free guests can enjoy. Fresh endive spears, sliced cucumber or gluten-free crackers all work as vehicles for cheese and meat that also accommodate gluten-free lifestyles.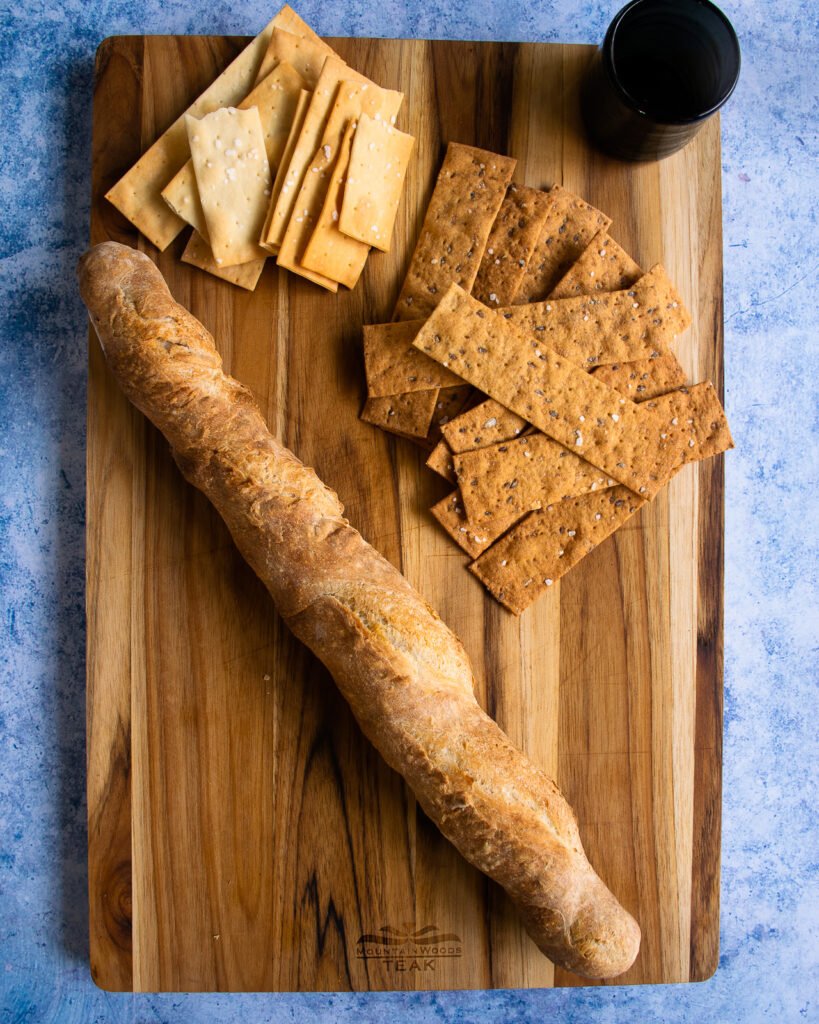 Putting it all together
When it comes to putting all these ingredients together, check out the video below that will show you how to do everything in a quick four and a half minutes. Start with the cheeses. Place them in the corners of the board along with a cheese knife to suit the type of cheese. Each cheese should have its own knife.
Next, add the meats in groupings, around the cheeses. Ruffle cured meats or fold salamis so that they are not just lying flat. This will give them some dimension and height.
Then, place some of the marinated and pickled vegetables into little bowls so that any excess brine doesn't leak onto other ingredients and place the little bowls on the board. Depending on what you are serving, it's also nice to add toothpicks or little serving forks with these ingredients so that your guests don't have to use their hands.
You can dollop some of the condiments directly on the board, or leave them in little jars or dishes. Again, these will need little serving utensils.
Scatter the nuts and spread the fruit around the board to add interest and color in different places.
Think about placing bread or crackers in a separate basket or even standing them up in a glass near the board if you don't have room on the board. 
And… there you have it! A board that everyone will think was dropped off by a caterer. Good for you!
---
Quick Notes:
Choose a complimentary variety of cheeses by picking from the following categories:

one cow's milk, one sheep's milk, one goat's milk cheese
one hard cheese, one soft spreadable cheese, one soft-ripened cheese, one blue cheese

Choose a complimentary variety of cured meats by picking form the following categories:

include beef, pork and if possible poultry as well
include different textures – a smooth, spreadable meat, a soft salami, a dried salami

Add fruit and nuts

fresh fruit like apple, pear, cherries, berries, grapes
dried fruit like dried apricots, dried cherries, dried cranberries
nuts like roasted hazelnuts, caramelized pecans, toasted walnuts, salted almonds

Include condiments

cheese pairs nicely with sweet ingredients like fig jam, fruit preserves, red pepper jelly or honey
charcuterie is often complimented by mustards or tapenade

Marinated or pickled vegetables are a nice addition
Think about the bread and crackers that you will include.

different shapes, flavors, sizes and textures
---