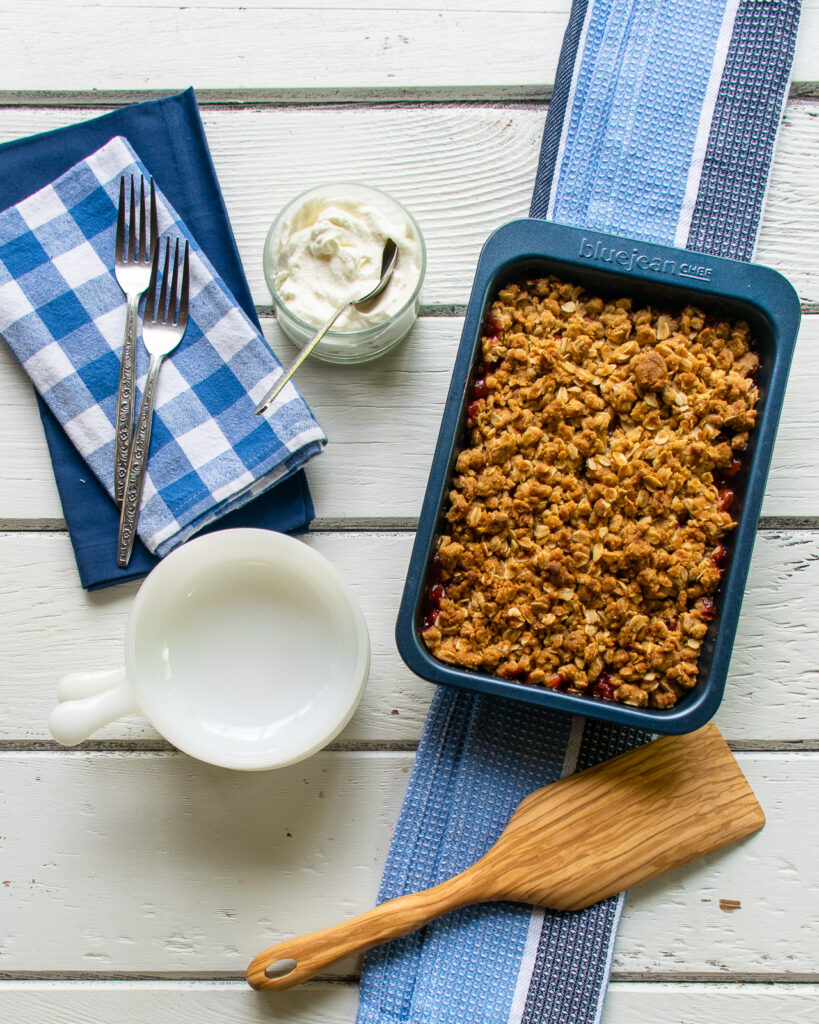 Perfect Spring Dessert
Rhubarb is only in season in the spring, from May to early June, making this strawberry rhubarb crisp the perfect spring dessert. It's also perfect that rhubarb is a perennial plant that pops up out of the ground in many home gardens, so this treat can really be homegrown and made from scratch every spring like a rite of passage.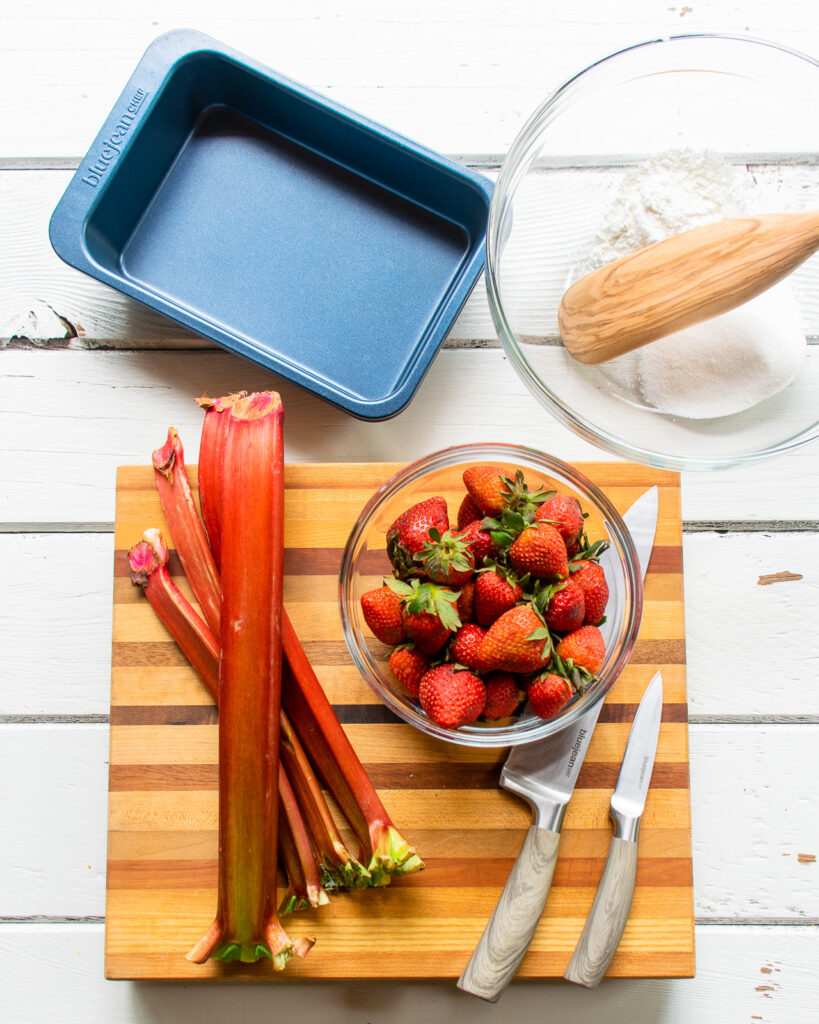 Strawberries and Rhubarb
Rhubarb, though delicious, is very tart and needs some help (ie sugar) to make it really palatable. That's why you'll find rhubarb recipes are usually desserts (although you might check out this recipe for savory rhubarb orange sauce over chicken breasts) and often paired with sweet strawberries. While I did think about using a different berry or fruit to go with the rhubarb in this recipe, sometimes a flavor combo is popular for a very good reason – it can't be beat. Strawberries and rhubarb are sort of like that.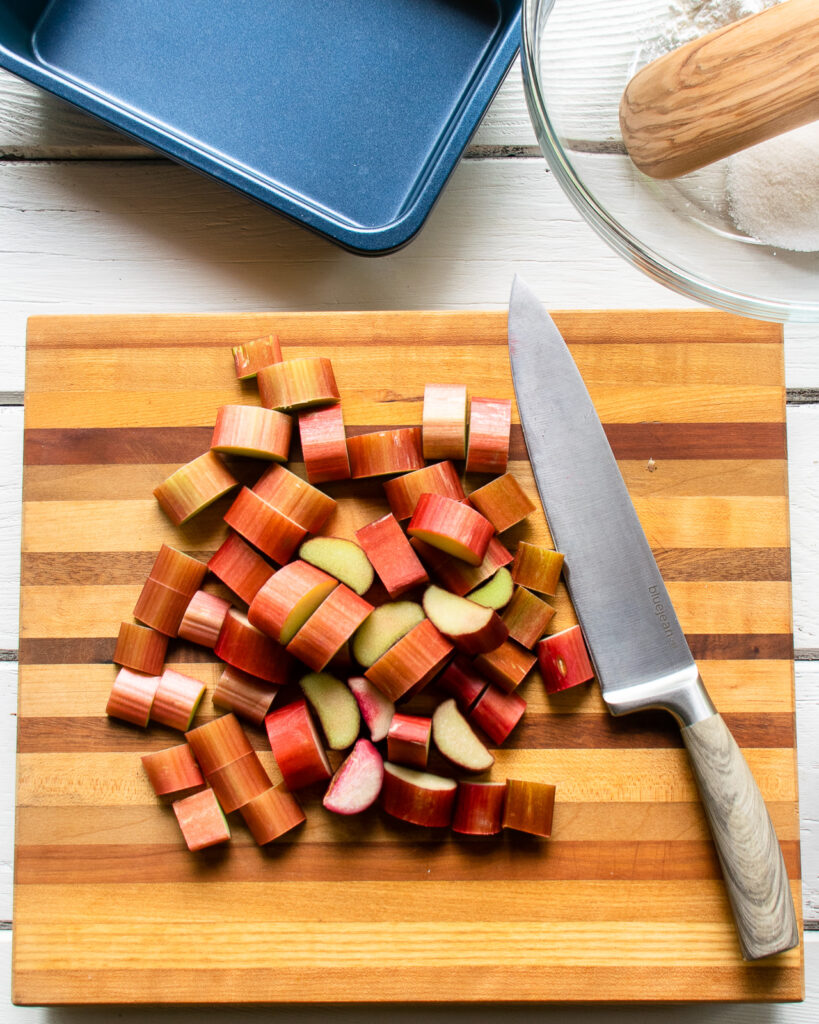 How to Cut Rhubarb
One of the most interesting things about rhubarb is how it breaks down when cooked. It almost dissolves into a thick fibrous compote of sorts, which blended with the other flavors makes it so delicious. Because of those fibers, however, it is important to cut the rhubarb so that the fibers are not too long. Simply cut across the stalks with a sharp knife into evenly sized slices.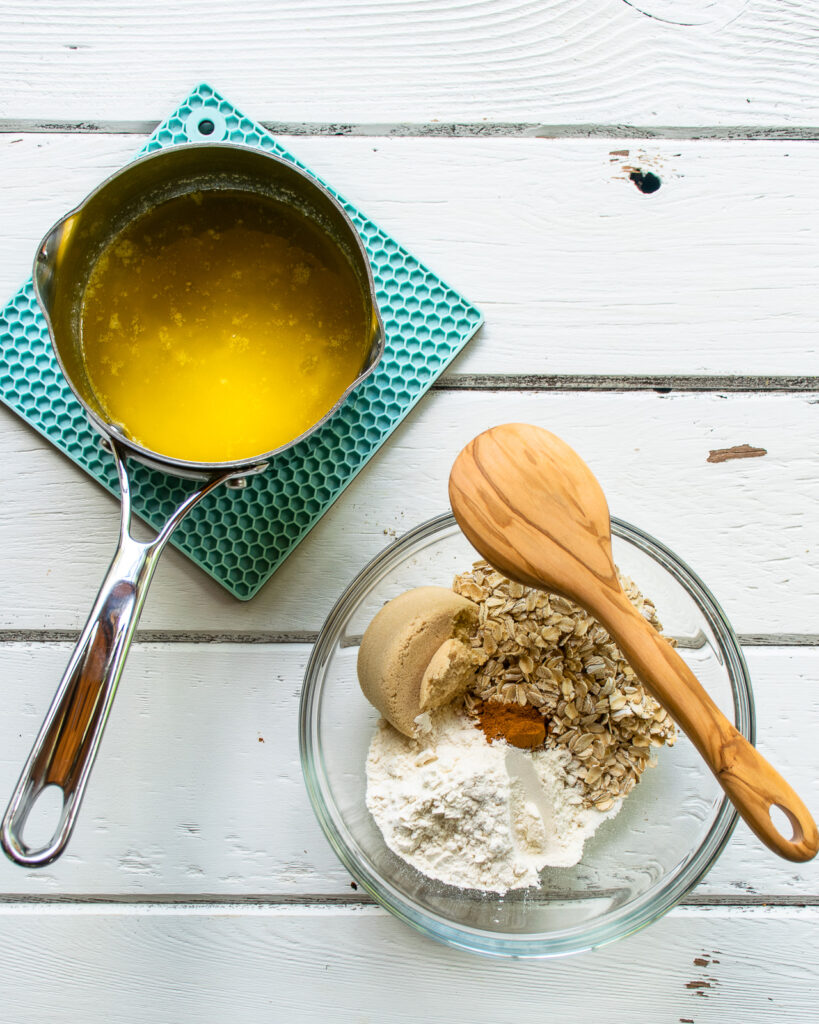 Crisp Topping
There are lots of ways to make a crisp topping. It always includes sugar, flour and butter, but you can add a number of different ingredients to give it a little more texture, crisp and chunks. This recipe uses rolled oats, but you could instead use walnuts, pecans, panko breadcrumbs or torn day old bread. Don't skimp on the butter because it's the butter that helps give those ingredients the crisp they need.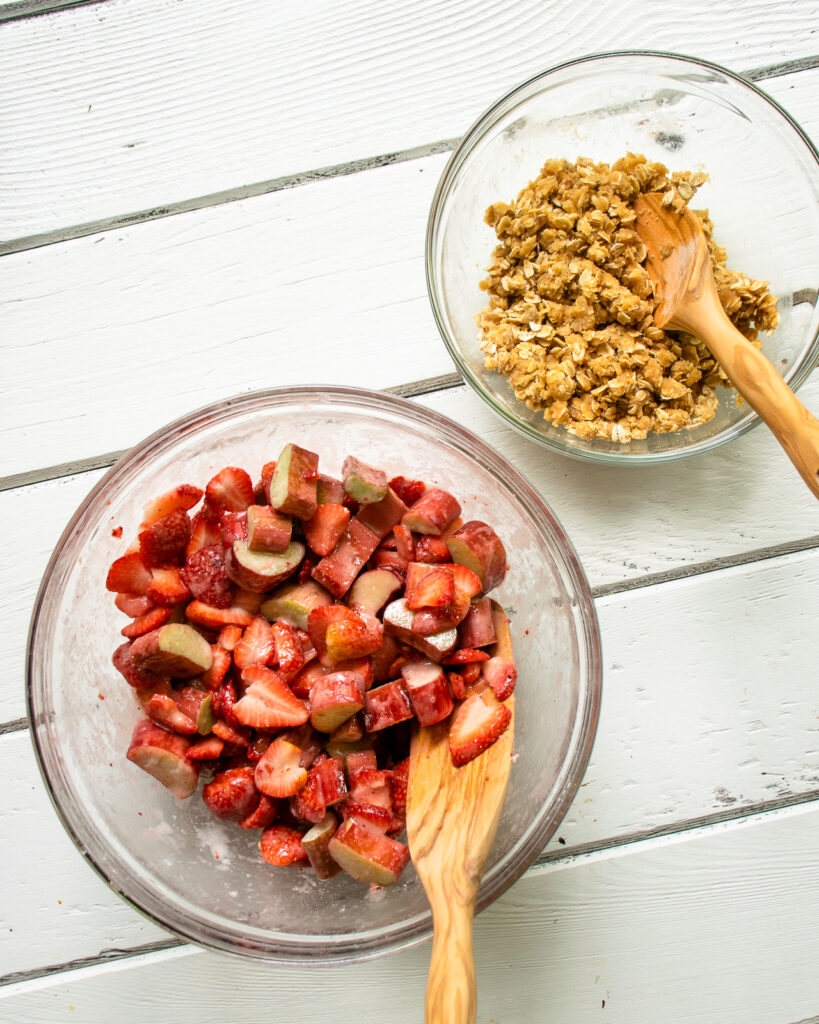 How to Make a Crisp
To make this simple strawberry rhubarb crisp, mix the fruit with cornstarch, sugar and a little salt in one bowl, combine the crisp topping in a second bowl and then put the two together. I like to use a shallow pan for the ideal fruit to crisp ratio. If the pan is too deep, you get a good dose of fruit, but not enough of the crunchy topping.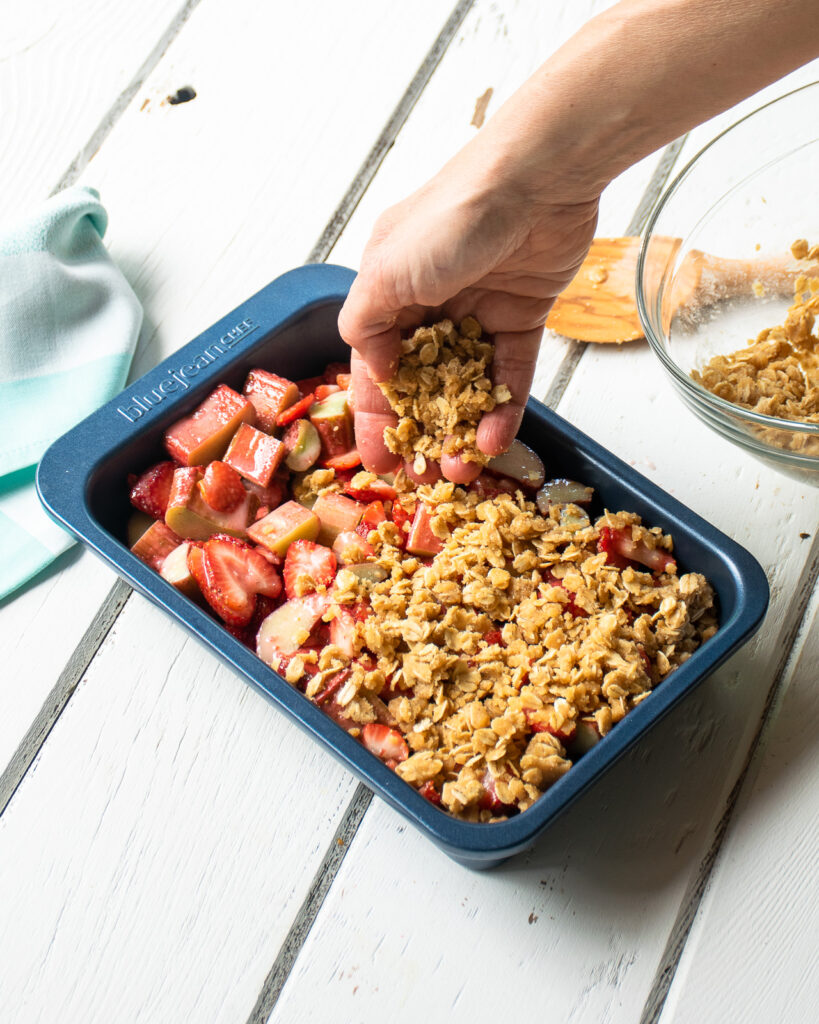 Baking Time
Slow and steady is key to making a perfect crisp. Set your oven to 350ºF and let it go for at least 35 minutes, if not 45. The moderate temperature is enough to turn the fruit into the stewy sweet compote you want without over-browning the top too much. When you think the crisp is done, test it with a paring knife, inserting it into the fruit below the topping. There should be absolutely no resistance. If the fruit feels a little firm but the topping can't afford to brown any more, simply cover the top loosely with aluminum foil and return the pan to the oven for another 10 minutes or so.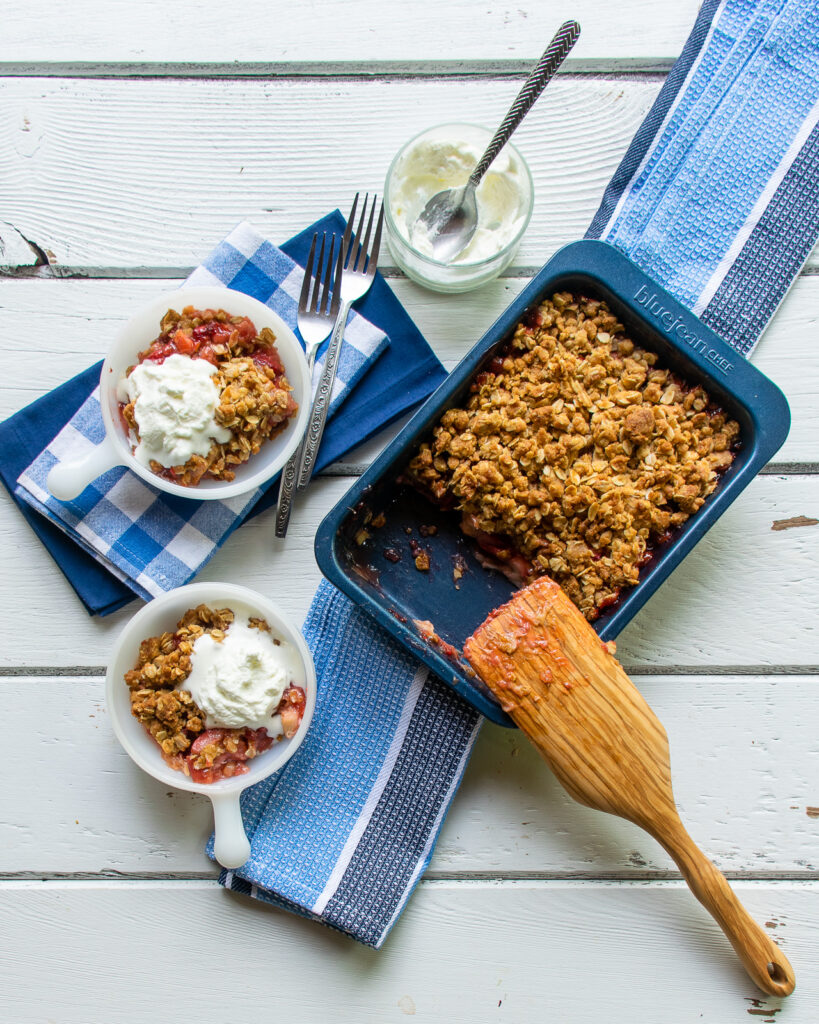 How to Serve 
Strawberry rhubarb crisp should be served warm or room temperature. A scoop of ice cream (maybe even this delicious strawberry ice cream) or dollop of whipped cream is a perfect match. If you have leftovers, cover well and store at room temperature for one day, or refrigerate for up to a week. Always re-heat the crisp in the oven for 20 minutes or so to heat it all the way through and re-crisp the top.