Rhubarb-Mint Gin and Tonic
A rhubarb-mint gin and tonic is such a pretty color and is just as refreshing as it looks. You can store the rhubarb syrup in the fridge and mix it with sparkling water for an anytime drink too.
Jump to Recipe (or scroll for photos...)
Advertisement - Continue Below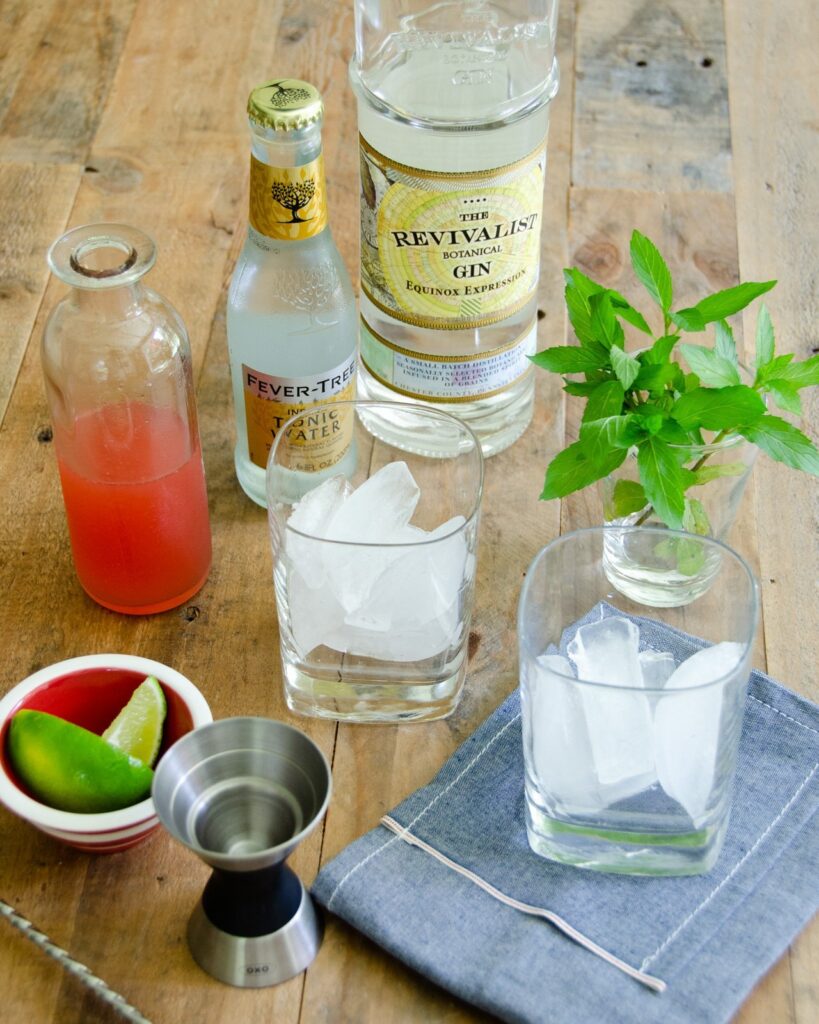 Rhubarb-Mint Gin and Tonic
Ingredients
1 1/2 ounces gin
1 ounce rhubarb syrup
1 wedge lime
4 leaves fresh mint
3 ounces tonic water
Rhubarb Syrup
2 cups rhubarb chopped
1/2 cup sugar
1/2 cup water
---
Instructions
Add ice cubes to a rocks glass and pour the gin and rhubarb syrup over the top.

Squeeze the wedge of lime into the glass and drop it in.

Spank the mint leaves and add them to the glass as well.

Top with tonic water. Stir and serve.
To make the Rhubarb Syrup
Place the rhubarb, sugar and water into a saucepan and bring to a simmer. Simmer for 20 to 30 minutes or until the rhubarb is completely soft. Strain through a fine strainer, pressing the pulp to get as much liquid out as possible. Store in a glass bottle in the fridge for up to two weeks.
Nutrition Facts
Rhubarb-Mint Gin and Tonic
Amount Per Serving
Calories 191
% Daily Value*
Sodium 19mg1%
Carbohydrates 23g8%
Sugar 19g21%
Vitamin C 5.2mg6%
* Percent Daily Values are based on a 2000 calorie diet.
Close Modal
Advertisement - Continue Below
Advertisement - Continue Below
Advertisement - Continue Below