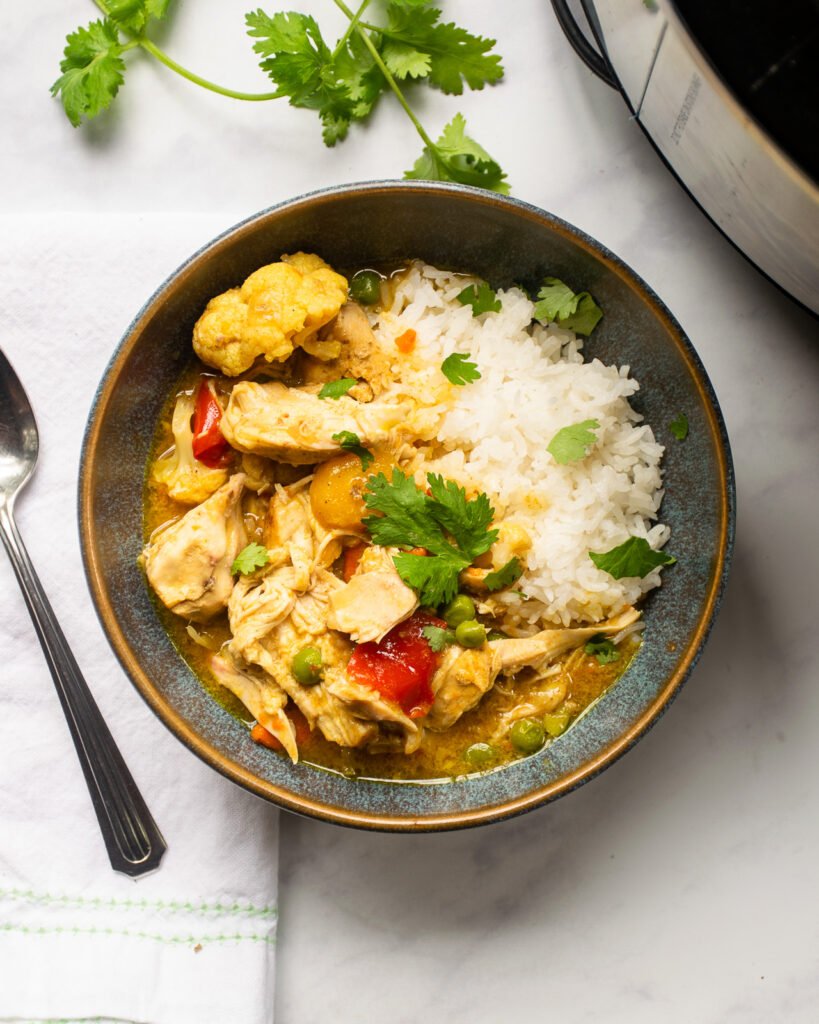 Mild Curried Chicken
I think of this slow cooker curried chicken stew as a gateway meal for anyone who doesn't love curry, but does loves a good bowl of comfort food. It really isn't a curry as much as it is a stew that is gently flavored with curry, but I believe that if you haven't traditionally liked curry in the past, this might be the meal to get you to try again, to expand your curry horizons and opening new doors or meals to you. The instructions give you a range of curry powder to add (1 to 2 tablespoons), so you can go big with your curry flavor or keep it light.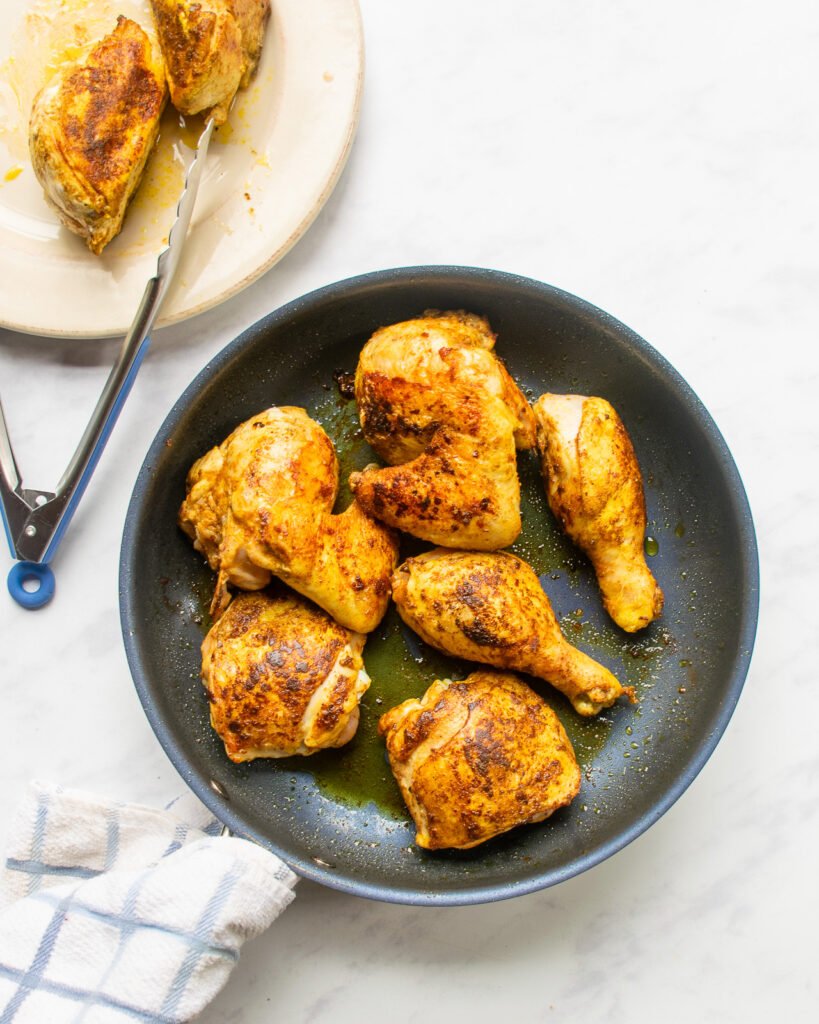 Skin on or Skin off?
That is the question! Truth is, you can do either. Leaving the skin on protects the chicken from drying out as it cooks all day, but you do lose some of that delicious spice rub when you discard the skin and there will be more fat in the finished stew than if you remove the skin. If you'd prefer less fat in the finished dish, you can remove the skin ahead of time and put the spice rub directly on the meat. For the photos above, I left the skin on the chicken. When I make this next time, however, I'll probably go with skinless pieces of chicken.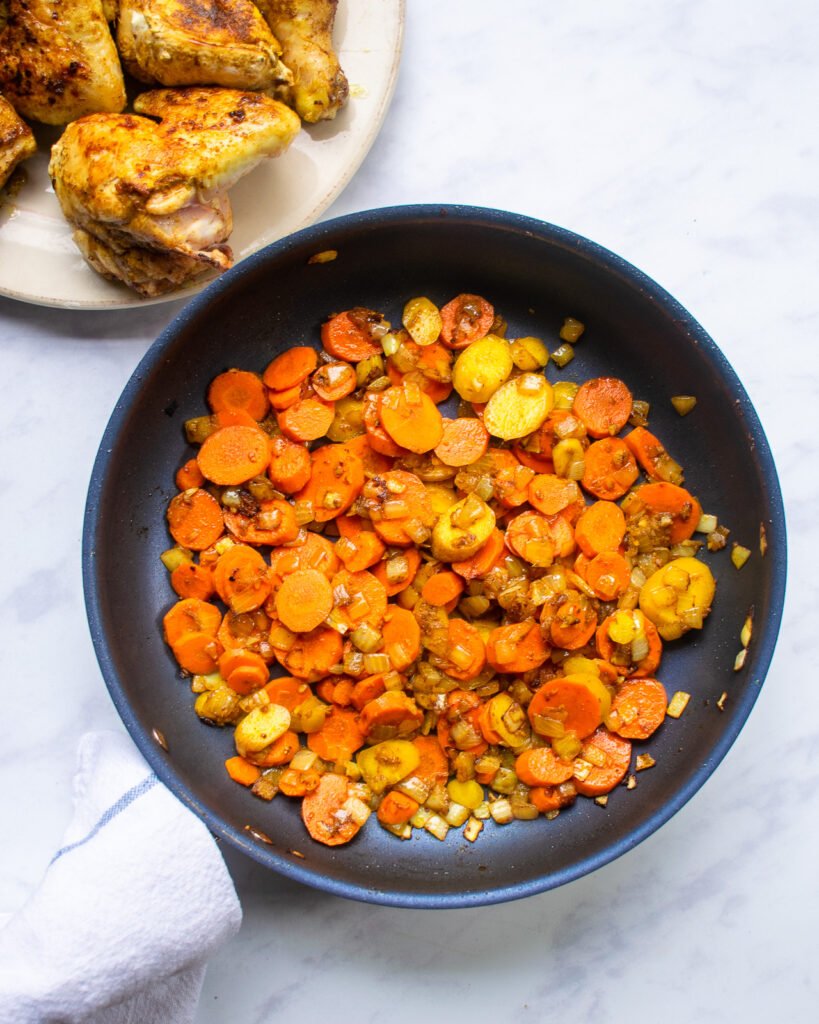 Vegetables for Curried Chicken Stew
Curried dishes lend themselves very well to different vegetables, so you can really put in whatever you like. I used yellow and orange carrots, onion, cauliflower, red pepper and peas. You could add cubed potato, parsnips, or any other vegetable that you like. Just know that by the end of the cooking time, the vegetables will be very soft. Any quick cooking vegetable (like the peas or fresh spinach) should be stirred in at the end of the cooking time.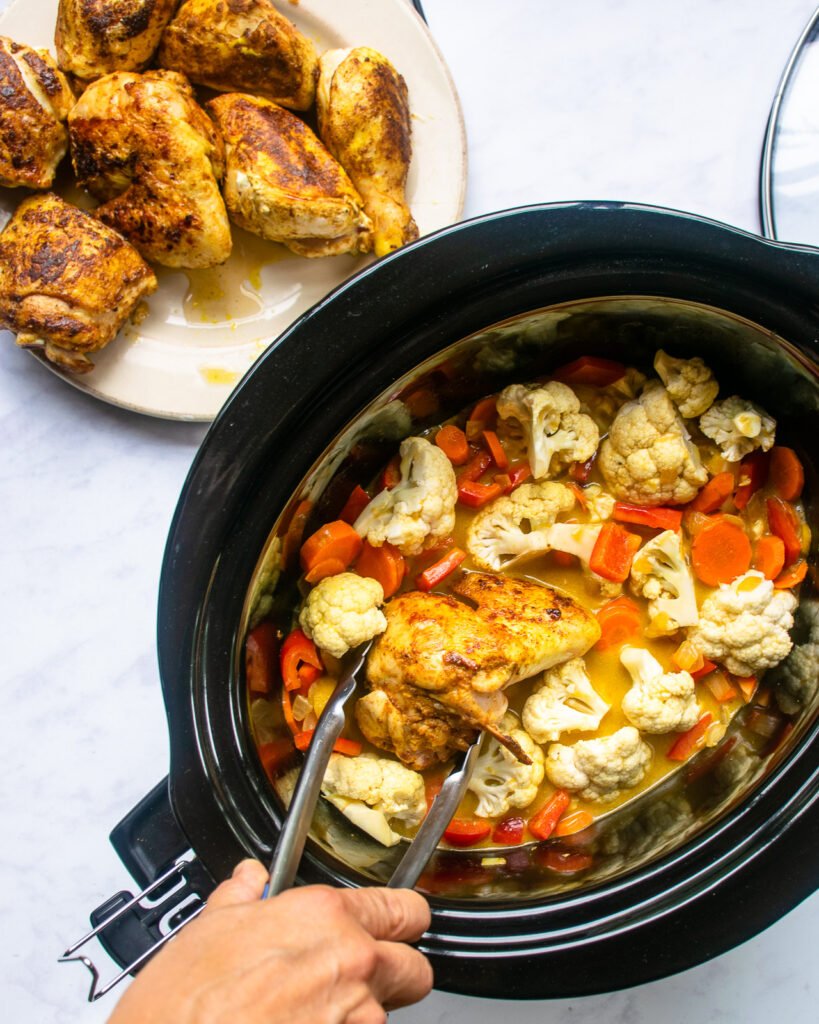 How Long to Slow Cook Chicken Stew
The nice thing about slow cookers is that you always have the option to cook it on LOW or HIGH and adjust the time accordingly. This recipe calls for 2 hours on HIGH, but you could extend that to 4 hours on LOW if you need it to take a little longer. Whichever temperature setting you use, make sure the chicken is cooked through (over 165˚F) and that the vegetables are soft.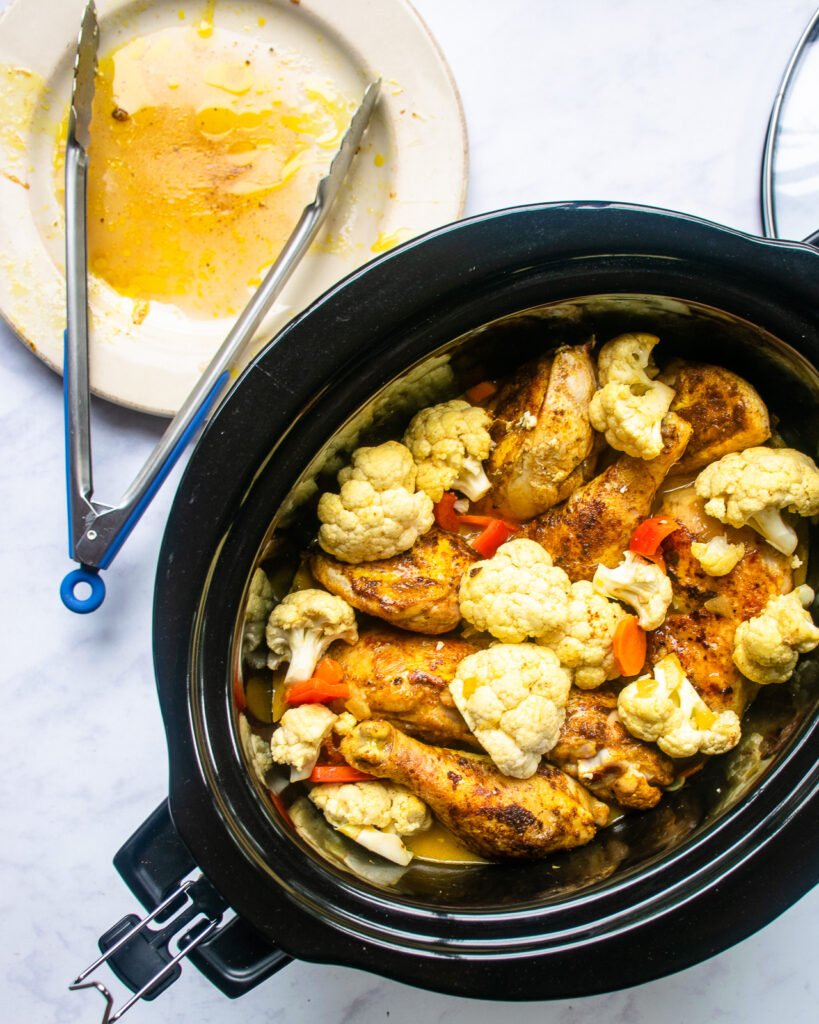 Tips for Slow Cooking
I have two favorite tips for slow cooking. The first is to pre-heat your slow cooker. Pre-heating the appliance gives you a head start that makes a difference. The two hour cooking time mentioned above counts on the fact that you're starting with a warm cooker. You have to sear the chicken first anyway, so just plug the cooker in and turn it on at the beginning of your recipe prep.
The second and most important slow cooking tip is to not lift the lid. This is so important that I can't stress it enough. You lose so much heat and add so much more time to your cooking when you lift that lid, so resist the temptation. You can read more of my slow cooking tips here.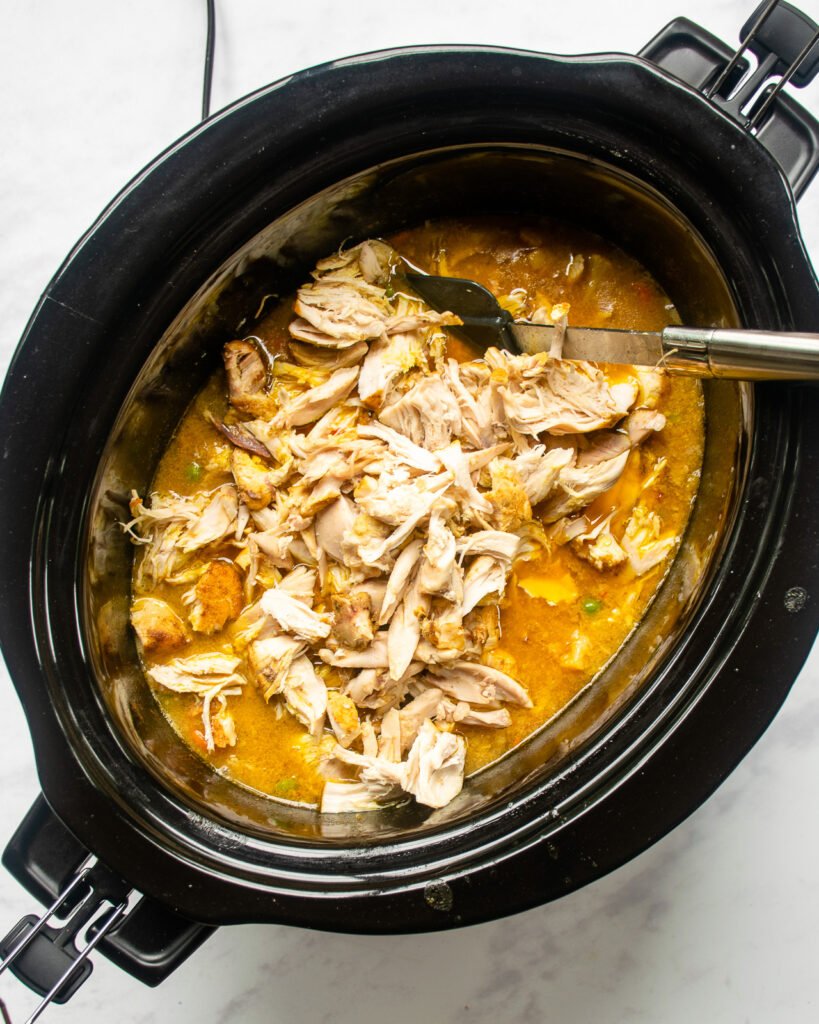 Shredded Chicken
Once the chicken has cooked through, just remove it from the slow cooker and shred the meat with two forks or let it cool and shred it with your fingers. The pieces don't have to be too small, but polite-sized. That means the piece of chicken should not be so big that eating it with a spoon would be impolite! Polite-sized chicken pieces, please. While you're shredding the chicken, you can add the peas to the cooker and season with salt and pepper to taste. Then stir the chicken back in and heat it through.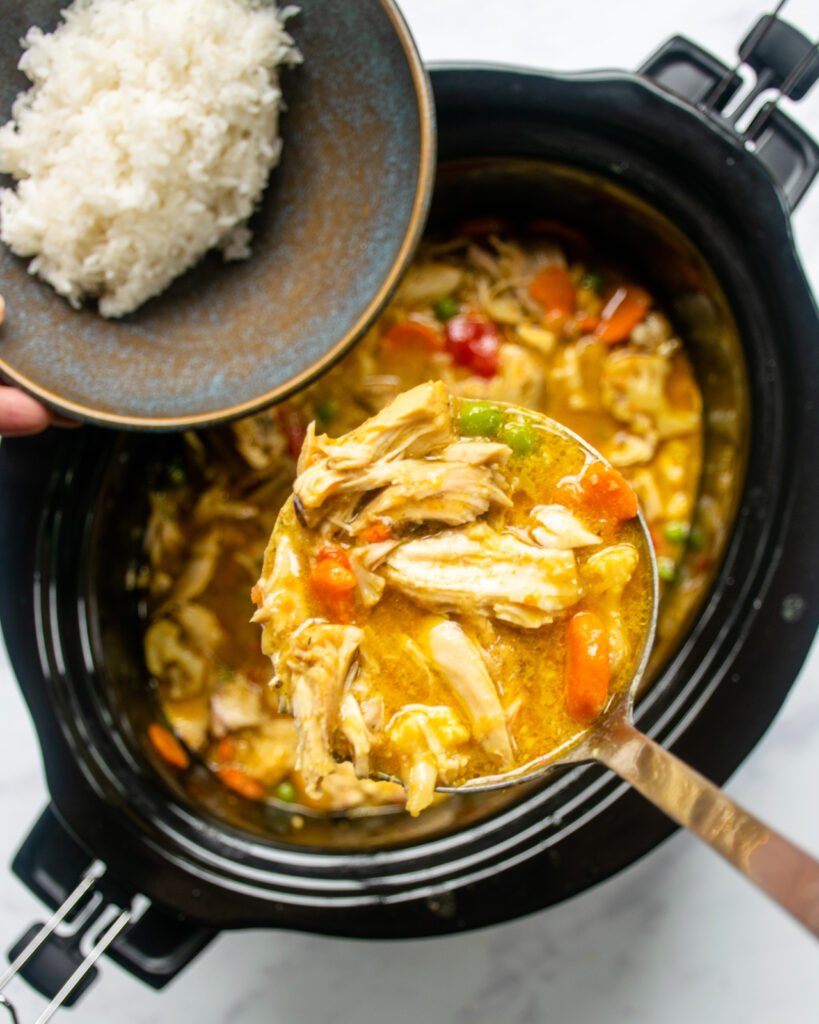 How to Serve
I think this stew is best served over some basmati rice, but you could enjoy a bowl of it all by itself if you prefer. If you do decide to serve it over rice and have leftovers, stir the rice into the stew before storing it in your refrigerator for up to 5 days. The rice will absorb all the delicious flavors of the sauce and thicken the stew. You can thin it when you re-heat it if you like, or enjoy a different slow cooker curried chicken and rice stew. Try it. I bet you'll be making more curries in no time.