How to Slow Cook a Turkey Breast
The most important step in preparing a slow cooker roast turkey breast is to make sure your turkey breast fits into your slow cooker. An oval slow cooker tends to work better than a round slow cooker for large pieces of meat, which tend to be more oval in shape than round. Start by putting your raw turkey breast into the cooker and make sure the lid can fit on without touching the top of the turkey. If it is a little too big, don't fret – just trim some of the rib bones on the underside of the turkey breast until it fits perfectly. 
This recipe uses onions, sage and lemons in the bottom of the cooker to add some flavor aroma to the turkey and also to the juices that will drip out of the meat. They create a nice bed for the turkey to rest on. You could use lots of different spices in the spice rub on the turkey skin, but try to include something that has a reddish or brown color to it. As you can imagine, slow cooking a turkey doesn't necessarily assure browned skin, so giving it a hand with a brown spice rub really helps.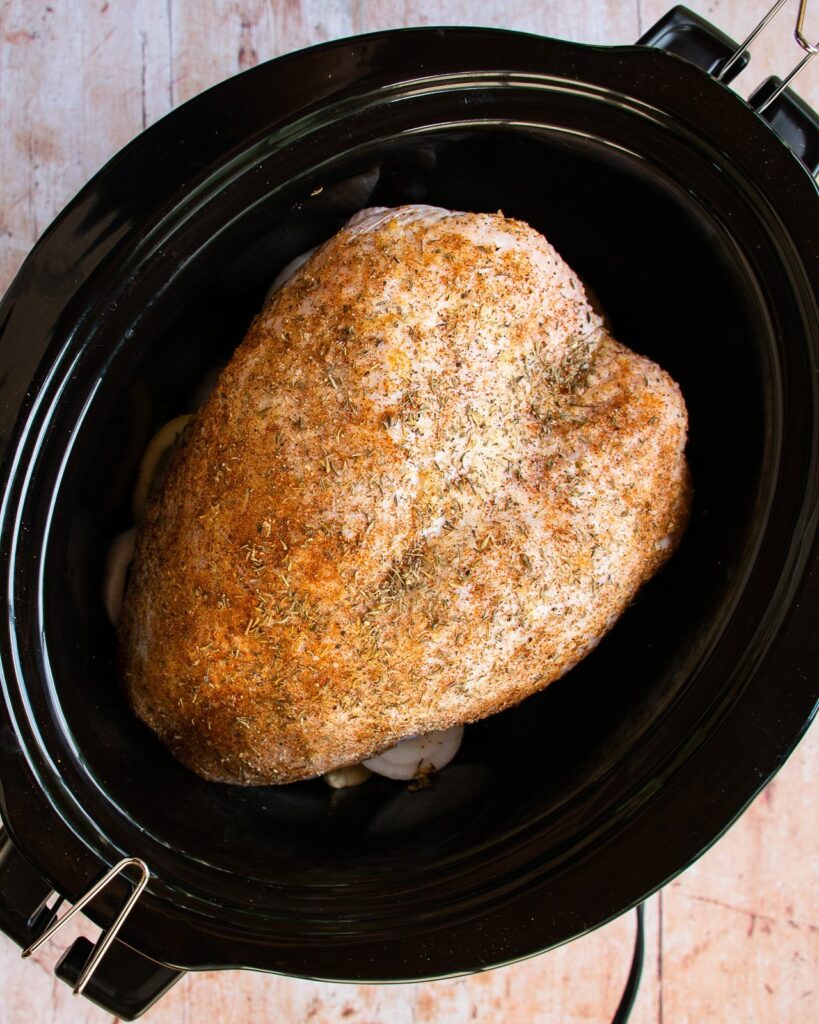 #1 Rule of Slow Cooking
Then, you just need to wait and follow the most important rule of slow cooking – do not (under any circumstances) lift the lid. Lifting the lid causes far too big a drop in temperature and will slow down the cooking process much more than you'd expect. I love the fact that my slow cooker has clamps on the side of the lid, not only to keep it on securely when traveling, but to remind me never to unclamp them and open it up until it is time. It also comes with a temperature probe, which conveniently lets me know how the turkey is coming along with having to open the lid to check.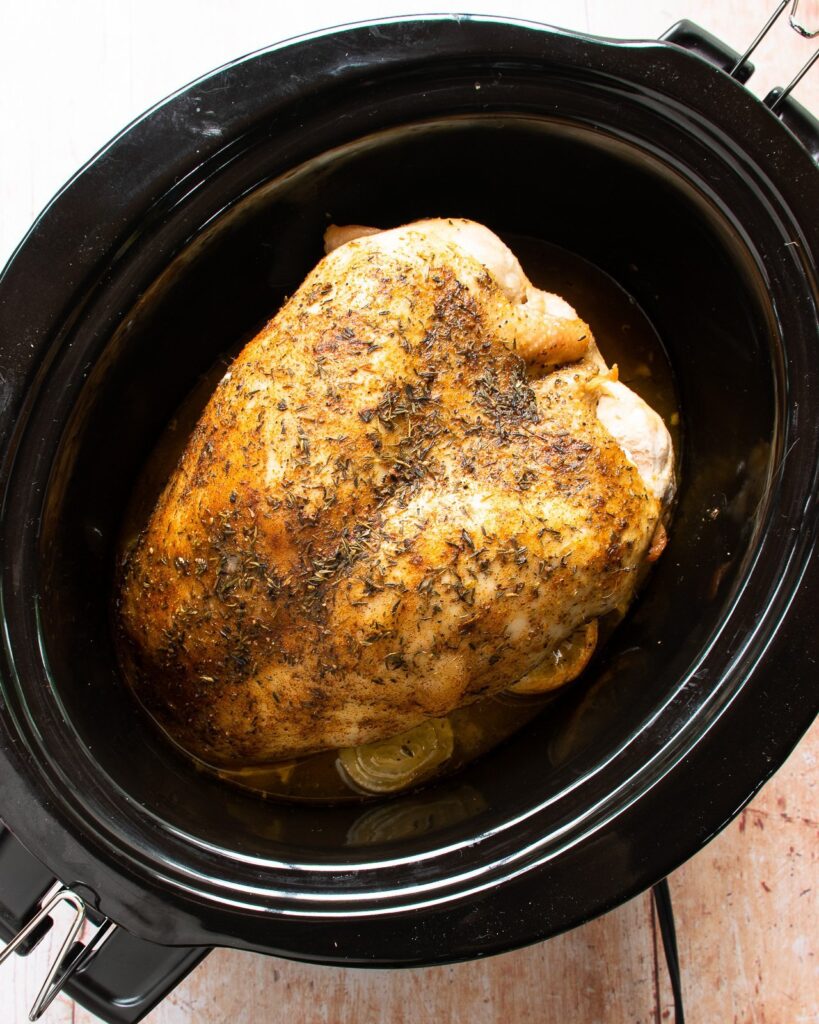 How to Tell the Turkey is Cooked
Which brings me to the next important point – to be sure to check the internal temperature of the turkey before removing it from the cooker (yes, you are permitted to lift the lid off for this). Insert an instant read thermometer into the thickest part of the breast meat. The thermometer should register 165ºF when the turkey is fully cooked. Remove it from the slow cooker and let it rest for 5 minutes before slicing it. That's just enough time to make a nice gravy from the drippings or to finish the side dishes.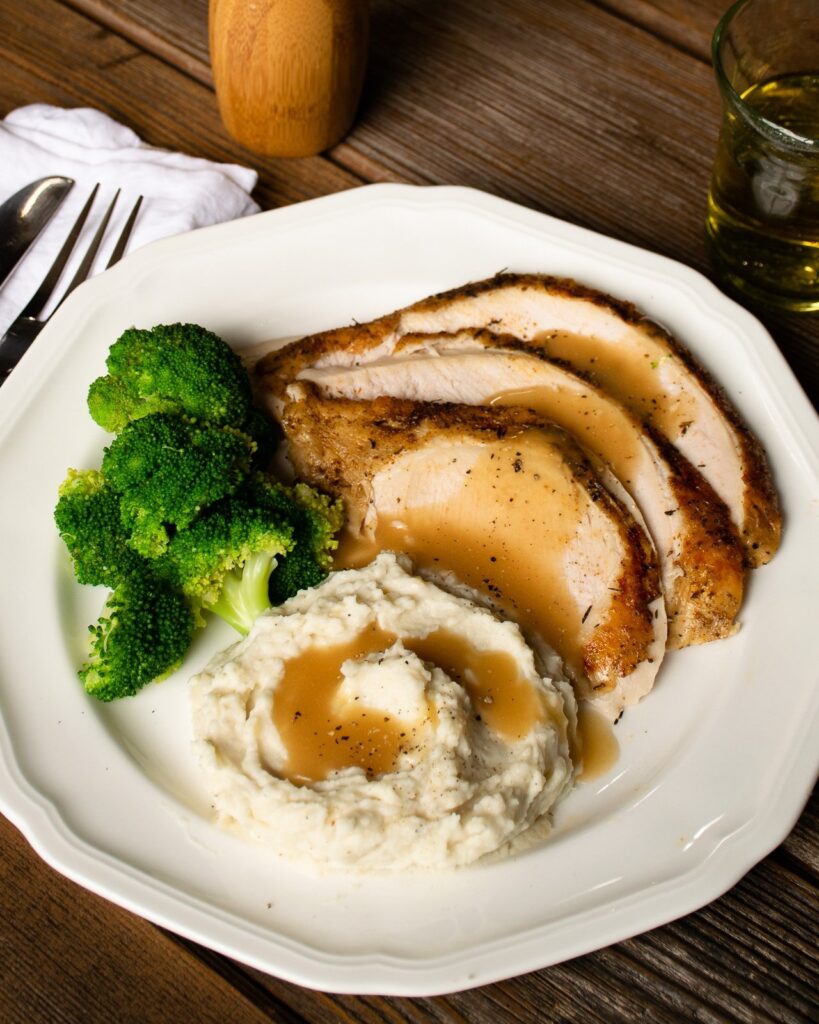 Slow Cooker Turkey Leftovers
Don't let a great roast turkey dinner only be for the holidays. It's a super satisfying meal and if you have leftovers… try these leftover turkey recipes: Turkey Tex Mex Salad, California Turkey Club, Turkey Waldorf Salad Pita, Turkey Couscous Salad.