What is Colcannon?
Colcannon is the delicious Irish mashed potato side dish that is perfect for St. Patrick's day, but honestly delicious any day of the year. I mean… mashed potatoes with butter and cream! Sure, you do stir vegetables into the mashed potato, but … mashed potatoes! I'm not sure what you'd have to do to make me not want to eat mashed potatoes. Well, actually, there is one thing.
When I was younger I used to succumb to the tradition of green mashed potatoes at St. Patrick's Day, made undeniably with the addition of green food coloring. (Those might have been my days when I was more interested in the beer that went along with the St. Patrick's Day celebrations than the food – just saying…) I'm older and wiser now, and strong enough in my will power to just say "No" to green mashed potatoes – at least, not that color green! These days, I prefer color in my food to come naturally. Colcannon is the best St. Patrick's Day side dish – mashed potatoes that are green-ish naturally because of the delicious vegetables you'll add to them.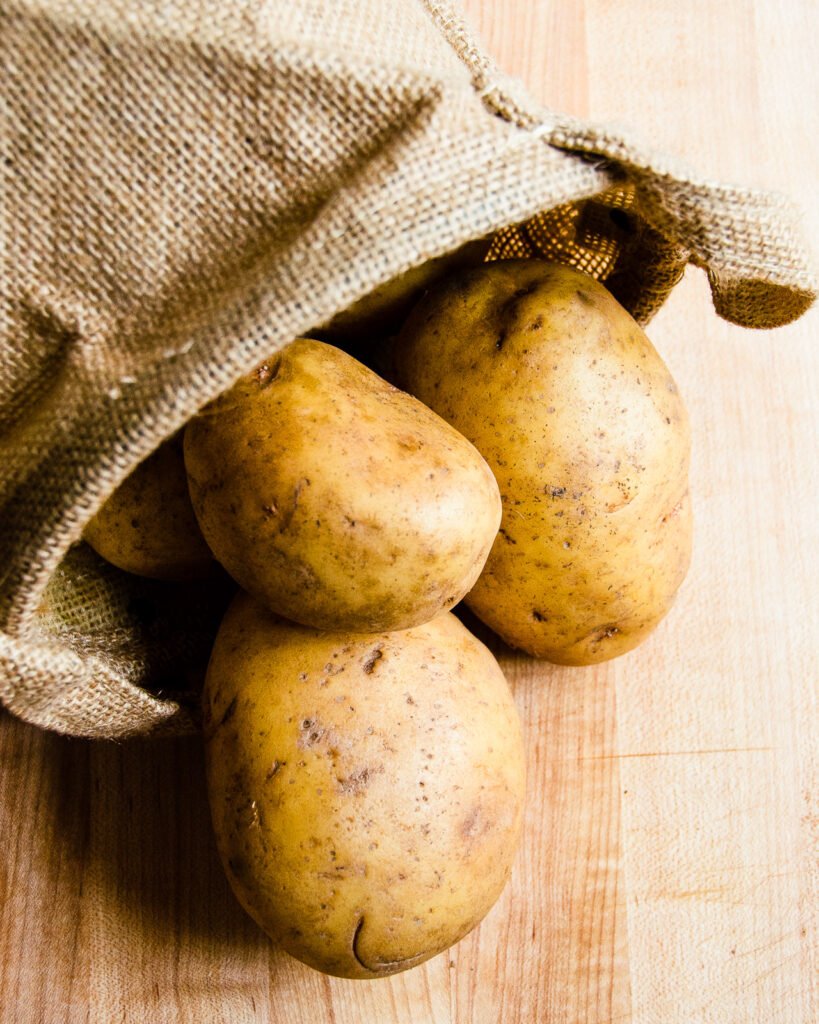 Perfect Mashed Potatoes
Perfect mashed potatoes start with an idea of how you define "perfect", and the right type of potato to get you there. You can learn all about making my perfect mashed potatoes here, but if you like fluffy mashed potatoes (my definition of "perfect"), start with either Russet potatoes or Yukon Gold potatoes (pictured above). They have just the right amount of starch and moisture to deliver beautiful creamy and fluffy mashed potatoes.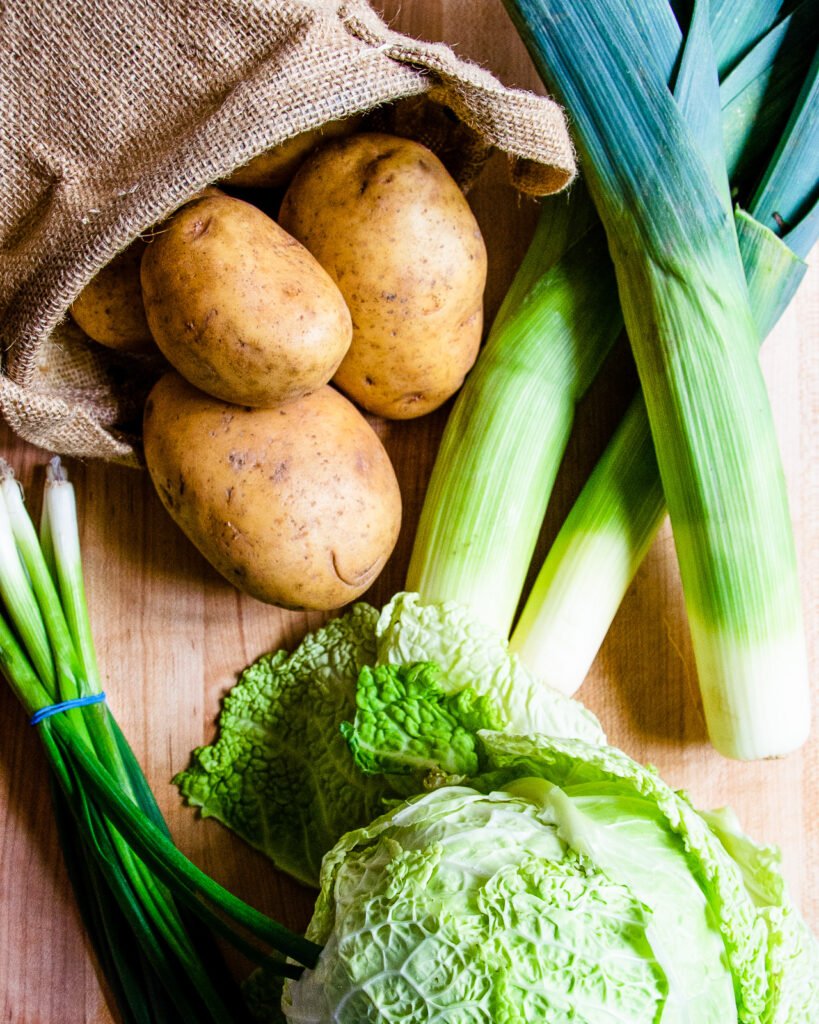 Cabbage and Potatoes… and Leeks too!
Traditional colcannon always includes cabbage or kale. In this recipe, I add cabbage and leeks for a light onion flavor and to enhance the green color a little more. The time it takes the potatoes to boil is the perfect time to let the leeks and cabbage sauté separately in butter (of course!). A few scallions stirred in at the end adds even more green and a bright flavor.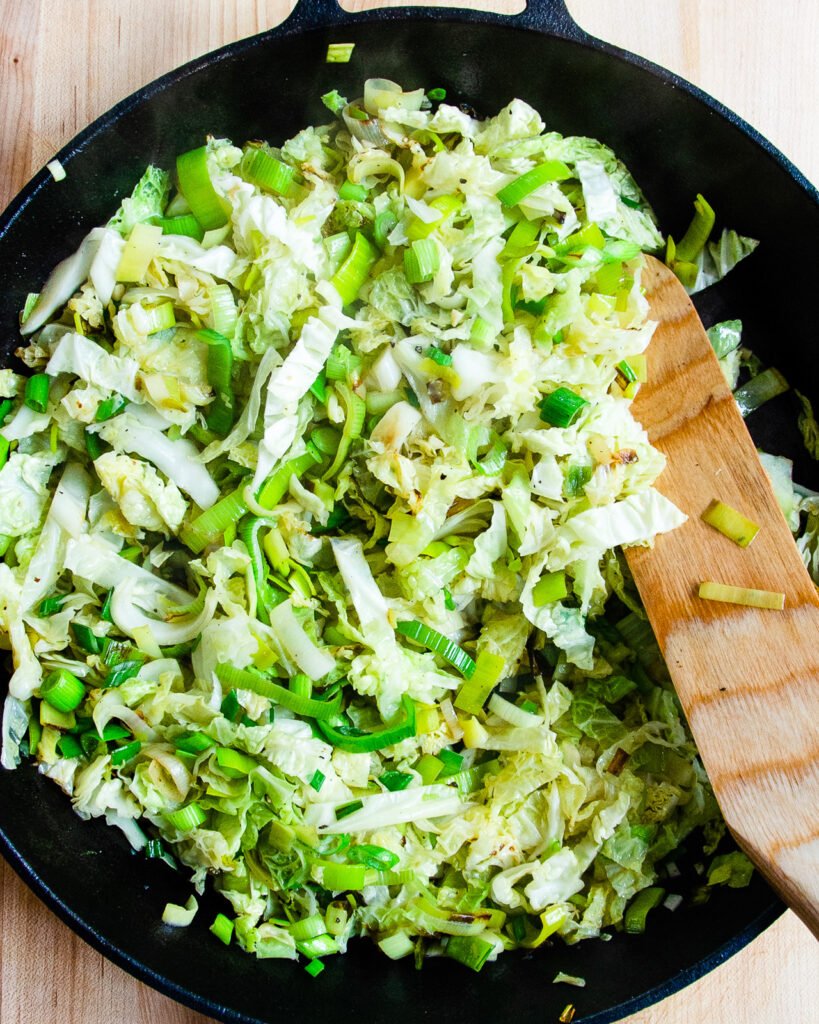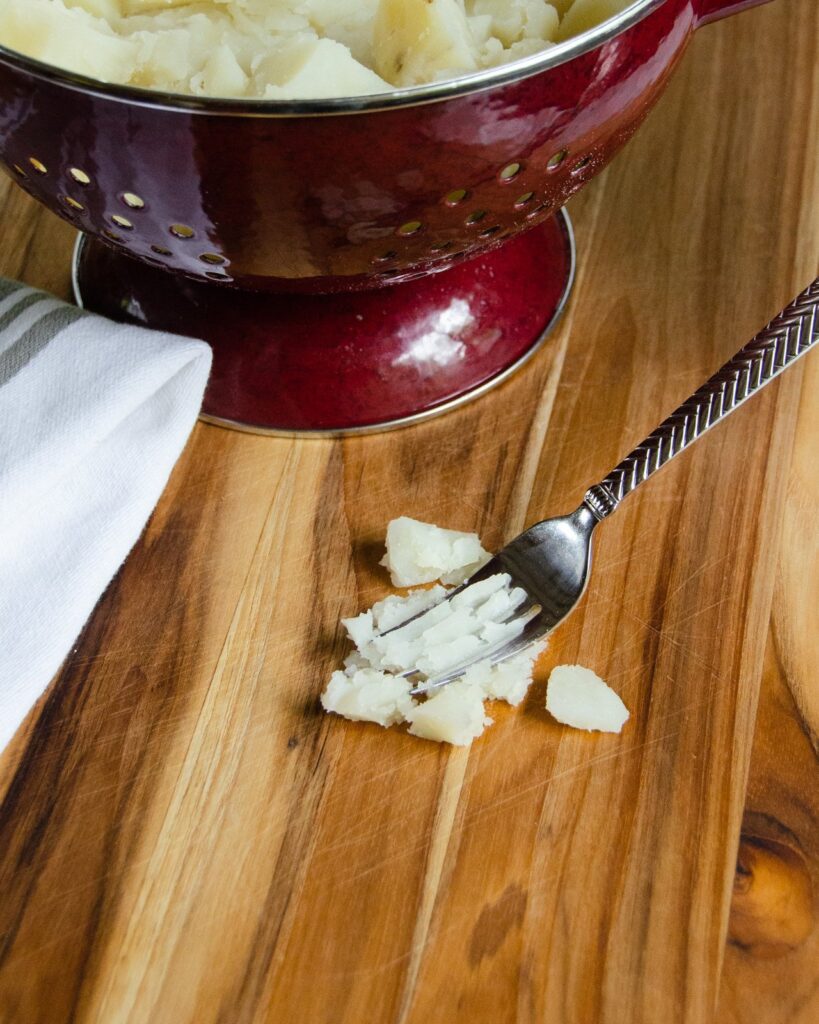 Rustic Crushed Potatoes
Now, if you're making perfectly smooth mashed potatoes as you might for a fancy dinner party, you would probably want to purée the potatoes using a food mill, but colcannon is more rustic dish. These should be rustic crushed potatoes and you can crush them with a wooden spoon or spurtle or fork or whatever you have that will break the potatoes down into perfect little mashed chunks. Then, combine your perfectly crushed potatoes with the sautéed vegetables, butter and cream, seasoning to taste with salt and freshly ground black pepper.
At the end (and this is very important) make a little well on the top of the colcannon and throw a pat or two of butter there to melt. It's a great way to gain some insight into the people you're feeding. If someone shies away from the dish because they are afraid of butter (some people are), you'll know that he or she is not a true eater and consequently possibly not a really good friend. If they jump in with reckless abandon, it's a good sign that they are probably a kindred spirit.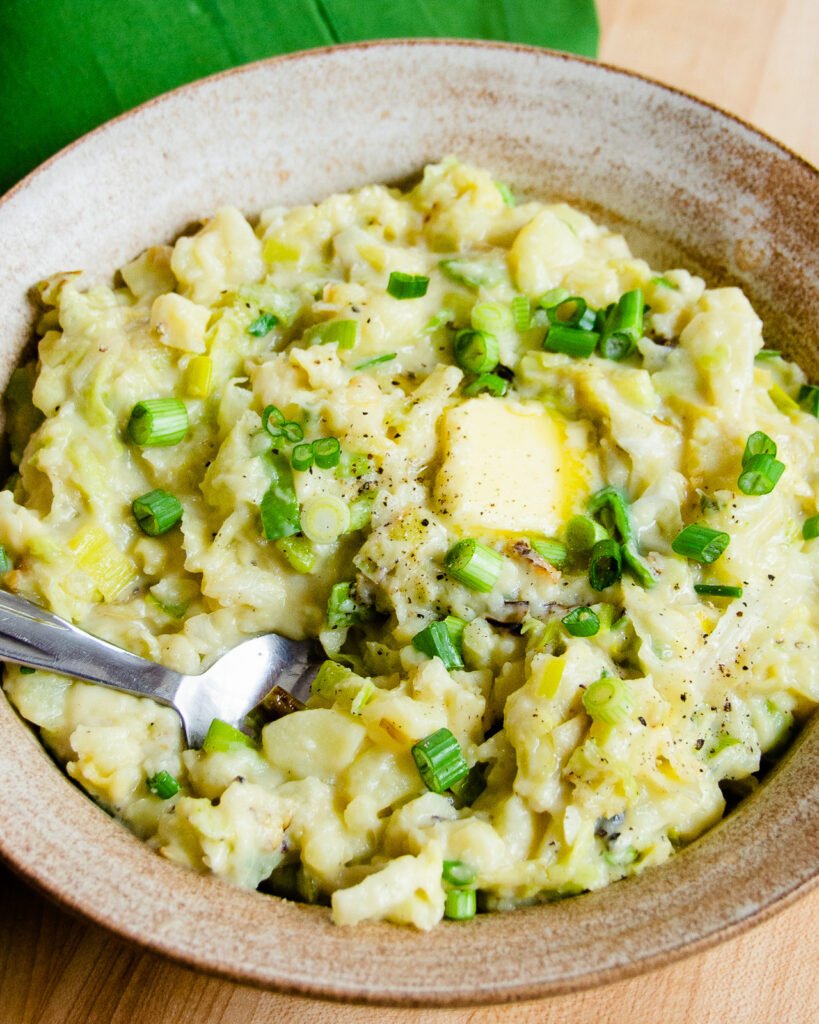 What to Serve with Colcannon?
So, you have the perfect side dish, but what about the rest of the delicious meal for the colcannon to sit beside? If it's St. Patrick's Day, why not go for a corned beef dinner or a delicious bowl of Guinness Beef Stew? You could also make some traditional Irish Soda Bread for the table. If it's just a regular ol' day, colcannon would go perfectly with a beautiful baked ham. Then again, I think it goes pretty perfectly with a fork.