What is Picatta Sauce?
Picatta is an Italian dish of veal that is sliced, sautéed and served with a lemon-caper butter sauce. The style of cooking and delicious sauce has been applied more commonly to chicken in the USA, but it also works perfectly for pork and so… pork picatta! 
How to Make Pork Picatta
Pork picatta starts with a pork tenderloin – one of the most tender cuts of pork. The first step in making anything picatta is to slice it, so the tenderloin is sliced into pieces that are about 1½-inches thick and then pounded thin. Dredge the pork in seasoned flour and jump into the second picatta step – sauté it to give it a nice brown color on both sides, just barely cooking it through. The third step is to make the picatta sauce, which comes together in less than 10 minutes with shallots, garlic, chicken stock, lemon juice, capers, butter and parsley. Return the pork to the pan, and you're done!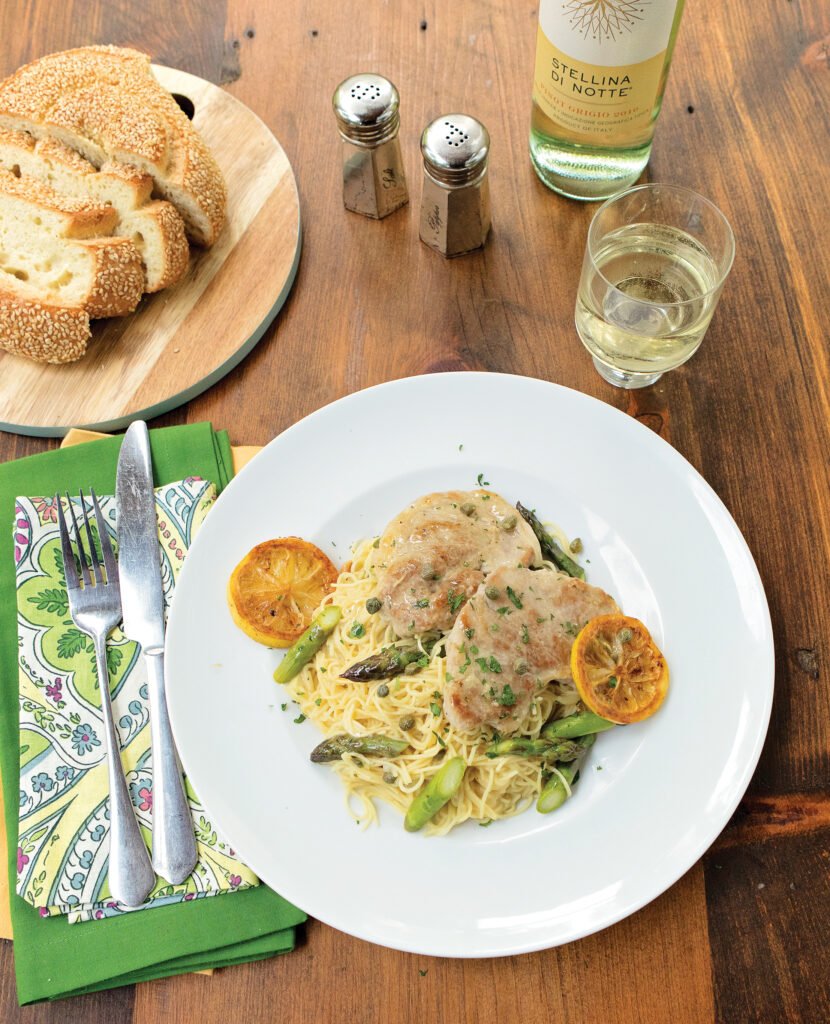 Substitute for Capers in Picatta
Capers are a delicious, briney, salty ingredient that I love in so many dishes, but there are folks who just don't like them. One important step when using capers is to rinse them before adding them to a recipe. Many people forget about (or didn't know in the first place) rinsing capers. If you're one of those people who don't like capers, perhaps you didn't rinse them first? If I can't convince you to jump on the caper band wagon even after you've rinsed them, try substituting chopped green olives in this recipe instead. 
What to Serve with Picatta
I love pork picatta over thin angel hair or spaghetti, but any long pasta will do – fettucine, pappardelle egg noodles, etc.. If you're not one for pasta, picatta would also be delicious with some mashed potatoes or basmati rice to soak up the sauce. Then, a side salad or a cooked vegetable like broccoli or asparagus would be a good choice. A glass of white wine next to the plate would make it perfect!