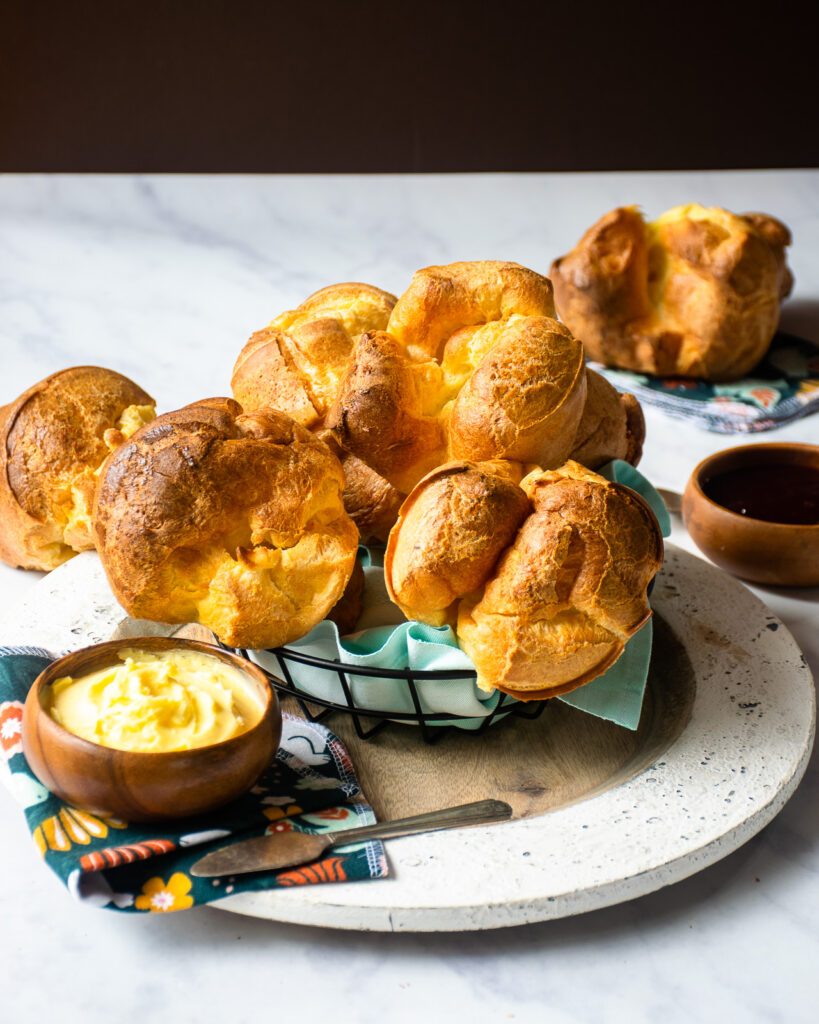 What's a Popover?
I've always known "popovers" as "Yorkshire Puddings" and they were one of my absolute favorite foods as a child. My British mother would make a roast beef for dinner with potatoes, a vegetable, gravy and Yorkshire puddings. I remember cutting up my Yorkshire pudding into pieces and rationing it to make it last the whole meal. So, for me, popovers are a savory meal accompaniment. These days and in the United States, Yorkshire puddings are called popovers because of the way they pop over the top of the pan, and they can be served in a bread basket with a dinner, or with butter and jam on a brunch table. That doesn't offend me because I could eat a popover all by itself any day of the year!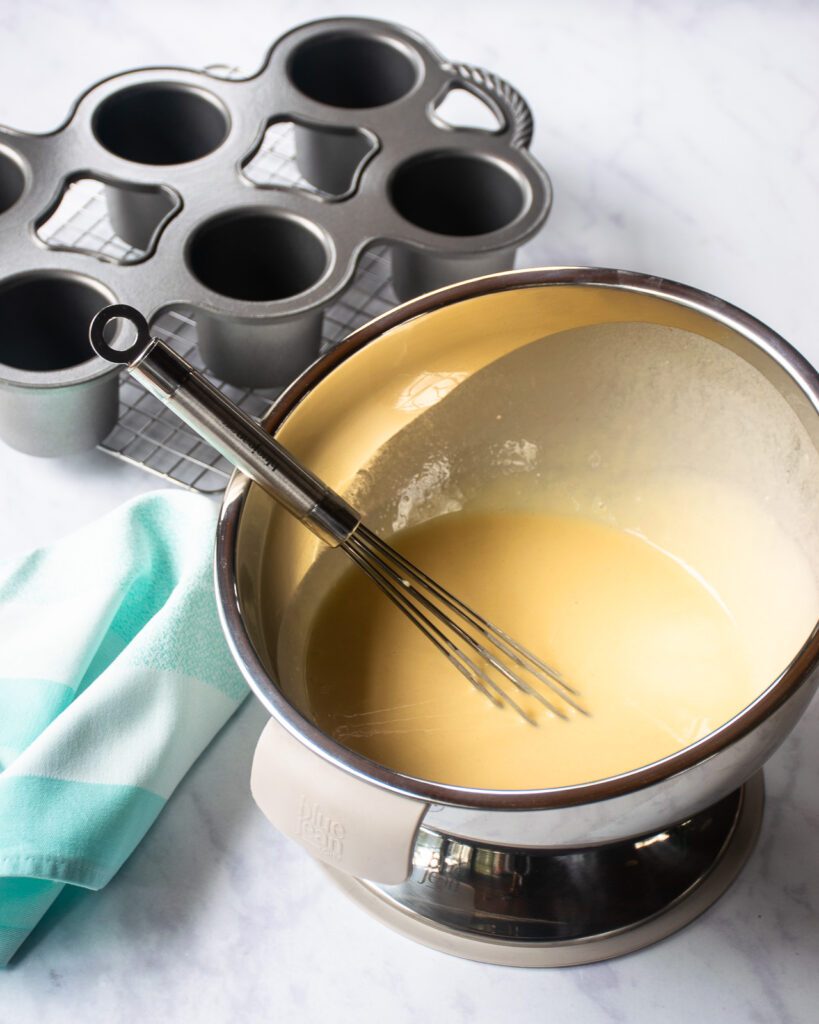 Popover Batter
There's absolutely nothing complicated about popover batter. It's a mix of flour, salt, eggs, milk and butter. You mix these ingredients together and whisk until it is well combined. You want the batter to be relatively thin and pourable. Easy. There's just one thing that will make the popovers better, and that's time. The batter needs time to rest before baking so that it creates a more tender popover in the end. So, cover the batter and pop it into the refrigerator for at least an hour, but preferably overnight.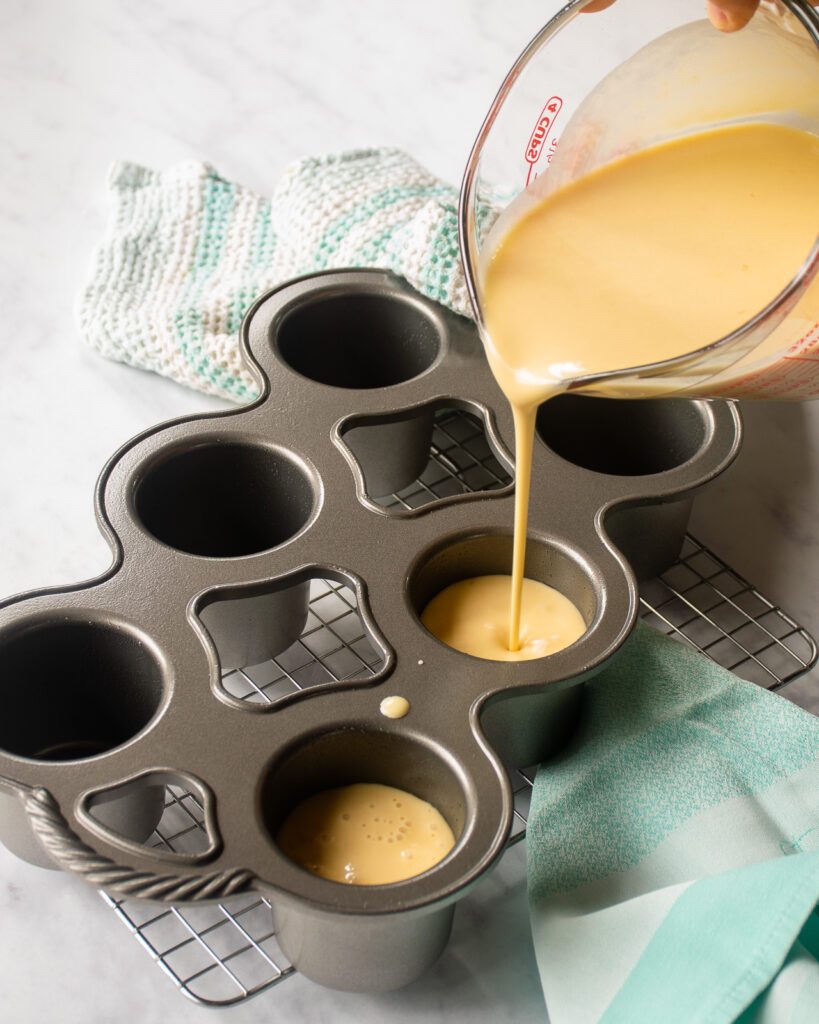 The Secret to Popovers
Popovers do not rise high because of baking powder, baking soda or yeast. Popovers rise because the batter produces steam, which causes the batter to rise, at which time the heat from the oven sets the protein in that risen shape. So, the key to getting your popovers to rise as high as possible is to make sure there is a burst of heat at the very beginning of baking to create the steam, allowing the popover to rise quickly before the heat sets the shape and stops it from rising more. You don't need to use a specific pan like the popover pan in the photo above – you can use a muffin pan if you like – but you do need to pre-heat that pan in the oven. Put a little vegetable oil into the bottom of each cup and pre-heat the pan and oil in the oven for 10 minutes. Then, pour the batter into the cups and you'll immediately see the batter start to heat up and form little bubbles. Send the popovers to the oven, shut the door and don't open it until the time is up.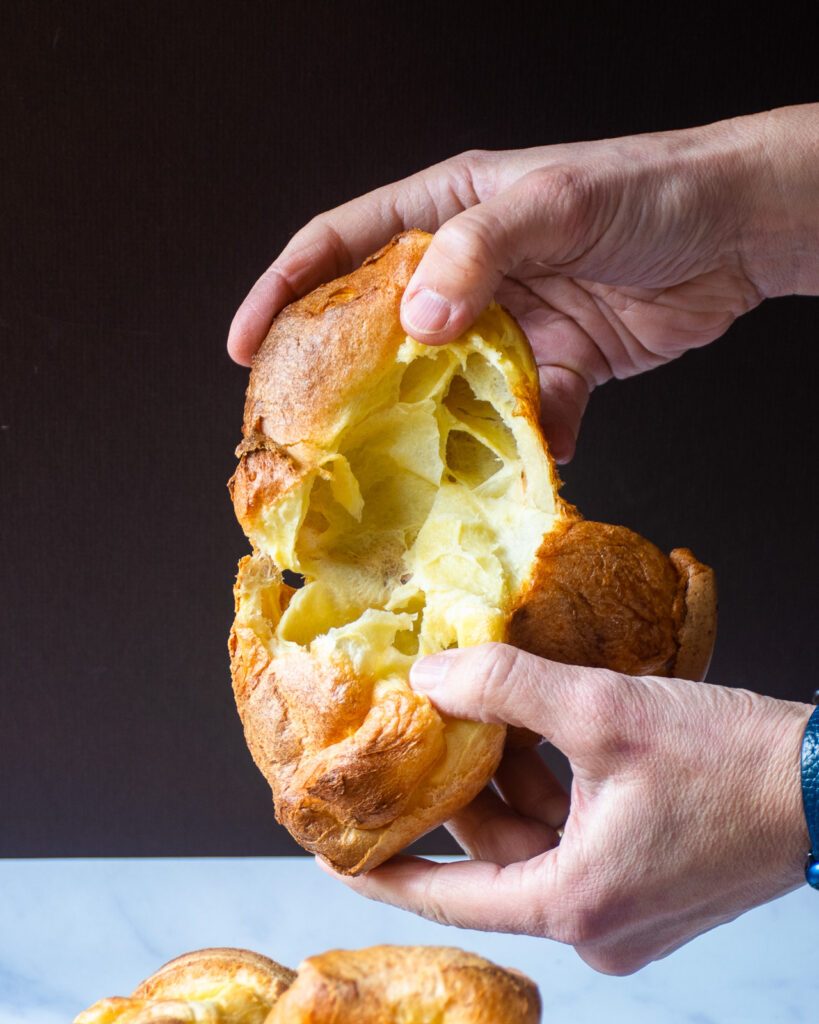 What to Serve with Popovers
After 45 to 50 minutes, your popovers will be delightfully tall and brown. Now's the time, since a popover is something to enjoy as soon as it comes out of the oven. You can truly enjoy a popover with almost anything. As I mentioned before, I used to enjoy popovers as part of a roast beef dinner. I'd stack a little piece of roast beef and gravy onto a piece of popover and enjoy every bite. I've also enjoyed popovers out of a bread basket at brunch, with a little butter and some jam. But to be honest… perhaps when no-one is looking, I'd happily enjoy a popover all on its own. Call it a guilty pleasure or just good common sense.