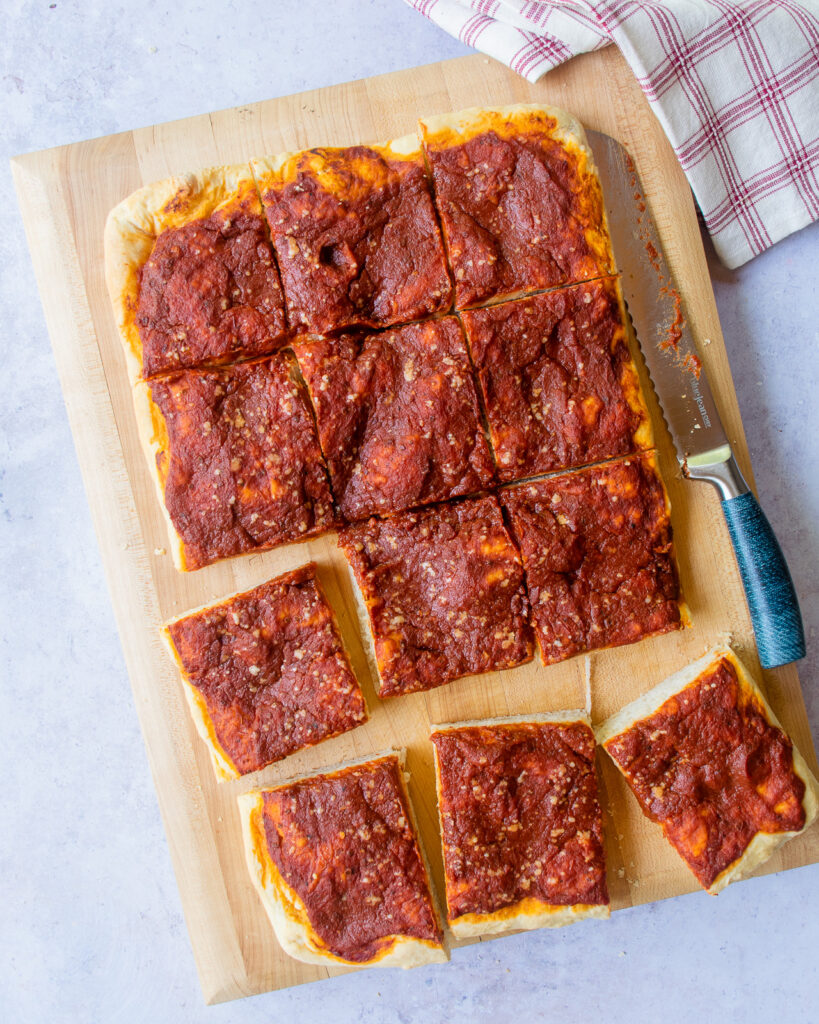 What is Philly Tomato Pie?
Philadelphia Tomato Pie is a Philly thing, but it does have origins back in Southern Italy. It is basically a thick-crust focaccia-like pizza that has a tangy, thick, slightly sweet tomato sauce on top, just a sprinkling of grated Parmigiano-Reggiano or Pecorino Romano cheese, and it is usually served cold. Now, that might sound odd to you, but it's one of Philadelphia's signature dishes and it's delicious.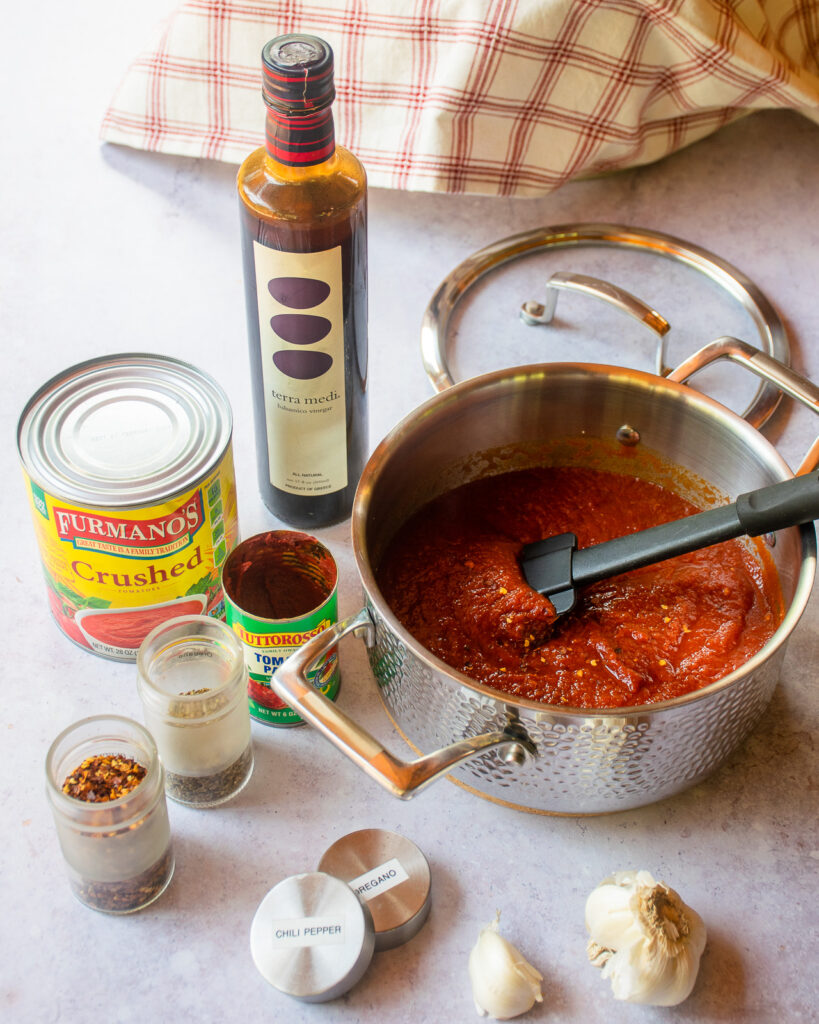 Sauce for Philly Tomato Pie
The sauce for this pie is intense. Intense in flavor, that is. It's not complicated, but it has a strong tomato flavor, enhanced by tomato paste in addition to the crushed tomatoes, and is seasoned with chili flake, oregano, garlic and a little balsamic vinegar. Let it simmer for 20 minutes and then let it cool. Just like Philly – not complicated, but intense.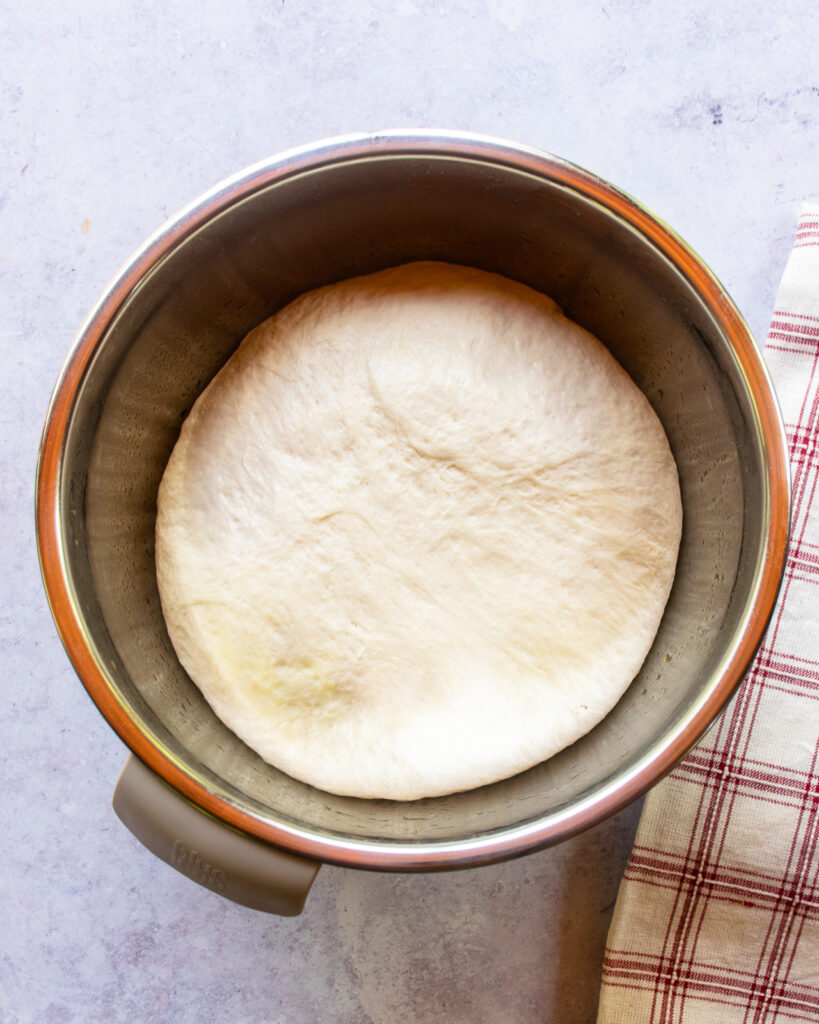 Dough for Philly Tomato Pie
The dough for Philly tomato pie can be controversial. Some people say pizza dough is fine. Others insist on bread dough. I say, take a break and let's not get caught up on definitions. This dough is what it is and if you make it yourself, you won't be sorry. If you're not up to making the dough for this Philly tomato pie, buy what you can – bread dough or pizza dough. Let it come to room temperature and then stretch it into a rectangle that fits your baking sheet. If it becomes hard to stretch, it's telling you it needs a break. Let it sit for 15 minutes and then stretch it again, pulling the corners into the corners of the pan. Then, let it rest for a second time, covered with a clean kitchen towel.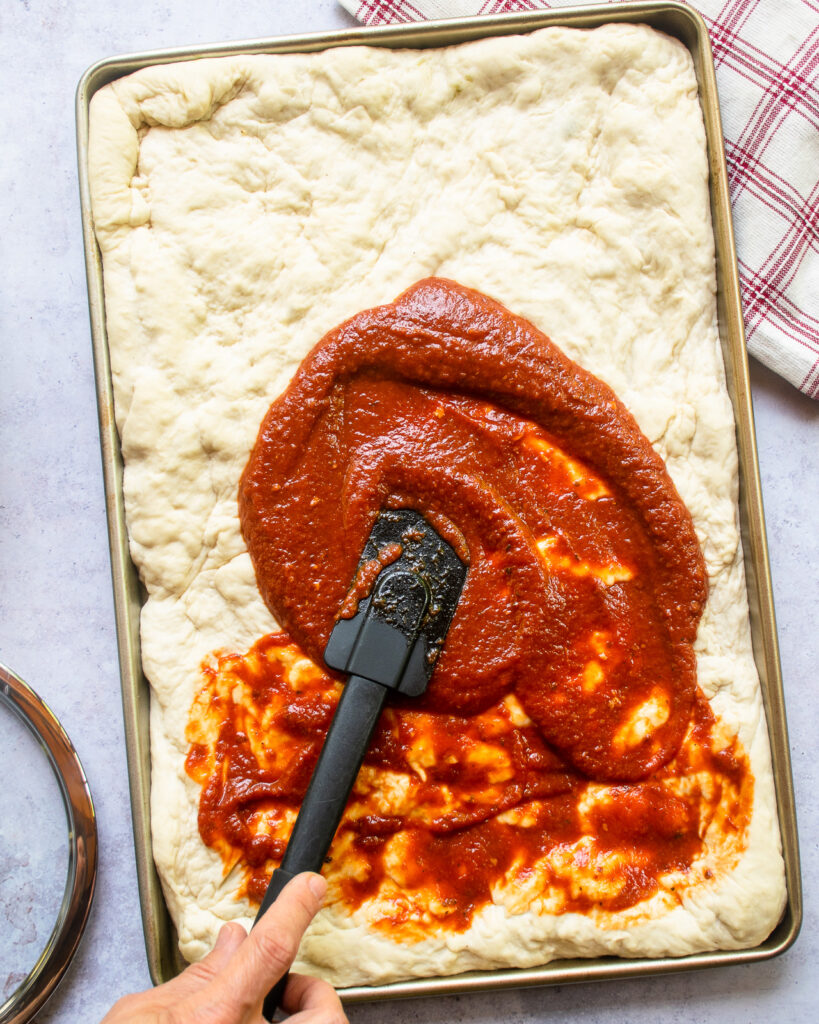 How to Bake Philly Tomato Pie
I bake this dish in two stages. The first stage has all but 1 cup of the intense tomato sauce spread on top. Spread it all the way to the edges of the dough and then bake it for 15 minutes at 450˚F. Then, spread the reserved sauce on top and bake it for another 5 to 7 minutes. This gives you two layers of tomato flavor – one more deeply roasted and one more tangy. It's not critical, but it results in a more complex and delicious flavor.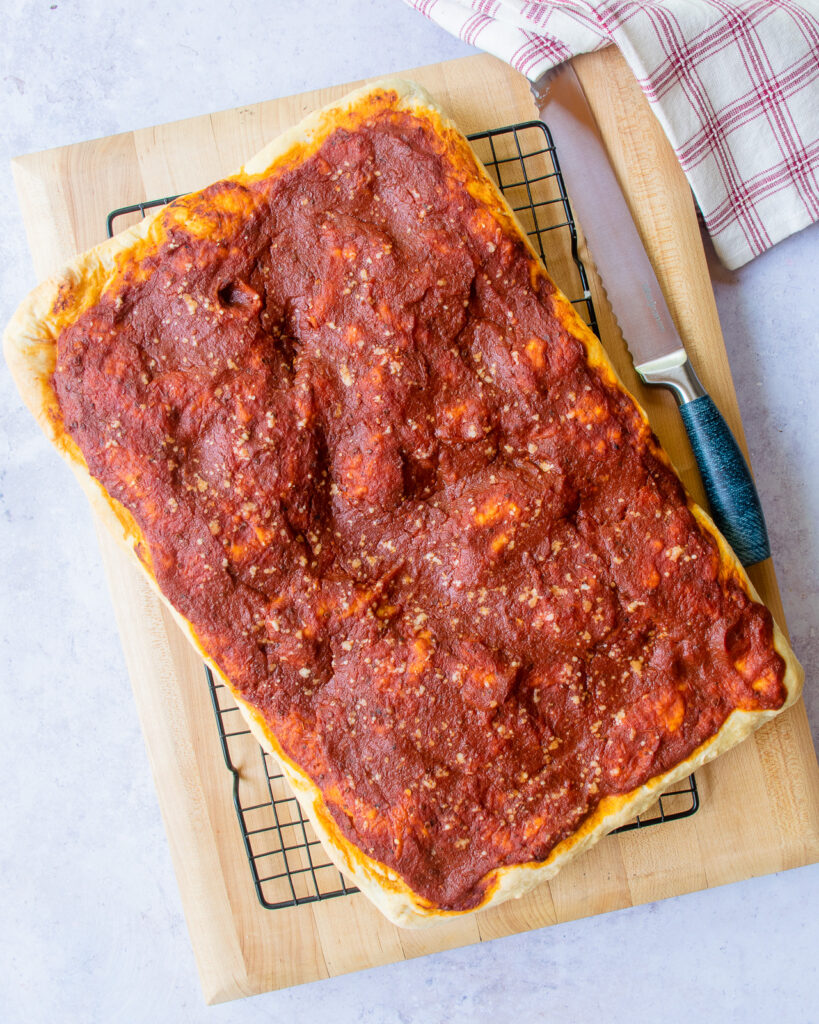 Cheese or Basil?
There is always a sprinkling of cheese on Philly tomato pie for the last 5 to 7 minutes of baking. You can choose to sprinkle on a little more with some fresh basil too if you like. You won't see it that way in Philadelphia too often – remember, "uncomplicated" – but you might not be in Philadelphia and you can do whatever you want to in your kitchen!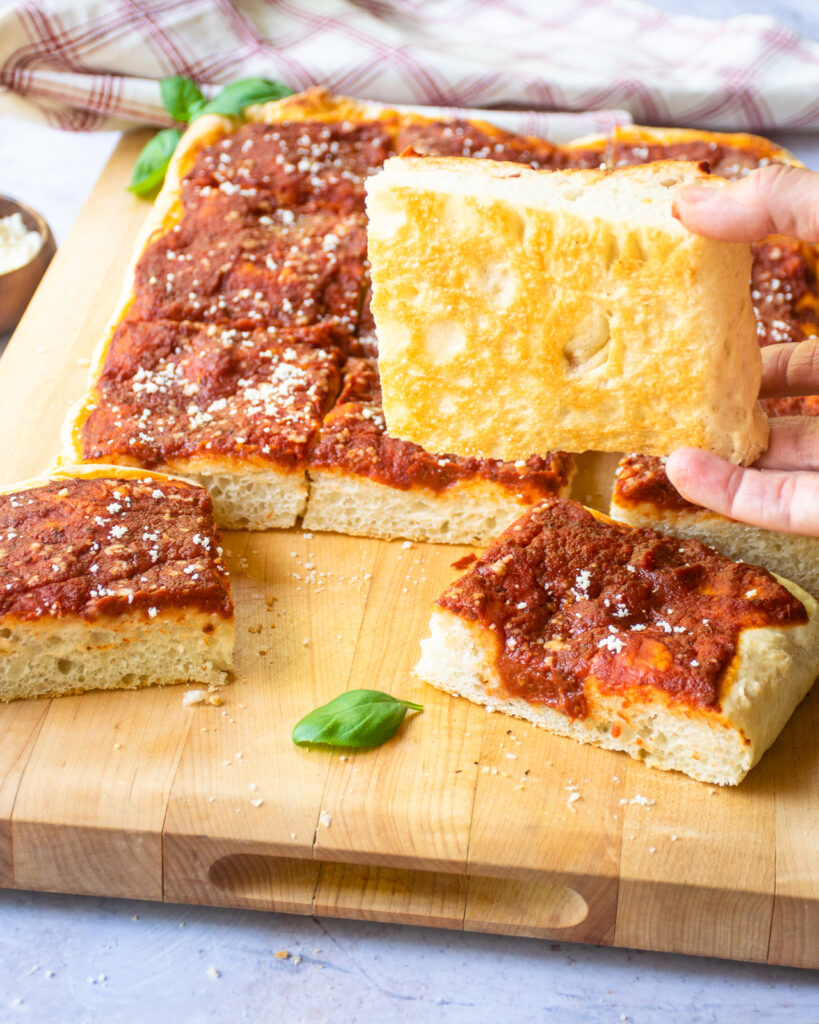 How to Serve Philly Tomato Pie
You can enjoy Philly tomato pie right out of the oven while it is still warm, but again, you won't find it served that way in Philadelphia. We've been over this though – you are probably not IN Philadelphia! Traditionally, Philly tomato pie is served cold, but you can do what you like. I use the cold serving tradition to my advantage because it makes this a fantastic recipe to make ahead of time. It's also a fantastic recipe to take to someone's house because you don't hijack their oven to warm up your contribution to dinner. If cold is good enough for Philadelphians, then it's good enough for everyone else! Enjoy!