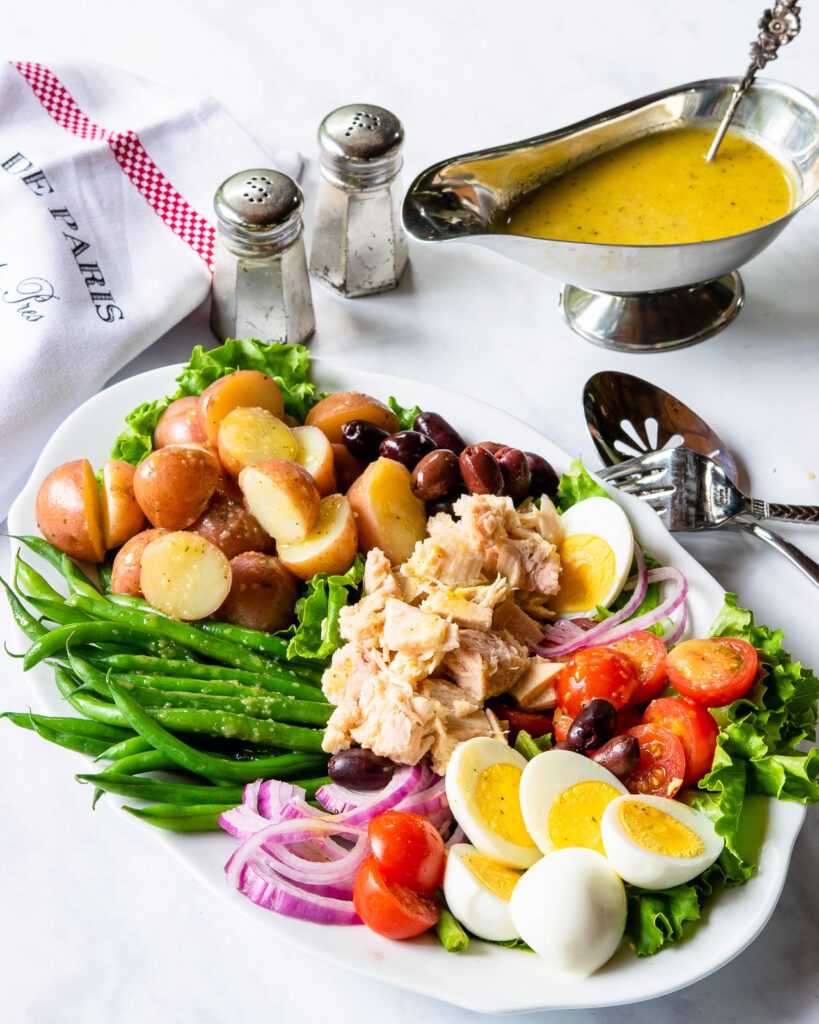 What is a Composed Salad?
There are two kinds of salads in the world – tossed salads and composed salads. Tossed salads are the ones we make all the time, tossing all the ingredients together with a dressing. Composed salads are not tossed – all the ingredients are kept as separate components on the plate, dressed individually or drizzled over with vinaigrette at the last minute. A Niçoise salad is the classic example of a composed salad. It is such a beautiful salad to look at and is so full of delicious ingredients. I find a composed salad interesting because you can make every bite you have different from the last. A Niçoise salad is a main meal salad that can be served for lunch or dinner. It's for those times when you slow down for a minute and make something special for yourself or others.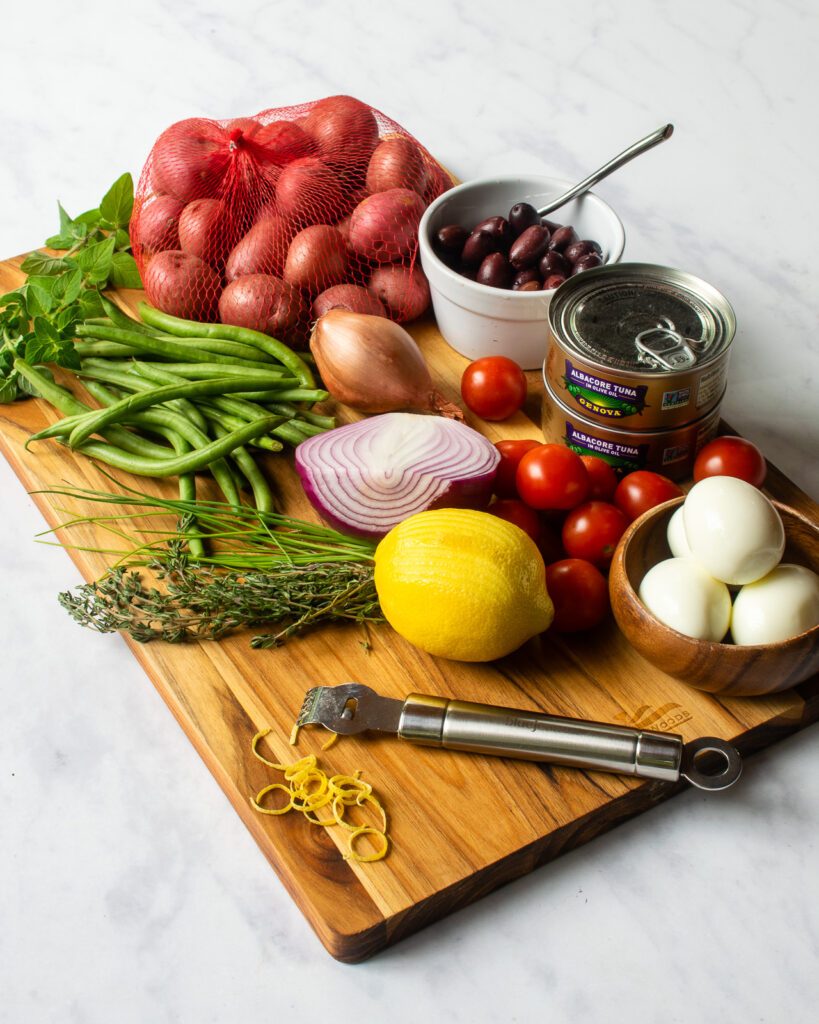 Components of Niçoise Salad
A Niçoise salad always includes a few standard ingredients: cooked tuna, hardboiled eggs, potatoes, green beans and olives. The tuna should be your very best quality tuna packed in olive oil. The potatoes could be red or white baby potatoes, blanched until just tender to a knife point. The haricots verts (or green beans if you can't find haricots verts) are blanched similarly and then shocked in an ice bath to keep their bright green color. Traditionally (and not surprisingly) the olives are usually the small black Niçoise olives, but if you can't locate those olives, you can try Kalamata or another black olive.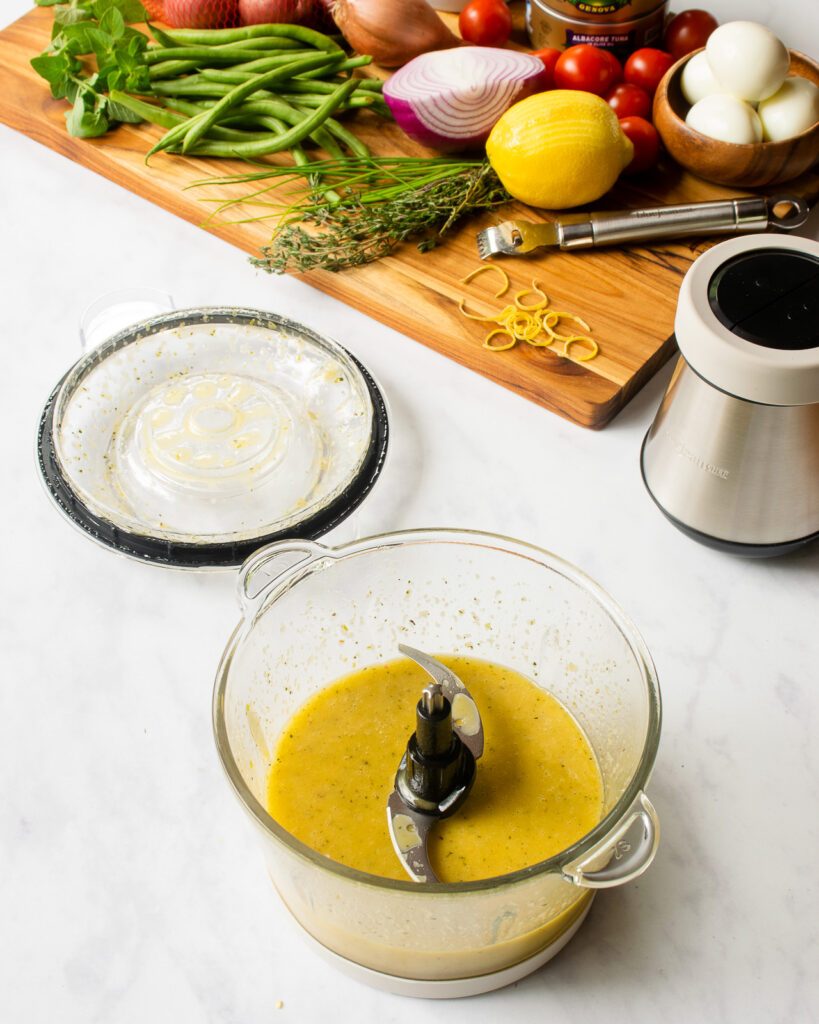 Lemon Shallot Vinaigrette
You could dress a Niçoise salad with any number of vinaigrettes. This lemon shallot vinaigrette which incorporates olive oil with a little Dijon mustard, honey, white balsamic vinegar along with lemon zest and juice, shallots and fresh herbs is a perfect compliment to all the ingredients on the plate. You don't need to use a mini chopper to make the dressing, but it does make it quick and easy.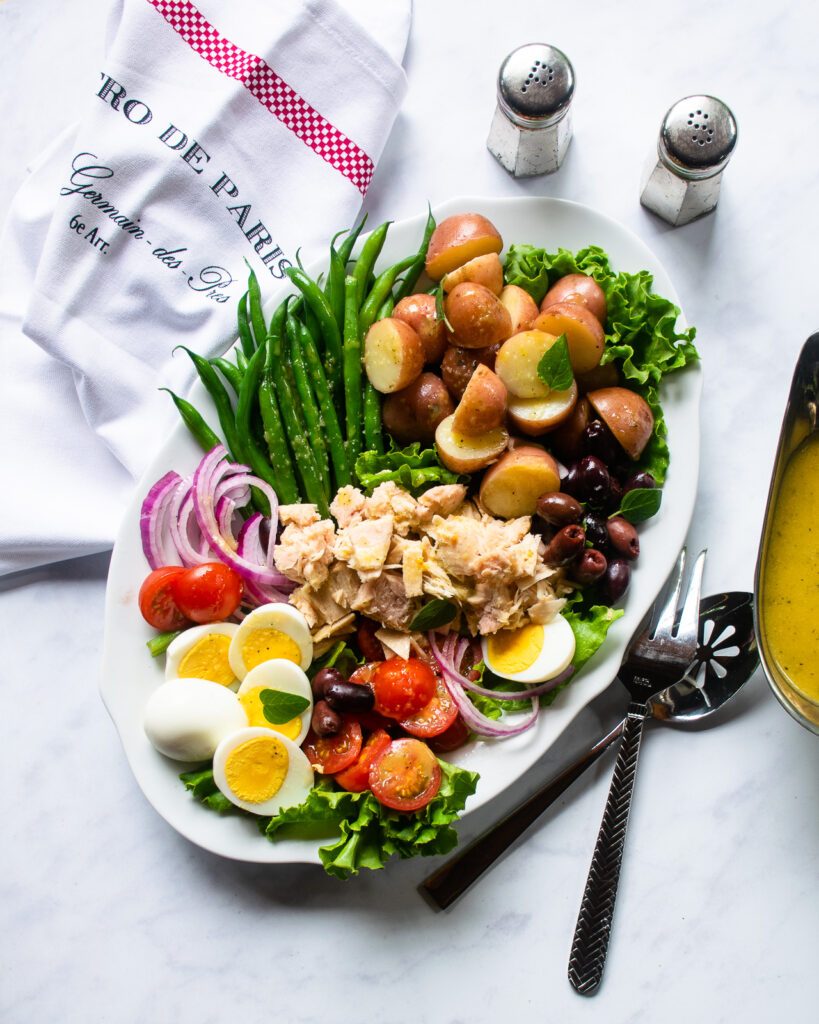 How to Build a Niçoise Salad
When you have all your salad components ready, you can build one large platter from which everyone will serve themselves, or compose individual dinner plates of salad. Either way, start by lining your plate with some butter lettuce. Dressing the potatoes and green beans separately with a little dressing when they are still warm really enhances their flavor.  Then place small mounds of ingredients on top of the lettuce. Place the tuna in the center and then drizzle more dressing over everything just before serving.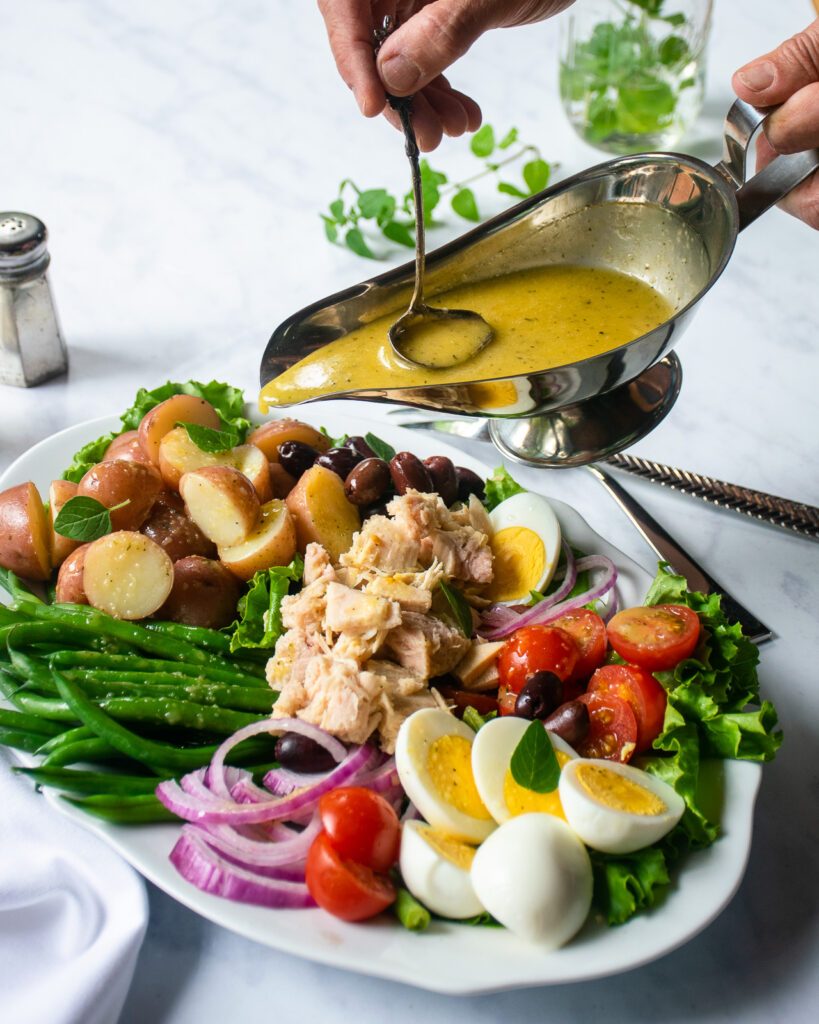 Making Ahead
If you are preparing this salad ahead of time, don't dress the green beans ahead of time. Compose your platter and cover with plastic or damp paper towel to keep everything fresh and moist. Then, dress with the dressing just before serving. Refrigerate only if you are holding this salad for longer than an hour or so. Otherwise, let the salad sit at room temperature.