Perfect Holiday Appetizer
What makes the perfect holiday appetizer? Well, I think it's an appetizer that tastes great, is easy to make, can be made ahead of time and doesn't fill up your guests so that they still have an appetite for dinner. These mushroom goat cheese pinwheels fit the bill. They are made of puff pastry, rolled around a filling of bacon, onion, mushrooms and goat cheese so you know they are going to be tasty. There are very few ingredients and are very easy to make. Once you've rolled the puff pastry into a log, you can freeze it until you're ready to slice and bake it, so perfect to make ahead of time. Finally, you slice them into thin discs making them a perfect appetizer size. It's not like eating a turnover before dinner… it's a little puff pastry pinwheel. Tasty, easy, prep friendly and not filling. Perfect!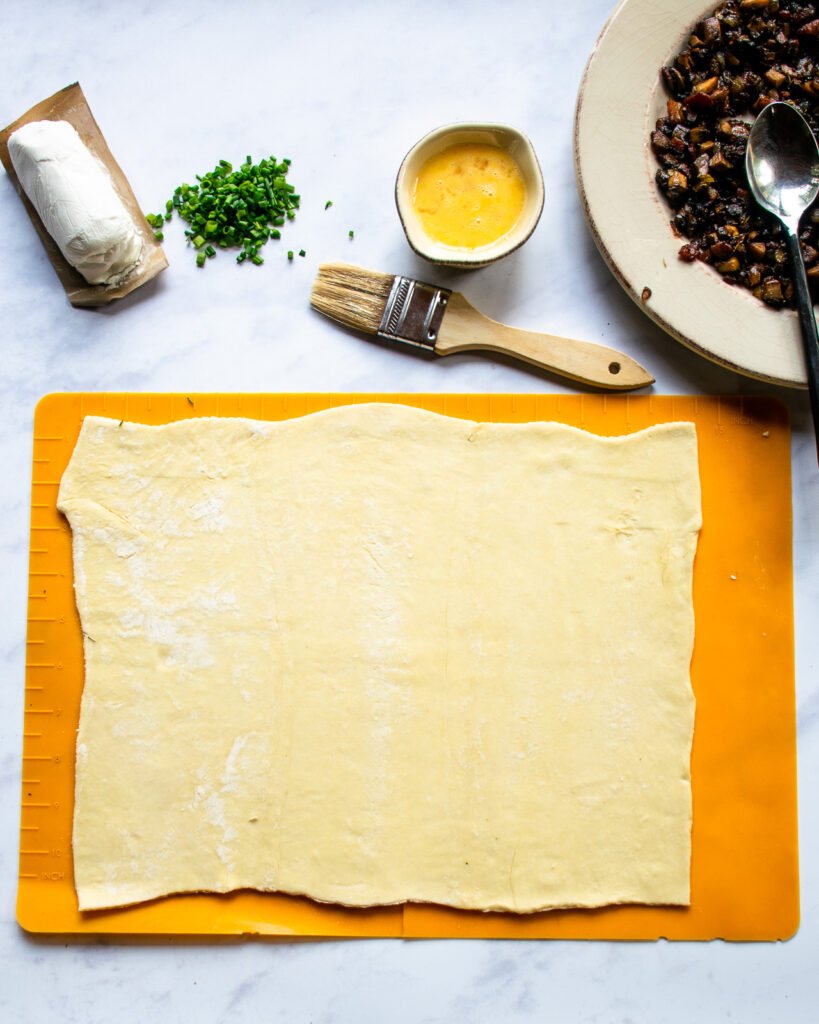 About Puff Pastry
Unlike regular pastry which has butter combined with flour and water, puff pastry is made of thin layers of regular pastry and butter. The pastry and butter are folded over on each other and rolled out, folded over on each other again and rolled out over and over again. This process (called lamination) is done so many times that the layers become extremely thin. When you put puff pastry into the oven, the water in the butter evaporates and as it does so, it pushes the layers of pastry apart – causing it to "puff". It's delicate and delicious. There are two brands of puff pastry that I really like. One is called Dufour and the other more readily available brand is Pepperidge Farms. Both come frozen and really need 24-hours in the refrigerator to defrost properly, so plan ahead.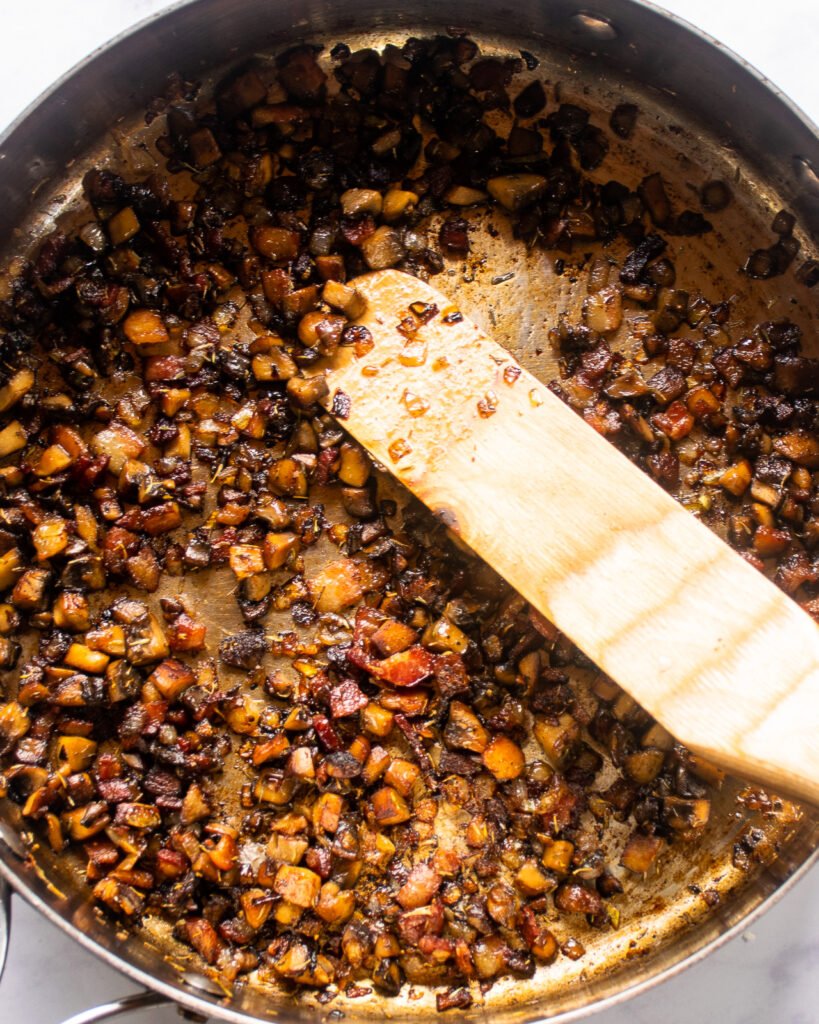 Variations on Filling
The filling for these pinwheels is made of bacon, onions and mushrooms – all evenly chopped in a nice small dice. Of course, if you wanted to make this a vegetarian appetizer, simply omit the bacon and sauté the onions and mushrooms in olive oil. You can also vary the filling and leave the mushrooms out if you want to – finely chopped broccoli or diced zucchini would be delicious sautéed with the bacon and onions; or marinated artichokes could be chopped and added to the cooked bacon and onion instead of the mushrooms (no need to cook the artichoke).
How to Roll Puff Pastry Pinwheels
When you roll out the puff pastry, you will roll it into a rectangle with a two long sides and two short sides. Work with the long sides facing you. The only trick to rolling the pinwheels up is to leave a border of about 1-inch at the far end away from you and brush that border with egg wash. Then, just roll up the pastry around the filling and pinch the border against the roll of puff pastry to seal it well. Then, don't skip the step to freeze the log of pinwheels – it's just 20 minutes but it makes the step of slicing the logs so much easier.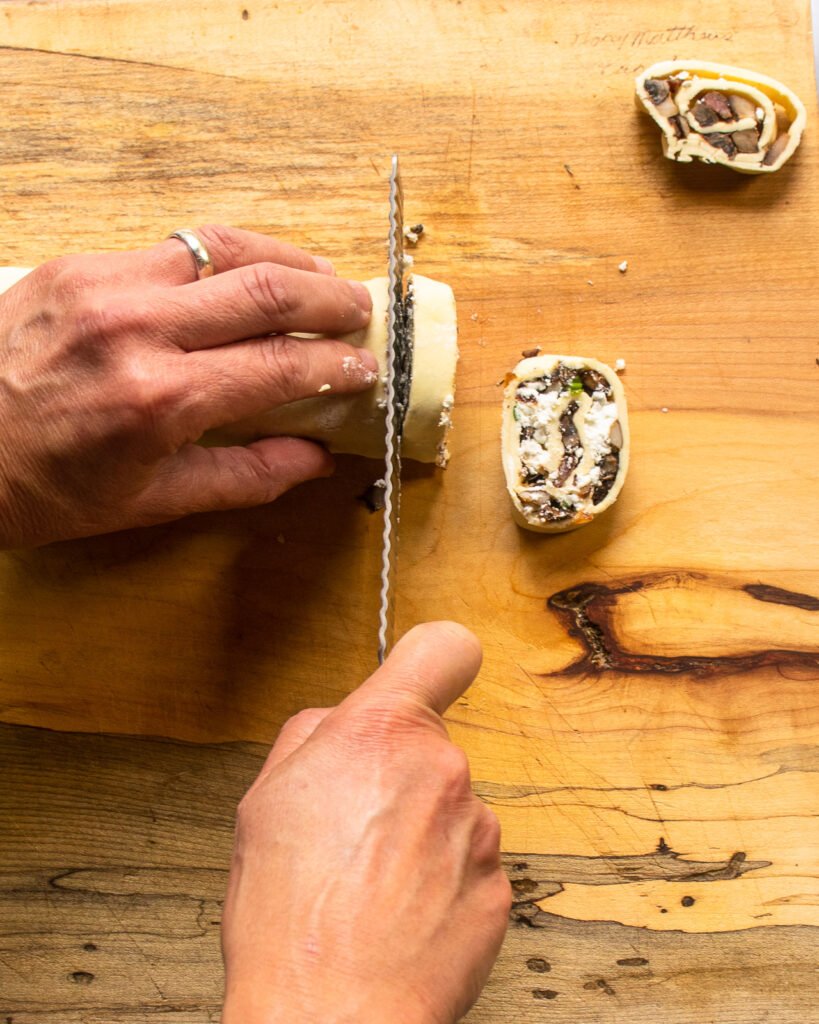 How to Make Ahead
If you're making this appetizer ahead of time, stop right now. Keep the log in the freezer, well wrapped until you are ready to bake and serve them. At that time, let the log sit out at room temperature for just a little while – perhaps 10 minutes or so – until you can slice through the log relatively easily. Slice the logs into ½-inch slices. You don't have to cook them all at once, of course. Just slice off as many as you want to bake and send the log back into the freezer for next time.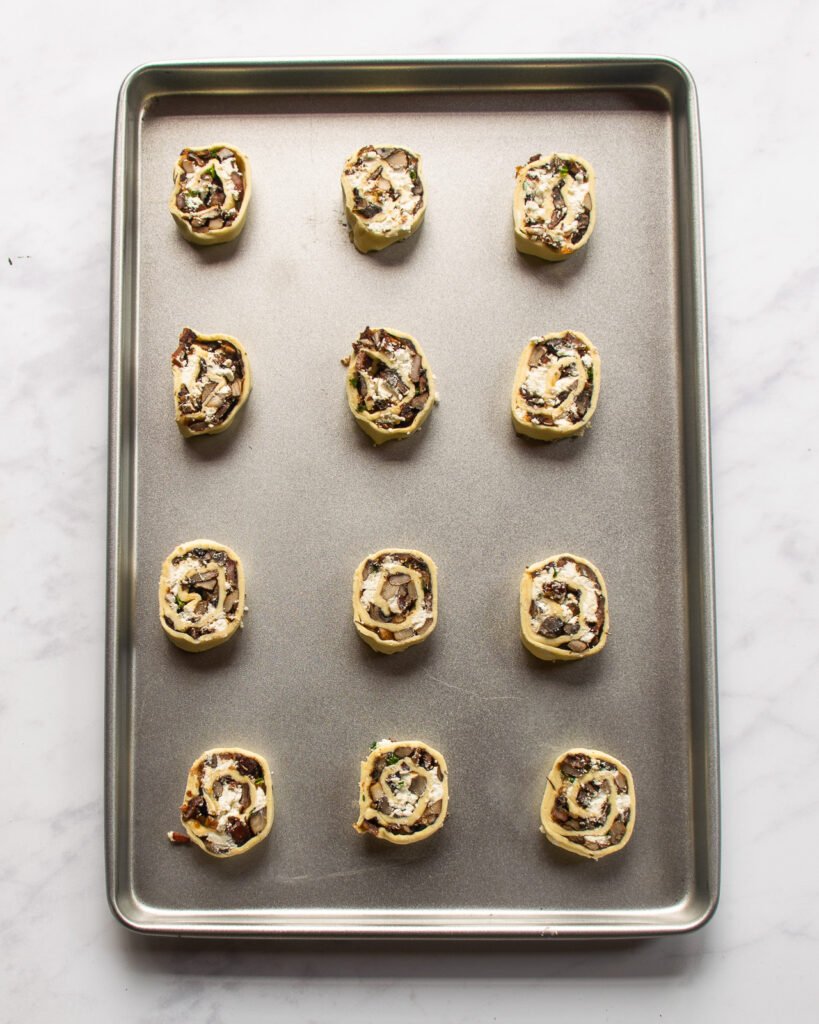 Serve Warm
Once you've baked the pinwheels, serve them right away. They are much tastier warm than when they have cooled.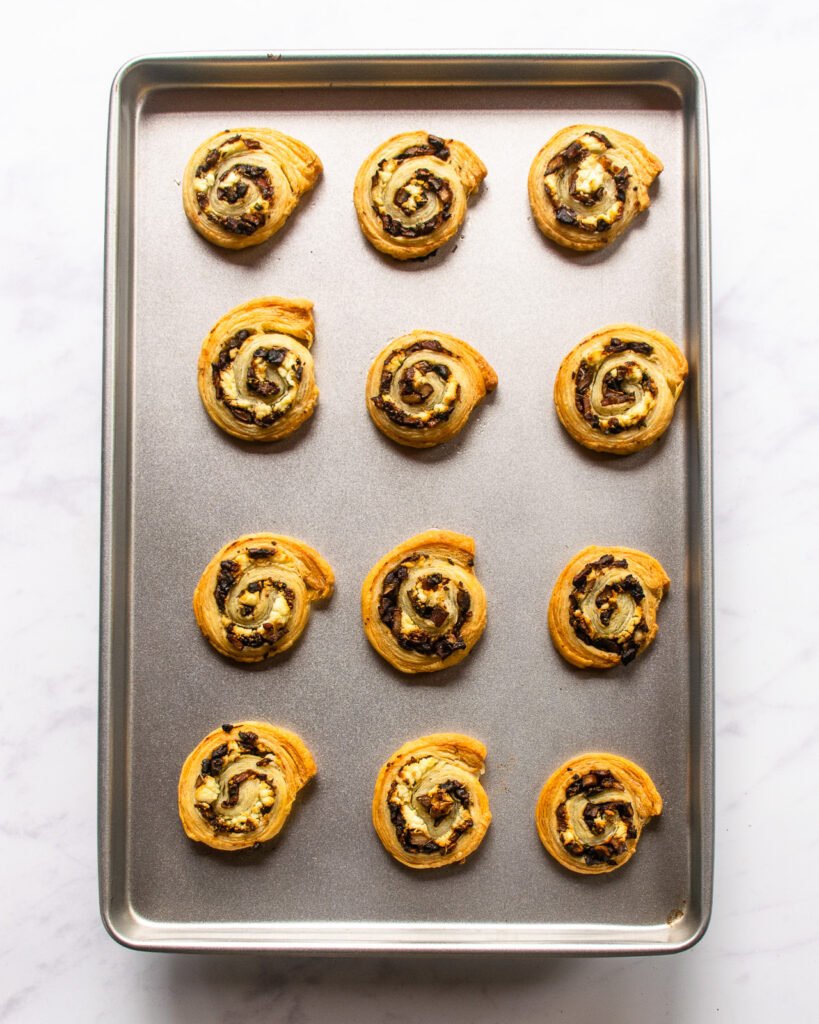 How to Store and Re-heat
If there are any left over mushroom goat cheese pinwheels, just keep them in an airtight container and re-heat them gently in a 350ºF oven until warmed through – about 10 minutes.