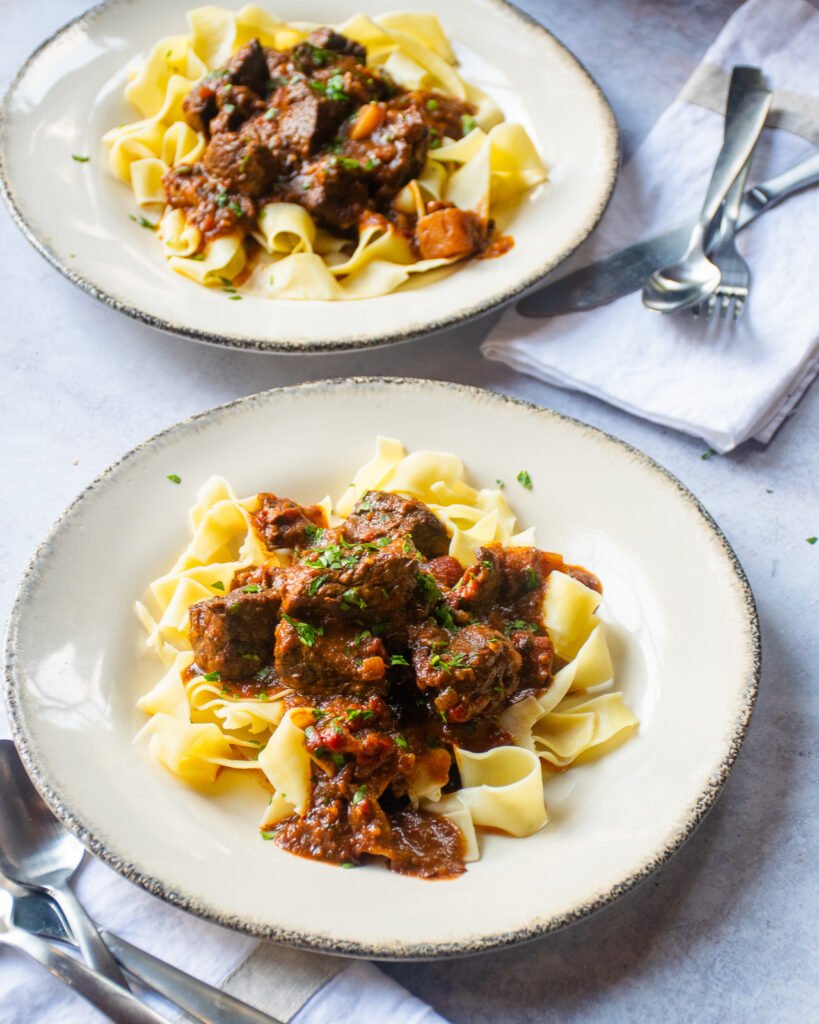 What is Hungarian Goulash?
Hungarian Goulash bears no resemblance whatsoever to the pot of macaroni with beef and tomatoes that many Americans call Goulash (or American Goulash). Authentic Hungarian Goulash is a soup or stew of meat and vegetables, seasoned with paprika that originated in Hungary centuries ago. It's full of tender meat morsels coated in a smoky intense sauce that works perfectly over egg noodles, spaetzle, rice or potatoes. 
Key Ingredients in Goulash
Hungarian Goulash originated with Hungarian cow herders who would make a stew and dehydrate it to carry along on their journey, requiring just water to re-hydrate the stew and have a hearty meal. Traditionally this stew would have been made with beef or pork, and either can be used today. While there are always onions in a goulash, you'll find various other vegetables in different versions of goulash.  This recipe includes roasted red peppers which add to the deep roasted flavor, and a potato, which when crushed at the end, helps to thicken the stew. There are no rules though, so add whichever vegetables you like. The one ingredient that is always in Hungarian Goulash is paprika. In general, there are three varieties of paprika – hot, smoked and sweet. Sweet paprika is not sweet with sugar – it's just not hot with spicy heat or smoky in flavor. It's the sweet paprika that is usually used in Goulash. 
Important Step: Browning
Browning the meat for the Goulash is a very important step, giving the meat flavor and a more appealing appearance. If your pressure cooker or slow cooker does not have a browning function (or you'd just prefer a bigger surface area for browning in fewer batches), use a large sauté pan for the job. Do yourself a favor and don't over-crowd your pan. Over-crowding just leads to moisture accumulating in the pan and prevents proper browning. You'll end up boiling your meat instead. It takes time and patience to brown properly, but it's really the only step that needs your attention so take your time to do it right.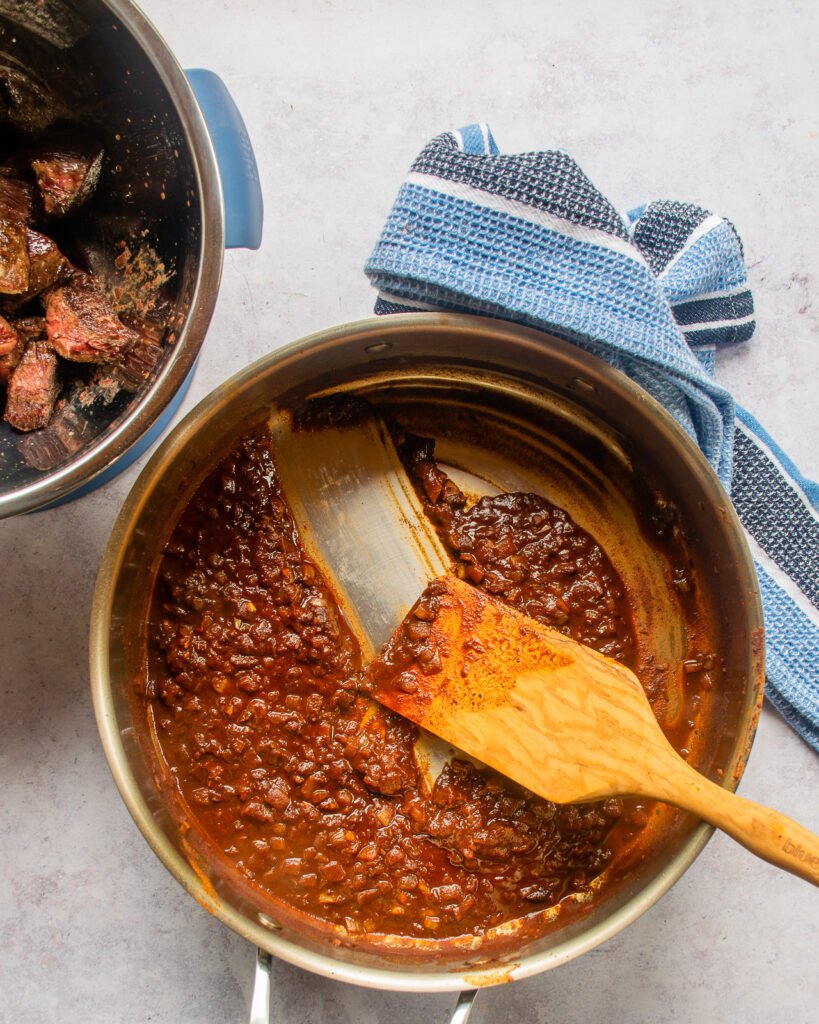 Important Step: Deglazing
The other advantage to browning your meat well in step one is that you'll have more brown morsels on the bottom of the pan. Then, by deglazing the pan, you'll incorporate even more flavor into your goulash sauce. Keep your pan at medium to medium-high heat and sauté your vegetables, tomato paste and spices. Then, add the white wine or dry vermouth and scrape up those brown morsels on the bottom of the pan. Use a flat deglazing spatula for best results and enjoy how deglazing also cleans your pan. Then, transfer the sauce and browned beef to the cooker and continue onward.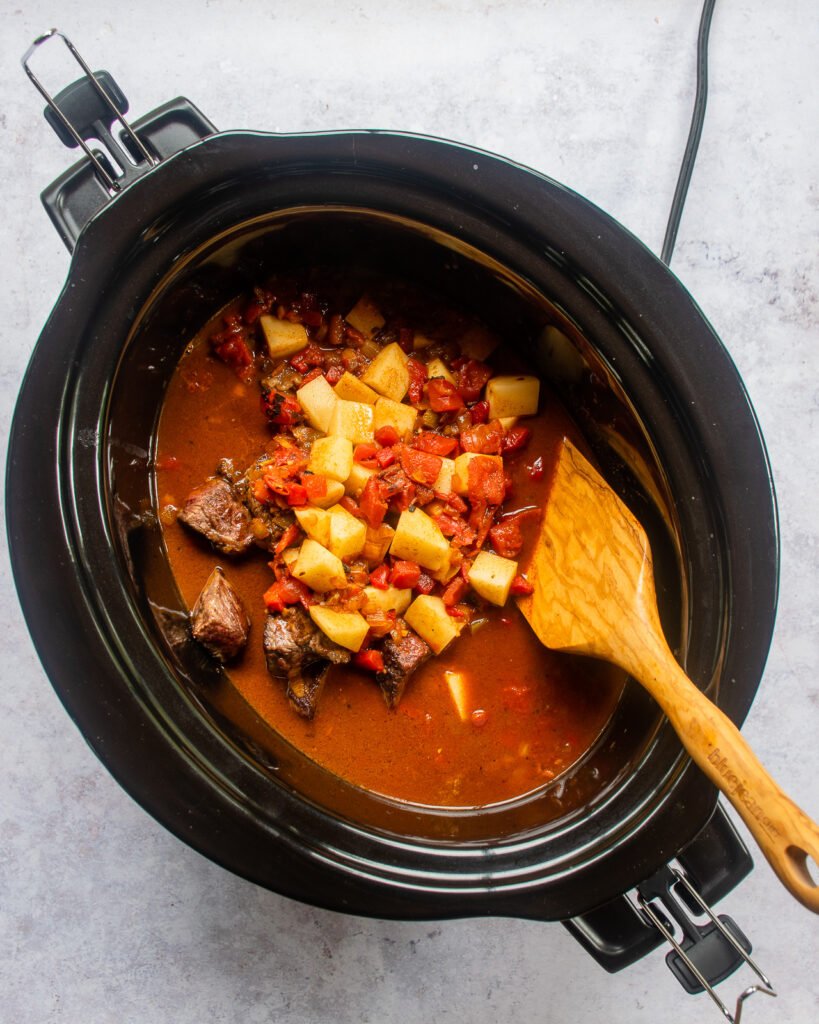 Pressure Cooker or Slow Cooker Goulash
You'll find recipes for both these appliances down below. The difference? About three and a half to seven and a half hours! That is honestly the biggest different between the two. The pressure cooker will give you just as tender results as the slow cooker, and the slow cooker will give you just as delicious a sauce as the pressure cooker. Why use one over the other? You might not have one of these two appliances (which will make your decision really easy), or you might find that a longer cooking time works better into the schedule of your day than just 20 minutes of cooking time. It's always good to have options.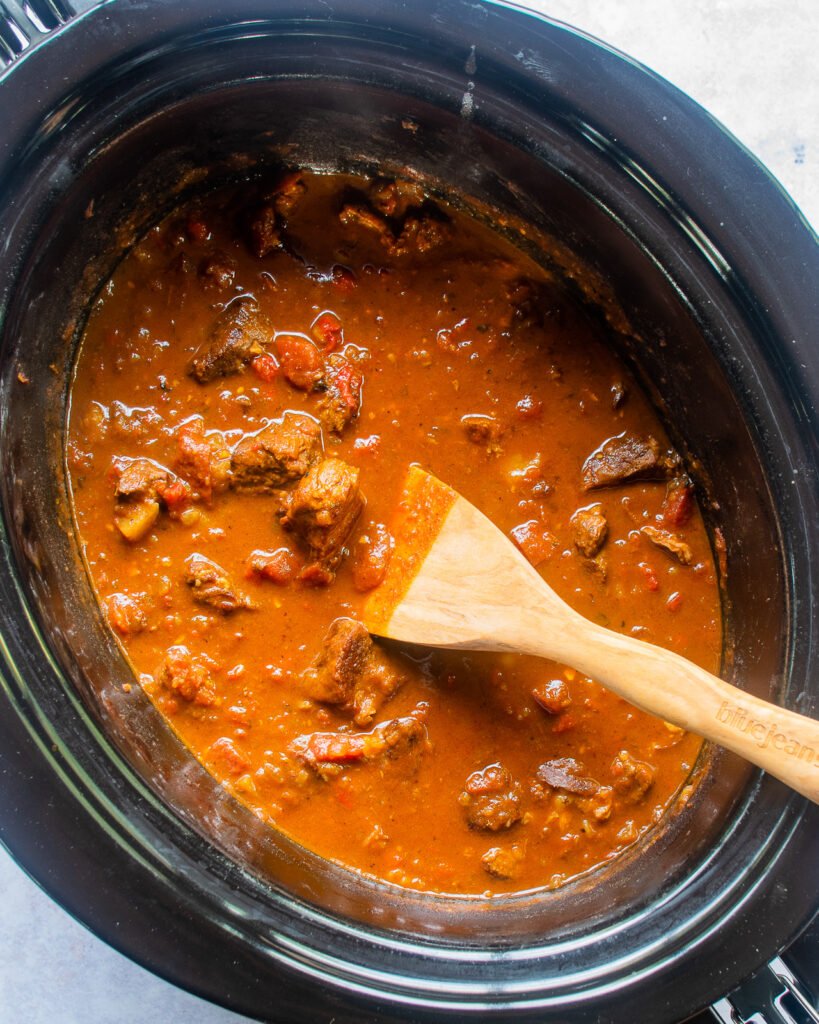 What to Serve with Goulash
Traditional Hungarian Goulash would probably be served over spaetzle – a small noodle or dumpling made with eggs – but you could ladle it over egg noodles, rice or mashed potatoes and be very happy. Prepare a simple green salad to go alongside and you've got everything you need for a nice balanced meal.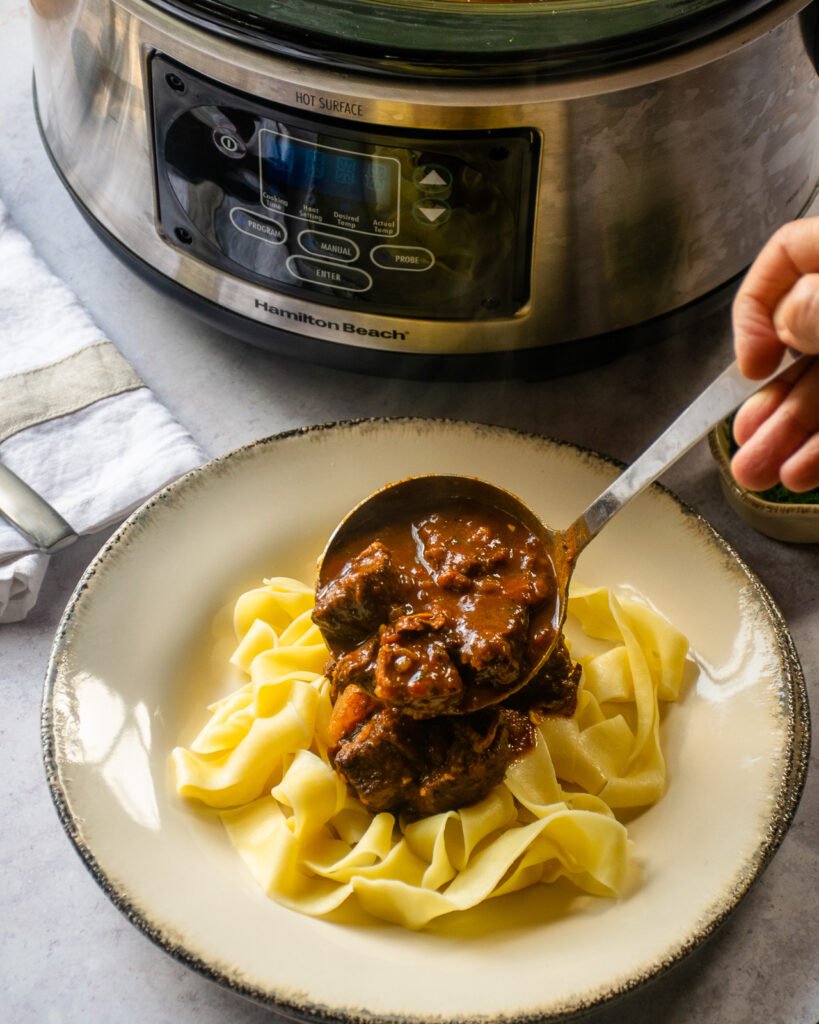 How to Store Goulash
If you have any leftovers, store them in the refrigerator for up to five days, or freeze it for up to 3 months. When re-heating, thin with a little water or more stock and enjoy!