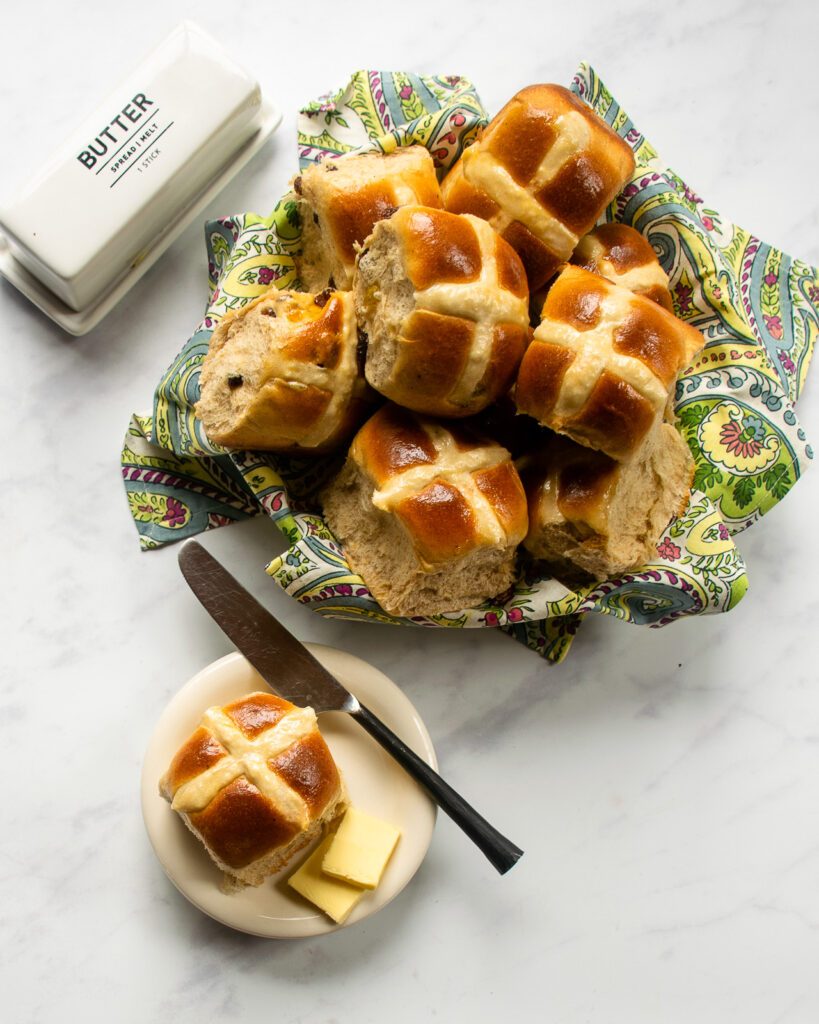 What are hot cross buns?
Hot Cross Buns are spiced sweet bread rolls that are traditionally eaten on Good Friday, marking the end of the Christian season of Lent. There is symbolism in many different aspects of the buns, but the most obvious is the cross on top, representing the crucifixion of Jesus. The stories of folklore around Hot Cross Buns are a little more lighthearted. One states that a Hot Cross Bun made and eaten on Good Friday will not spoil or go moldy for a year! …a Year! Others say that a Hot Cross Bun hanging in your kitchen and replaced every year protects your kitchen from fire and ensures that all your bread turns out well. I'm not sure I'm going to fact-check either story, but what I do know, for certain, is that enjoying a Hot Cross Bun around Easter is delightful and something to look forward to.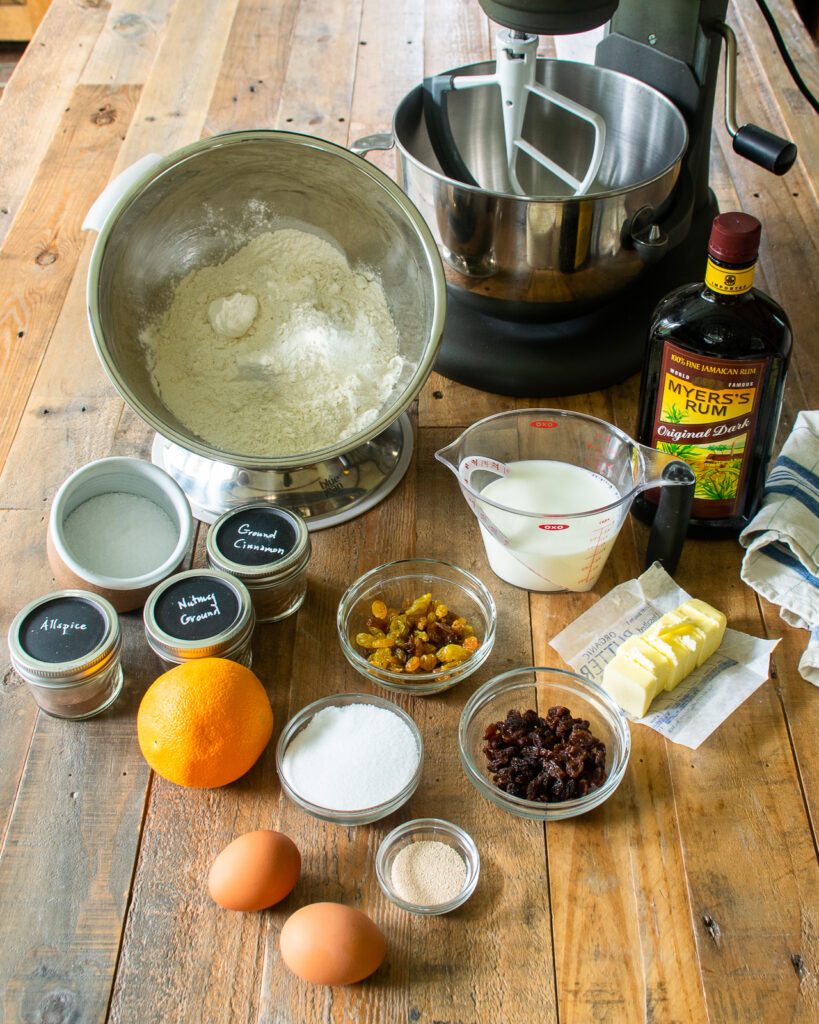 What do Hot Cross Buns taste like?
There are two qualities to a hot cross bun that I love. One is the soft, tender texture of the bread. I love how the dough feels when I'm shaping the rolls and I love tearing apart and biting into the soft roll. The other quality is its flavor. It is sweet and spiced with cinnamon, nutmeg and allspice, but gently. It's not an overpowering flavor, but more subtle and it's not sweet like a pastry, but more like brioche.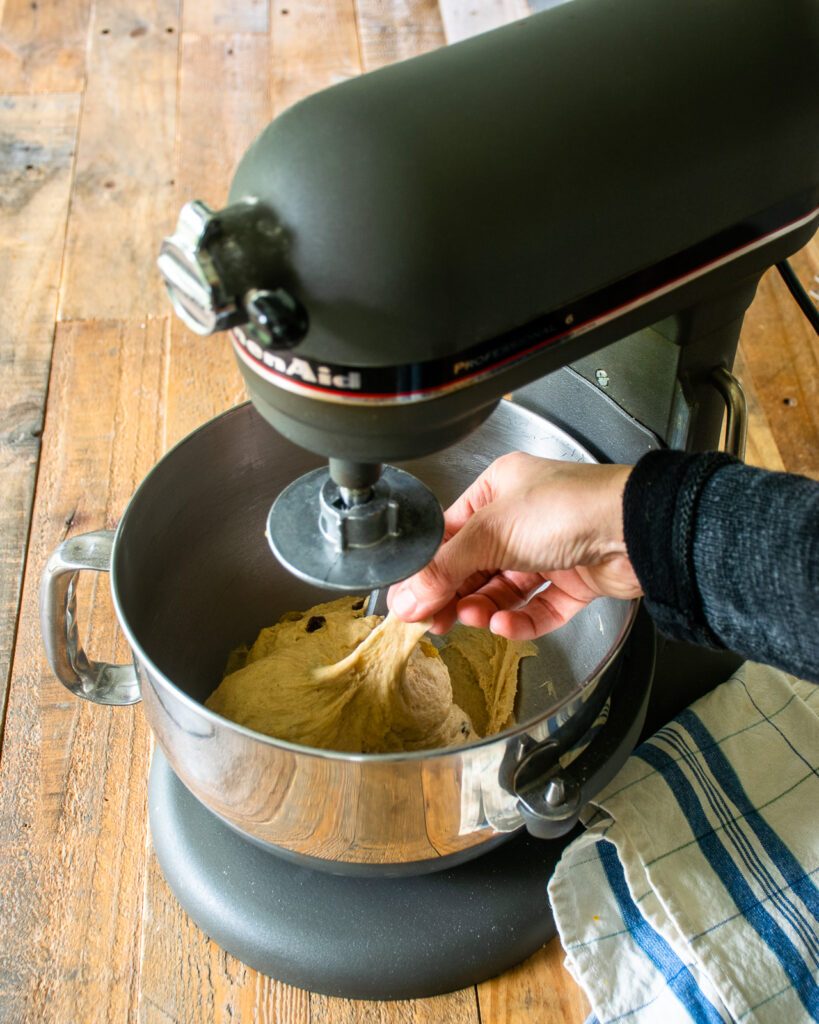 Dough for Hot Cross Buns
Indeed the dough for Hot Cross Buns is very much like brioche dough – it includes butter, milk and eggs, but in smaller quantities than brioche. Brioche is a very rich dough. Hot Cross Bun dough is less so, but still delicious. Mix the dough together, adding just enough flour for the dough to clean the bowl, and then knead it for 5 minutes (or 15 minutes by hand) until you can stretch a piece of the dough easily without it tearing.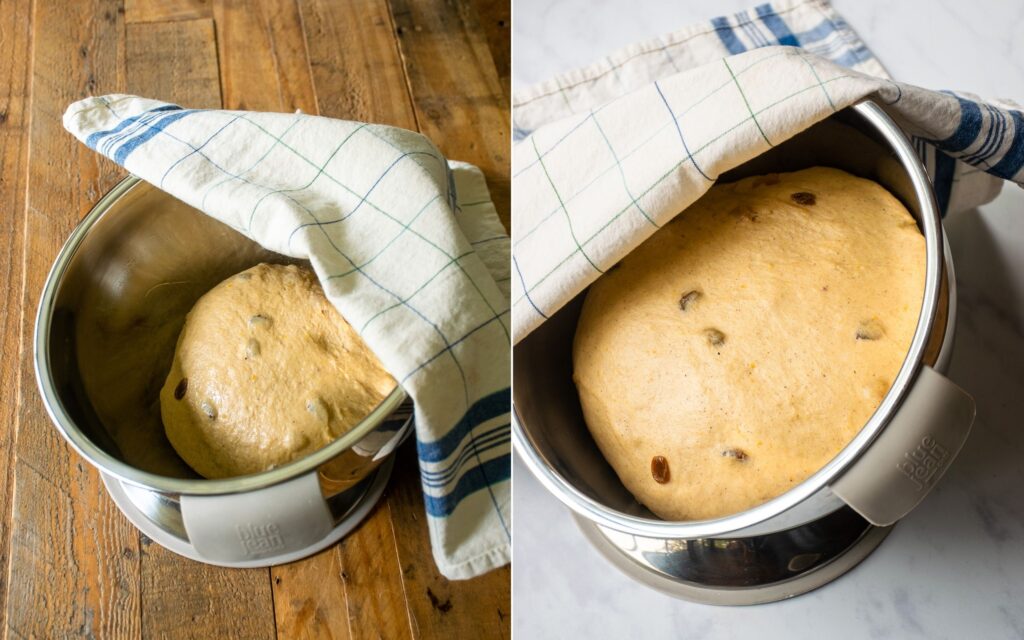 How Long Do Hot Cross Buns Take?
How long it will take you to make these Hot Cross Buns depends on the temperature of your room. The dough does need to rise twice – once in whole form and a second time once it has been shaped into balls. The first rise could take 1 to 2 hours (1 hour if your room is relatively warm, 2 if it is cooler), but those hours are unattended time. The second rise will take 30 to 60 minutes, but again, it is time that you can do other things. All in all, plan for at least 4 hours to make these rolls.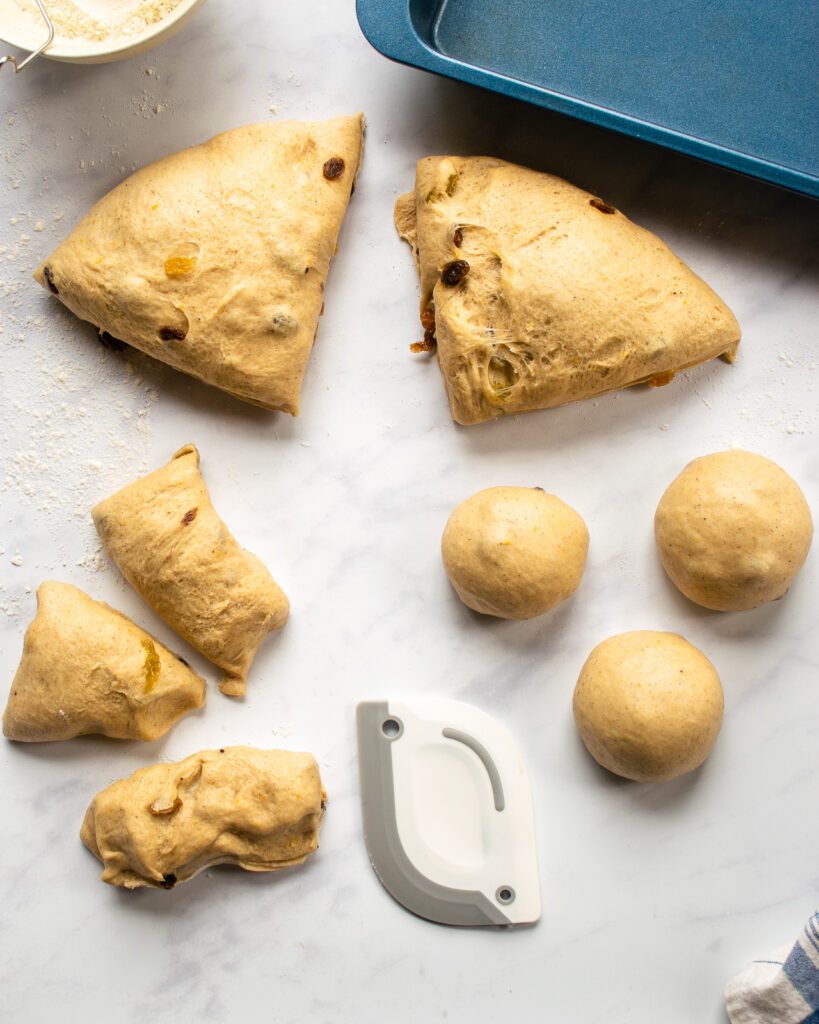 Shaping the Hot Cross Buns
When it comes to shaping the buns, it's nice if they are all the same size. To do that perfectly, you'll need a scale and should measure each piece you cut off. If you're not worried about being that precise, just divide the dough in four and then divide each quarter into three pieces. Do your best to make them the same size. Then fold the cut edges underneath, cup your hand over the dough ball and circle it on the table to shape it into a perfect round. 
How to Make the Cross on Hot Cross Buns
Many think the cross on Hot Cross Buns is made of icing, but it's actually a basic flour paste made of just flour and water. Think of it as a loose bread dough without all the spices, eggs and dairy that give the main dough its color. This paste bakes into the Hot Cross Bun and remains pale against the rest of the bun.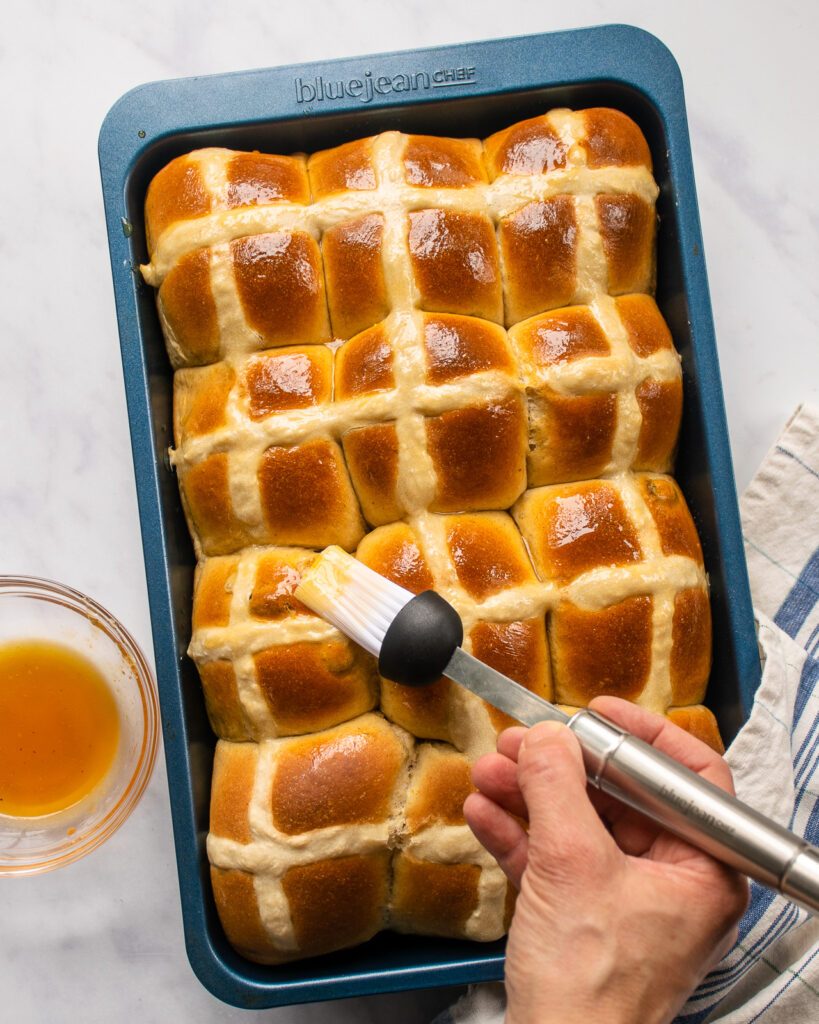 Glaze for Hot Cross Buns
There are a number of different ways to glaze the Hot Cross Buns. In this recipe I just take some apricot preserves, dilute them with some hot water and then strain away any chunks of apricot with a fine strainer. Brush this on the buns when they come out of the oven and are still warm. Then, let them cool and glaze them again but only if you want added flavor – this glaze keeps its shine on the buns.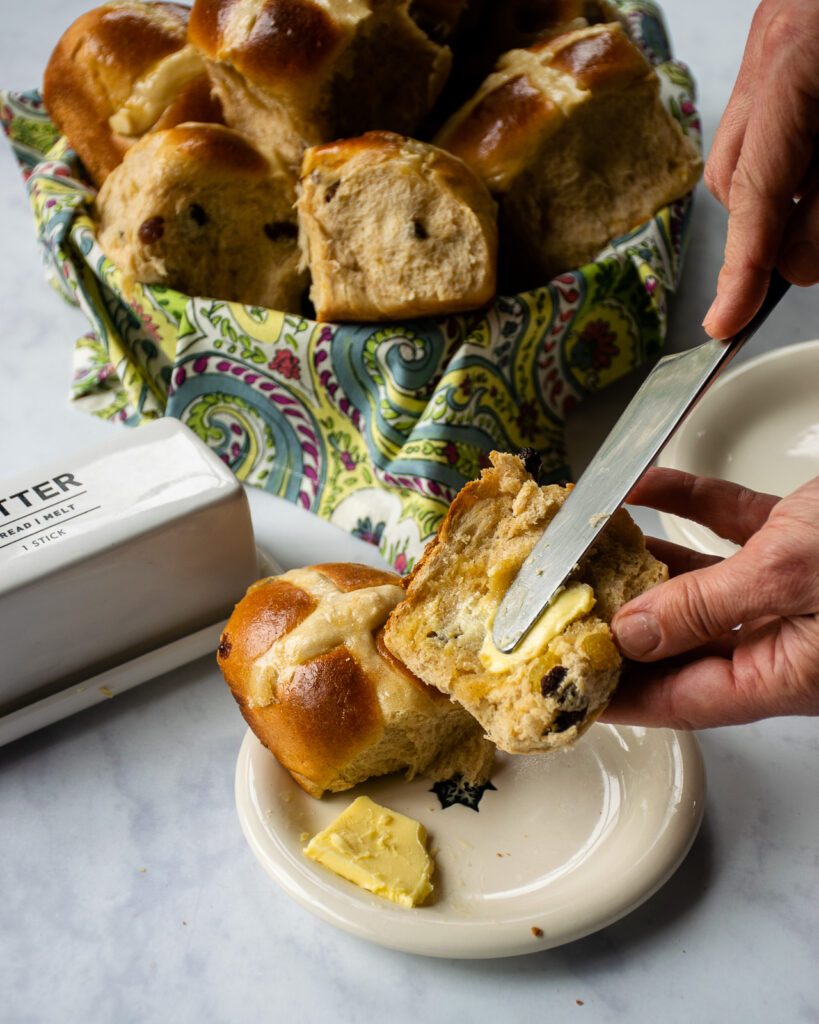 How to Eat Hot Cross Buns
There are two ways I like to enjoy Hot Cross Buns. The first is when they are fresh out of the oven and still warm – warm enough to melt the butter I spread on them. The second way is a day or so after the buns have been baked. Then, slice them open, butter the cut sides and toast the buns in a skillet. This gives the cut surface a nice crispness and warms the rest of the bun through. It's delicious! Oh, and it's not only delicious at Easter time, but all year long!